DXRacer King Series Gaming Chair Review
There has been a recent rise in gaming chairs, but what sets them apart from normal chairs? Here's Chris' thoughts on the DXRacer King Series.
Published
5 minute read time
TweakTown's Rating: 94%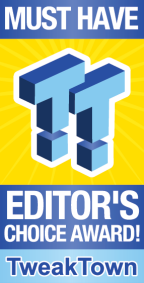 The Bottom Line
If you've got the money spare, this is a must-have item. An unmatched set of features and adjustment options puts the DXRacer King Series leagues ahead of general, cheaper office chairs.
Introduction
Sitting underneath across every top level eSports team, on stage, or at gaming events, and supporting every top gaming YouTuber and more is a gaming chair these days. With quite a few companies opening up shop in recent times in order to be the first into a niche yet growing customer base, what sets these chairs apart from the rest?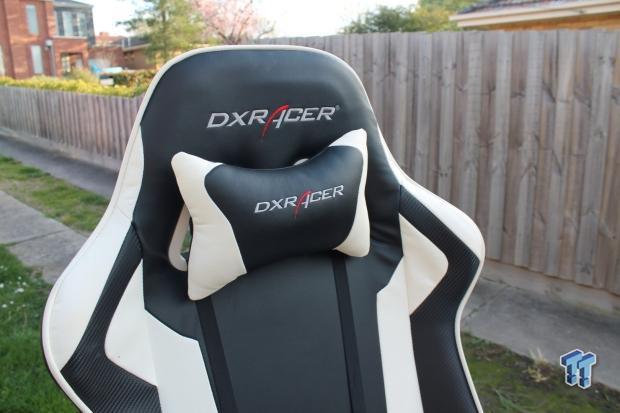 I have been supplied with a DXRacer King Series chair thanks to Anyware Australia. With DXRacer being the original company to hit the global spotlight in this scene, recent times has seen its chairs on main stage streams and tournaments at events like World Cyber Games 2013, Intel Extreme Masters competitions and supporting one of the world's top gaming teams, Fnatic. So, why a gaming chair? What sets them apart from the rest and are they honestly worth the (usually quite hefty) price tag that comes with it? If you're worried about the color getting dirty and wrecked, all images taken in this review are after 1.5 months of constant use, which includes eating dinner at the computer.
Specifications
We are covering the King Series DXRacer model, which is the higher model of the two. The sole other option is the Formula series, offering less features and a smaller overall design.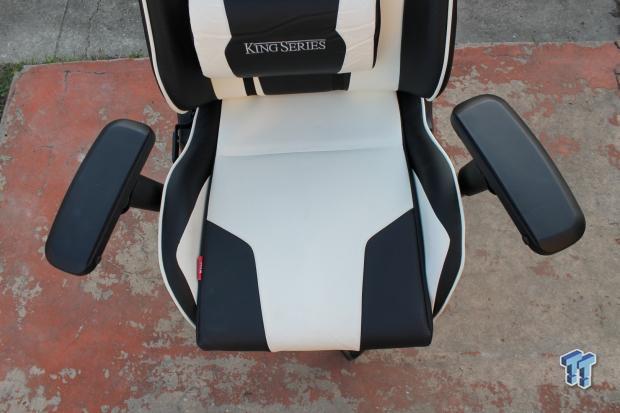 The King Series provides heavy duty castors (wheels), a wider design, a 400 pound (181 kg) weight rating, and thicker cushions. Alongside being suited for gamers up to 6 foot 7, this seat contains some crazy arm rests that can raise or lower, rotate in or out, slide back or forward, and even move in and out (toward or away from you).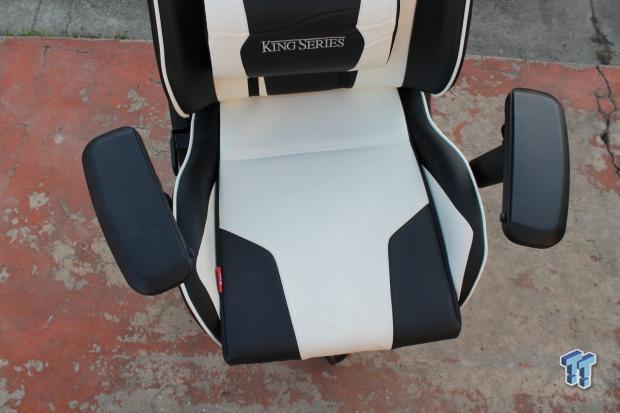 But wait, there's more. Alongside a 27" base, this seat is constructed out of PU leather and features a hydraulic unit made in Germany. For extra comfort, it can tilt back 170 degrees, rock forward or backwards 12 degrees, and the unit itself includes a neck pillow and back support. It really does everything.
Pricing & Availability
Coming in at $449 with free shipping from Amazon at the time of writing, this product points to what was said in the introduction: it certainly isn't cheap. You've already seen the myriad of features included above, but the comfort is really going to have to be supreme in order for most gamers to afford this product; after all, it's basically the same price as a new high-end video card.
Taking a Look Around the DXRacer King Series Gaming Chair
The arm rests: These bad boys rotate in a plethora of directions, change in height, and can be moved inwards or outwards to suit exactly what you need. The swivel connections feel solid and shouldn't cause any issues if bumped a little or rotated around a lot during years of use.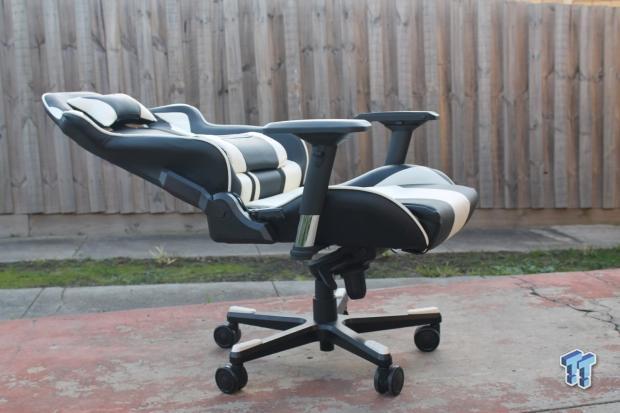 Seat adjustments: The pneumatic system feels solid and well-constructed. I did mention previously that the main system was German made, which may seem like some special marketing, but it performs well in this aspect either way after months of use.
Lumbar and neck pillows: Easily adjustable and removable, the back pillow does move a little too easily (leather on leather, slides up and down for adjustment). Here's hoping that doesn't cause issues when getting in and out of this seat.
'Dat' width: For those of us who are a little larger in vertical and horizontal directions (I'm 6'4"), this seat is tall and wide, easily accommodating most who sit on it. This is due to this chair being the King series, it's slightly wider and with stronger castor wheels than the F Series chairs.
First Impressions
Upgrading from my office chair that I bought second hand for $40 in 2009, it was obvious straight away that I had sat on something much better. It's not really reasonable to straight up compare to two, so here's a short list about exactly what I noticed when first sitting on this chair.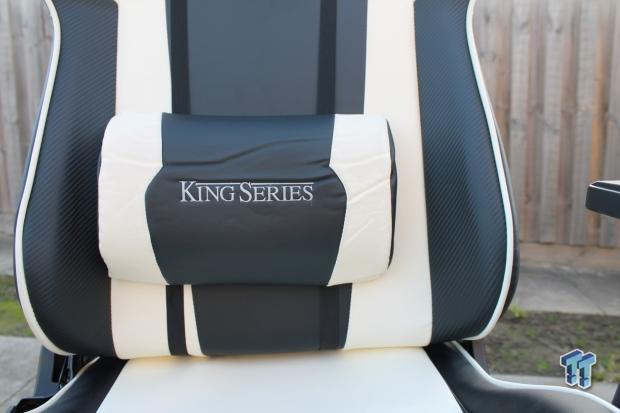 The backrest is weird: If you're not used to a small cushion in your back, it's certainly going to be a different experience. The little cushion is comfortable when you get used to it, so don't throw away the chair just yet.
The neck rest is basically useless: If you're using the lumbar cushion your neck is nowhere even near the pillow.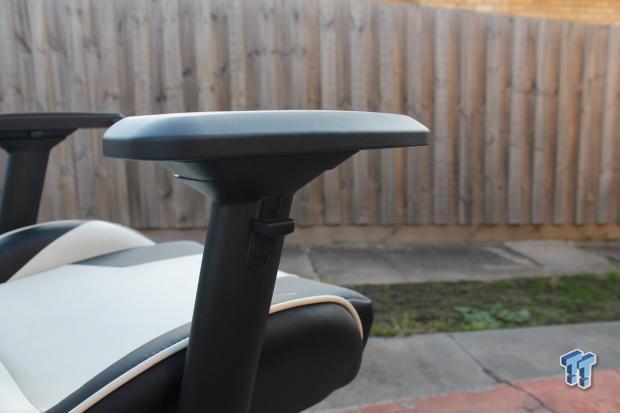 These armrests are the bomb: I personally have never been a fan of armrests. I like my keyboard close and my monitor far, I like to draw my chair close under my desk and that is what makes me comfortable when working or gaming. However, due to these armrests moving basically every single direction in existence, you can ensure they are placed at the perfect height, width, rotation and more.
Soft leather is nice: It's not nasty and cheap leather like most $50 office store offerings, and it's not rock hard like a racing seat - it's just right.
How Does the DXRacer King Series Gaming Chair Feel After Two Weeks?
The first 24 hours were a major adjustment for me. Coming from never using a chair like this at all, I found that it took a few days to get used to. Think of it like picking up a new keyboard, for example. Sure, it might be a massive upgrade from your cheapy Microsoft stock board, but this fancy new mechanical will have you miss-typing for a few days until you settle in.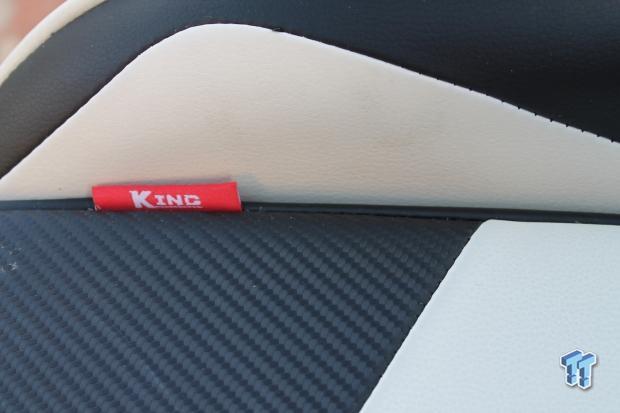 After a few weeks of general use plus some 6-8 hour sessions of gaming/work related activities at the computer, no issues presented themselves whatsoever. It's obviously not as lusciously comfortable as a soft leather reclining armchair, but that isn't the aim of this seat. If provides adequate support while you are slogging out long hours of working or gaming. The controls and handles are all very easy to use. It will take you some time to get your head around exactly what the armrests do and how they work, but after a week of trial and error, I have them lined up exactly how I want them. Like I said before, I was always a hater of arm rests, but if all chairs can adopt this method or at least an arm that raises and lowers, my overall opinion will be changed completely.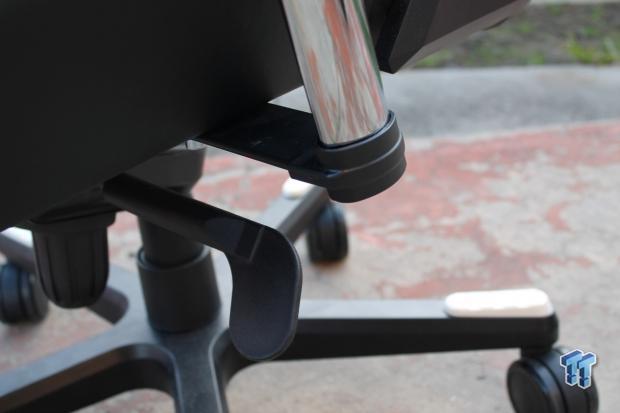 The wheels are large (which they should be in the King Series) and enable easy movement even when on carpet. There's obviously the issue of your cords getting tangled as there is with any chair, but due to these castors being quite large, I am extremely careful about getting cables caught up in here as I feel they will be ripped apart with ease. There's no problems with using their chair for extended gaming sessions, even after I've gone out and played 2.5 hours of volleyball - nice, comfortable, and supportive - just how it should be.
What's Hot
Armrests: They adjust more than flaky opinions. These armrests had me cautions at first, but completely won me over in the end.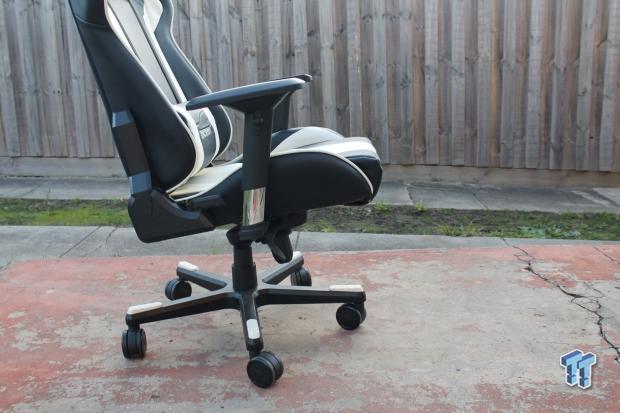 Comfort in the long run: 6-8 hour gaming sessions after 2.5 hours of volleyball reports no issues.
Adjustment central: You can rotate it back 170 degrees to lie and watch a movie, plus the armrests can be moved to just how you like it - win/win.
Minimal discolouring: Even though I'm using the white leather option, a quick wipe down keeps it looking fresh and clean, unlike my old white mouse pad.
What's Not
The price: $449 with free shipping, that's more than an NVIDIA GeForce GTX 970 video card.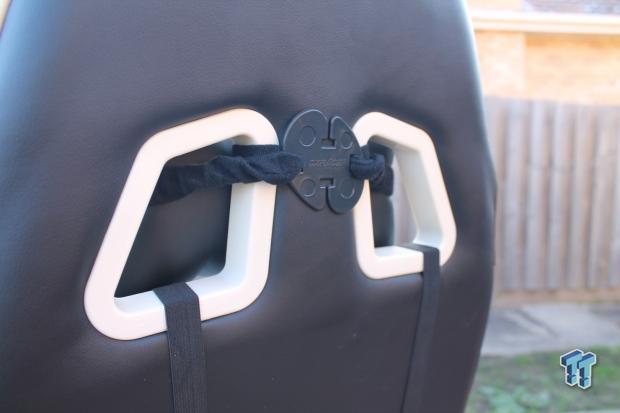 Neck pillow: It's too small and basically useless when the back pad is used.
Loose armrests: All of the up and down functions of the arm rests stay solid, however, the turn in and out function leaves them a little loose after a lot of testing.
Final Thoughts
You get what you pay for comes to mind straight away when writing this conclusion. The DXRacer King Series gaming chair is expensive, but very supportive and comfortable.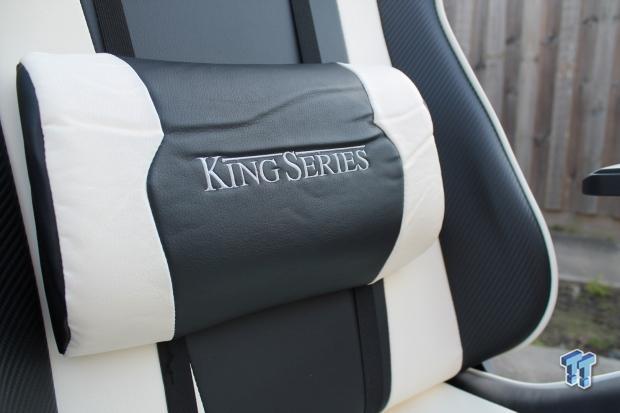 The sheer amount of adjustments is incredible and helps to provide the support you would come to expect from a chair of this price and stature. If you have the money spare and are looking at a gaming chair, I can highly recommend this product after a full month of use.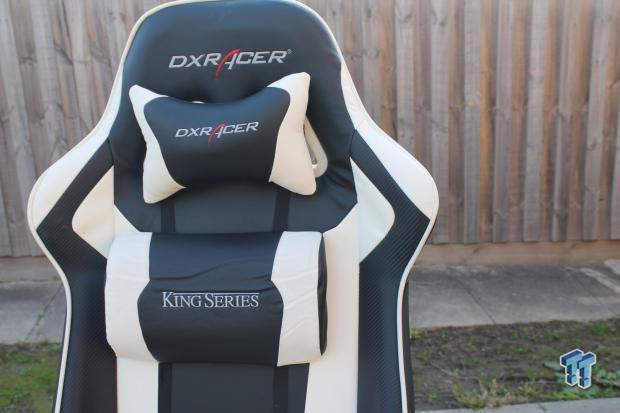 It's certainly better than any other office chair I have sat on thus far. Keep your eye out for more TweakTown reviews on various gaming chairs in order to make some comparisons. If you represent a company producing gaming chairs, reach out to us for a review.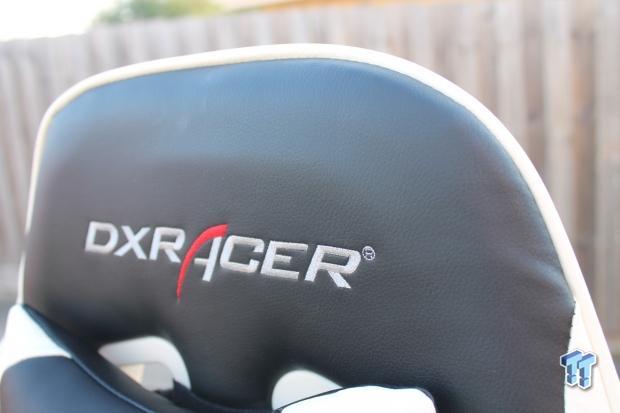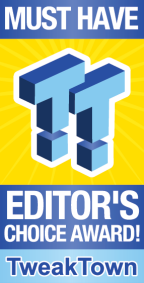 | | |
| --- | --- |
| Comfort | 95% |
| Quality (design, build quality, etc) | 95% |
| General Features (armrests, adjustments, etc) | 99% |
| Ease of Setup | 95% |
| Value for Money | 85% |
The Bottom Line: If you've got the money spare, this is a must-have item. An unmatched set of features and adjustment options puts the DXRacer King Series leagues ahead of general, cheaper office chairs.
PRICING: You can find products similar to this one for sale below.

United States: Find other tech and computer products like this over at Amazon.com

United Kingdom: Find other tech and computer products like this over at Amazon.co.uk

Australia: Find other tech and computer products like this over at Amazon.com.au

Canada: Find other tech and computer products like this over at Amazon.ca

Deutschland: Finde andere Technik- und Computerprodukte wie dieses auf Amazon.de
We openly invite the companies who provide us with review samples / who are mentioned or discussed to express their opinion. If any company representative wishes to respond, we will publish the response here. Please contact us if you wish to respond.