TweakTown's Rating: 88%
The Bottom Line
Looks aren't everything as there are more affordable solutions out there, some with better timings as well. While they are nice to look at, compared to everything else we have seen, we do feel that this kit is sort of flat when it comes to performance and value.

As more and more DDR4 kits hit the market, we are seeing quite a few "revisions" to kits that we haven't seen for a long time; names from the days of DDR and DDR2 all the way up to current offerings are reemerging. We have all played around with Viper named memory at some point in our PC history, and the reemergence of this name is what brings us together today.
Patriot has sent us a set of speedy sticks to review. There is 16GB of density across the four sticks that arrived, and all four sticks are packaged together with X99 systems in mind. The sticks also support the XMP2.0 profile. The profile of the kit allows this set of Vipers to run at 3000MHz with 16-16-16-2T timings, but does use the higher-end of the voltage spectrum with 1.35V needed. Another nice thing about this kit is that if you do happen to run into an issue, it sports a lifetime warranty.
Speed increases with decent timings are proven to show performance benefits with DDR4, but we have yet to be able to get any of our kits to 3000MHz previous to this sample. We hope to have a great IMC on this i7 5930K, so join us as we take a look at what sort of numbers this Samsung IC based 3000MHz Patriot Viper 16GB provides, and see what we are able to do with them as we try to clock them and tighten down the timings. Hopefully past experience rings true with this set of Vipers. If so, this should be a lot of fun.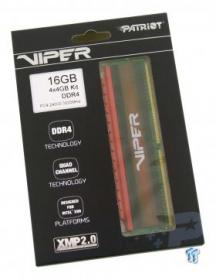 The outer packaging is black with white text offering the Patriot and Viper names at the top. Down the left side we are provided with information about the density and speed. Here we can also see that this is DDR4, quad-channel, designed for X99 systems, and XMP2.0 ready. Next to all of that, there is a cut-away section that offers a glimpse at the sticks inside of the box. The back also offers a window to view the sticker on the memory, and offers links for support and social media as well.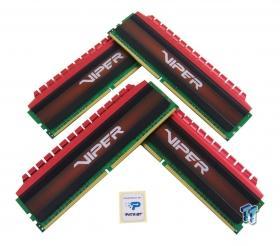 After removing the memory from the plastic blister packs, we have them all set out in plain view. Along with the sexy red tips and black sides on the heat spreaders to see in your build, there is also a small case badge supplied to let everyone know who makes the attractive sticks you are using. The only downfall to these sticks is the obvious; many users do want a black PCB used rather than the green ones Patriot chose.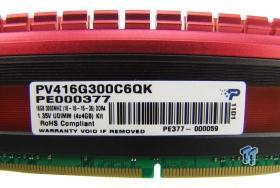 While it's not a huge selling feature, the red tops on the memory are removable with just a pair of screws, one at each end. Removing the tops allows these stick to shrink from 40.8mm, which isn't all that tall to begin with, to an even more maneuverable 33.6mm.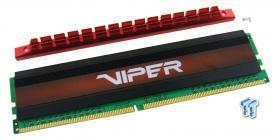 With the kit installed and XMP enabled, we can see that this kit does indeed boot at the stated speed and timings. On the charts to follow, this will obviously be marked as XMP results for this kit.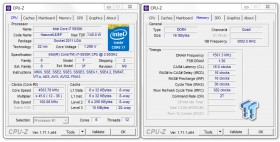 With our system booted to the XMP profile, to achieve 3000MHz we needed to do nothing other than set the XMP profile; no other changes are necessary. As you can see by the CPU-Z screenshot, and the voltage verified in Windows, the stated XMP profile is exactly what you get. With the BIOS we use, these sticks will boot with a 125 BCLK. However, we leveled the playing field by using a 100 BCLK across all kits.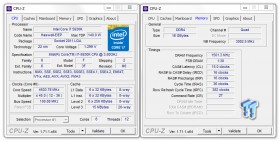 Since this kit would not climb at all with use of 125 BCLK, the use of memory dividers and even trying something as simple as 100.2 BCLK fails to post. The highest we got is 100.1, which we use to offset the 99.9 BCLK. We were able to drop the CAS level to 15 for testing, but the rest of the timings are very stubborn. We find this kit is binned right at its capacity.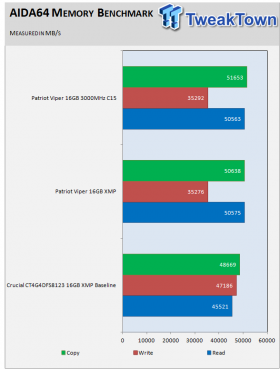 Using the baseline for reference, with the XMP profile in use, there are defined advantages to be had across all three sections of AIDA64. Lowering the CAS level does show an advantage in copies, but reads and writes are still very close.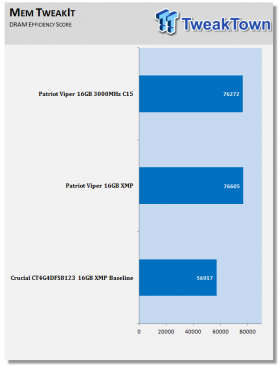 Looking at the Mem TweakIt metric, we see a huge leap from 2133MHz to the XMP profile usage. We also see that while completely stable, running them at CAS16 for things like this is the better call. When it came to Pi testing and 3DMark, CAS15 did have its advantages, but only slightly.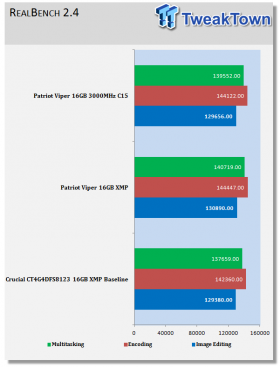 Getting down to what a lot of users would do with their rig in normal usage, we do find that performance is better than baseline in all testing with RealBench, but only marginally at this time. When we tried the run with a lower CAS setting, performance was lost again, showing no real reason to really run this kit outside of the XMP profile. Patriot seems to attain the best of these sticks right out of the box.
It is hard to pick on a set of memory sticks when it looks so good with our ASUS motherboard; these sticks will go perfectly with any red and black themed motherboard. While there is a lot of chatter out there about the use of black for the PCB, once the kit is installed, you only get hints of the PCB at the top and bottom where the slots and locks do not offer cover.
After testing another kit, we found we needed more CPU voltage to obtain stability in order to pass 3000MHz, so we even retested this kit for maximum speeds. Both times, even with new knowledge in hand, we were unable to do much at all with this kit outside of the XMP2.0 profile. That isn't necessarily a bad thing; you just get exactly what you pay for with this kit, with no added bonus.
While day-to-day performance is marginally better than the baseline kit we keep in our charts, things feel about the same speed in the desktop realm. We did notice marked advantages in synthetic benchmarks that overclockers use to compare their efforts, but for those compressing videos for YouTube, or constantly editing images, the benefits are felt in the long term. Time equals money to most, and eventually you will reap the benefits of higher speeds. With DDR4 still very new and without many ICs to play with yet, if latency and timings can come down just a bit, DDR4 will have its day in the sun.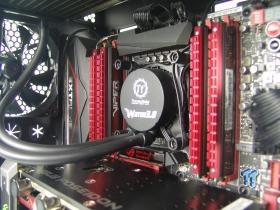 Patriot is listed as the seller at Amazon, and the pricing there is set at $399.94 for this 16GB kit, but they do offer free shipping. However, if you like to save some money when at all possible, this exact same kit is listed at $319.99 over on Newegg, and shipping is only ninety-nine cents. Considering all DDR4 pricing is currently high, for the rated speeds and timings, this kit is fairly priced at $319.99 in today's market.
While there wasn't a whole lot of fun to be had while tinkering with this set of Vipers beyond the XMP profile, the aesthetics and performance are two good reasons to want this memory running in your build. As long as you shop around, you will realize that to move from the 2666MHz kit of Crucial Ballistix Elites, you only need $40 more to get 3000MHz right out of the box. The fact that it boots with a 125 BCLK may throw off your overclock a bit and require some tinkering to dial it all in perfectly, but in the end, it is worth the effort. Based on Samsung ICs, we were not completely shocked that they did not respond well to voltage, but that did not stop us from enjoying this Patriot Viper 16GB 3000MHz kit, nor did we mind the bump in performance over the other kits we have tested.
PRICING: You can find the Patriot Viper PV146G300C6QK 16GB Memory Kit for sale below. The prices listed are valid at the time of writing, but can change at any time. Click the link to see the very latest pricing for the best deal.
United States: The Patriot Viper PV146G300C6QK 16GB Memory Kit retails for $310.00 at Amazon.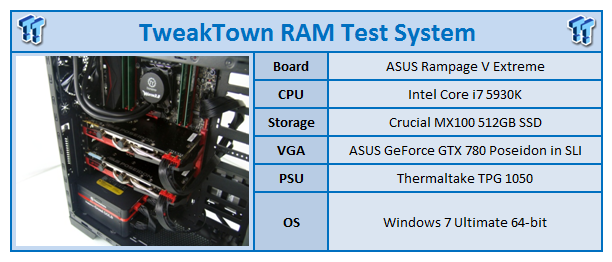 | | |
| --- | --- |
| Performance (including Overclocking w/a) | 84% |
| Quality including Design and Build | 94% |
| General Features | 90% |
| Bundle and Packaging | 94% |
| Value for Money | 80% |
The Bottom Line: Looks aren't everything as there are more affordable solutions out there, some with better timings as well. While they are nice to look at, compared to everything else we have seen, we do feel that this kit is sort of flat when it comes to performance and value.
PRICING: You can find products similar to this one for sale below.

United States: Find other tech and computer products like this over at Amazon.com

United Kingdom: Find other tech and computer products like this over at Amazon.co.uk

Australia: Find other tech and computer products like this over at Amazon.com.au

Canada: Find other tech and computer products like this over at Amazon.ca

Deutschland: Finde andere Technik- und Computerprodukte wie dieses auf Amazon.de
We openly invite the companies who provide us with review samples / who are mentioned or discussed to express their opinion. If any company representative wishes to respond, we will publish the response here. Please contact us if you wish to respond.