Apotop i-Selfie Join Me Wireless Smartphone Photo Snapper Review
Apotop's interesting i-Selfie Join Me mobile device allows you to take photos using your smartphone(s) with one simple button press. More selfies!
Published Tue, Feb 17 2015 9:16 PM CST
|
Updated Tue, Nov 3 2020 6:59 PM CST
Rating:

77%
Manufacturer: Apotop
Introduction & Specifications, Pricing and Availability
You're intrigued enough to open the review and that's the first step. Today, I'll be taking a look over the i-Selfie Join Me by Apotop - it's one of those mobile accessories that at first glance looks a little silly, however, has an actual purpose that may be hidden to most.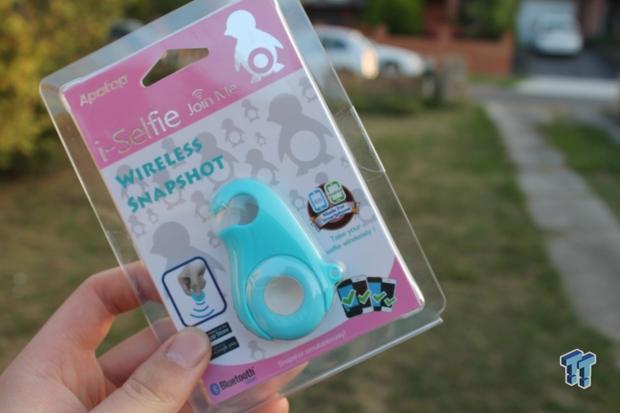 This device is the second edition in the i-Selfie series with 'Join Me' title referring to the ability for this device to connect to multiple devices in one session, allowing you to chain together smartphones or tablets and take a photo from each at the same time with one press of a button.
In this review, I'll go over the basic product features, some specialized testing (like the distance rating), and provide you with some usage ideas that may not come to you at first. Trust me, this is a legitimate product and can be used for a few specific purposes, however, if these don't suit you, look no further.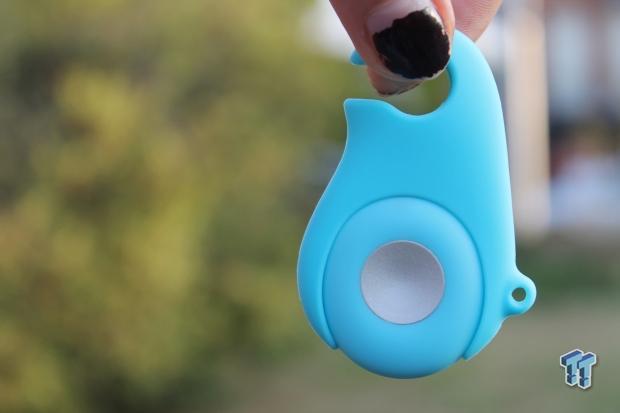 Specifications, Pricing and Availability
Running on a Bluetooth 4.0 platform, Apotop claim that this device has an "active range" of 10-30 meters (33 - 98 feet). The 30 meter range seems to be only in open-air non-crowded environments, however, we'll be testing that later on in the review. We found it listed online for around $25.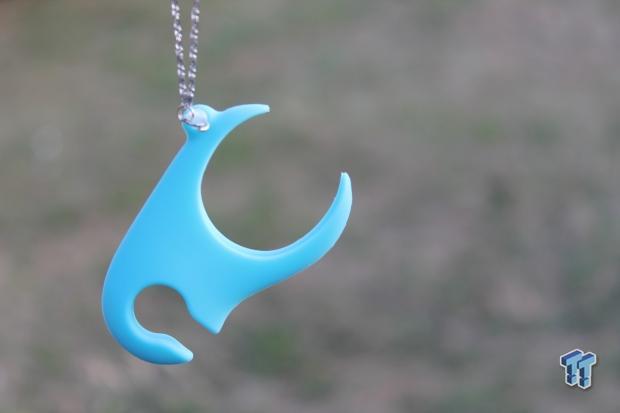 Coming in at 34.3 x 30.8 x 10.85 mm, this product weighs almost nothing - 0.3 ounces. The weight listed includes the small button itself, the 'hook' case and the included tiny hanger chain - although we're not exactly sure what the hook is for. It seems that the small chain will fit nicely onto any key-chain, helping increase the portability of the product. It's compatible with any iOS 8.0 iPhone, iPod or iPad, you can also use this product on Android 4.3 platforms and above.
The metal chain also comes with an earphone jack 'plug' meaning that you can hang it out of your device if you see fit - extremely useful for those with handbags, not so much for pockets. If you're concerned about the chain falling out of the i-Selfie, you can simply connect the rubber hole directly to your key-chain, or threat the chain through and double it over.
A Closer Look and what's in the box
Now we're still a little confused about the optimal application for the carry-case and chain combo, testing out a few different ways it seems that there is no 'best' way to go about it - so just try your best and see what works for you.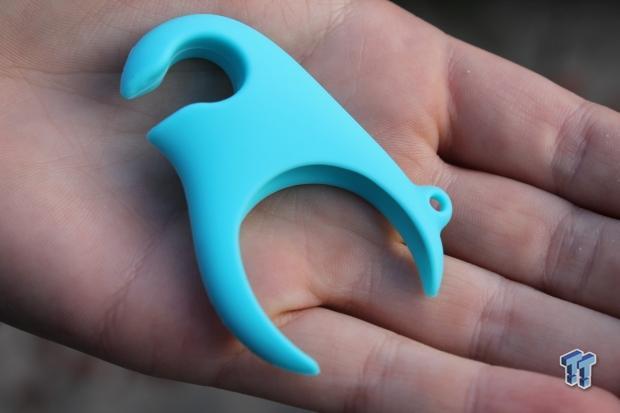 The whole package is obviously quite simplistic, as you would assume. Besides the button itself, you are presented with the hook cover and a small metal chain connected to the earphone plug. This is completely to be expected with products like what we have here, what else could you possibly include?
PRICING: You can find the Apotop Wireless Snapshot for iOS and Android (BL_i-Selfie Join Me) for sale below. The prices listed are valid at the time of writing but can change at any time. Click the link to see the very latest pricing for the best deal.
United States: The Apotop Wireless Snapshot for iOS and Android (BL_i-Selfie Join Me) retails for $24.94 at Amazon.
A Closer Look & How it Performs
Let's dig deeper
It's time to test this thing out in the wild. Now, I'm sure you're still thinking to yourself - what exactly could this be used for? Let me give you a few realistic examples:
Distanced group photos where you have no camera operator (you all want to be included)

Business applications like setting up an iPad to take photos of customers for photo editing or marketing purposes

Multiple photos of the one product at once from various angles

Testing different camera qualities from a similar angle, the same lighting and of the same object
You might think that I'm "grasping at straws", but I believe this product will actually be a life-saving alternative in some of the above applications.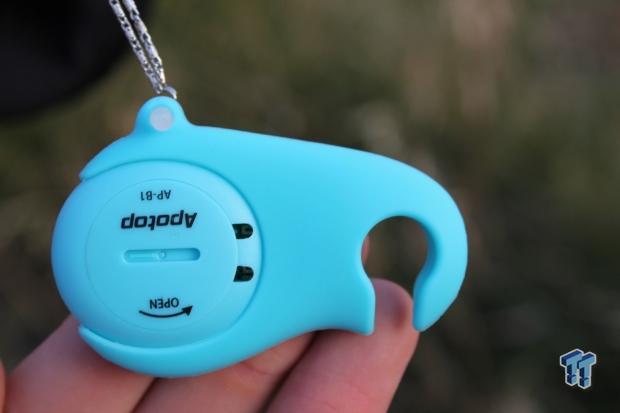 Connecting the device to your phone should be very simple - scan the QR code on the back of the package and download the app linked. However, my search came up blank, with the Google Play store claiming that "the requested URL was not found on this server".
After a manual search, I was able to find it quite easily. Once you've downloaded and installed the 0.95mb application, there's no Bluetooth pairing process necessary. Simply just click the button and the picture will take instantly.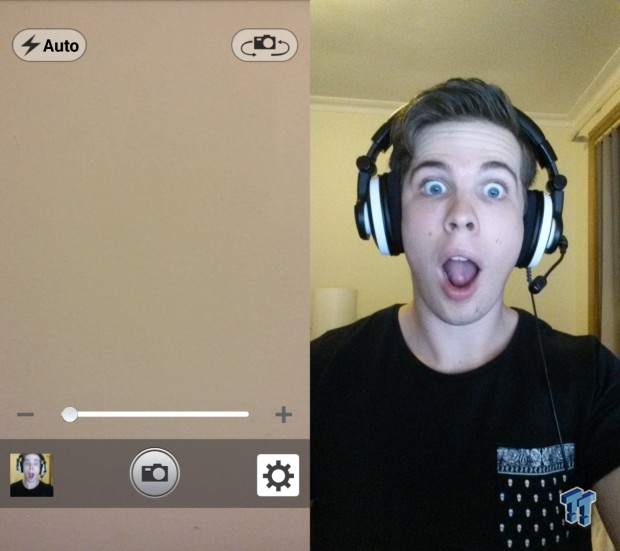 There are some basic features included like different focus settings, a direct link to your gallery, front and back camera switching, flash toggling, zoom settings, and shutter permission. The attached application seems to take photos with the same quality as my stock Samsung Galaxy S4 Android offering, but at faster speeds. This, along with the fact that you can take photos through the phone without the button, actually means that I'll be using this in the future instead of my standard-install option.
As for 'within walls' range testing, I was able to prop my phone against my front door, wander down the hallway to my kitchen and press the button - still worked. However, there seems to be a sort of 'cooling off' period when the device loses signal to your phone - trying to walk further away (and test it through more walls) saw the button not work, when I walked back to my phone it took around 15 seconds for it to reconnect and take another image.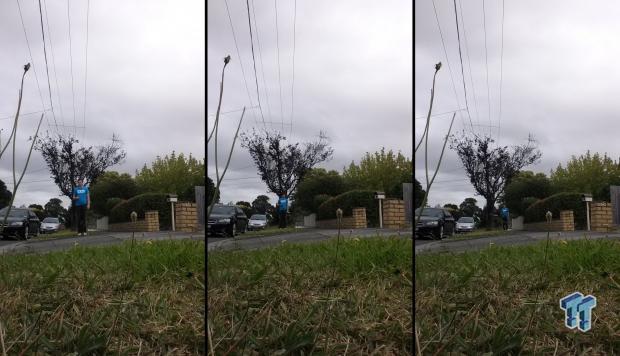 Testing it outside, I propped my Samsung Galaxy S4 up against a wooden stake and walked a few paces at a time, pressing the button as I went. Thanks to the loud camera shutter sound and the flash of the screen, I was able to easily tell if the image was being taken or not - the final result being about 25m (82 feet) maximum distance.
It would be great if Apotop included a little stand to help you prop up your smartphone, otherwise the device is fairly useless unless you have something to lean it against.
What's Hot, What's Not & Final Thoughts
It's cool and it's useful... kind of
Like I said at the start, unless you have a specific purpose or need in mind for this device, it's not really for you. However, if you're in need of something like this - you're going to praise it as a life-saver. This product tests out well, feels durable and does everything that the website says.
One of our main issues, however, is the actual transportation and storage of this device. The little cover is simply slip-on, meaning you get the feeling that one day the button will just slide out - never to be seen again. If they could build a little metal chain or cord into the device itself without the need for the weird-looking hook cover, this device would be even more complete.
What's Hot
Rubber coating and sturdy feel: It feels nice on the outside and seems like it will last many handbag-rides, chest-high drops onto pavement and years of random wear and tear.
Small package: Just too big to fit in your wallet, Apotop have done a great job in keeping the size small - as long as you're not using the hook cover.
Responsive application: As I said before, the app is crazy-fast when taking images and has all the features that your stock Android camera does - this is certainly a major plus when compared to other forced camera inclusions tied in with products.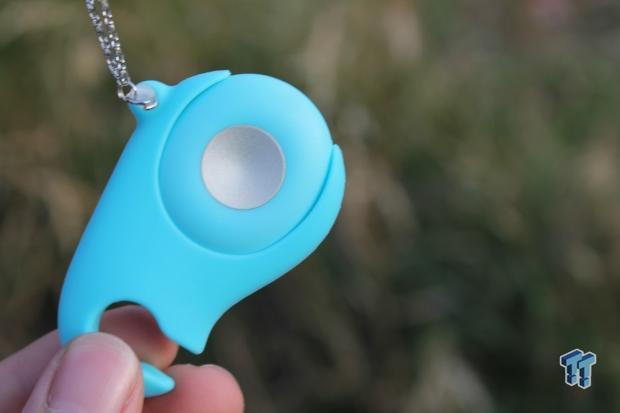 What's Not
The price: Coming in at $24.94, I feel that this product is a little over the price-range for an 'impulse-buy' or complete bargain offering - if they could somehow bring this down to around the $15 mark, I can see a few friends of mine picking them up. Selfie sticks are only $9 here in major retailers in Australia, I just don't think this device is big enough of an improvement for the general stock-standard user.
The cover: Unless you're looking to hang it off the gold chain hanging around your neck, the weird rubber hook cover is bigger than it needs to be, doesn't hold the device in firmly, and is almost useless. If Apotop could just include a way to attach a cord directly to the product, it would make for a much more appealing device.
Limited uses: It's certainly great at what it does, but as I've said many times in this review already, unless you have a specific need for this product, you will likely not find it useful at all.
Final Thoughts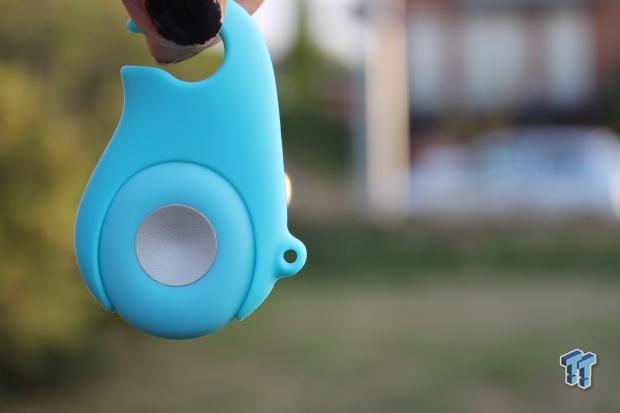 There's nothing exactly wrong with the Apotop i-Selfie Join Me, you just need to make sure that it suits your needs.
If you're looking for a cool impulse-buy, want to show off to your mates or have a legitimate business application for the product, by all means, go ahead. If you're not into cool, quirky and gimmicky technology - this isn't for you.
PRICING: You can find the Apotop Wireless Snapshot for iOS and Android (BL_i-Selfie Join Me) for sale below. The prices listed are valid at the time of writing but can change at any time. Click the link to see the very latest pricing for the best deal.
United States: The Apotop Wireless Snapshot for iOS and Android (BL_i-Selfie Join Me) retails for $24.94 at Amazon.
| | |
| --- | --- |
| Performance and Range | 95% |
| Quality including Design and Build | 90% |
| General Features | 80% |
| Bundle and Packaging | 55% |
| Value for Money | 65% |
The Bottom Line: With a specific purpose in mind, the i-Selfie Join Me does exactly what you think it would and does it fairly well. Some people will love this mobile device, and others will be left wondering.
PRICING: You can find products similar to this one for sale below.

United States: Find other tech and computer products like this over at Amazon.com

United Kingdom: Find other tech and computer products like this over at Amazon.co.uk

Australia: Find other tech and computer products like this over at Amazon.com.au

Canada: Find other tech and computer products like this over at Amazon.ca

Deutschland: Finde andere Technik- und Computerprodukte wie dieses auf Amazon.de