PNY Optima 240GB SSD Review - A Low Cost SSD for the Mainstream at $90
PNY has the two lowest priced 256GB class SSDs on Newegg. One we've seen before and the other is new. Chris tells us about the new SMI controlled Optima.
Published
11 minute read time
Introduction & Specifications, Pricing and Availability
The image above wasn't just chosen for eye candy. It shows the current two lowest priced 256GB class SSDs at Newegg, both from PNY. We've looked at nearly all of the XLR8 models, but the PNY Optima is new. I just saw you flinch right through the monitor as it sat in, a 240GB SSD for $89.99 after a $20 mail in rebate. Pretty cool trick huh? Now please, put some clothes on.
The PNY Optima is the first consumer SSD to use the new Silicon Motion controller that we tested an early sample of last year. The early drive used Toshiba Toggle flash and was only a 128GB sample. This should be the world's first review of the SM2246EN controller in 256GB capacity size and with Micron 20nm, 128-bit die flash.
The SMI SM2246EN impressed us when we tested it last year. Its 4-channel design didn't take a lot of power, works with both MLC and future TLC flash, and now supports TCG Opal with AES encryption. The controller uses a 32-bit RISC CPU and has a 64-bit system bus. All of the boxes are checked with this one, features like DEVSLP are present, a technology that reduces power consumption at idle and a requirement for new Ultrabooks.
Specifications, Pricing and Availability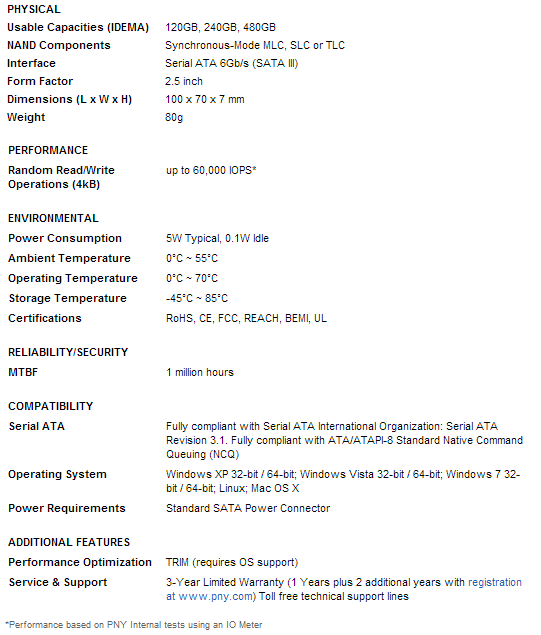 PNY lists Optima in three capacity sizes - 120GB, 240GB and 480GB. So far, we've only saw the 240GB model in the wild and that's also the capacity size we're testing today. PNY did state a 480GB drive should hit our office in the next week or so. We can only assume the 480GB will hit retail around the same time and hopefully the 120GB models follows just as quickly.
PNY claims 4K read and write random performance at 60,000 IOPS, but doesn't show sequential performance on the PNY.com website. Newegg shows random reads at 60K IOPS and random writes at 40K IOPS. Newegg also shows sequential read at 510 MB/s and sequential write at 320 MB/s. The low maximum performance numbers may be a concern, but we've seen low numbers before on very good SSDs. This is due to real workload efficiency, not all SSDs perform the same in a mixed workload (read and writes) environment.
Of course not everyone needs blistering fast SSD speeds either. As we've shown in several reviews, power consumption, reliability and low queue depth performance are more important than high queue depth maximum performance numbers that most of us never achieve in our daily activities.
Price is also a concern. Everyone starts off with a budget when shopping for an SSD and the PNY Optima 240GB has an advantage in this area. Did I mention that with the mail in rebate this drive costs $89.99? Newegg also offers free shipping on the Optima so $109.99 with a $20 mail in rebate. All of the people still saying that SSDs are too expensive should pay attention now - your excuses are running out!
Inside the package we found a 7mm to 9.5mm adapter and some packing foam. The accessory package is pretty thin, but we don't care, this drive is cheap by SSD standards. If we need a SATA cable or desktop adapter bracket, the low price means we can pick them up from a third party and still come out ahead.
The warranty is also thin if you don't jump through a few hoops. You get a 1-year warranty right out of the box and need to register your drive for the full three-year warranty. This means your warranty is most likely not transferable to a second party should you sell the drive. We'll check on this and report back in the 480GB model review.
PNY Optima 240GB SSD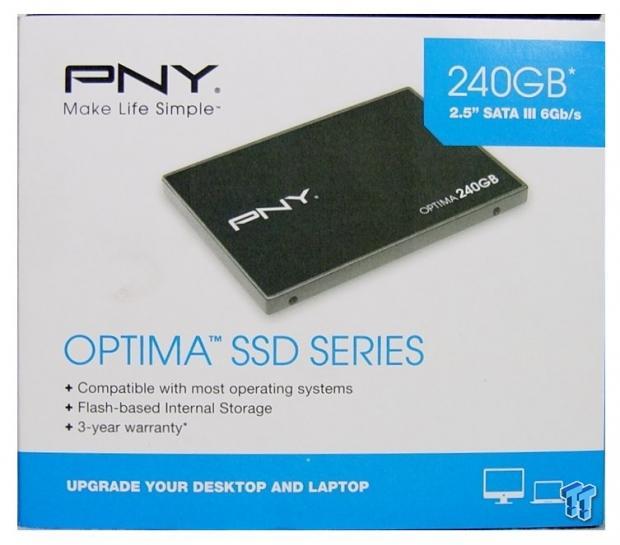 PNY has a large online and retail presence so I wouldn't be surprised to see the Optima line at Best Buy or other retail stores. PNY put together a nice retail package that gives us enough details to take a second look.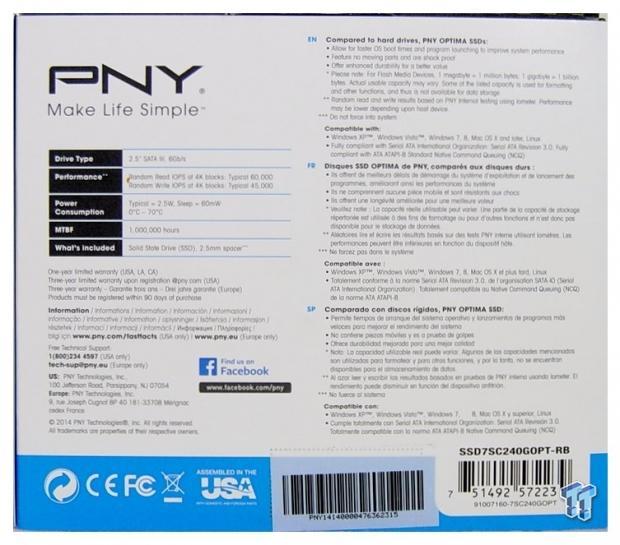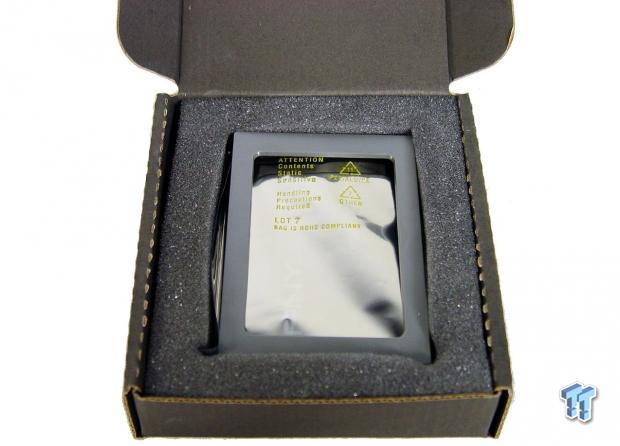 Inside we found the drive and a 7mm to 9.5mm adapter bracket.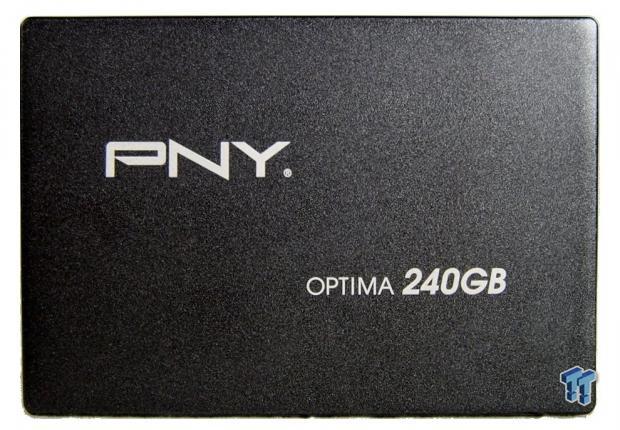 Here we get our first look at the actual drive... that only costs $89.99 right now. I'm still surprised by the price and excited because I suspect this will break new ground and be several people's first SSD.

The PNY Optima is a 7mm drive that ships with an adapter to 9.5mm if you need it.


Inside we found a form fitted case that acts as a cooling device for the flash, controller and DRAM.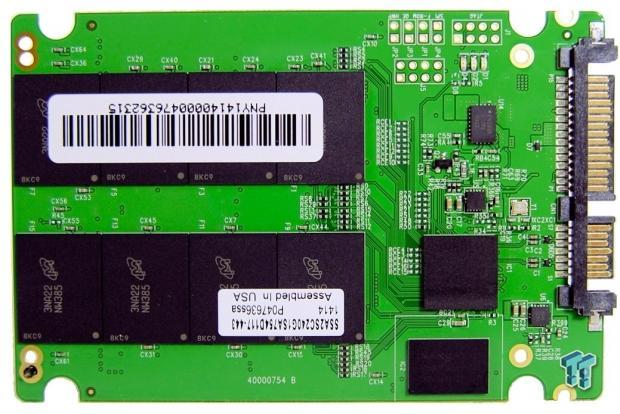 There are sixteen Micron 20nm flash packages that use 128Gbit die, eight on each side of the PCB.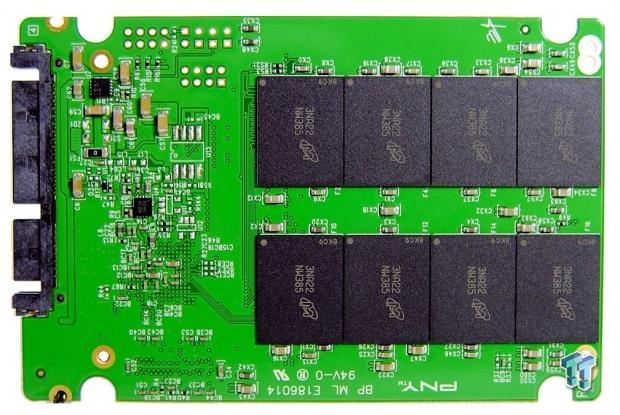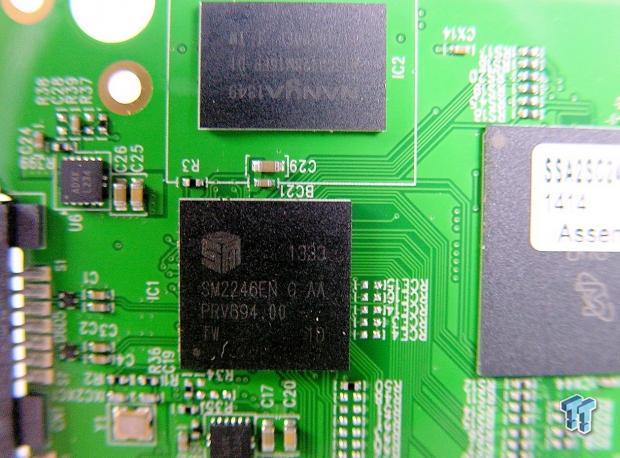 Our second look at the Silicon Motion 4-channel SSD controller and the NANYA DRAM buffer above the controller.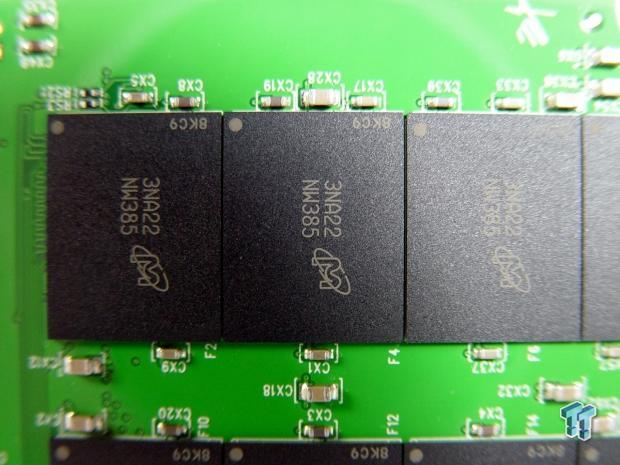 Test System Setup and ATTO Baseline Performance
Desktop Test System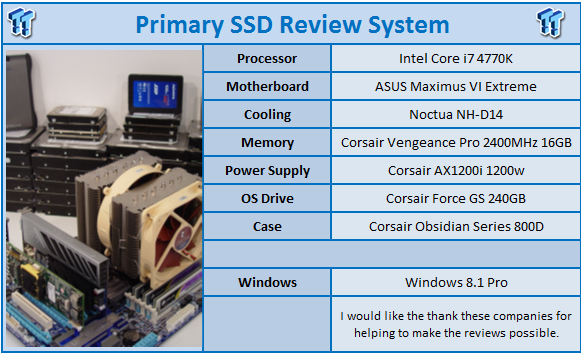 Lenovo W530 - Mobile Workstation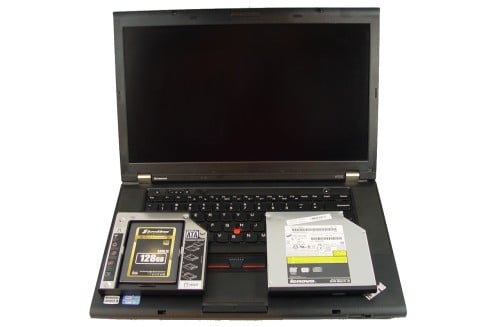 We use two systems for SSD testing. The desktop runs a majority of the tests, and the Lenovo W530 runs the notebook power tests as well as the real-world file transfer benchmark.
ATTO - Baseline Performance
Version and / or Patch Used: 2.34
We achieved 561 MB/s sequential read with the PNY Optima 240GB and 305 MB/s sequential write speeds. We nearly hit full write performance with a 4KB transfer, which is interesting.
Benchmarks - Sequential Performance
HD Tune Pro - Sequential Performance
Version and / or Patch Used: 4.55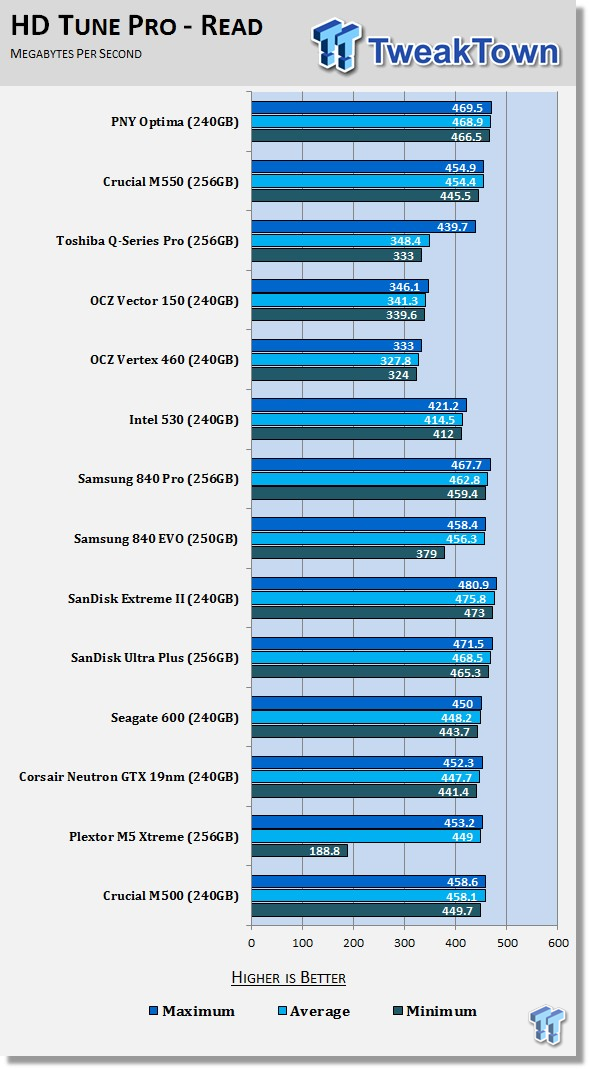 Starting off with all of the drives in a clean state we wear the drives down into a steady state. HD Tune in the first in our thirty-two benchmark regiment. Just like the engineering sample we tested last year, the Optima has very good sequential performance despite using just four channels. Optima isn't the fastest drive on this list but it's very close to the fastest and when it comes to price verses performance, it's in another league.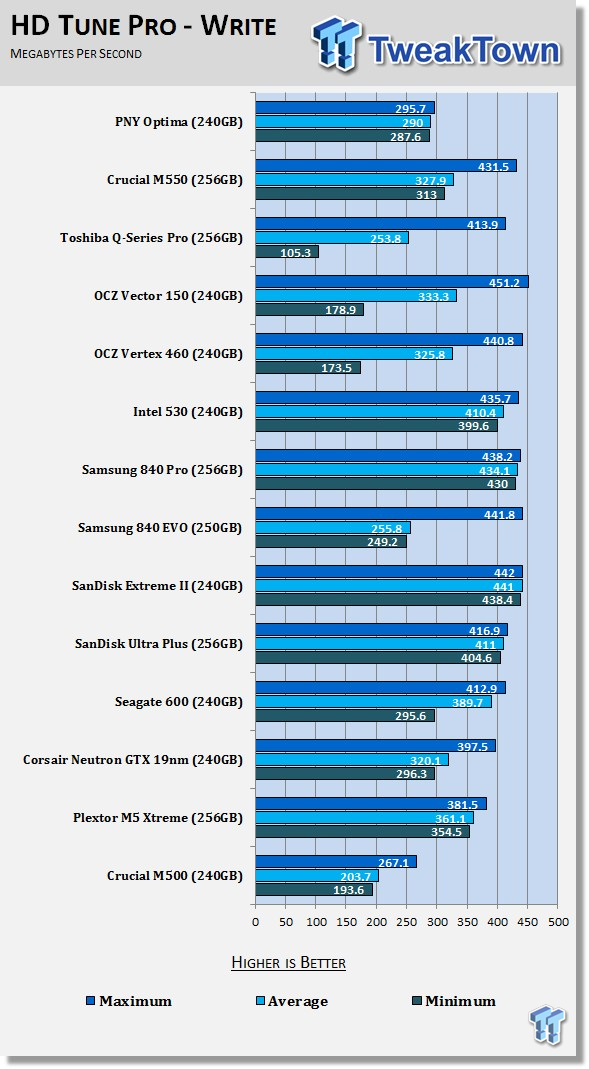 The sequential write speed across the span of the flash is lower than many of the other drives on the chart, but if you look at the average speeds and ignore the maximum speeds, the Optima is competitive with several popular drives on the market.
HD Tach - Sequential Write Performance after Random Writes
Version and / or Patch Used: 3.0.4.0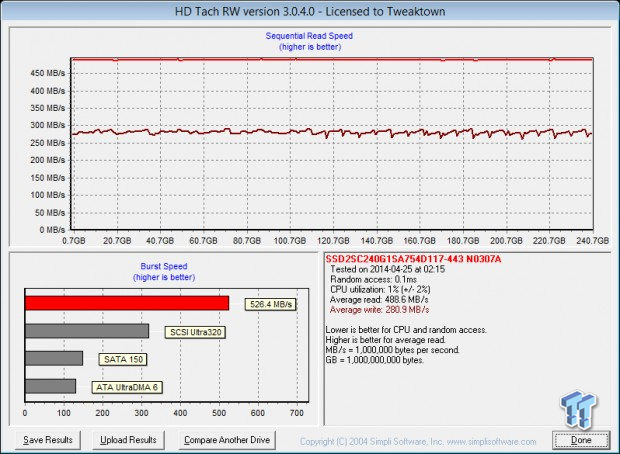 This is an area where the Optima shows why we've waited anxiously for this controller to hit the market. After a reasonable amount of random writes to the drive, the write performance stays level and doesn't lose its mind like some of the other new SSDs on the market using 128Gbit die flash.
This comes from the firmware and programming. Silicon Motion has something special in this controller, we just don't know what it is yet.
Benchmarks - Anvil Storage Utilities
Anvil Storage Utilities
Version and / or Patch Used: RC6
So what is Anvil Storage Utilities? First of all, it's a storage benchmark for SSDs and HDDs where you can check and monitor your performance. The Standard Storage Benchmark performs a series of tests; you can run a full test or just the read or the write test, or you can run a single test, i.e. 4k QD16.
Anvil Storage Utilities is not officially available yet, but we've been playing with the beta for several months now. The author, Anvil on several international forums, has been updating the software steadily and is adding new features every couple of months.
The software can be used several different ways to show different aspects for each drive. We've chosen to use this software to show the performance of a drive with two different data sets. The first is with compressible data and the second data set is incompressible data. Several users have requested this data in our SSD reviews.
0-Fill Compressible Data
Incompressible Data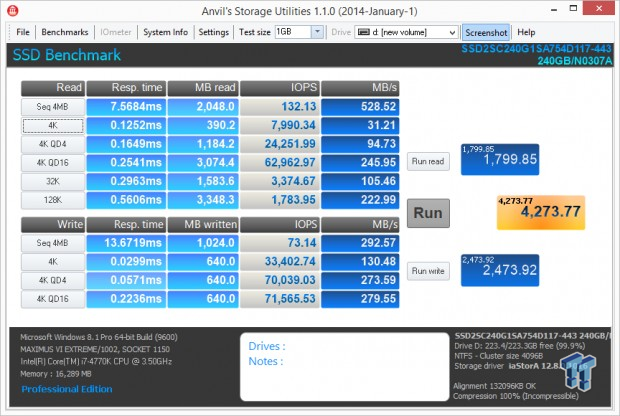 Compressible and incompressible write performance is the same on the Optima.
Read IOPS through Queue Depth Scale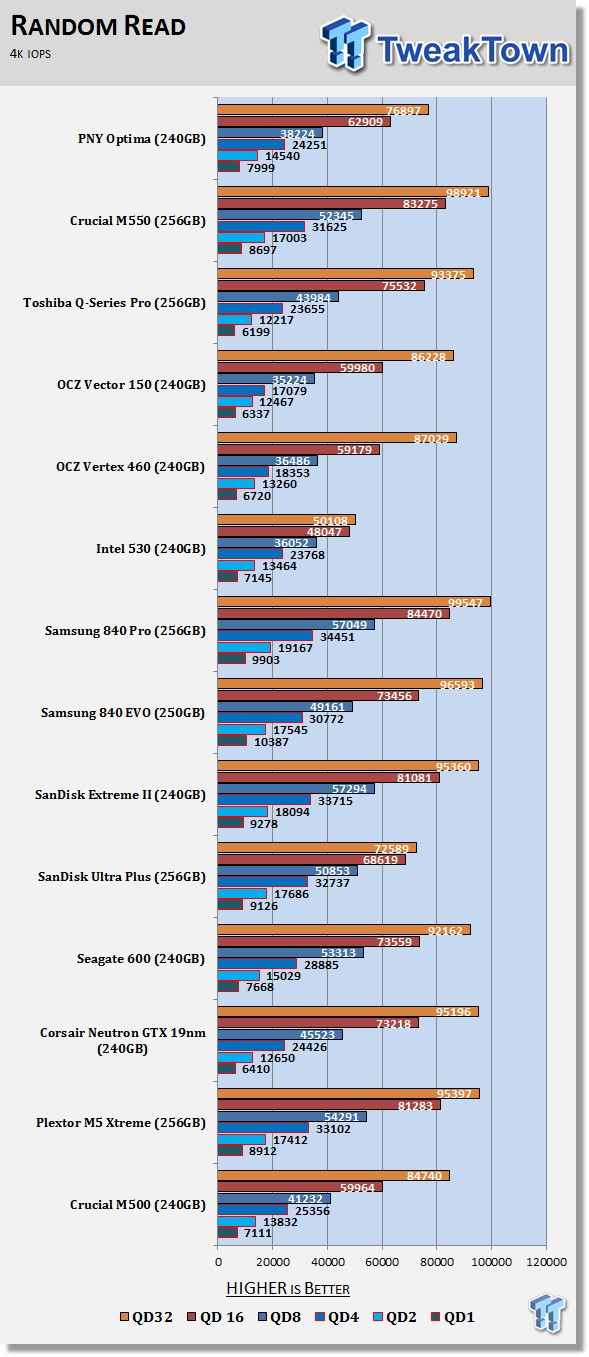 Another area where the PNY Optima does well is low queue depth IOPS performance. A number of good SSDs deliver 6,000 read IOPS at queue depth 1, but the Optima does 8,000. Most of us rarely hit QD32, where most manufactures advertise IOPS performance at.
Scaling Write IOPS through Queue Scale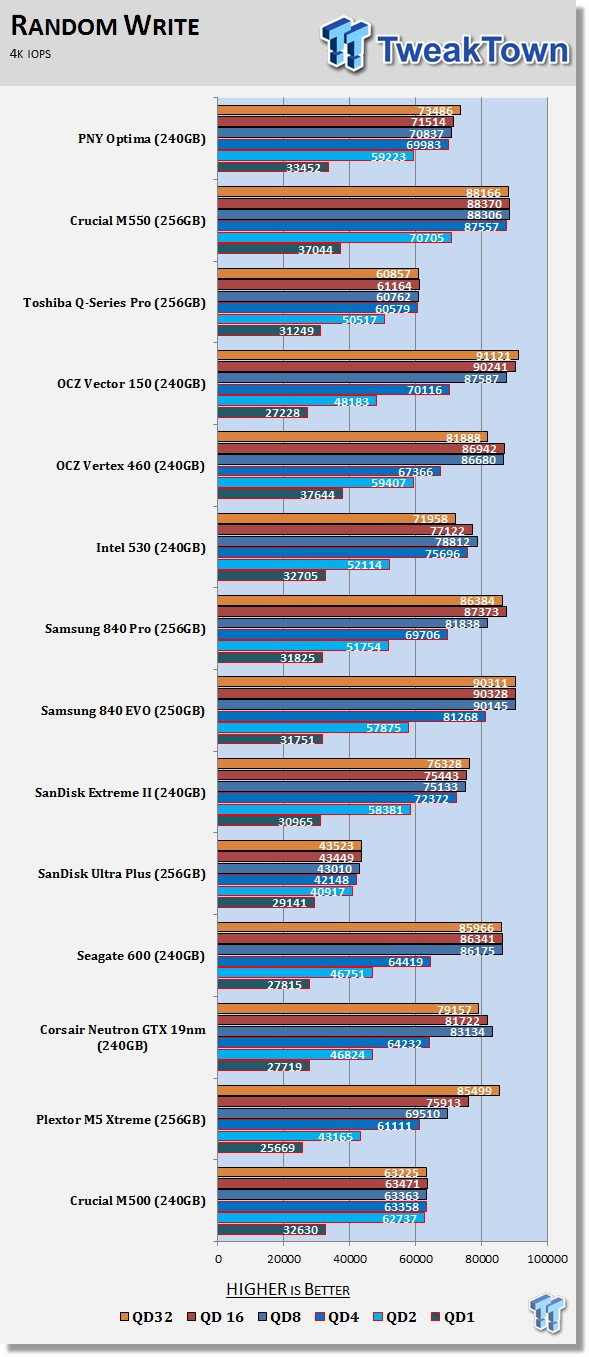 The 4K write performance at QD1 is nearly 34,000 and the drive scales to nearly 60,000 at QD2. By QD4 the drive is running at nearly full speed and finally tops out at 73,000 at QD32.
Benchmarks - PCMark Vantage (Drives with Data Testing)
PCMark Vantage - Drives with Data Testing
Version and / or Patch Used: 1.0.0
For a complete breakdown on the Drives with Data Testing, please read this article. You will be able to perform this test at home with the files provided in the article; full instructions are included.
Brief Methodology
SSDs perform differently when used for a period of time and when data is already present on the drive. The purpose of the Drives with Data testing is to show how a drive performs in these 'dirty' states. SSDs also need time to recover, either with TRIM or onboard garbage collection methods.
Drives with Data Testing - 25%, 50%, 75% Full States and Dirty / Empty Test
Files needed for 60 (64GB), 120 (128GB), 240 (256GB)
60GB Fill - 15GB, 30GB, 45GB
120GB Fill - 30GB, 60GB, 90GB
240GB Fill - 60GB, 120GB, 160GB
Empty but Dirty - a test run just after the fill tests and shows if a drive needs time to recover or if performance is instantly restored.

The SMI engineering sample we tested last year performed very well when 50% of the total flash had data on it. The 240GB model from PNY did very well too, but not as well as the 128GB sample last year.
It will be interesting to see what we come up with while testing the PNY Optima 120GB if we get one. We'll work on that in the coming weeks to see what has changed between the early silicon and the final product.
PCMark 8 Consistency Test
Futuremark PCMark 8 Extended - Consistency Test
Version and / or Patch Used: 2.0.228
Heavy Usage Model:
FutureMark's PCMark 8 allows us to wear the test drive down to a reasonable consumer steady state and then watch the drive recover on its own through garbage collection. To do that, the drive gets pushed down to steady state with random writes and then idle time between a number of tests allows the drive to recover.
Precondition Phase:
1. Write to the drive sequentially through up to the reported capacity with random data.
2. Write the drive through a second time (to take care of overprovisioning).
Degradation Phase:
1. Run writes of random size between 8*512 and 2048*512 bytes on random offsets for 10 minutes.
2. Run performance test (one pass only).
3. Repeat 1 and 2 for 8 times, and on each pass increase the duration of random writes by 5 minutes.
Steady state Phase:
1. Run writes of random size between 8*512 and 2048*512 bytes on random offsets for 50 minutes.
2. Run performance test (one pass only).
3. Repeat 1 and 2 for 5 times.
Recovery Phase:
1. Idle for 5 minutes.
2. Run performance test (one pass only).
3. Repeat 1 and 2 for 5 times.
Storage Bandwidth
PCMark 8's Consistency test provides a ton of data output that we use to judge a drive's performance.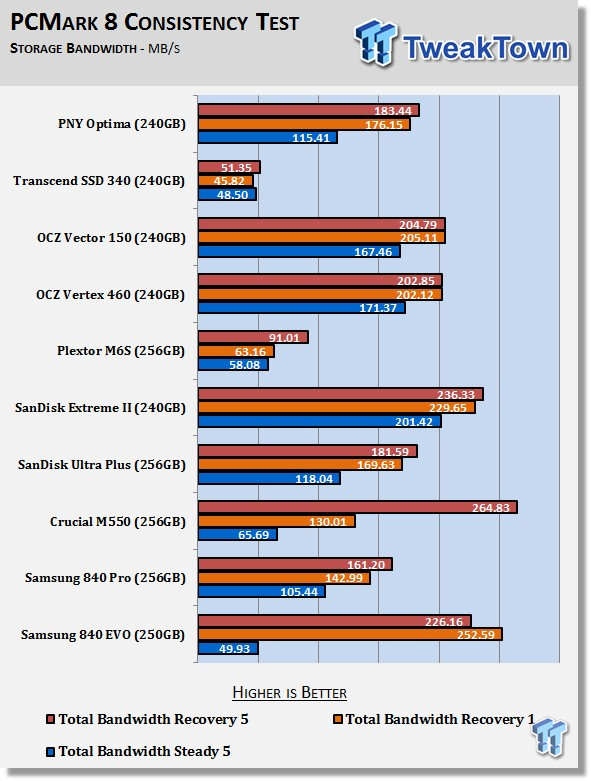 The PNY Optima isn't the fastest SSD on the market, but it doesn't have to be. The worst case performance after an unrealistic load takes the drive down to just 115 MB/s. This sounds low, but is far from the lowest from the drives we've tested.
The drive recovers quickly and delivers reasonable performance when in a normal consumer state.
Disk Busy Time
Disk Busy Time shows us how long the drive has to work to achieve the performance from the above. The best scenario is high throughput performance with low busy time. The less the drive works, the less power it consumes. For the most part, this is an efficiency test.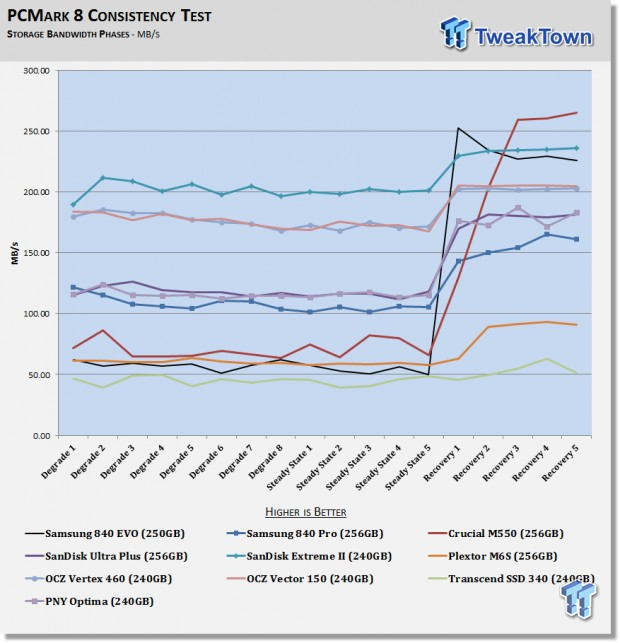 Here we see the same results as part of the full test with each measurement. The Optima is in the middle of the chart the whole time. The worst case performance isn't unreasonably low and the best performance is fast enough to satisfy normal user's needs.
PCMark 8 Consistency Test - Continued
Total Access Time
The access time test measures the total latency across all 18 tests. This is one of, if not the most important test we run at this time for consumer SSDs. When your latency is low your computer feels fast, it's just that simple.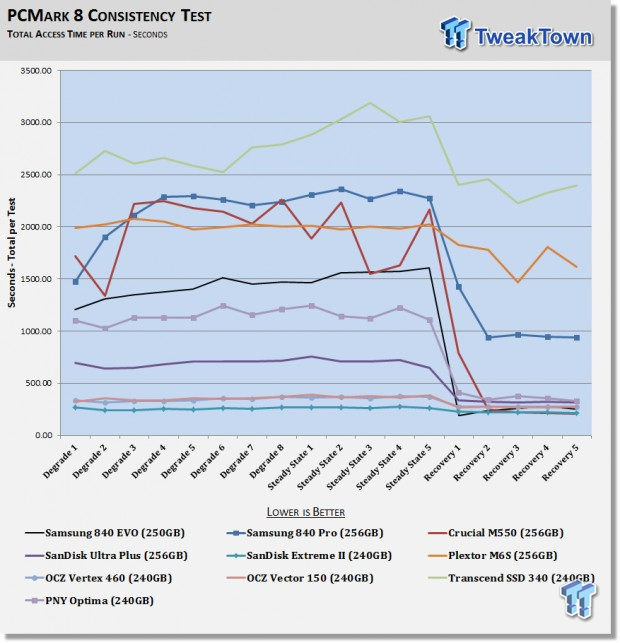 The Optima's latency is fairly steady throughout the tests and drops to very good levels when after the drive has cleaned the flash through garbage collection.
Disk Busy Time
In the final test, we measure the amount of time the drive worked to read and write the data to complete the test. When a drive is active, it uses more power so the faster it can complete the tasks the faster it can fall into a low power state.
Again in this very powerful and revealing test, the PNY Optima isn't the best, but it's better than good enough. What really gets us excited is the drives on the market the Optima is better than at all of these tasks. There are some big names on the chart, most costing two and nearly three times more than the PNY Optima 240GB.
Benchmarks - DiskBench
DiskBench - Directory Copy
Version and / or Patch Used: 2.6.2.0
Note: In this test, we use the Lenovo W530 Mobile Workstation and a SuperSpeed S301 SLC 128GB SSD to move a 15GB block of data to and from the target drive. This is part of our real-world test regiment. Roughly 45GB of data resides on the target drive before the '15GB Block' is transferred. The 15GB Block is the same data we built for the Data on Disk Testing and is a mix of compressible and incompressible data.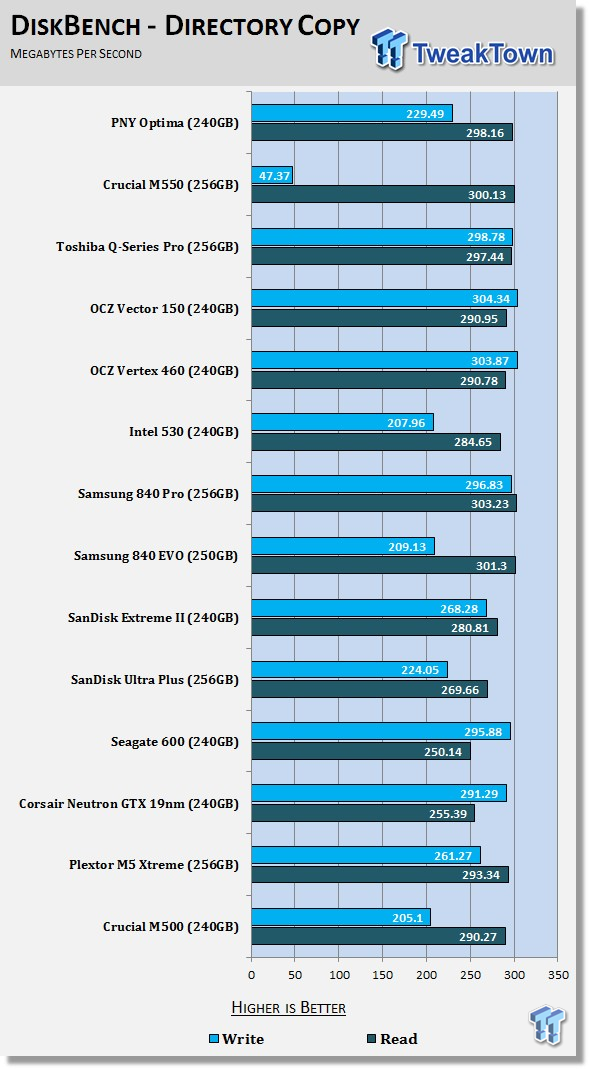 Transferring data to and from an SSD happens on notebooks quite often. Here we transfer 15.2GB of mixed data to the drive and then transfer it from the target drive to a SLC SSD.
The PNY Optima does well in these tests - nearly 300 MB/s read and just 230 MB/s write speeds.
Benchmarks - Power Testing & Final Thoughts
Bapco MobileMark
Version and / or Patch Used: 2012 1.5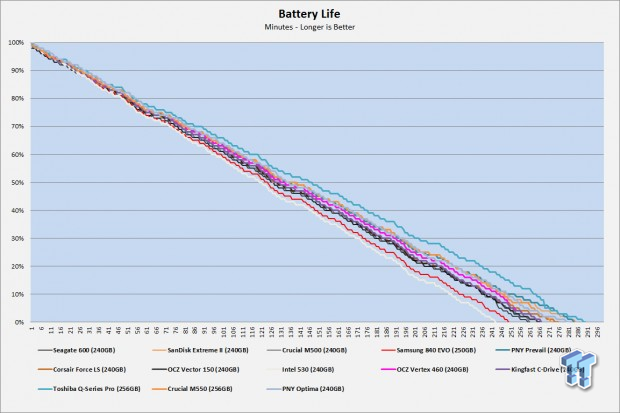 One of the largest selling points for this SSD is the low power consumption.
The Optima delivered 280 minutes in our Mobile Mark 2012 test, the fifth best in this capacity size.
Final Thoughts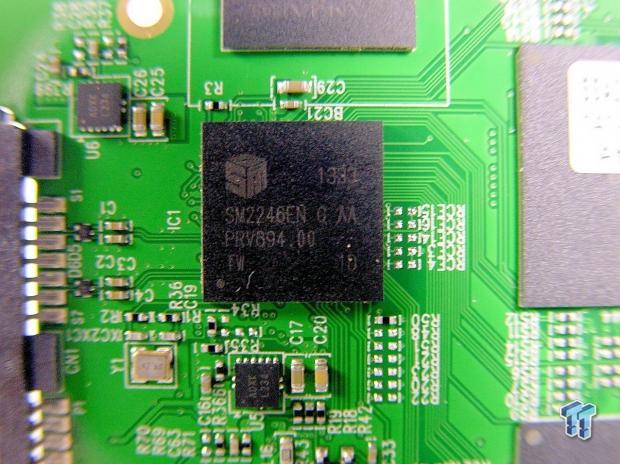 The only thing that could possibly keep this drive from receiving our highest award is if it catches on fire, eats our data due to reliability issues or sprouts legs and runs away. None of those have happened yet. We first tested the Silicon Motion 2246EN at Flash Memory Summit 2013, so SM hasn't rushed this controller to market. From the start, Silicon Motion targeted the low-cost market, so this isn't a performance SSD controller that's no longer able to compete in the hyper performance market.
When you design a product for the middle of the road, the pressure is off to bring home the crown of flagship performance. Over the years, we've tested controllers from Marvell, Phison and LSI SandForce that were geared towards the mainstream with 4-channels, but all of those companies derived the silicon from very high performance parts. Silicon Motion went the other way and targeted the mainstream.
It's not like SMI cut any corners either with the technology other than the 4-channel design. This controller supports hardware encryption for TCG Opal support, uses advanced power states to reduce power consumption, and supports a wide range of flash.
Newegg already has a handful of user reviews and we can use the 96% five and four egg reviews as an indication of the drives short-term reliability. The drive just hit the market so long term data isn't available outside of SMI's or PNY's test labs.
No matter what I say here can stop this drive from being a high seller. At $109.99 ($89.99 after a MIR), this is the lowest priced 256GB class SSD on the market. We have a broad readership, but the millions of people who shop for an SSD without reading reviews will find this drive. Hopefully they come here to read the review too. Either way, the price makes this an instant hit.
Luckily this drive is a good all-around performer with good daily use performance and low power consumption. It's not the absolute very best SSD on the market, but if price even plays a small role in your purchasing decision, then you need to take a close look at the PNY Optima 240GB.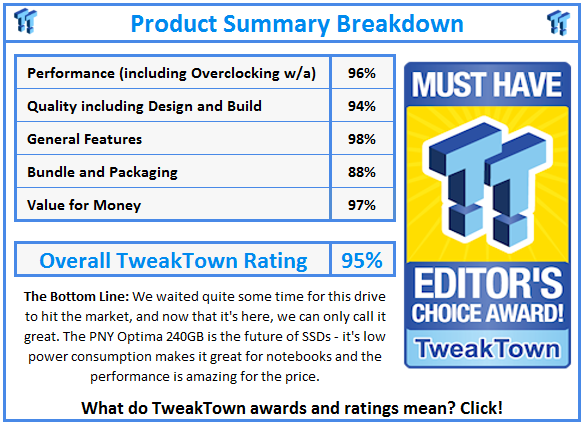 PRICING: You can find products similar to this one for sale below.

United States: Find other tech and computer products like this over at Amazon.com

United Kingdom: Find other tech and computer products like this over at Amazon.co.uk

Australia: Find other tech and computer products like this over at Amazon.com.au

Canada: Find other tech and computer products like this over at Amazon.ca

Deutschland: Finde andere Technik- und Computerprodukte wie dieses auf Amazon.de
We openly invite the companies who provide us with review samples / who are mentioned or discussed to express their opinion. If any company representative wishes to respond, we will publish the response here. Please contact us if you wish to respond.