The Review
ASUS' first 4K product is the PQ321QE monitor, a gigantic 31.5-inch display with a tank for a base, but when you're sitting in front of its dreamy blue eyes--I mean, 31.5 inches of 4K glory--you forget it costs so much...for a few seconds, at least.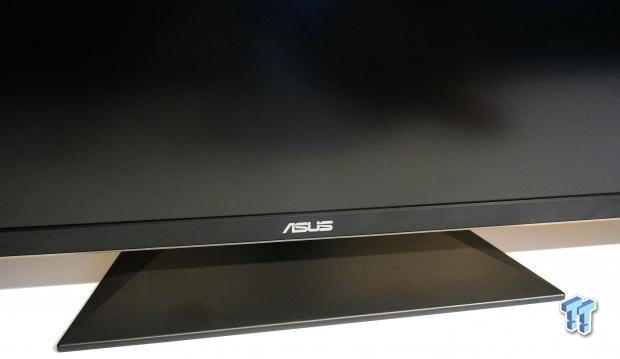 ASUS is a company that pushes out some very high quality displays, a company that I respect very much. I personally purchased three of ASUS' PB278Q displays last year for my triple-monitor testing, and I've been in love with ASUS displays since.
But a 4K display, 3840x2160 resolution with all of those pixels sitting in front of me? How could I refuse? I could not, but it's a hard sell for most people, unfortunately.
Specifications and Pricing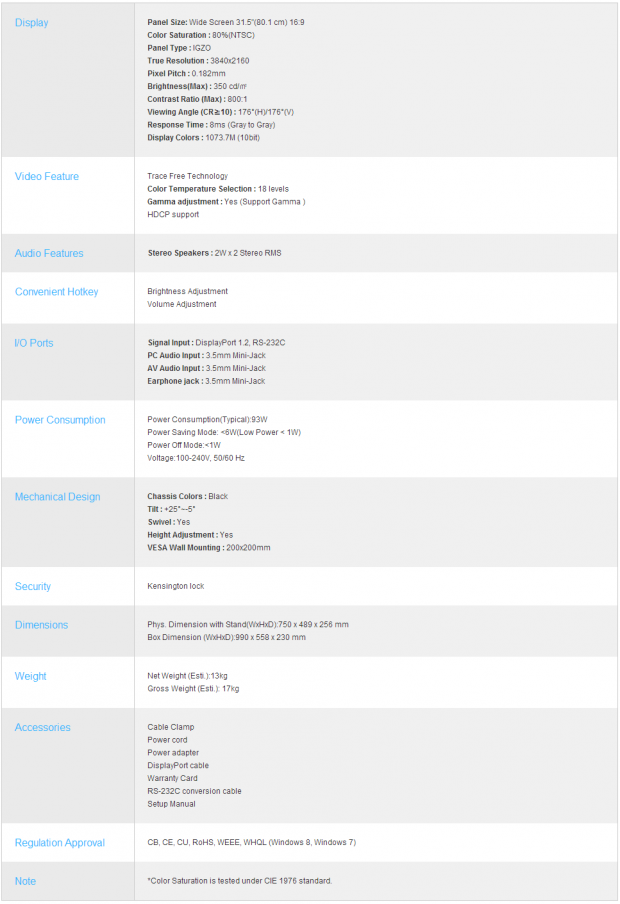 The specifications on the PQ321QE will have most enthusiasts wagging their tails, as we have a 31.5-inch panel here with a resolution of 3840x2160 and ten-bit color input. All of those pixels provide us with a pixel density of 140ppi, something you really see when you're sitting in front of it looking at a high-resolution image or, better yet, 4K video.
ASUS decided to use a high-quality Sharp-built IGZO TFT panel. This is what drives the price up to levels that only a Wall Street banker or insanely cash-loaded enthusiast can afford.
We have 800:1 contrast, 8ms gray-to-gray response time, two 2W stereo speakers, and a DisplayPort input. The entire thing weighs a hefty 37 pounds (or 17kg), but most of this comes in the form of its hefty stand, which keeps the 31.5-inch monitor firmly on your desk.
The monitor's dimensions are quite crazy, measuring in at 750 x 489 x 256 mm, and in the box, it's even bigger at 990 x 558 x 230mm. In the box, you'll receive the cable clamp, power cord, power adapter, DisplayPort cable, Warranty Card, RS-232C conversion cable, the setup manual, the PQ321QE (of course), and the stand.
The ASUS PQ321QE is wall mountable thanks to its included VESA mount (200x200mm), and the stand includes height adjustment and swiveling. There's a Kensington lock for the security conscious, too.
Now, let's take a closer look at the screen itself.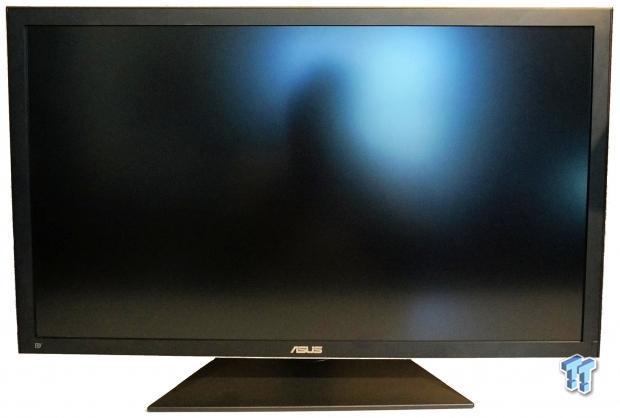 The stand with the PQ321QE at its lowest point.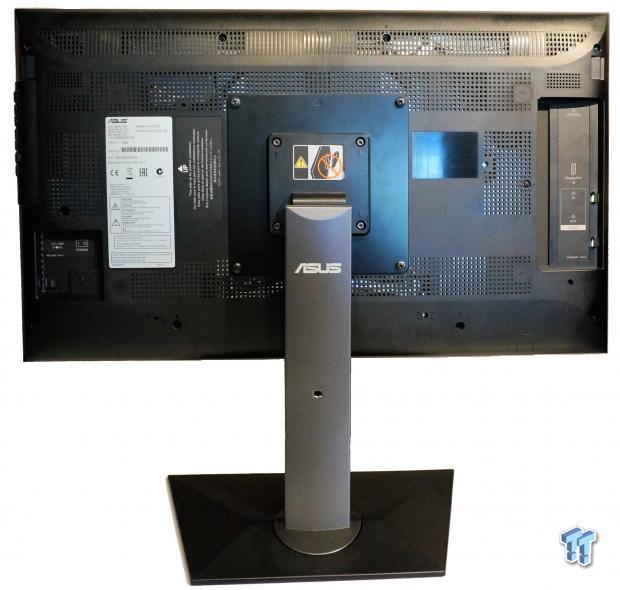 The rear of the monitor.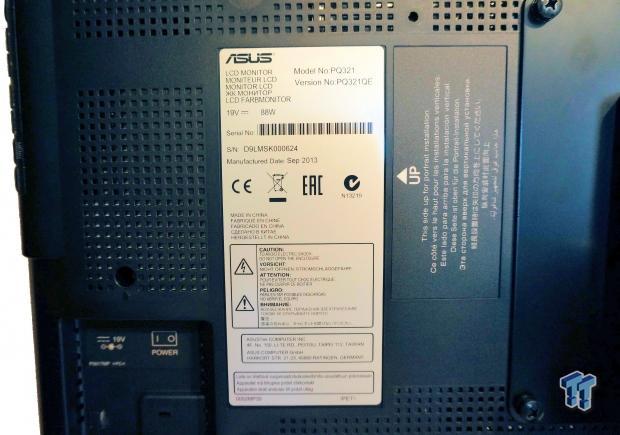 Some more details about the panel itself, where we see it draws a maximum of 88W.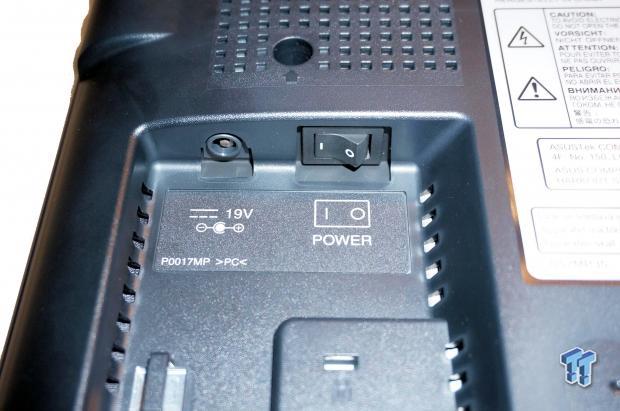 The power socket (19V) and the power switch.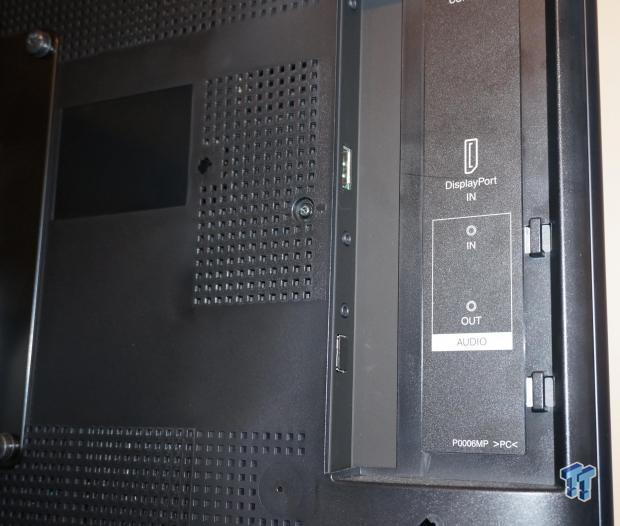 On the right, we have the DisplayPort input as well as 3.5mm audio in/out ports.

Here we have the various buttons that control the monitor. From left to right: Power On/off, up/down through Menus, Volume up/down, Menu/Enter, and Return.
Pricing
To put it simply: ASUS has priced the PQ321QE far too high, but for good reason: it's a beautiful IGZO panel. But, it won't have gamers lining up around the block to purchase it. This is a super-premium monitor that deserves a high-end PC to go along with it.
Priced at around $2800 on Amazon, it's expensive. If you want the absolute bleeding edge of monitor technology, then the ASUS PQ321QE is the best right here, right now.
Although, there are some downsides.
PRICING: You can find the ASUS PQ321QE for sale below. The prices listed are valid at the time of writing but can change at any time. Click the link to see the very latest pricing for the best deal.
United States: The ASUS PQ321QE retails for $2,782.93 at Amazon.
Canada: The ASUS PQ321QE retails for CDN$7,006.20 at Amazon Canada.
Performance
Performance on the PQ321QE is a mixed bag, something I thought I wouldn't be saying, and something I'm sure you thought you wouldn't be reading.
Image quality, for the most part, was nothing short of breathtaking. Sitting in front of 8.2 million pixels is something you simply need to experience. I can't put it into words how much screen real estate 3840x2160 at 31.5 inches provides, but it's an entire new world compared to a 2560x1440 panel at 27 inches.
I used the ASUS PQ321QE for around a month on my PC for all sorts of work, writing, watching TV shows and movies, or just YouTube. I was able to have so many things open at once that I got to the point where I realized I might not be able to go back to a world without 4K, and that makes me sad.
Gaming on the ASUS PQ321QE was another mixed bag. I used two SAPPHIRE Radeon R9 290X Tri-X GPUs in Crossfire, with some pretty great results. I was able to hit around 60FPS in most games with some adjustments to graphical settings because of the mammoth 3840x2160 resolution.
You'll need to adjust the field of view of first-person shooters, as sitting in front of a monitor this big, with a resolution this high, can be quite dizzying.
Ultra HD content in the form of movies or YouTube is nothing short of breathtaking...it really is too much for your eyes and brain to take in sometimes. The detail is staggering, and everything feels life-sized or bigger. It's another point of the screen that needs to be seen in order to be believed.
I had some friends over who wanted to check out the PQ321QE, because they had never seen a 4K display in the flesh before. The best thing to show off just how many pixels you have on screen is by opening up a 1080p movie and letting it play natively at 1920x1080.
This way, it takes up just 1/4 of the screen...now open another, and another, until you have four of them on the screen at once. Then you can whisper, "On your 1080p monitor at home, this would be full screen. As you can see here, I have four of them open...at once".
I was able to watch a 1080p movie by placing it in the top right hand corner of the monitor while I had my two Chrome windows and Spotify open, without feeling cramped or running out of pixels. It felt truly magical to do this, something that be missed when I move back to my 1440p screen.
The Review Continued
Ultra HD is Not So Ultra
In order to get 3840x2160 working at 60Hz, you'll need to enable multistream transport mode within the on-screen display on the ASUS PQ321QE. Out of the box, you'll only see 30Hz at the mammoth resolution, which really hurts when you first see it.
I plugged the monitor into a GIGABYTE BRIX PC toward the end of my testing, which worked surprisingly well. It splits the monitor into two 1920x2160 screens, which are joined together in the middle for the 3840x2160 resolution.
4K is still a wobbly road, which is why we're not seeing it adopted as quickly as I would like. Connectivity needs to be worked on so that it returns to a plug and play world for monitors.
What's Hot
The quality: It really makes you sit there and say "wow." The sheer amount of pixels on the 31.5-inch screen is just astonishing. Comparing my 39-inch 4K TV to this 31.5-inch 4K monitor is quite the showdown. The TV looks great from a distance, but it's not great for on-your-desk work.
The 31.5-inch ASUS PQ321QE, on the other hand, is perfect for your desk. I'm sitting a little more than an arm's length away from the PQ321QE as I write this review, and it feels perfect. It's absolutely gigantic in front of me, not only in physical size, but pixel density, too.
4K is the future: It really is. Once the connectivity issues are worked out, it'll be great. When the day arrives that you can shoot 4K video from your smartphone (with some smartphones already sporting 4K-capable rear-facing cameras), playing this back on your 4K monitor will be sublime.
What's Not
The price: ASUS has priced the PQ321QE out of the range of probably 95 percent of people. Sure, I've paid over $3000 for a monitor before, but with much cheaper 4K monitors on the horizon, the $2800 price is a hard high-resolution pill to swallow.
Some issues on certain PCs: Not all PCs are 4K-capable.
Final Thoughts
After testing out the Seiki Digital 39-inch TV, I've been itching to get the ASUS PQ321QE on my desk. Now that it's here, I don't want it to go away. I've loved nearly every single minute with it, and it really does help with productivity to have that many pixels sitting in front of you.
I was able to have countless windows open while watching a full 1920x1080 movie without having to overlap anything.
Games look absolutely sublime at 4K, almost to the point where they look unbelievably high-res--which, of course, they are. Running 3840x2160 and seeing that resolution being played in front of you is something that truly needs to be seen in order to be believed.
The only problem I have here is the price. I feel ASUS has priced themselves out of the market with the PQ321QE, at least for the normal consumer. For professionals, it is a great investment, as I don't see them needing another monitor until this one died, or it was superseded in the future with new technology or--gasp!--a higher resolution screen.
No matter what, you will certainly not be disappointed with what ASUS has on offer here with the PQ321QE display.
PRICING: You can find the ASUS PQ321QE for sale below. The prices listed are valid at the time of writing but can change at any time. Click the link to see the very latest pricing for the best deal.
United States: The ASUS PQ321QE retails for $2,782.93 at Amazon.
Canada: The ASUS PQ321QE retails for CDN$7,006.20 at Amazon Canada.