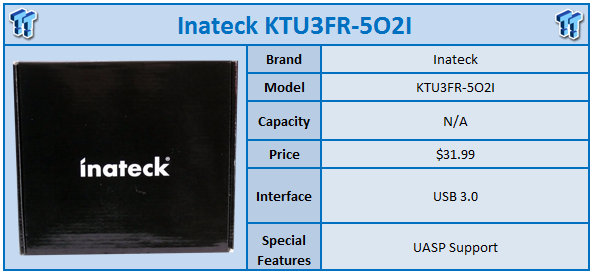 Add-on cards have always served a great purpose in allowing us to add technologies to our systems without upgrading the entire machine. One such case that I encountered was building up a system based on the P55 chipset pre-USB 3.0. To tackle this situation, we take a look at the Inateck KTU3FR-5O2I, a five-port USB 3.0 add-on card with an internal header.
As I stated above, the KTU3FR-5O2I is a five-port solution allowing you to add USB 3.0 to any existing PC with an available PCI Express slot. Featuring the Fresco Logic FL1100 controller, the Inateck supports Windows Vista, 7, and 8. MSRP of the KTU3FR-5O2I is listed at $31.99 with a one-year warranty.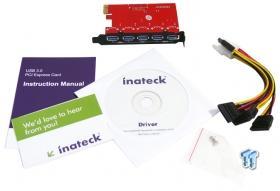 Scope of delivery for the KTU3FR-5O2I features the card itself, a SATA power adapter, and driver disk.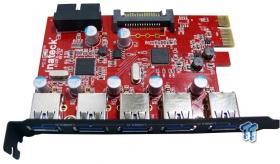 Looking at the card, we find all five ports lined up at the back of card. The internal header rests at the top next to the SATA power connection; both the Fresco Logic and VLI USB 3.0 controllers are in the center of the PCB.

Here you can see the back of the card and its five ports.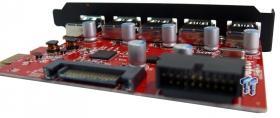 Lastly, we have the internal header for connecting USB 3.0 to the front of your chassis.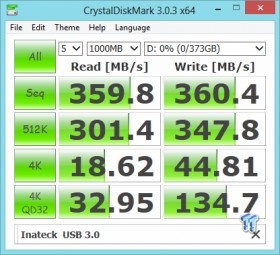 Above, we have our testing of the Inateck KTU3FR-5O2I. We used our very capable Seagate 600 Pro SSD. As you can see, the Inateck did quite well, maxing out at 360 MB/s on both read and write.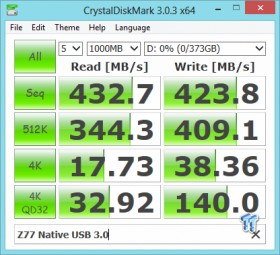 Comparing the Inateck to our Native USB 3.0 on the Z77, you can see it is slightly slower but still a major improvement over USB 2.0
The Inateck KTU3FR-5O2I is a great solution for those that have an older system that would benefit from the capabilities USB 3.0 offers. Additionally, you could use a card like this to add USB 3.0 ports to a system where the integrated setup is full.
Build quality of the card is great; I had no issues installing it in the system, and driver setup is quite painless. One thing of note is the SATA power connection is needed if you want to use the internal header.
Performance of the card was ample, and while it wasn't able to match the speeds of our native USB 3.0, it does offer a tremendous performance improvement over USB 2.0 and definitely makes for a great add-on card for those in the market.
MSRP of the KTU3FR-5O2I is listed at $31.99 with a one-year warranty. Current market pricing can be found below.
PRICING: You can find the Inateck KTU3FR-5O2I for sale below. The prices listed are valid at the time of writing but can change at any time. Click the link to see the very latest pricing for the best deal.
United States: The Inateck KTU3FR-5O2I retails for $30.99 at Amazon.