LUXA2 P-MEGA 41,600mAh Portable Charger Review - World's Largest Power Bank
LUXA2's P-MEGA is a triumph of design, power and uniqueness; 41,600mAh provides the company with the "world's largest power bank" bragging rights!

Published Mar 14, 2014 9:10 PM CDT
|
Updated Tue, Nov 3 2020 7:00 PM CST
3 minutes & 50 seconds read time
Introduction & Specifications
I remember a few months back that LUXA2 teased through its Facebook page the P-MEGA, its 41,600 Power Station. I imagined it being this massive, cumbersome portable battery, but the 41,600mAh of charge would be simply unbeatable.
An e-mail requesting one as soon as possible was instantly shot off, and that day came last week. It arrived in the mail in a much smaller Express Post bag than I thought it would. Once I ripped through that bag with excitement, the P-MEGA awaited me.
Starting off with an introduction and specifications on LUXA2's P-MEGA, we have a massive 41,600mAh battery inside, six USB outputs for multiple devices, three are 2A and three are 1A. It features an LED 'mood light' that looks ultra-cool and a very plain power button.
In the box, you'll receive the P-MEGA itself, a carry pouch, power adapter, and user manual. I didn't expect less, but I wanted more; maybe some retractable microUSB cables? That would've been a nice touch, even just one that was built into the P-MEGA.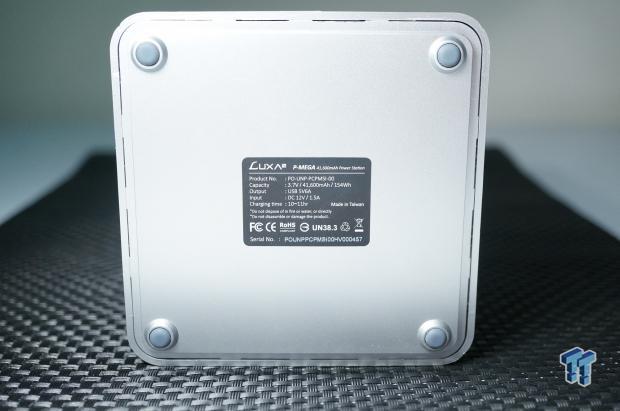 The P-MEGA has power input rated at 12V/1.5A and takes around 10-11 hours for a full charge. For a battery with 41,600mAh inside, one would expect it to weigh a considerable amount, but the P-MEGA comes in at under 1kg.
LUXA2 has priced the P-MEGA incredibly well in my opinion, with the 41,600mAh mobile powerhouse selling for $199 on Amazon. $199 is a lot for a mobile battery, but for those who travel often, or charge lots of devices at once, this price is a steal.
Using the LUXA2 P-MEGA
I have a solar power system powering my house, so I charge up all of my devices during the day harnessing the power of our Sun. This means that I can charge up mobile batteries, such as the LUXA2 P-MEGA, during the day for free, and then when I'm discharging them, it's virtually giving me free power.
I decided to take the LUXA2 P-MEGA to my brother's house for a night of shenanigans where I could plug in a bunch of our devices and try--key word there being 'try'--to drain the P-MEGA as much as I could. Well, I could not... I failed. I barely took down one of its four LEDs, and that was from charging devices all day and night.
I charged up an iPhone 5S, Nexus 5, a portable speaker, another portable battery, and then an iPhone 5; all the devices were on varying levels of charge, but it barely took off one LED. With one LED representing around 10,000mAh of charge, this is an awesome achievement.
The USB ports themselves have a blue LED glowing from them when they're active, but I did wish that I could have at least one retractable cord included and built into the P-MEGA. That would make life that much easier, as I wouldn't need to tote around multiple microUSB to USB cables.
What's Hot
41,600mAh of Portable Charging - This is the selling point of the P-MEGA; right there on the box it states that it's the "world's largest power bank", and, with 41,600mAh of charge, it is. It provides 48 hours of non-stop charging to six devices, which is something other devices simply can't get close to.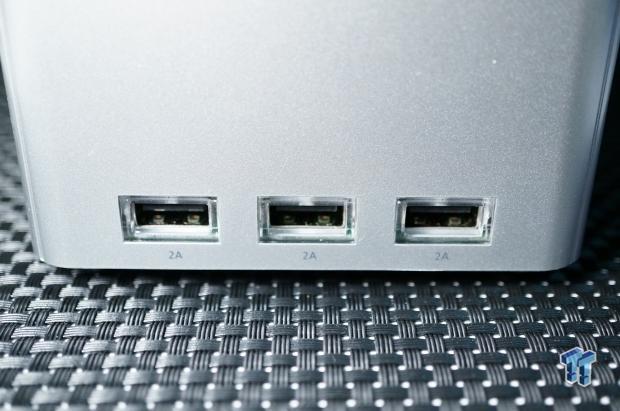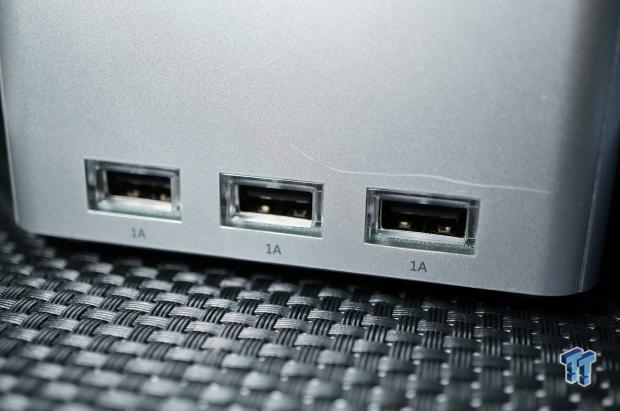 Six USB Ports - Being able to charge six devices simultaneously is great, as you can be charging up multiple devices at once, without draining the battery down too much. This comes in handy when you have kids, or lots of friends, who want their mobile devices charged up quickly from a single device.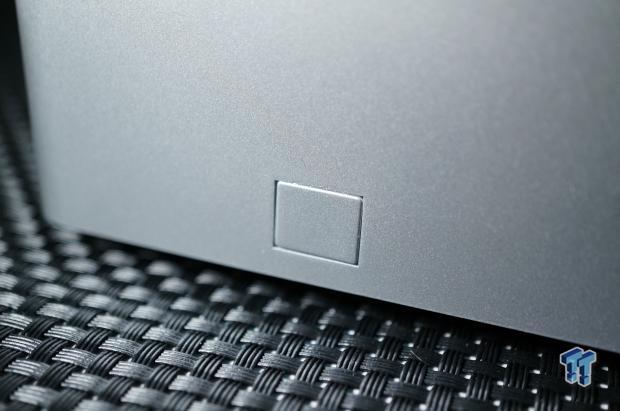 LUXA2's Design Work on the P-MEGA - LUXA2 has some truly beautiful products, with the P-MEGA now added to that growing list. The blue LEDs really tip it off, with the only downside being that Plain Jane power button.
What's Not
No Retractable/Built-In Cables - This is the only thing wrong with the P-MEGA: no built-in or retractable cables. This is something I would've loved to see included, but it definitely doesn't make me think it is a device less worthy of a near-perfect review.
Final Thoughts
If you travel a lot, have kids, or are really social, the LUXA2 P-MEGA is for you. With 41,600mAh of charge, you won't run out of battery even if you're charging multiple devices for the entire weekend. This is a massive bonus; you could take the P-MEGA away with you for the weekend, put it on the table, and plug things up to it as you need it.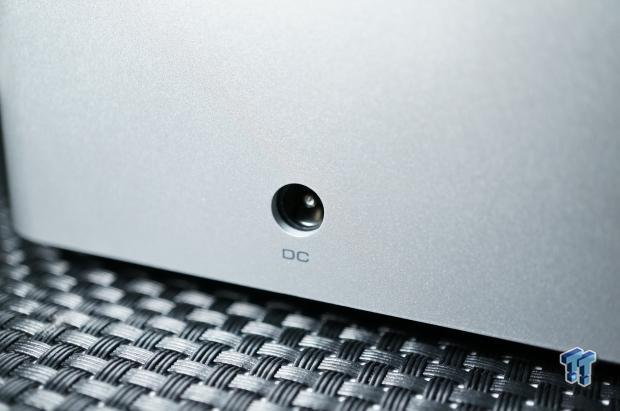 Having six USB ports on the P-MEGA is another selling point, as you can plug up all of your devices--even other portable batteries--and they'll all be charged by the morning. On top of that, the P-MEGA itself will also be charged, ready to go.
We've just been hit by a massive heat wave here in Australia, where temperatures soared above 110F. In my state, and just a few suburbs over, power was cut to close to 100,000 homes. I noticed my Facebook feed was filled with people saying they were going over to friends' or families' houses to charge up their devices (phones, tablets, etc).
In this day and age, you really need your smartphone(s) charged up in case of an emergency. If the P-MEGA was in the house, you have a couple of weeks of charge, or even a week with multiple devices. It really has a million-and-one uses and a million-and-one reasons to buy it.
PRICING: You can find the LUXA2 P-MEGA for sale below. The prices listed are valid at the time of writing but can change at any time. Click the link to see the very latest pricing for the best deal.
United States: The LUXA2 P-MEGA retails for $178.13 at Amazon.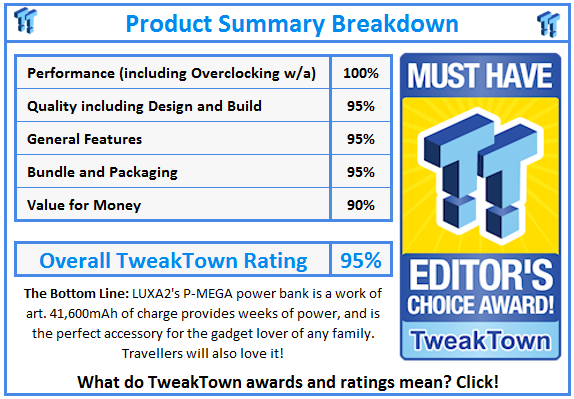 PRICING: You can find products similar to this one for sale below.

United States: Find other tech and computer products like this over at Amazon.com

United Kingdom: Find other tech and computer products like this over at Amazon.co.uk

Australia: Find other tech and computer products like this over at Amazon.com.au

Canada: Find other tech and computer products like this over at Amazon.ca

Deutschland: Finde andere Technik- und Computerprodukte wie dieses auf Amazon.de
We openly invite the companies who provide us with review samples / who are mentioned or discussed to express their opinion. If any company representative wishes to respond, we will publish the response here. Please contact us if you wish to respond.