Plextor M6e 256GB PCIe SSD Review - Breaking the Chains of SATA III
Today Chris gives close inspection to the new Plextor M6e 256GB SSD, a PCI Express based storage product. Read on as we give you the full rundown.
Published
11 minute read time
Introduction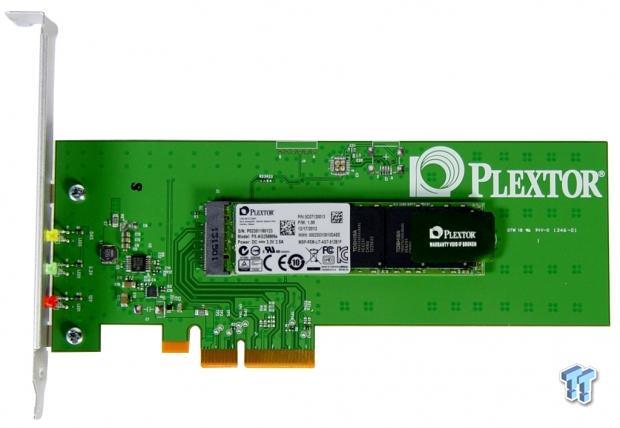 While not available in the US yet, Plextor's M6e SSDs are coming. This isn't our first go around with the Marvell 88SS9183 PCIe-to-flash controller, but it should be the first to come in retail form. The Marvell 88SS9183 bypasses the aging SATA III bus and the throughput limits that come with it. By interfacing the flash with the PCI Express bus, the SSD has a direct path to the CPU and a high ceiling that scales to incredible levels via lanes.
The Plextor M6e SSD uses two PCIe lanes, and the adapter card fits in nearly every modern desktop motherboard. Most of us rarely use the smaller PCIe slots in our systems unless adding a video capture card or add-on sound card. The M6e gives you another option, and this one delivers storage performance in excess of 700 MB/s.

Plextor targeted the gaming market with the M6e SSD. Gamers have a long history of being on the cutting edge of computing technology, and Plextor made sure this SSD was right on the blade. The dual BIOS boot feature allows for faster system booting with UEFI support. One of the largest complaints about add-on storage controllers is the additional time to desktop since the system has to initialize another component, but UEFI allows all of the components to initialize at the same time. The legacy BIOS support also means older systems without UEFI can still use the M6e, as well.
Before we get too far, let's check out the specifications and then circle back to the advanced features offered by the M6e.
Specifications, Pricing, and Availability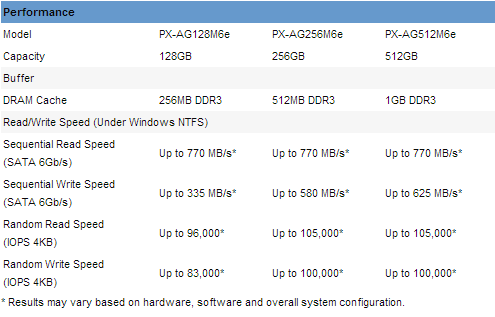 Plextor offers the M6e in three capacity sizes: 128GB, 256GB, and 512GB. Today, we're looking at the mid capacity size, 256GB. This capacity size delivers up to 770 MB/s sequential read and 580 MB/s sequential write performance. The larger capacity size reads sequential data at the same rate, but the sequential write speed increases to 625 MB/s.
IOPS performance for the two largest capacity sizes tops at 105,000 4K read IOPS and 100,000 4K write IOPS. The 128GB model shares the same sequential read performance, but the sequential writes drop to just 335 MB/s and 83,000 4K write IOPS.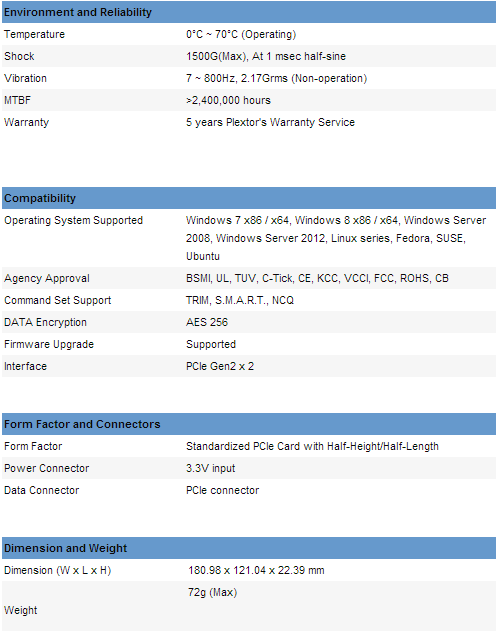 PCIe based M.2 storage still uses the AHCI driver built into Windows, so installation is smooth on Windows just like using a standard SATA drive. Unlike SATA where we're constrained to roughly 550 MB/s, the M6e allows for even higher performance.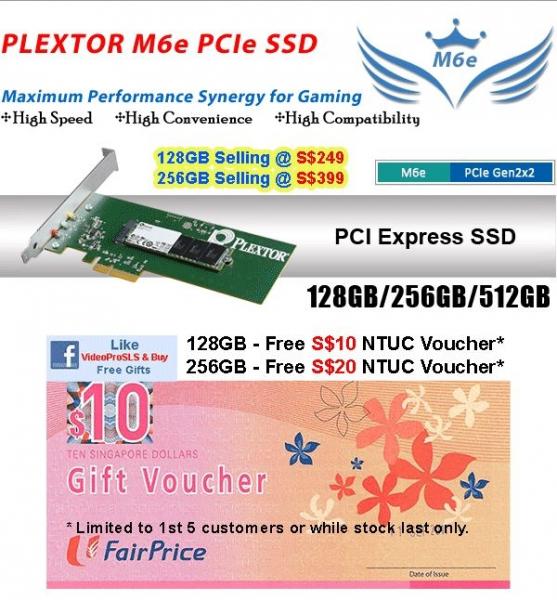 As mentioned in the introduction, the M6e doesn't have a US presence yet. We did find the drive available in Asia already. The closest we could find to the US was in Singapore. A company called Video-Pro lists the M6e 128GB and 256GB for sale, but the Singapore Dollar doesn't equate to the US Dollar.
We expect Plextor to have units at Newegg and other etailers any day now. The M6e drives should sell for a premium, but we never received MSRP information. Plextor covers the M6e with a 5-year warranty.
Plextor M6e 256GB PCIe SSD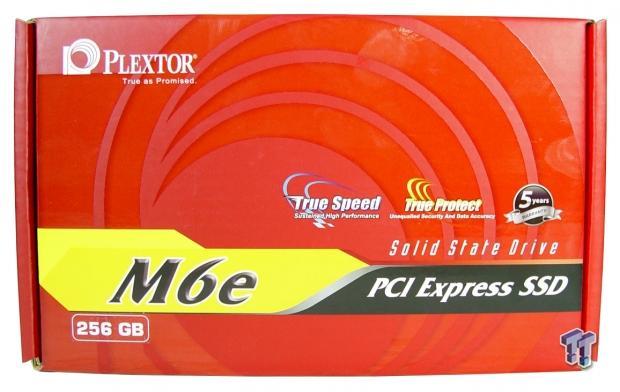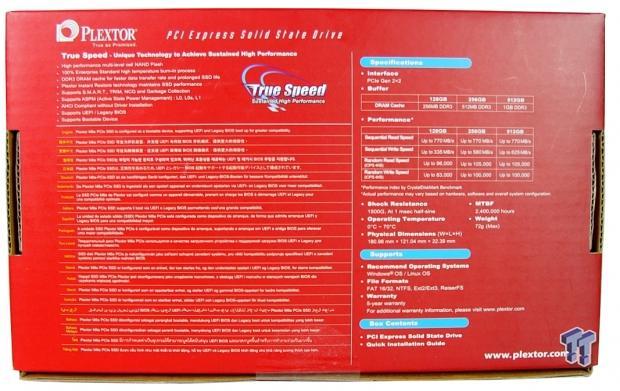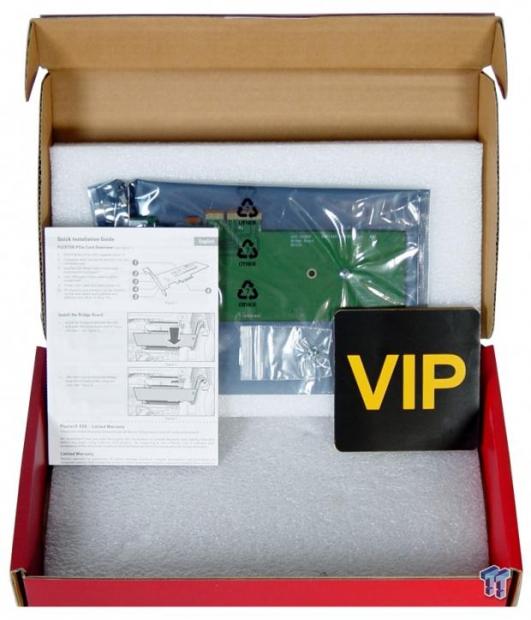 Inside the package, we found the SSD nestled in closed cell foam for safe shipping. Plextor also included a paper installation manual and a VIP pamphlet that lists support contact information.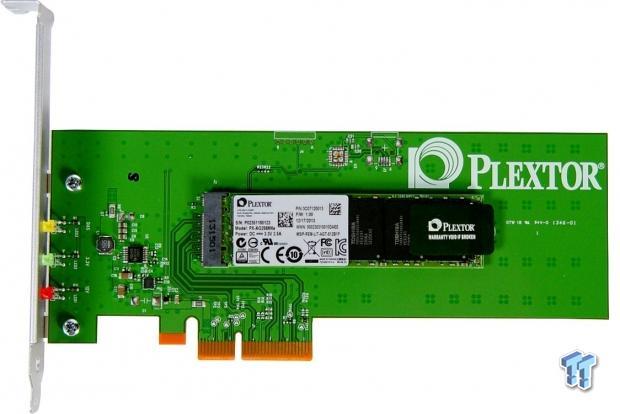 The M6e is actually two parts. The first is the M.2 SSD that's keyed for both B and M slots. In time, this form factor will work in notebooks and Ultrabooks, but Intel keeps pushing M.2 adaption back as they wait for an Intel labeled product.
A few desktop motherboards on the market support M.2 connectivity. ASUS' popular ROG series has the open slot but is limited to just one lane, so the maximum throughput is just 500 MB/s. Of the products in the Z87 ROG series, only the Maximus VI Impact gives enough room to install a long M.2 form factor drive. The ASRock Fatal1ty 990FX Killer supports and has room for long M.2 drives, but that leaves the pool very shallow.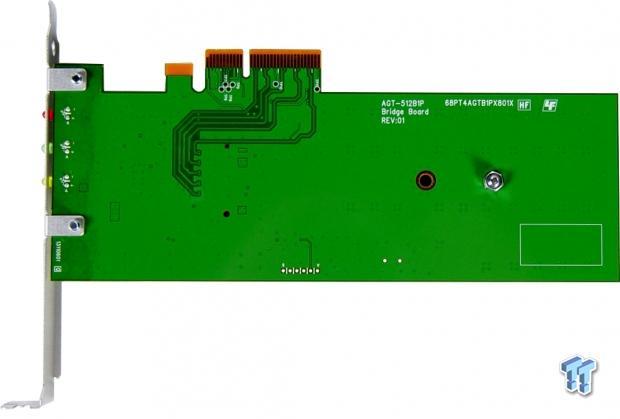 That leads us to the second component in the package, the adapter bracket. Plextor was very thoughtful with the adapter bracket for the M6e, but it could be much smaller and cheaper. The M6e uses two PCIe lanes, but the adapter supports up to four lanes.
At CES, we had an exclusive look at Marvell's four-lane controller with up to 1200 MB/s sequential performance. We fully expect Plextor to take a serious look at that controller. Plextor M6e Pro, maybe? If so, the adapter card supports it.

Here we get our first look at the M.2 SSD. As you can see, the components are very close together and the surface area comes at a premium.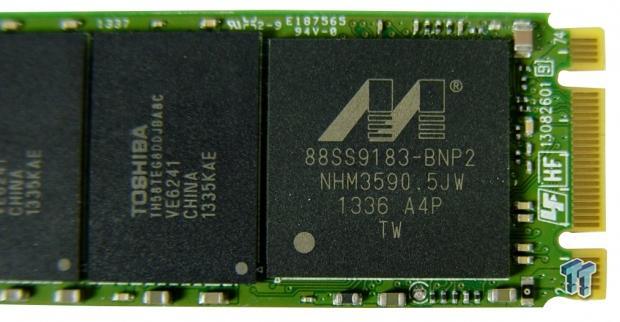 Plextor uses Toshiba 19nm Toggle flash on the drive and pairs it with the Marvell 88SS9183.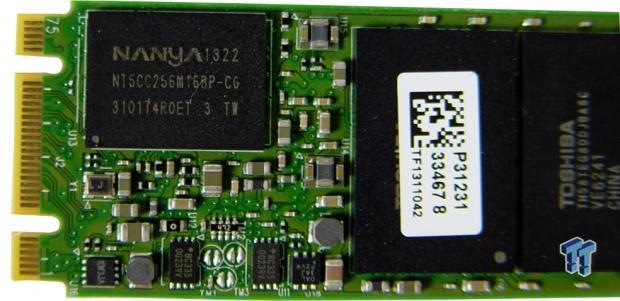 The 256GB model uses a single 512 MB DDR3 buffer for page location data.
Benchmarks - Test System Setup and ATTO Baseline Performance
Desktop Test System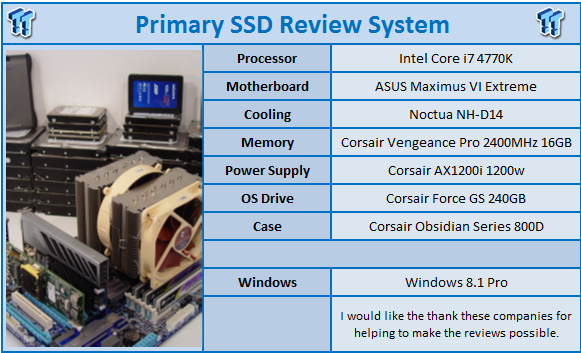 ATTO Baseline Performance
Version and / or Patch Used: 2.34
ATTO is an established method of measuring sequential throughput often used in marketing literature. Although it has very little value in measuring real-world performance, we can use it to verify the manufacturer's claims.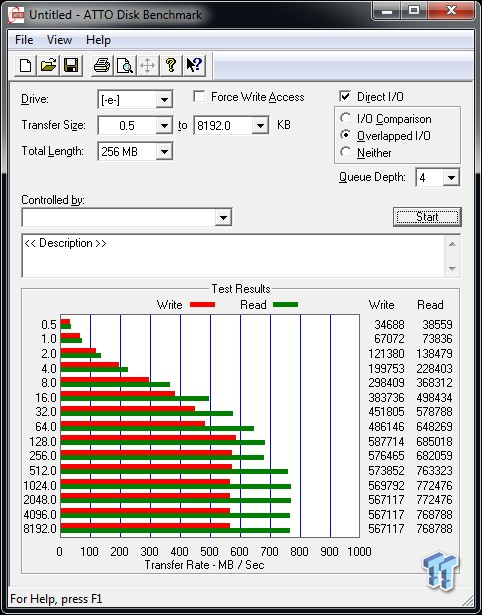 In ATTO, we fell short of Plextor's claims of 770 MB/s sequential read and 580 MB/s sequential write speeds. This doesn't come as a surprise to us and, after we explain why, it won't be a surprise to you.
PCI Express performance varies from one motherboard model to another. This isn't just an issue on consumer motherboards; we see the performance issues on workstations and servers, as well. Performance can also vary between lanes on the same motherboard.
Benchmarks - Sequential Performance
HD Tune Pro
Version and / or Patch Used: 4.00
Developer Homepage: http://www.efdsoftware.com
Product Homepage: http://www.hdtune.com
HD Tune is a Hard Disk utility which has the following functions:
Benchmark: measures the performance
Info: shows detailed information
Health: checks the health status by using SMART
Error Scan: scans the surface for errors
Temperature display
HD Tune Pro gives us accurate read, write, and access time results and, for the last couple of years, has gained popularity amongst reviewers. It is now considered a must have application for storage device testing.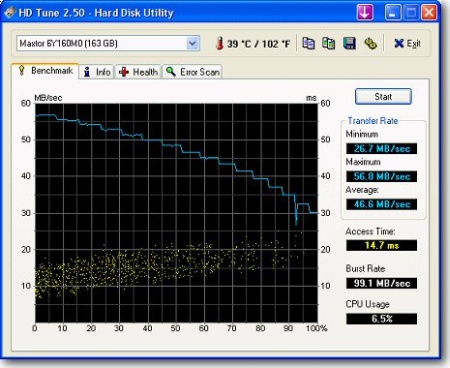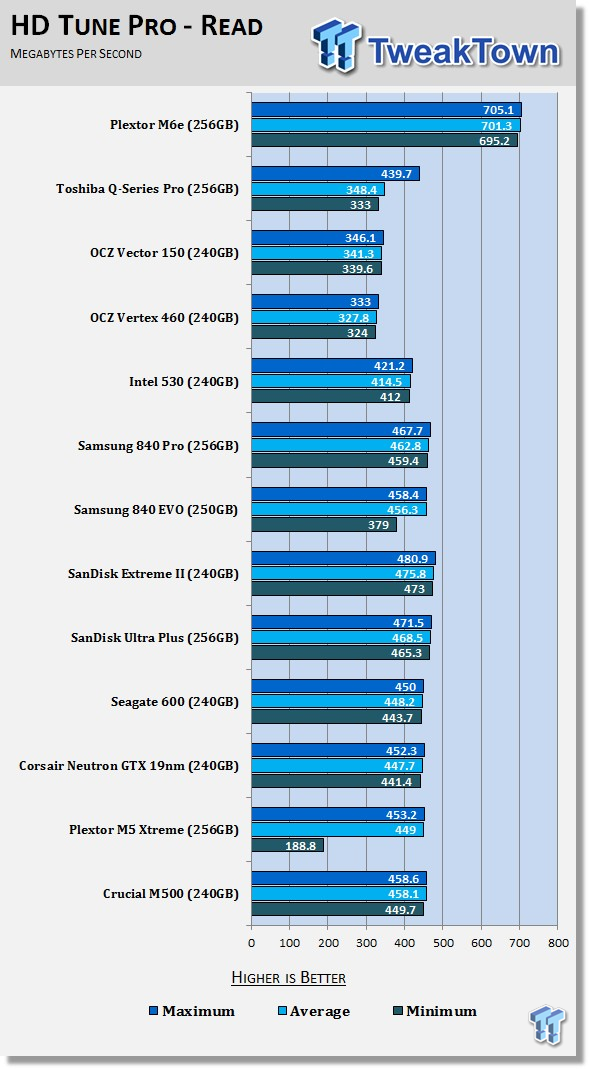 Most users will find the largest gains in sequential performance with PCIe SSDs. As we see here, the M6e takes sequential reads to a new level. The drive has eight NAND flash packages, so the parallelism is very high in this drive. The SanDisk A110 M.2 drive we tested previously has just four packages, and the M6e offers around 100 MB/s extra sequential read performance.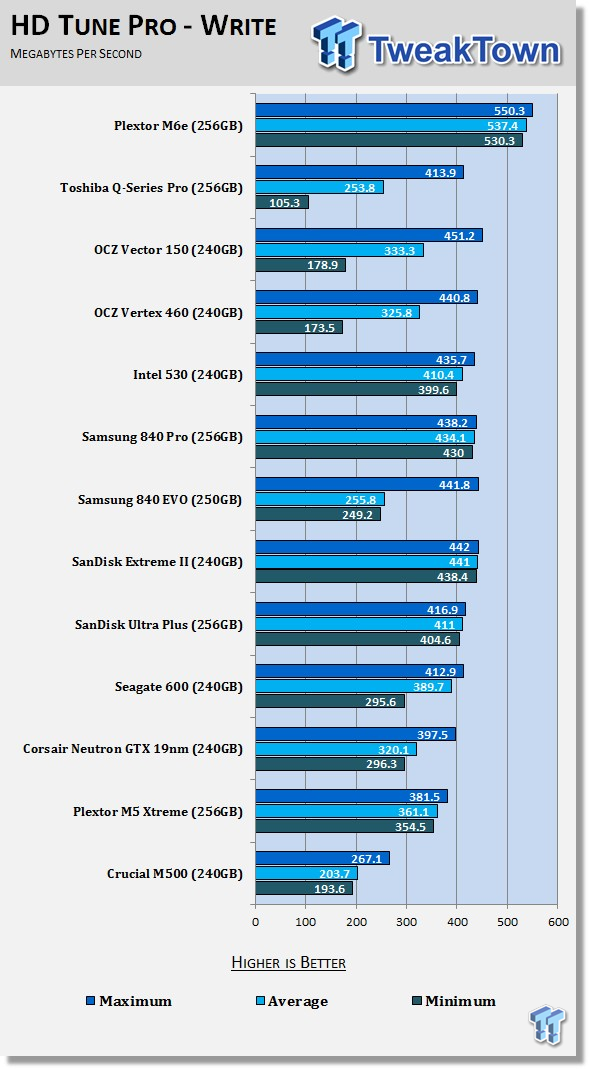 The 256 GB and 512 GB M6e models deliver higher sequential write performance than is possible with SATA III. The M6e 128 GB model only writes at a maximum of 335 MB/s. That means the two largest capacity sizes put SATA III drives to shame.
HD Tach - Sequential Write Performance after Random Writes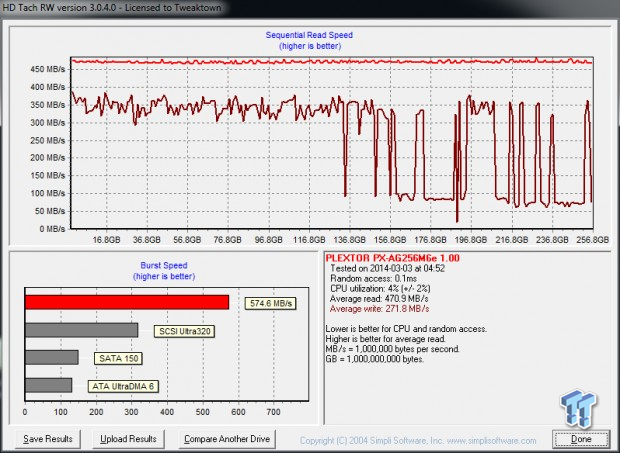 Plextor uses an aggressive garbage collection scheme, and, at times, it can diminish performance. After hitting the M6e 256GB with a light load of random writes, the drive dipped down to 25 MB/s at one point in a sequential test.
Benchmarks - AIDA64 Random Access Time
AIDA64 Random Access Time
Version and / or Patch Used: 1.60
Developer Homepage: http://www.aida64.com
Product Homepage: http://www.aida64.com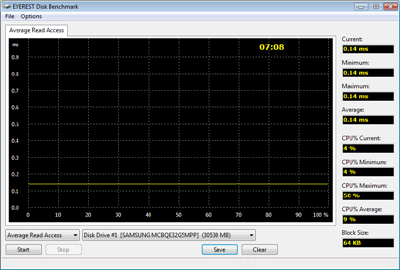 AIDA64 offers several different benchmarks for testing and optimizing your system or network. The Random Access test is one of very few, if not the only, that will measure hard drive random access time in hundredths of milliseconds as oppose to tens of milliseconds.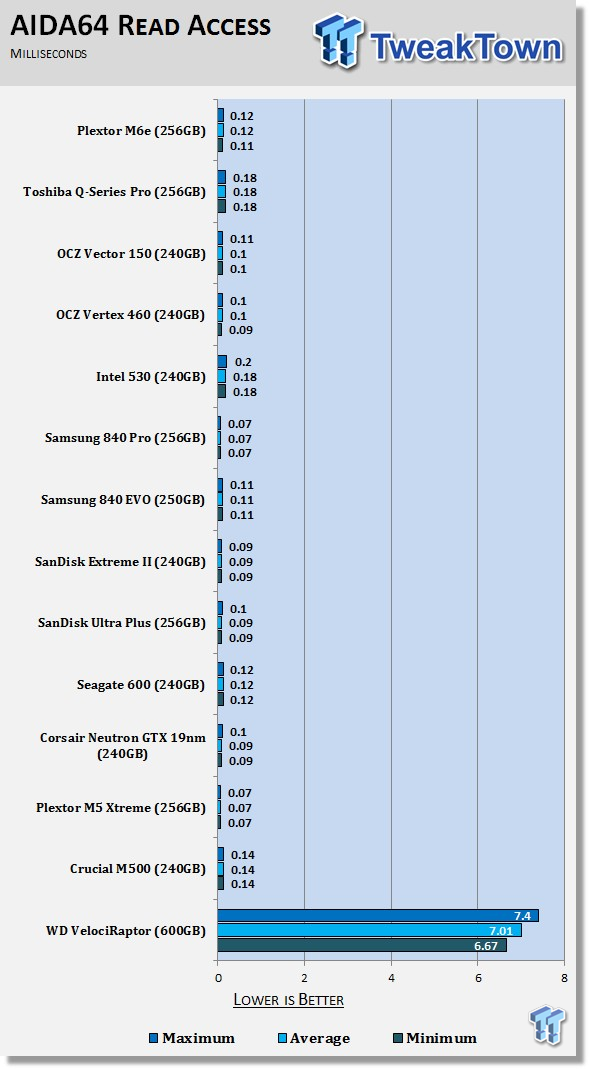 Latency and random performance at QD1 remain close to speeds we see on Marvell's SATA based controllers.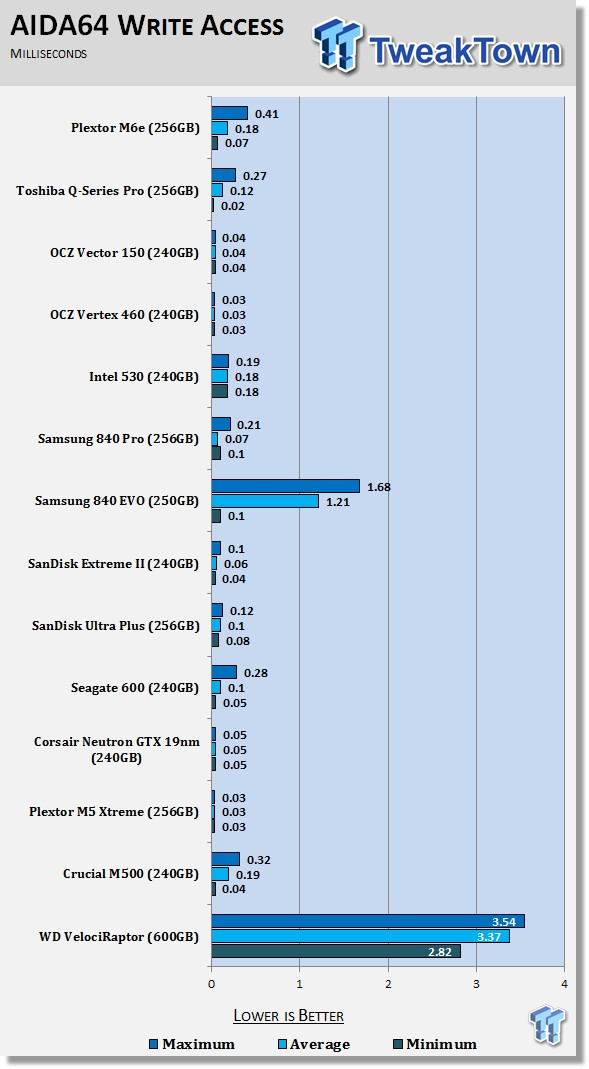 This is an area we're still coming to terms with because, in theory, when you remove the PCH or South Bridge and move the connection directly to the CPU, it would seem that latency should decrease. In every PCIe SSD we've tested, our theory didn't pan out, but we think AHCI is the reason why. Still, latency is very low.
Benchmarks - Anvil Storage Utilities
Anvil Storage Utilities
Version and / or Patch Used: RC6
So, what is Anvil Storage Utilities? First of all, it's a storage benchmark for SSDs and HDDs where you can check and monitor your performance. The Standard Storage Benchmark performs a series of tests; you can run a full test or just the read or the write test, or you can run a single test, i.e. 4K QD16.
Anvil Storage Utilities is not officially available yet, but we've been playing with the beta for several months now. The author, Anvil on several international forums, has been updating the software steadily and is adding new features every couple of months.
The software is used several different ways to show different aspects for each drive. We've chosen to use this software to show the performance of a drive with two different data sets. The first is with compressible data, and the second data set is incompressible data. Several users have requested this data in our SSD reviews.
0-Fill Compressible Data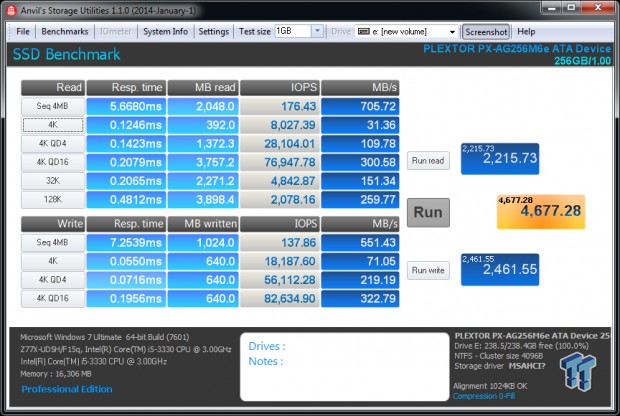 Incompressible Data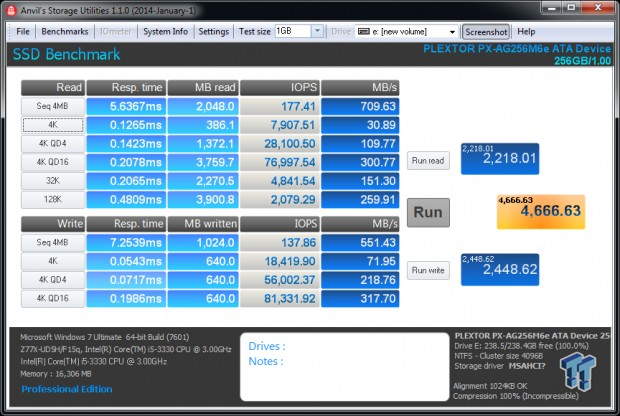 The Plextor M6e doesn't lose performance when working with incompressible data.
Read IOPS through Queue Depth Scale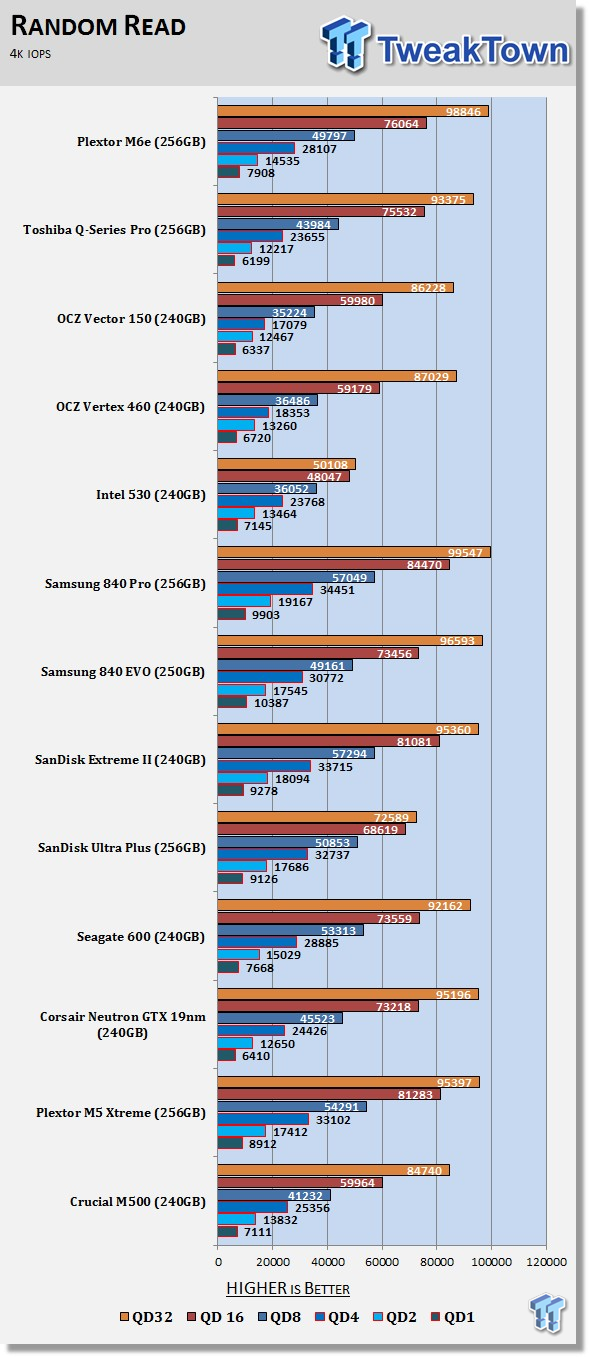 4K read performance at low queue depths is good, but it's not in the same league as the Samsung and SanDisk SSDs. To get the most out of any SSD, you need to multitask and increase the queue depth. Most of us don't intentionally multitask; it's just a nice feature to have when we need it.
Scaling Write IOPS through Queue Scale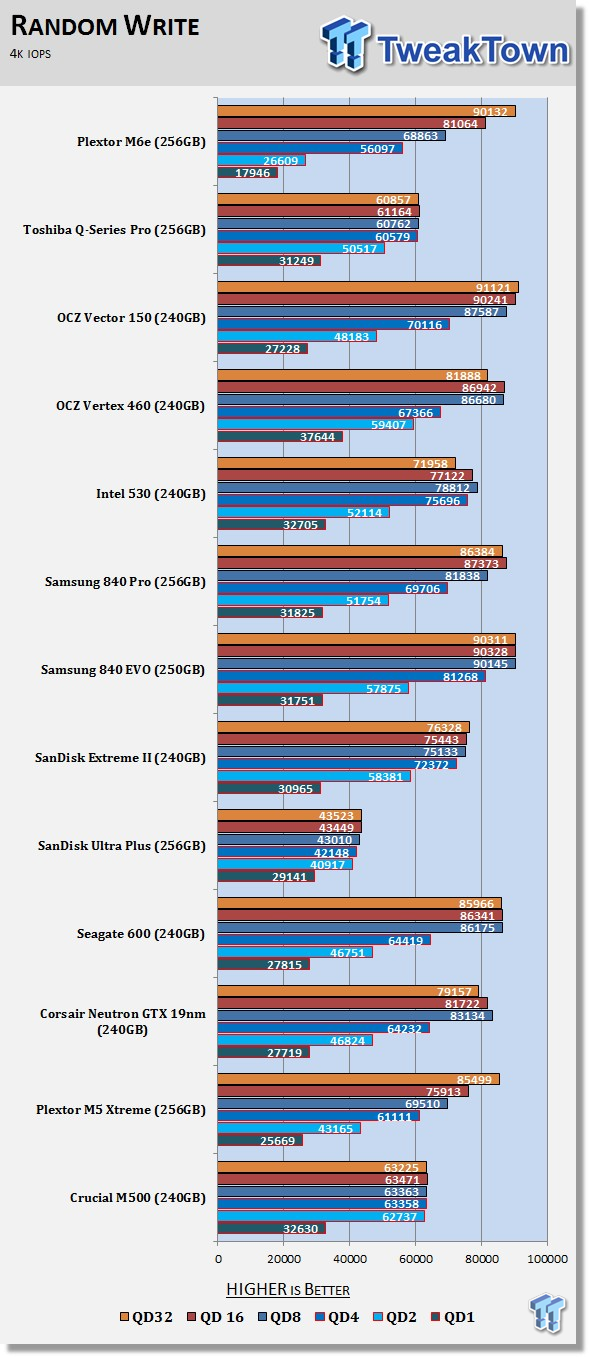 The same is true with the 4K write performance. The low queue depth performance of the M6e is just average, but the drive does much better when the queue depth increases.
Benchmarks - CrystalDiskMark
CrystalDiskMark
Version and / or Patch Used: 3.0 Technical Preview
Developer Homepage: http://crystalmark.info
Product Homepage: http://crystalmark.info/software/CrystalDiskMark/index-e.html
Download here: http://crystaldew.info/category/software/crystaldiskmark
CrystalDiskMark is a disk benchmark software that allows us to benchmark 4K and 4K queue depths with accuracy.
Key Features:
* Sequential reads/writes
* Random 4KB/512KB reads/writes
* Text copy
* Change dialog design
* internationalization (i18n)
Note: Crystal Disk Mark 3.0 Technical Preview was used for these tests since it offers the ability to measure native command queuing at 4 and 32.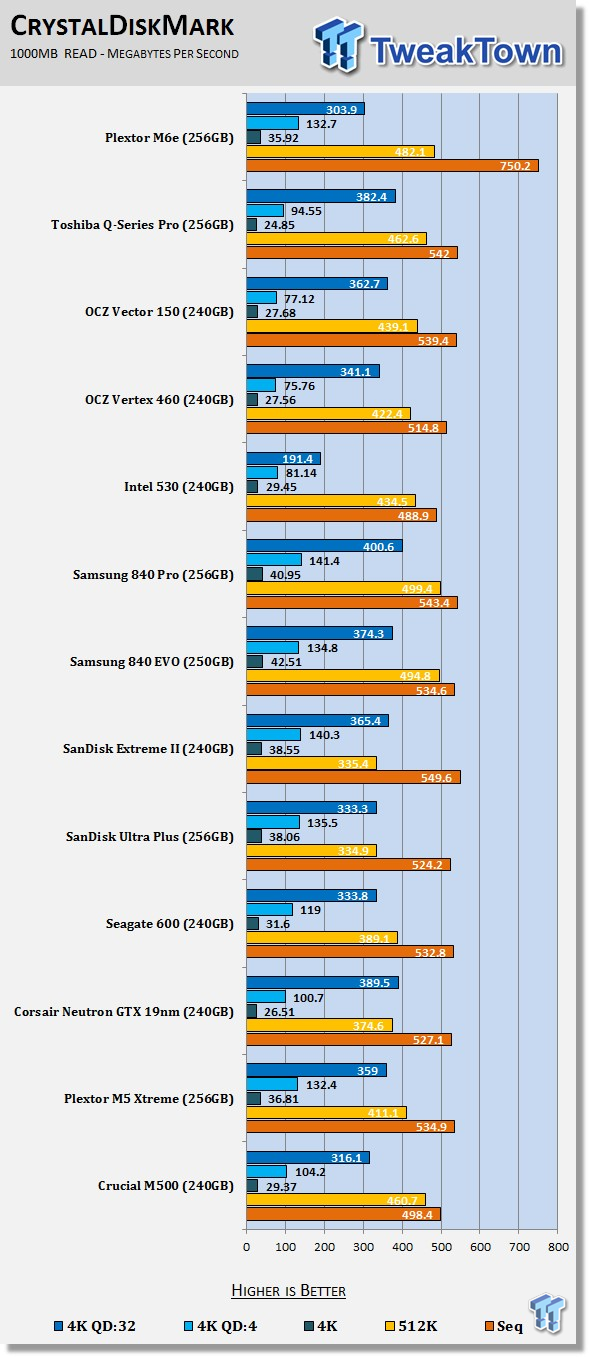 CDM really shows us the balance or, in this case, imbalance of the drive. The M6e delivers amazing sequential performance, but the random reads are down compared to the best SSDs in that category.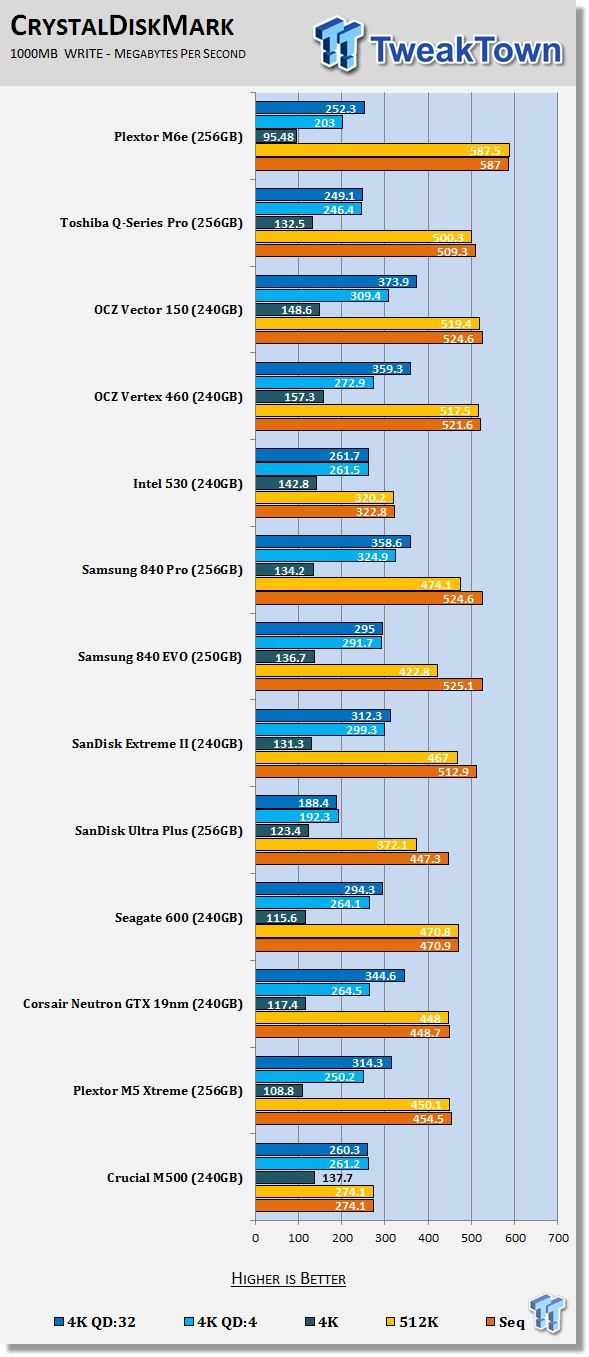 Again, the sequential performance, this time in writes, is higher than everything else is, but the random 4K performance is down to many of the other drives. The SanDisk A110 delivered higher 4K writes than the Plextor M6e, and that surprises us since the M6e is faster in many tests.
The M6e is still very early, not even available in the US yet, so Plextor may still have some firmware tricks that increase random performance later on. On the next page, you'll see that Plextor did manage to balance performance.
Benchmarks - PCMark Vantage Hard Disk Tests
PCMark Vantage - Hard Disk Tests
Version and / or Patch Used: 1.0.0
Developer Homepage: http://www.futuremark.com
Product Homepage: http://www.futuremark.com/products/pcmarkvantage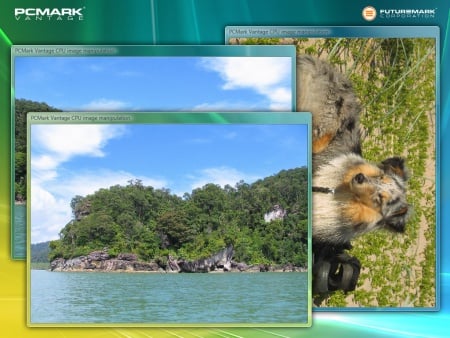 PCMark Vantage is the first objective hardware performance benchmark for PCs running 32- and 64-bit versions of Microsoft Windows Vista. PCMark Vantage is perfectly suited for benchmarking any type of Microsoft Windows Vista PC from multimedia home entertainment systems and laptops to dedicated workstations and high-end gaming rigs. Regardless of whether the benchmarker is an artist or an IT Professional, PCMark Vantage shows the user where their system soars or falls flat and how to get the most performance possible out of their hardware. PCMark Vantage is easy enough for even the most casual enthusiast to use yet supports in-depth, professional industry grade testing.
Futuremark has developed a good set of hard disk tests for their PCMark Vantage Suite. Windows users can count on Vantage to show them how a drive will perform in normal day-to-day usage scenarios. For most users, these are the tests that matter since many of the old hat ways to measure performance have become ineffective to measure true Windows performance.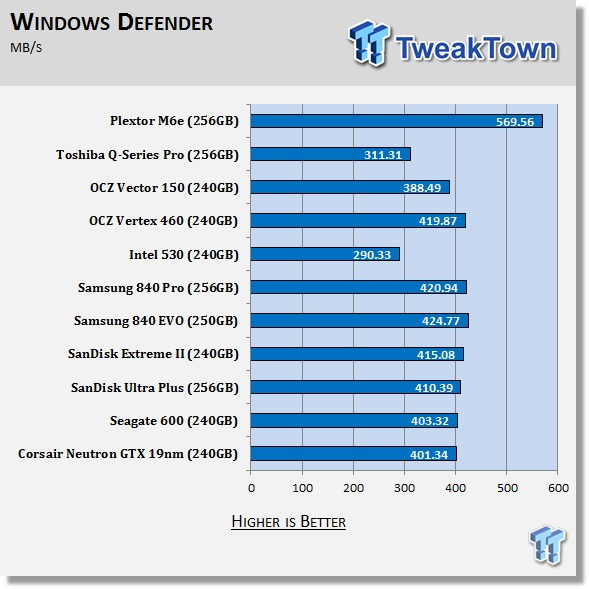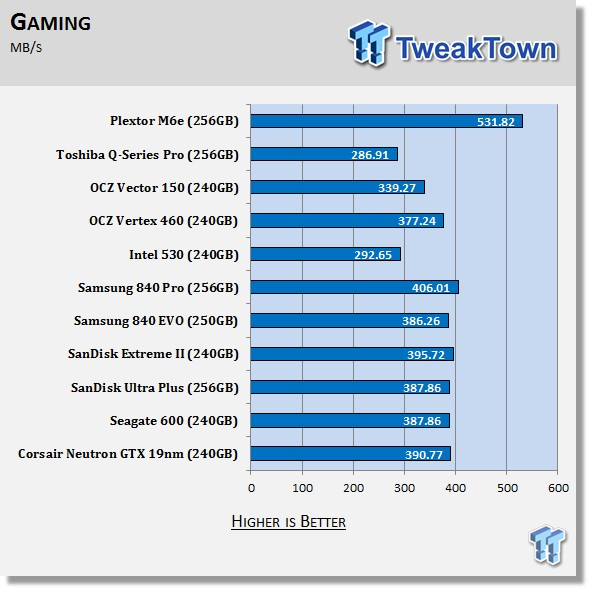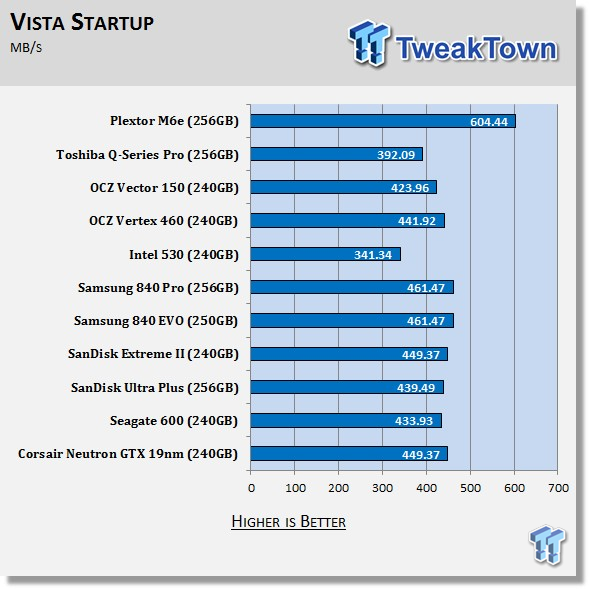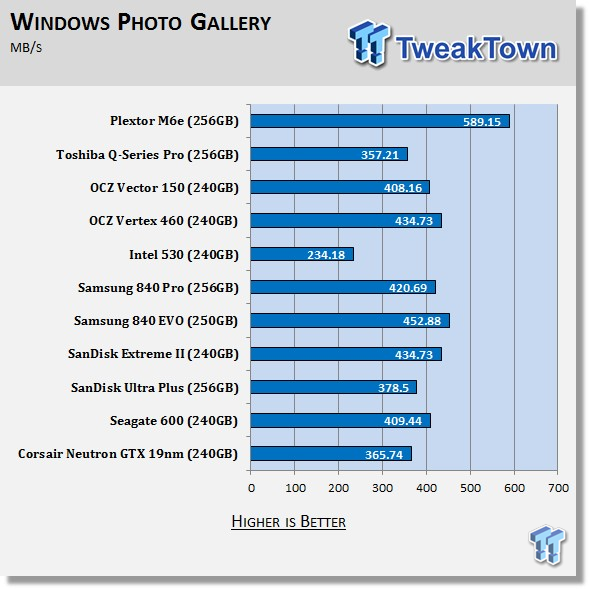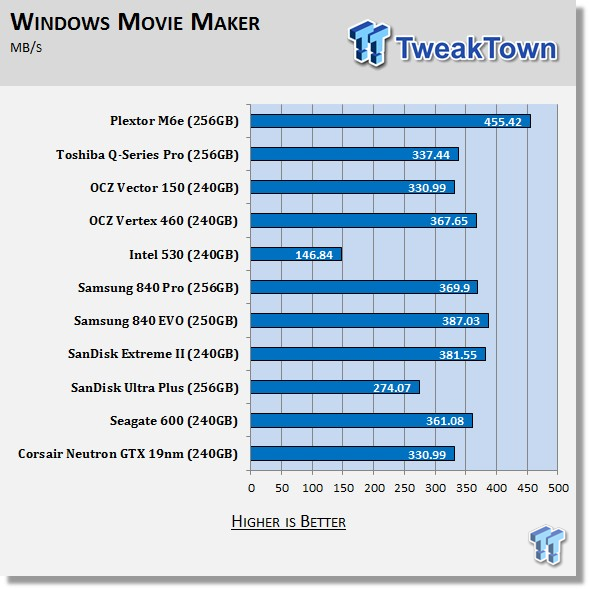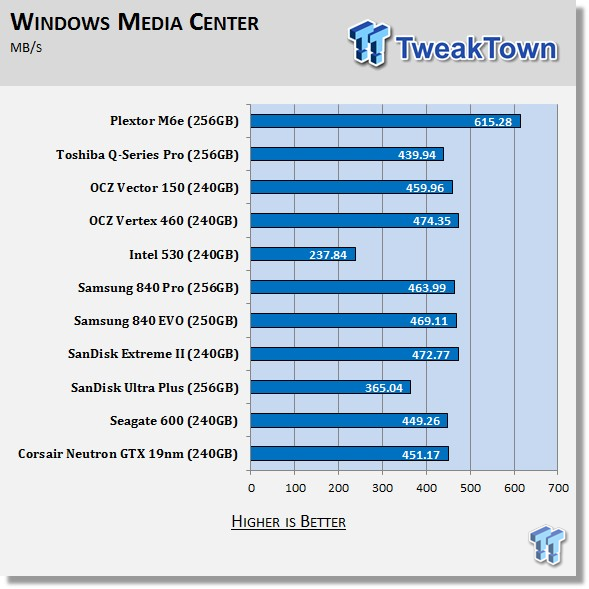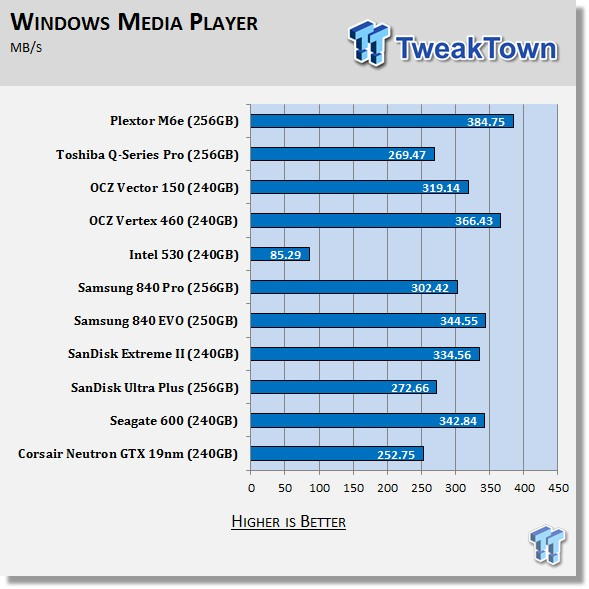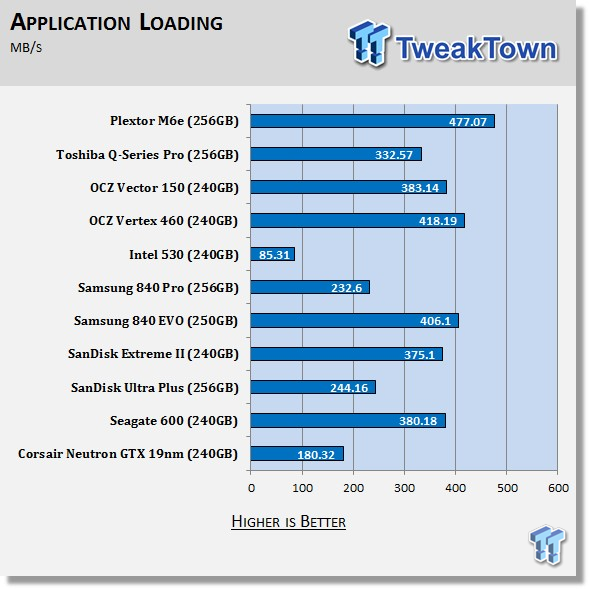 Surprise, surprise...It looks like Plextor's firmware tuning turned out a lot better than what the four corner tests lead us to believe. In all tests, the Plextor M6e outperformed every other drive on the chart.
Benchmarks - PCMark Vantage - Drives with Data Testing
PCMark Vantage - Drives with Data Testing
For a complete breakdown on the Drives with Data Testing please read this article. You will be able to perform this test at home with the files provided in the article - full instructions are included.
- Brief Methodology
SSDs perform differently when used for a period of time and when data is already present on the drive. The purpose of the Drives with Data testing is to show how a drive performs in these 'dirty' states. SSDs also need time to recover, either with TRIM or onboard garbage collection methods.
Drives with Data Testing - 25%, 50%, 75% Full States and Dirty / Empty Test
Files needed for 60 (64GB), 120 (128GB), 240 (256GB)
60GB Fill - 15GB, 30GB, 45GB
120GB Fill - 30GB, 60GB, 90GB
240GB Fill - 60GB, 120GB, 160GB
Empty but Dirty - a test run just after the fill tests and shows if a drive needs time to recover or if performance is instantly restored.

With data on the drive, the performance levels out with other top tier drives we've tested.
Benchmarks - PCMark 8 2.0 Advanced Tests
Benchmarks - PCMark 2.0 Advanced Tests
Version and / or Patch Used: 2.0
Developer Homepage: http://www.futuremark.com
Product Homepage: http://www.futuremark.com/products/pcmark8
Note: PCMark 8 Storage benchmark is ideal for testing the performance of SSDs, HDDs, and hybrid drives. Using traces recorded from Adobe Creative Suite, Microsoft Office, and a selection of popular games, PCMark 8 Storage highlights real-world performance differences between storage devices.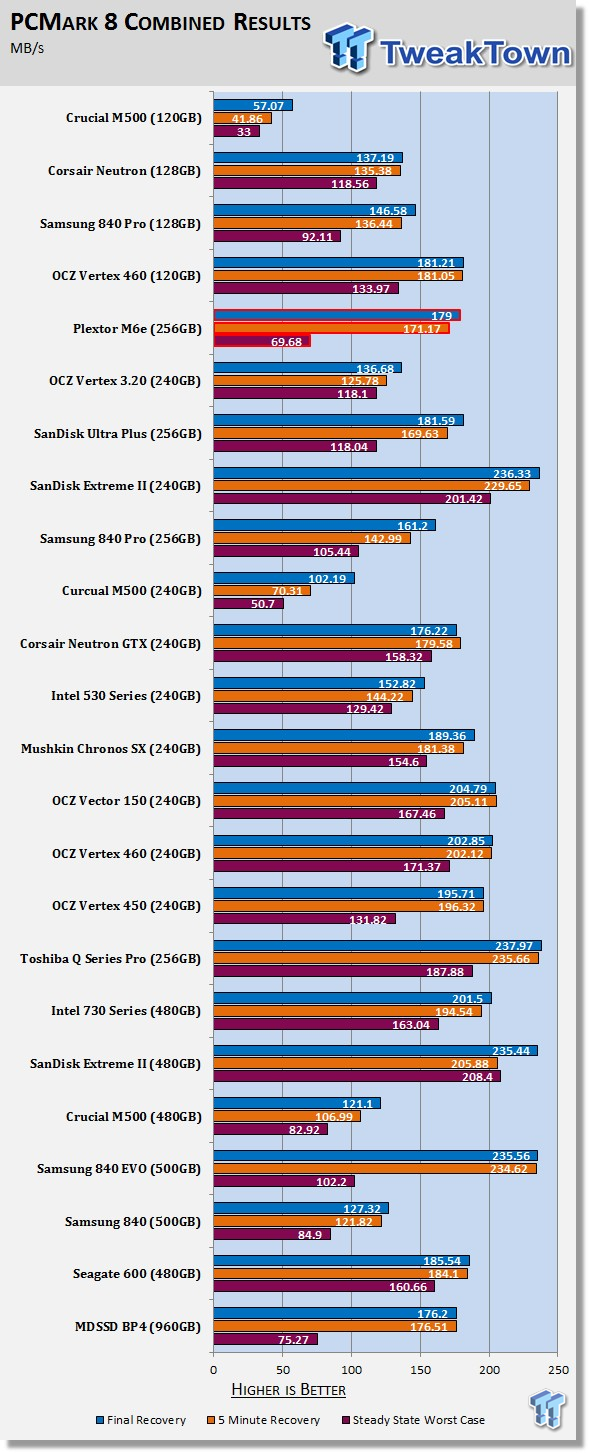 If you have yet to read about our new worst case / recovery test, please feel free to do so. We are oversimplifying a complicated test in this section.
At its worst, the Plextor M6e draws us back to the HD Tune Pro test where we ran a sequential test after a light load of random writes. The write performance dropped rapidly and to a very low level. We see that in our newest test.
The M6e recovers quickly, but Plextor has always run an aggressive garbage collection scheme.
Final Thoughts

The Plextor M6e is an interesting product that can be faster than other drives on the market at times, but, at other times, it can be slower, too. The issue revolves around the way Plextor handles garbage collection. After data writes to the drive, almost instantly, the GC scheme kicks in and starts to reorganize the data. Plextor doesn't list the total number of writes per day, but, with GC this aggressive, we have to wonder what the real-world endurance rating is. The M6e uses the same flash as the M5 Pro, 19nm Toshiba Toggle, and we've yet to hear about endurance issues on that model or any other Plextor SSD. What we do see in our testing, though, is the drive cleaning itself while we're trying to use it, and that actually slows the performance.
Plextor intentionally flies the gamer flag over the M6e and doesn't market it as a power user or A/V prosumer product. PCMark Vantage shows that under light, daily use scenarios, the M6e does very well. Gamers tend to fall into this category. You start the game, play, read a lot of data but don't write a significant amount other than when installing games and patches. I think it's important to distinguish the strengths and weaknesses of this dive.
On the other side of the coin, if you write a lot of data quickly to the drive, the performance can drop to very low levels and get there quickly. If you're editing a video like we do at trade shows, then the write performance can drop off, and the M6e can actually write slower than a traditional SATA drive.
Plextor hasn't stated if we'll see an M6e Pro model, an issue we've ran into in the past with previous Plextor releases. The base drive releases and then a slightly more expensive model hits with higher performance. No one likes to purchase the latest and greatest and then have a higher level of greatest hit the market just a few weeks later. Given that Plextor calls the M6e a premium product, we expect a premium price. If a Pro model launch comes in rapid succession like what we had on M5S and M5P, some people may not be too happy about it.
Then, we also have the Marvell PCIe 2.0 4-lane controller waiting in the wings. Shown at CES 2014 two months ago, the higher spec controller delivers twice the theoretical bandwidth. Even in its early form, we saw sequential reads over 1400 MB/s and sequential writes over 1000 MB/s. It's difficult to recommend the M6e knowing that a 4-lane controller from Marvell is around the corner.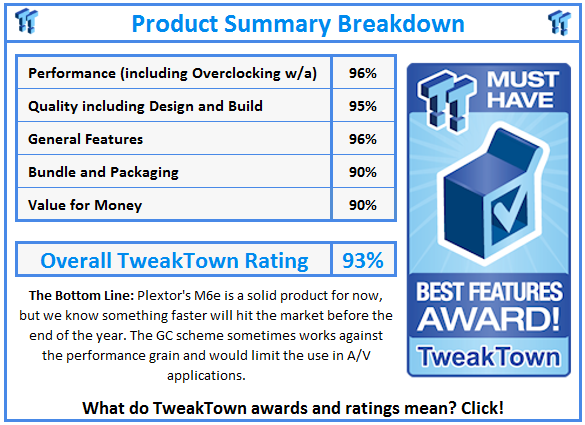 PRICING: You can find products similar to this one for sale below.

United States: Find other tech and computer products like this over at Amazon.com

United Kingdom: Find other tech and computer products like this over at Amazon.co.uk

Australia: Find other tech and computer products like this over at Amazon.com.au

Canada: Find other tech and computer products like this over at Amazon.ca

Deutschland: Finde andere Technik- und Computerprodukte wie dieses auf Amazon.de
We openly invite the companies who provide us with review samples / who are mentioned or discussed to express their opinion. If any company representative wishes to respond, we will publish the response here. Please contact us if you wish to respond.