Supermicro X9DR7-TF+ (Intel C602J) Server Motherboard Review
Packing lots of features and RAM into a powerful server motherboard is just what Supermicro has done with the X9DR7-TF+. Let's take a look.
Published Feb 24, 2014 4:07 PM CST
|
Updated Tue, Nov 3 2020 7:00 PM CST
11 minute read time
Introduction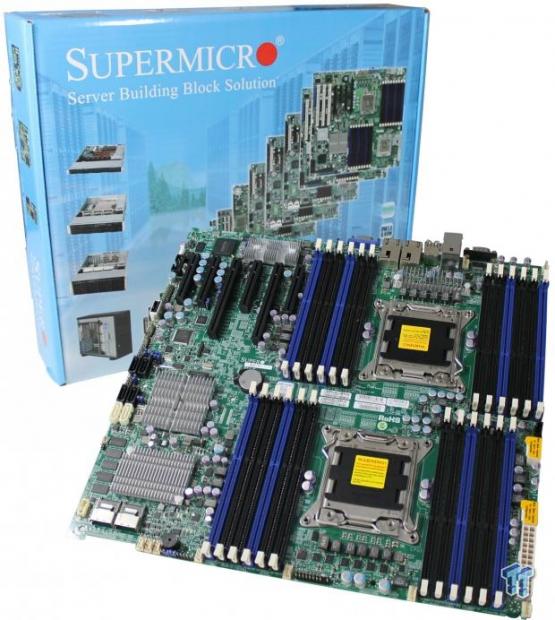 We have had many server motherboards in the lab recently, most ranging from general purpose boards to some focused on storage. The Supermicro X9DR7-TF+ makes its way in as a heavy hitter that can handle GPU/Xeon Phi applications with ease.
This board is powerful enough to run huge databases directly from RAM and number crunch at the same time. Throw in robust storage capabilities with room for top-end network cards and this motherboard takes center stage for advanced server infrastructures.
Supermicro breaks this down into two main systems that can use the Supermicro X9DR7-TF+ motherboard.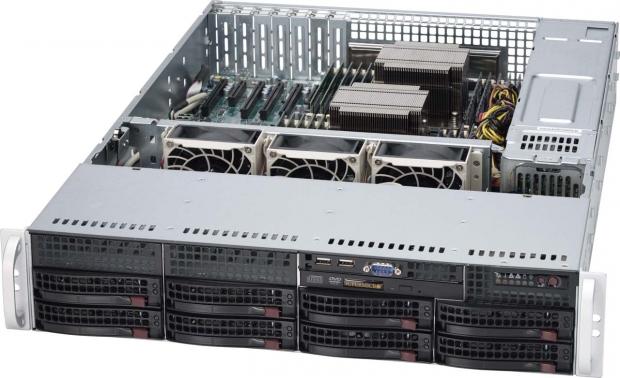 The first is the SuperServer 6027R-72RFT+, which is a 2U system that can handle 2x PCI-E 3.0x16 and 4x PCI-E 3.0x8 low-profile expansion cards.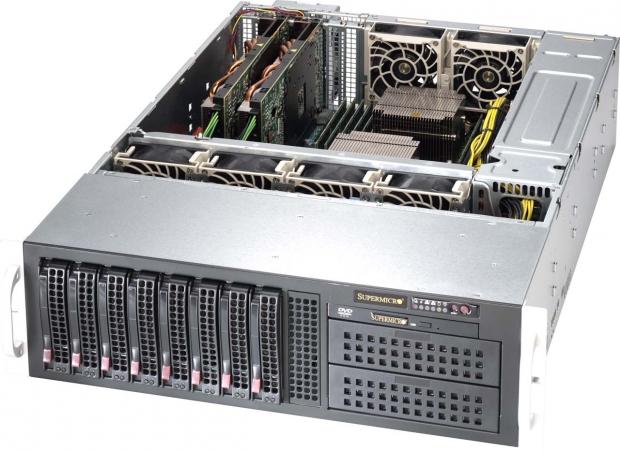 Next up is the SuperServer 6037R-72RFT+, which is a 3U system that can have 2x GPU/Xeon Phi cards installed.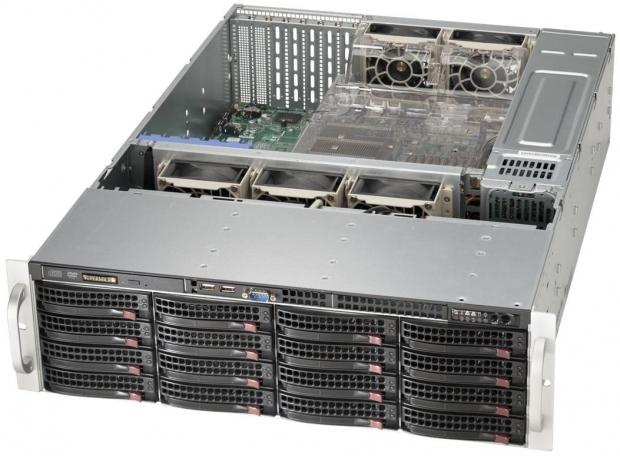 A third possible configuration is a 3U storage box based on the SuperChassis 836BE16-R1K28B case that can hold up to 16 drives.
There are also many other cases that can use this motherboard, so please refer to the product page to see the full list. We only received the motherboard for our review. According to Supermicro's website, you should receive the following:
Parts List (retail)
X9DR7-TF+ Motherboard

2 SATA CABLE

2 30AWG 50CM iPass to 4 SATA cable

1 STD I/O shield

And, we assume, a drivers disk
Specifications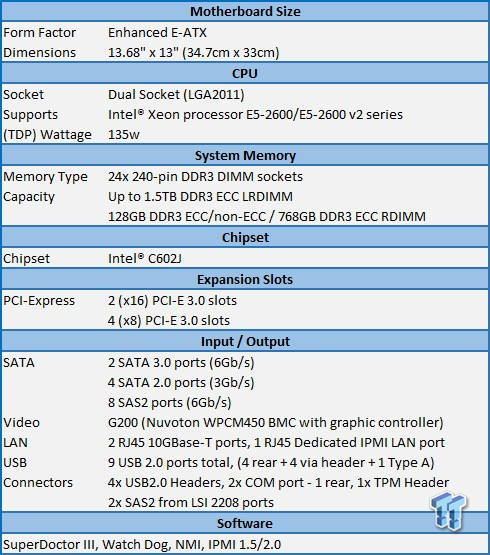 The X9DR7-TF+ has an impressive specification list that includes a massive RAM load out.
The main supporting features of this motherboard are its two onboard mini SAS2 via LSI 2208 connectors, which give storage and RAID options right out of the box. The two Gigabit LAN connections also supply basic network connectivity with the option to install faster network cards into the PCIe busses.
Layout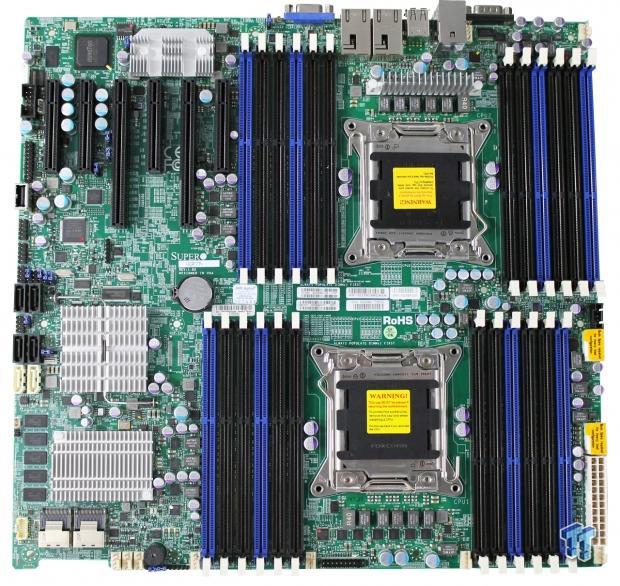 Center stage of the motherboard is the CPU and RAM areas, using more than half the board space to fit all of this. Offsetting both banks of CPU/RAM allows for better airflow and better cooling. The Supermicro cases that support this board come with plastic air shrouds that channel air from the middle support bar that has several high-speed fans to keep all this cool.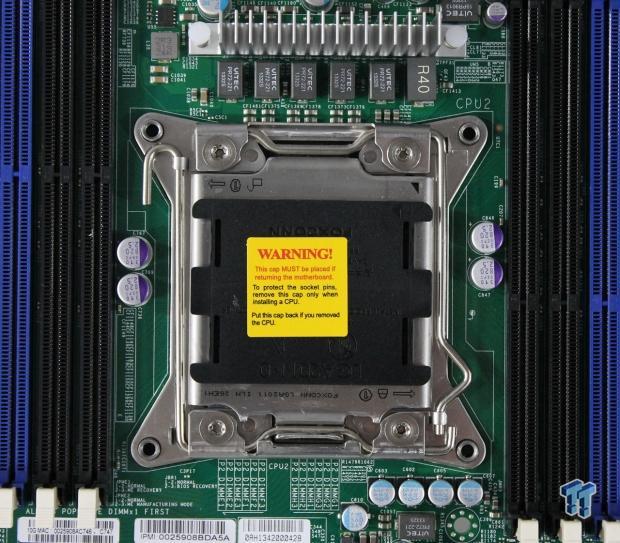 Things can get very tight with all these RAM slots and other features, but this spacing works very well with the passive heat sinks used for compact servers.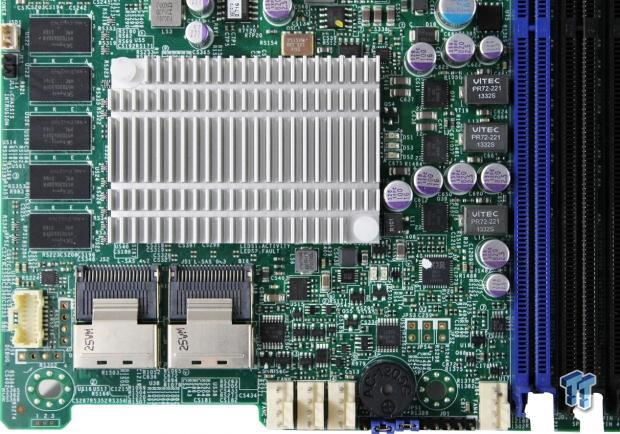 Here we see the heart of the storage components used on the X9DR7-TF+. These are two SAS2 mini connectors using LSI 2208 with 1GB cache seen on the left. This gives a total capacity of 16 drives as default. If you need more HDD capacity, contact Supermicro for a special SKU that allows this expansion.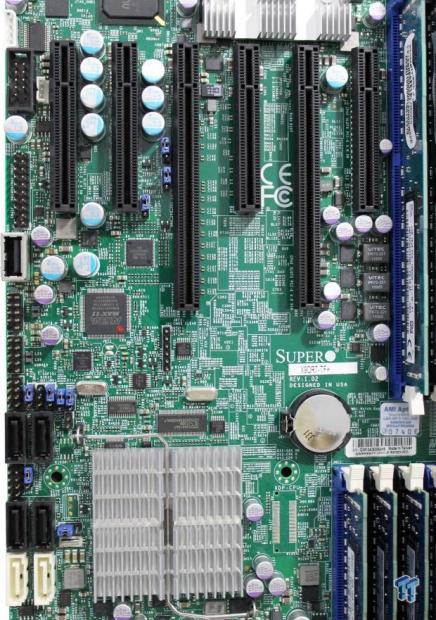 The left side of the motherboard has all the main connections used on this board. From the top, we first find an IPMB header with a COM2 port header right below. Next is the TPM (trusted platform module) header. Just below that is the USB 2.0 Type-A port. Then we find two USB headers followed by a T-SGPIO header. Next up are two SATA2.0 connectors (black) and another T-SGPIO header. Last are two more SATA2.0 connectors (black) with two SATA3.0 connectors (white) right below.

Looking at the rear I/O area on the left, we have a COM port followed by the dedicated IPMI port with two USB ports below. The next stack has two more USB ports. The last two are Gigabit LAN ports with a VGA connector at the end.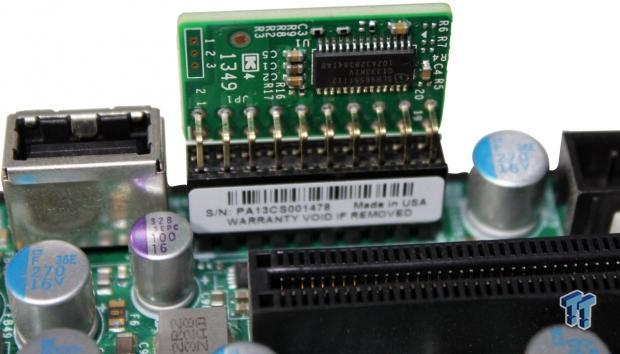 The TPM (trusted platform module) header can use two different kinds of modules. Trusted platform modules are a security hardware device on the system board that will hold computer generated keys for encryption.
The one shown here is model number AOM-TPM-9655V for use in cases that can allow space for this one.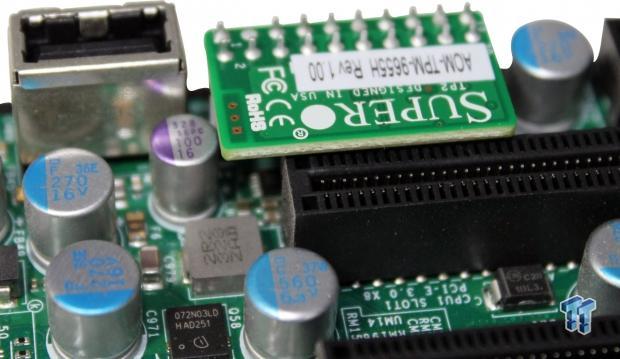 The one shown here is model number AOM-TPM-9655H for use in cases that have space requirements to allow this.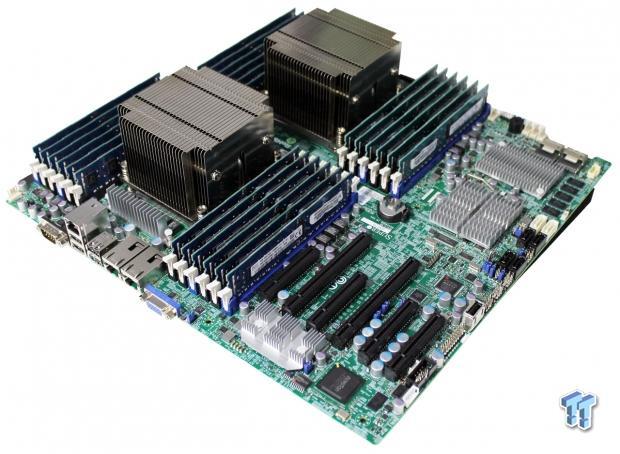 Here we can see a typical setup using the X9DR7-TF+ and passive heat sinks that would be used in actual servers. These heat sinks are Supermicro part number SNK-P0048P.
BIOS
The BIOS for this motherboard is standard for server motherboards, so we will only show a few BIOS screens.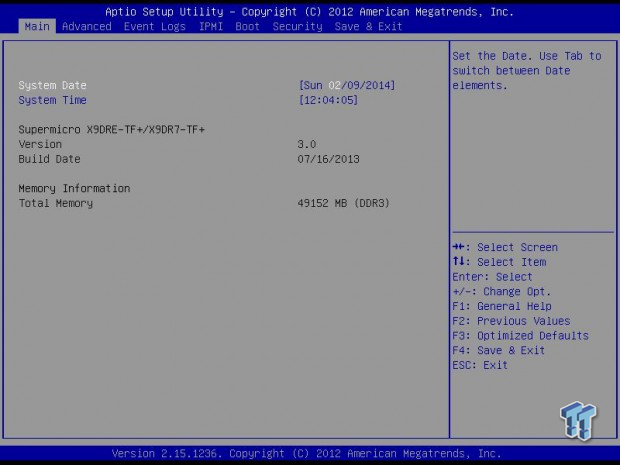 This is the main BIOS screen, which shows basic system information.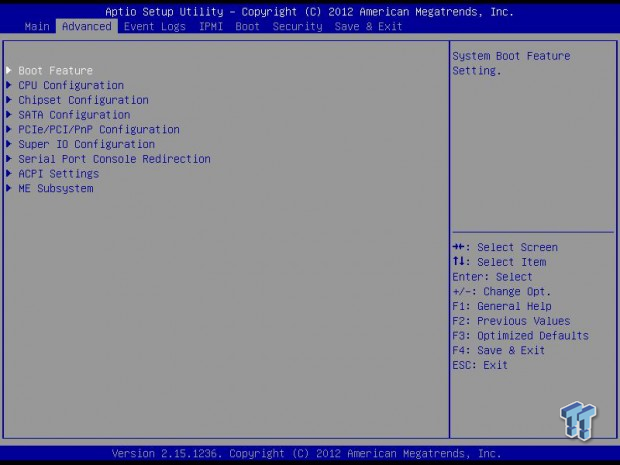 The advanced tab brings you to the main advanced screen.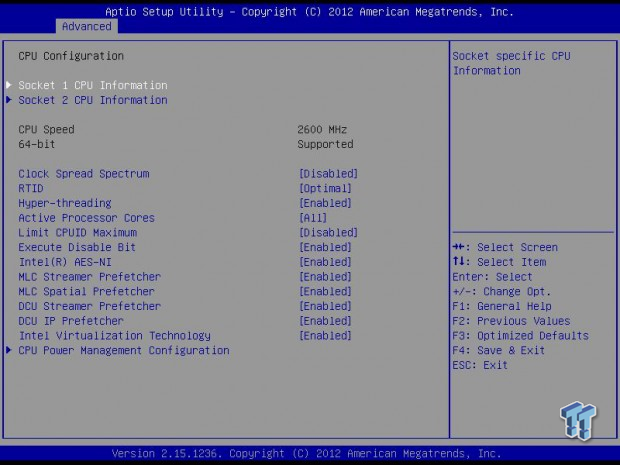 The advanced CPU tab shows the CPU configuration for this board.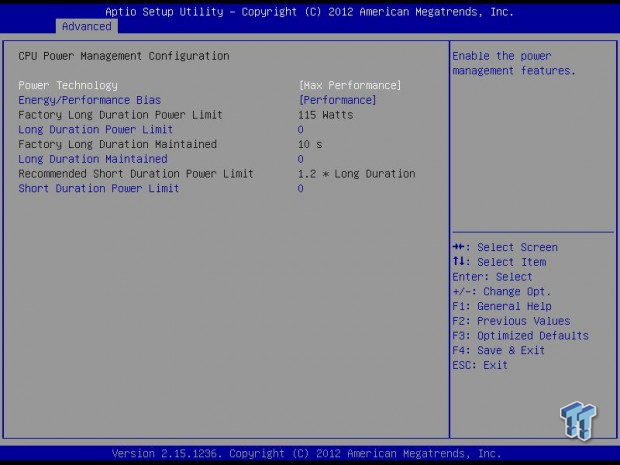 Now we get a look at the CPU power management configuration tab. In our tests, we set this to Max Performance.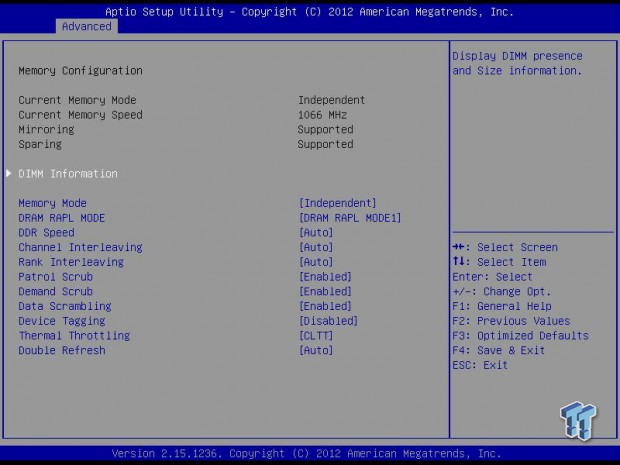 Next, we see the advanced memory configuration tab and the options it has.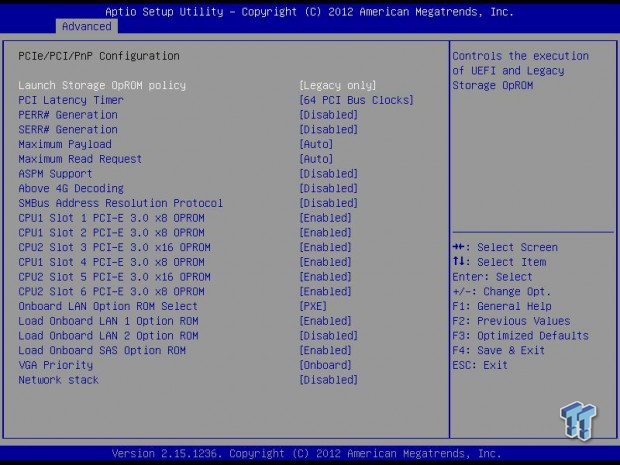 Here we see the advanced PCIe configuration tab.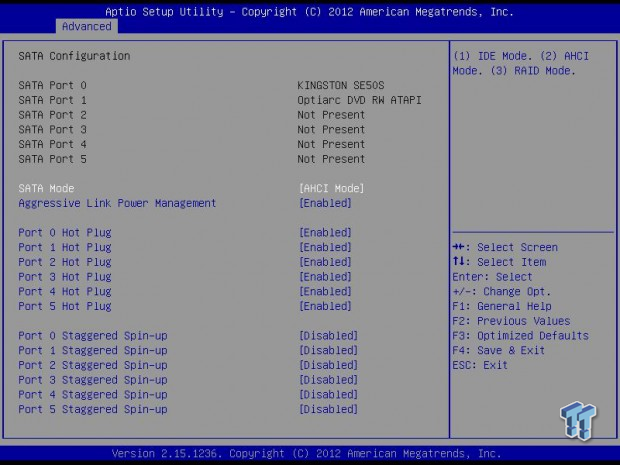 For the last screen, we see the SATA configuration tab.
Remote Management
Basic remote management is by IPMI 2.0 over LAN and KVM-over-LAN support.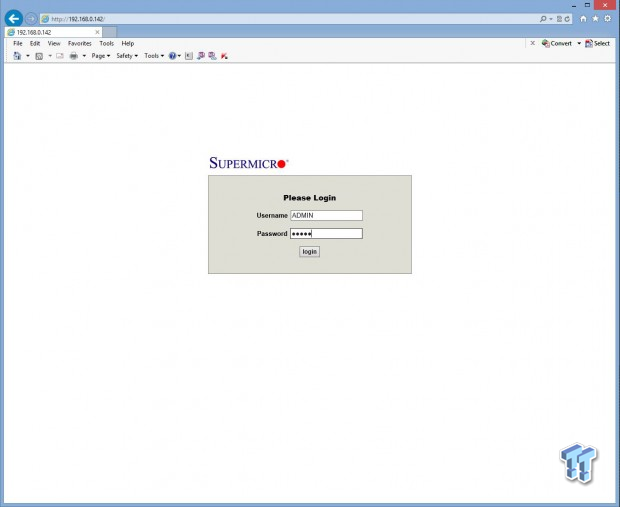 First, make sure you have IPMI enabled in the BIOS and have a wired connection to the IPMI port at the rear of the motherboard.
In order to connect to the IPMI port, first find the IP Address on the machine you want to connect. Then enter that address into your web browser on the control machine. You will see the login screen if all goes well.
Supermicro uses
Username: ADMIN
Password: ADMIN
Then hit the login button.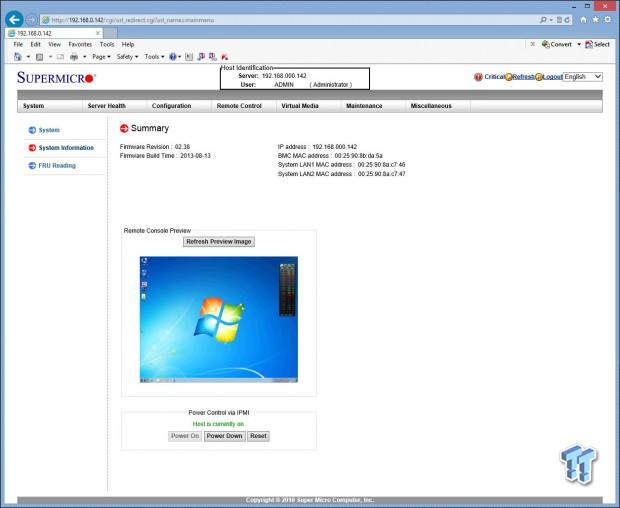 This is the main dashboard for the Supermicro X9DR7-TF+.
Clicking on the picture of the desktop that is using Windows 7 will launch your remote control session to the desktop. It's even possible to make changes to the BIOS.
You will need Java installed for remote control to work and you might have to reduce security controls for Java in order to be able to do this. We had to drop security controls down to medium for this to work.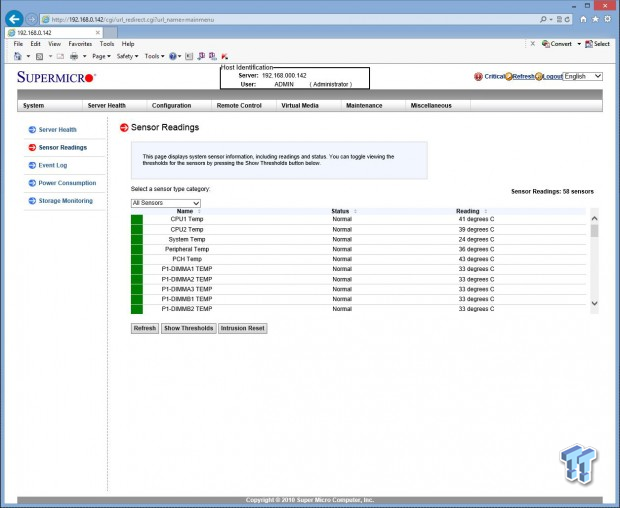 This is the Server Health Tab. You can monitor things like temperatures, power consumption, and storage.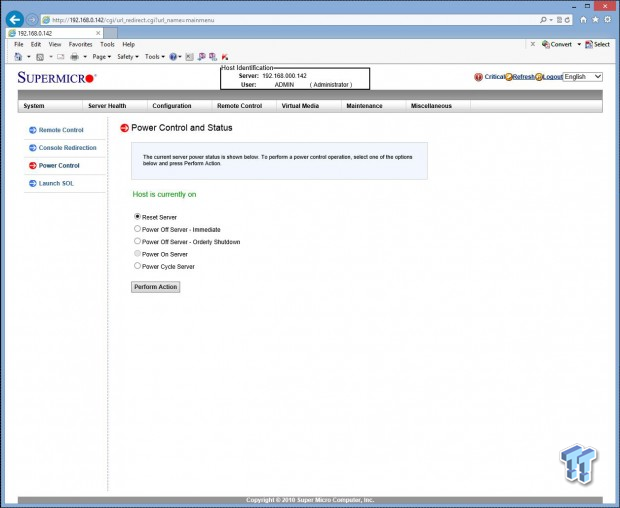 The remote control tab allows you to power on or off the server or launch SOL and redirect the console.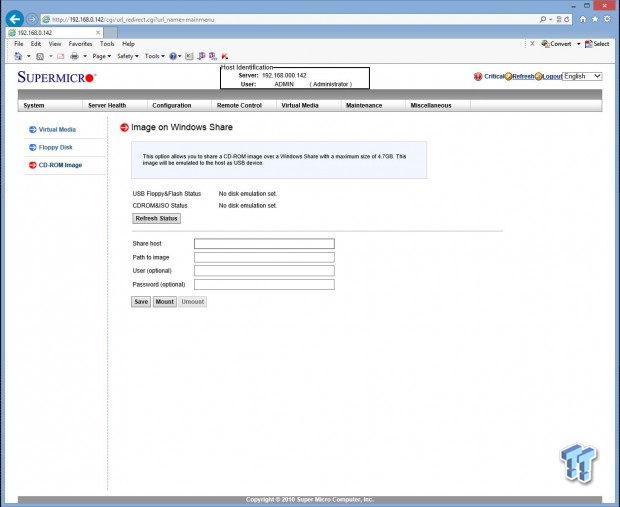 Here we can see the Virtual Media tab. You can use this tab to mount different types of media.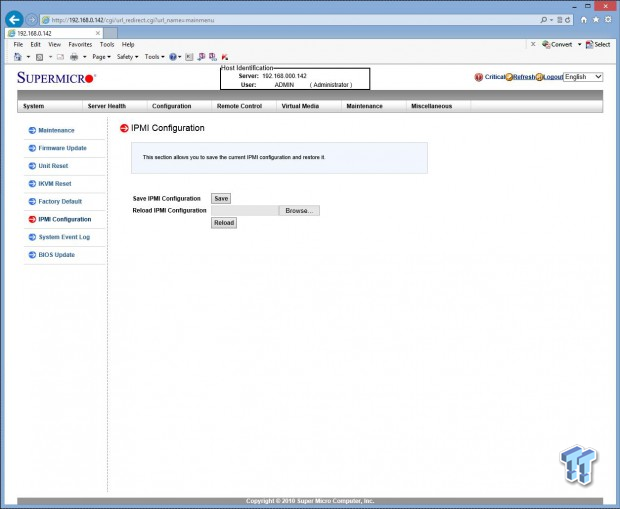 The maintenance tab allows you to update firmware or BIOS, restore the machine to factory defaults, and configure IPMI.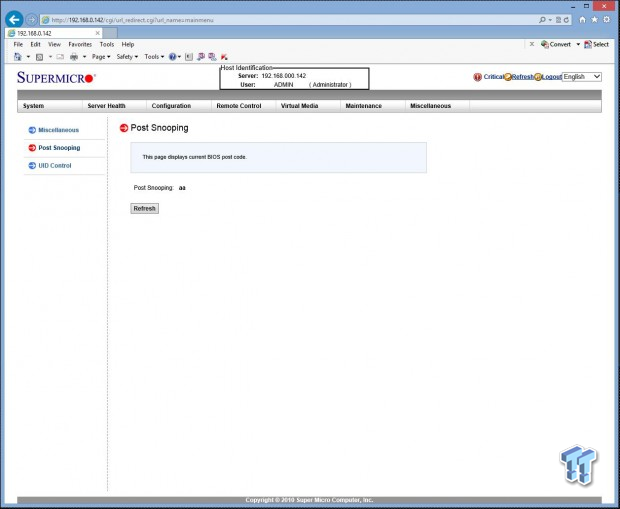 The last page is the miscellaneous tab and allows you to see the postcodes or change settings on the UID.
Test System Setup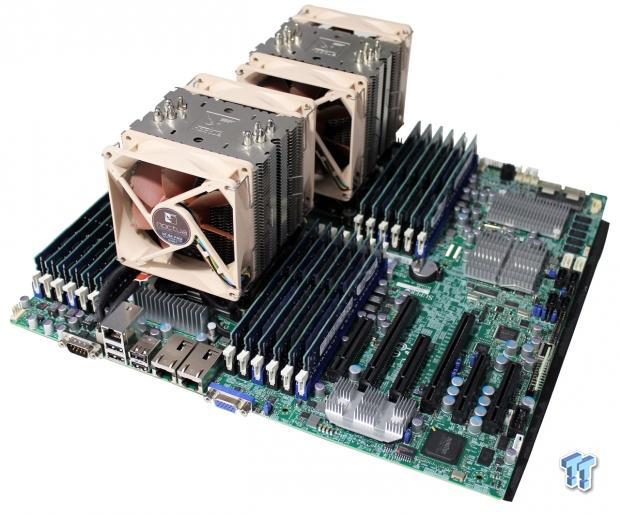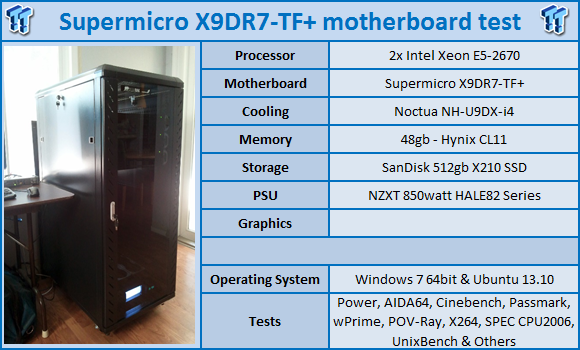 Special thanks to Supermicro, NZXT, SanDisk, and Noctua for their support!
The test setup is typical for a server setup. The CPUs used in these tests are two Intel Xeon E5-2670 CPUs. The memory installed is 48 GB of Hynix CL11 1600MHz RAM.
For all tests that we ran, we used optimized BIOS settings for max performance.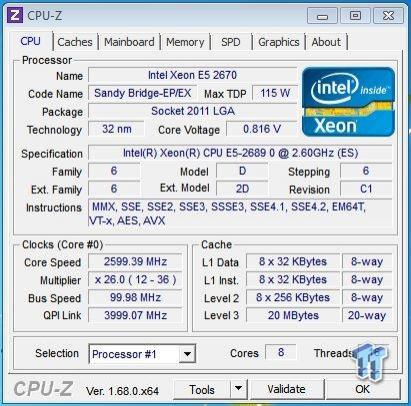 This is the CPUz screen showing the various stats of the Xeon E5-2670 CPUs. As you can see, this CPU has a max TDP of 115 watts and core voltage of 0.816V, which means this CPU runs nice and cool under low voltage.
The Supermicro X9DR7-TF+ has a max TDP of 135 watts, so these CPUs will work just fine.
System and CPU Benchmarks
Passmark8
Passmark performance test runs 32 tests, including CPU, 2D and 3D graphics, disk, and memory tests, to come up with an overall system ranking that allows you to determine how fast your computer is in comparison with other systems.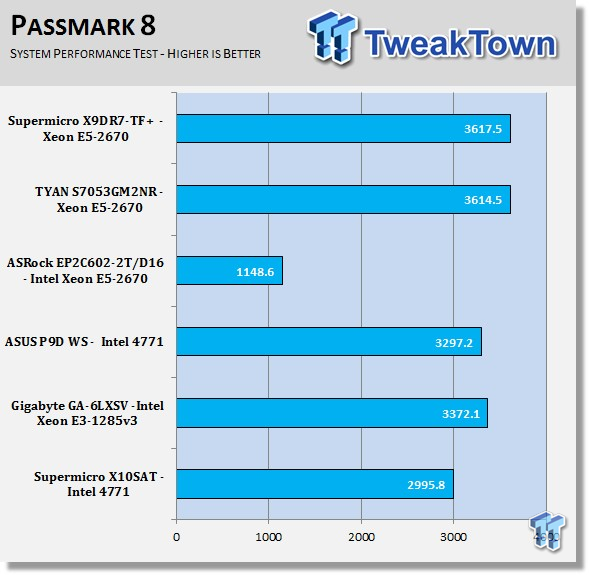 In the Passmark tests, we find that higher stock speeds and better graphics score better. The X9DR7-TF+ has limited graphics and that hurt the score a fair amount.
Cinebench 11.5
CINEBENCH is a real-world cross platform test suite that evaluates your computer's performance capabilities. The test scenario uses all of your system's processing power to render a photorealistic 3D scene. This scene makes use of various different algorithms to stress all available processor cores. You can also run this test with a single core mode to give a single core rating.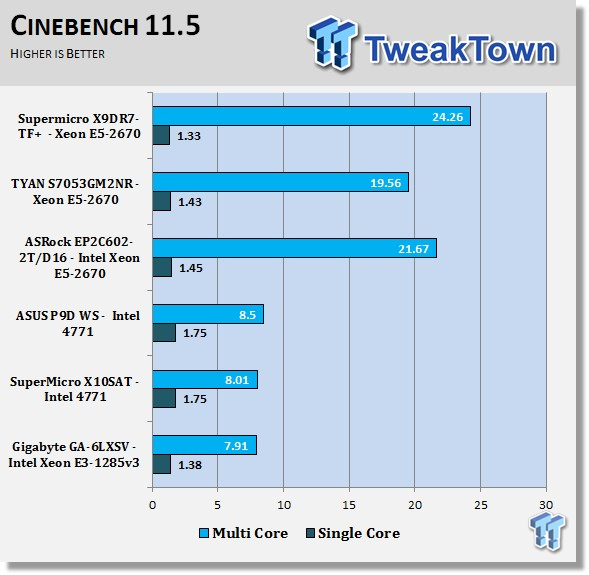 Again, we find the lower stock speed of the E5-2670s holds this board back in these benchmarks, but it really takes off in the multi-threaded scores as we can see here. Having 32 threads is a real advantage here.
The X9DR7-TF+ scored 4.7 points higher in the multi-core test, which shows a good boost in this test.
Cinebench R15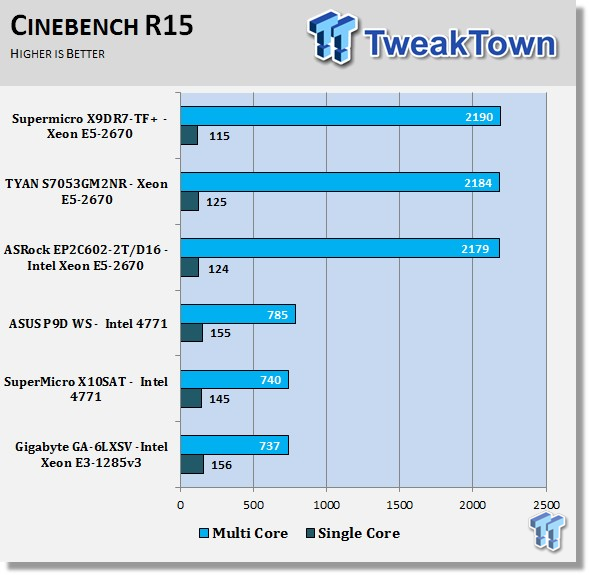 Just like in the Cinebench 11.5 results, we see a lower single-threaded score and a much higher multi-threaded score.
Score are very close in this test, with the X9DR7-TF+ getting a slightly better score.
wPrime
wPrime is a leading multi-threaded benchmark for x86 processors that tests your processor performance. This is a great test to use to rate the system speed; it also works as a stress test to see how well the system cooling is performing.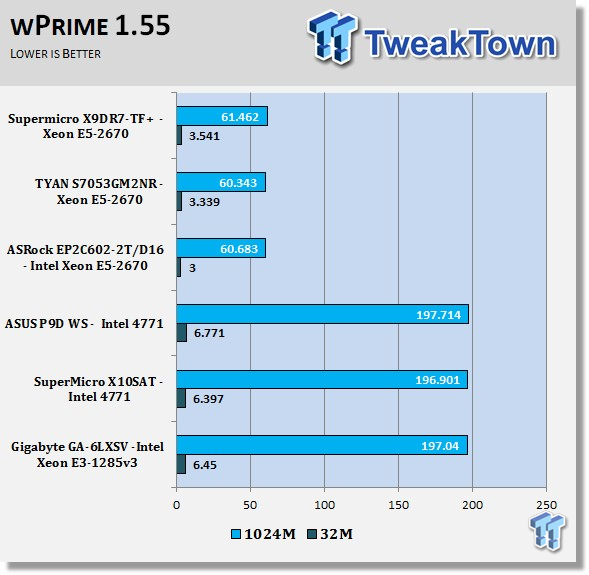 In this test, we see the X9DR7-TF+ has scored a little bit slower than the other boards. This could be because of all the extra memory slots, but it is still very close.
POV-Ray
POV-Ray (Persistence of Vision Ray-Tracer) creates three-dimensional, photo-realistic images using a rendering technique called ray tracing. Ray tracing is not a fast process by any means, but it produces very high quality images with realistic reflections, shading, perspective, and other effects.
This is a very good test to stress CPU threads and check memory stability and overclocks to see if the system is stable. The latest version (3.6) is a free download and has a benchmark utility that we have run for these tests. Results display the average PPS (pixels per second) that the render took.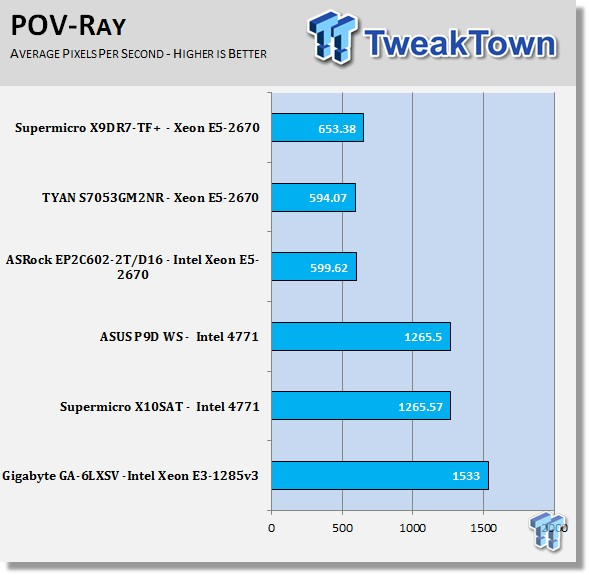 Single-threaded higher clock speeds will generate higher scores with this benchmark, so a dual CPU system does not help this benchmark much.
Here we see a better score for the X9DR7-TF+ in the order of 60 pixels per second, which is very good.
x264 HD
x264 HD Benchmark measures how fast your computer can encode a 1080p video clip into a high quality x264 video file. This benchmark uses multi-core/threaded systems very efficiently and is a good memory stability test.
Results in this test are the average of each pass performed four times.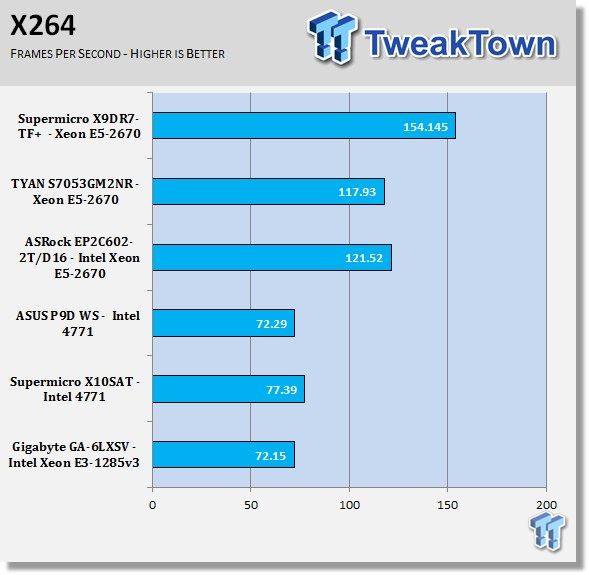 The X9DR7-TF+ scored much better in this test.
Memory Benchmarks
AIDA64
AIDA64 memory bandwidth benchmarks (Memory Read, Memory Write, and Memory Copy) measure the maximum achievable memory data transfer bandwidth.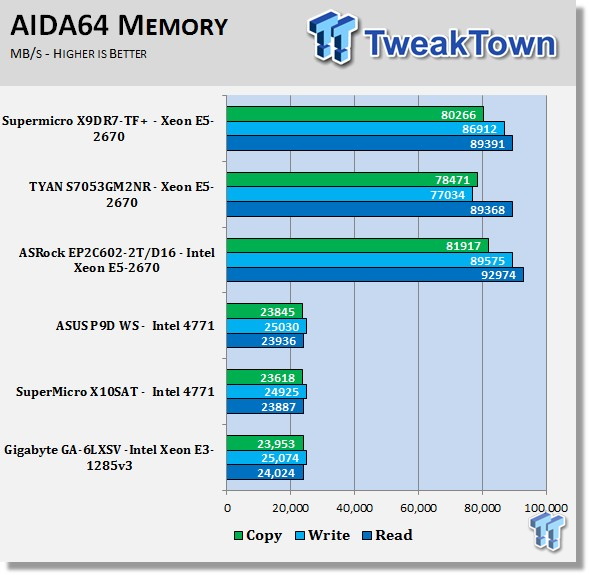 AIDA64 memory tests show the Hynix CL11 memory just a little bit below the top scores and places this setup right in the middle range.
LinX
LinX 0.6.4 is a CPU benchmark that measures floating-point operations per second and is used to compare CPU performance; it is also a very good stress test to run.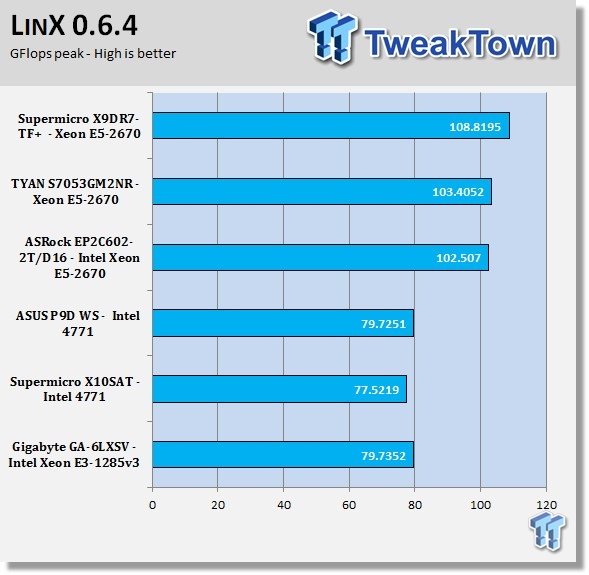 LinX puts a very heavy load on the system, and it appears that all the extra memory slots pay off in this test with a five GFLops increase in bandwidth.
UnixBench 5.1.3
UnixBench has been around for a long time now and is a good general-purpose bench to test on Linux systems.
This is a system benchmark and it shows the performance of single-threaded and multi-threaded tasks.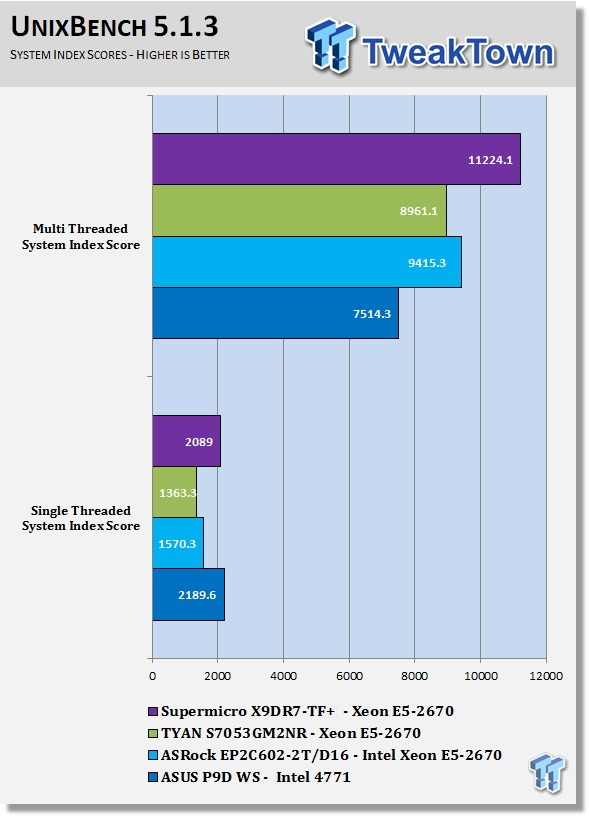 This shows the system indexes after a complete UnixBench run. Here, we get an idea of how much performance gain we get using multi-threaded applications. However, many applications use single threads, so this number is really the base, and a higher clock speed will increase both indexes.
In UnixBench, we can see a very clear winner in the multi-threaded tests.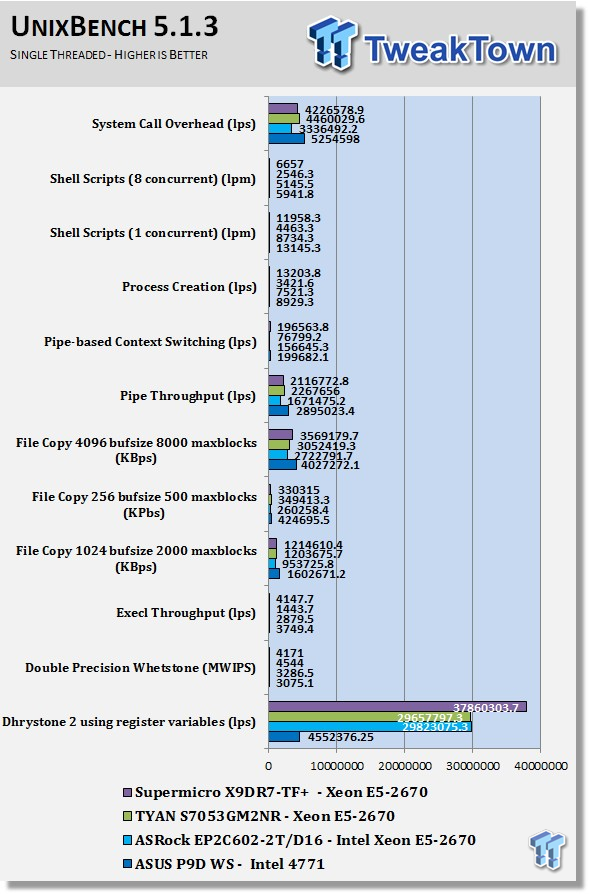 The single-threaded test shows the performance of a single thread. With these types of tests, CPU architecture and speed are the basis of the score. A higher clock speed will increase these scores and have a greater impact on the results.
In the single-threaded test, the Dhrystone test is the clear leader, showing a very nice increase in the score.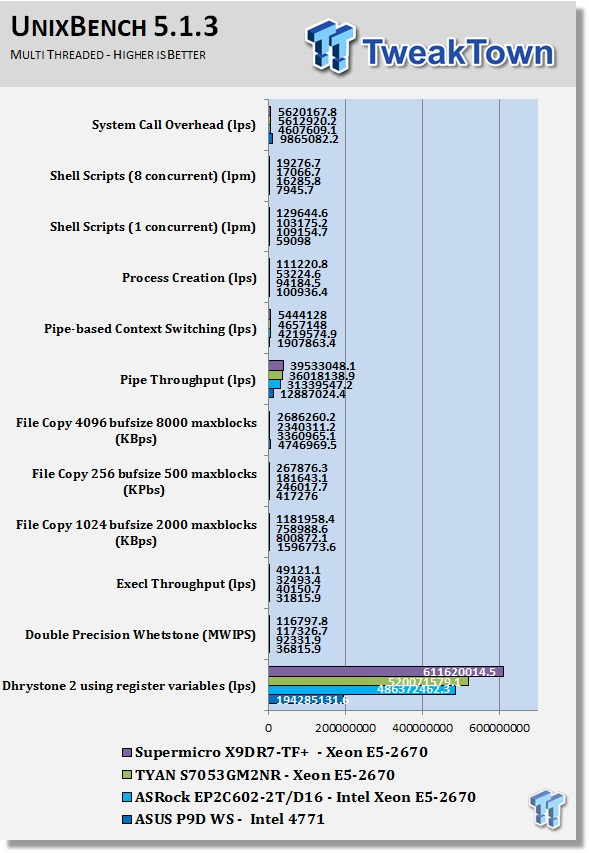 The multi-threaded test uses all 32 threads of the Intel Xeon E5-2670s. In this test, more cores/threads will have a greater impact on the results.
Again, we see the Dhrystone test taking the lead with a nice increase in the score. All other tests here were very close, so the Dhrystone test has the biggest impact on the final score index.
SPEC CPU2006v1.2
SPEC CPU2006v1.2 measures compute intensive performance across the system using realistic benchmarks to rate real performance.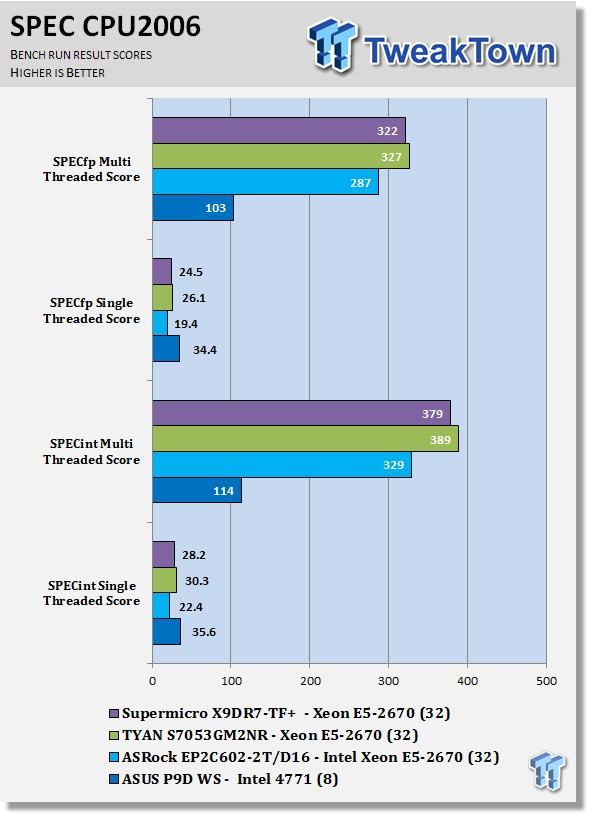 This benchmark has many different commands to use depending on what the user is looking for. For our tests, we used basic commands that run a full test.
Here, you can see the SPEC scores after full runs for Integer (int) and Floating Point (fp) tests.
Single-core runs show how fast (speed) a CPU can perform a given task. In the multi-core runs, we set SPEC CPU2006v1.2 to use all threads, and this is a measure of the throughput of the system.
The additional cores/threads of this system have a huge impact on performance in these tests and really shows the amount of horsepower that a dual-socket system has over a single-socket board
Single-threaded results are still very important, but when you need lots of those to run, moving to a dual-socket setup is the way to go.
The X9DR7-TF+ shows very close scores across the board.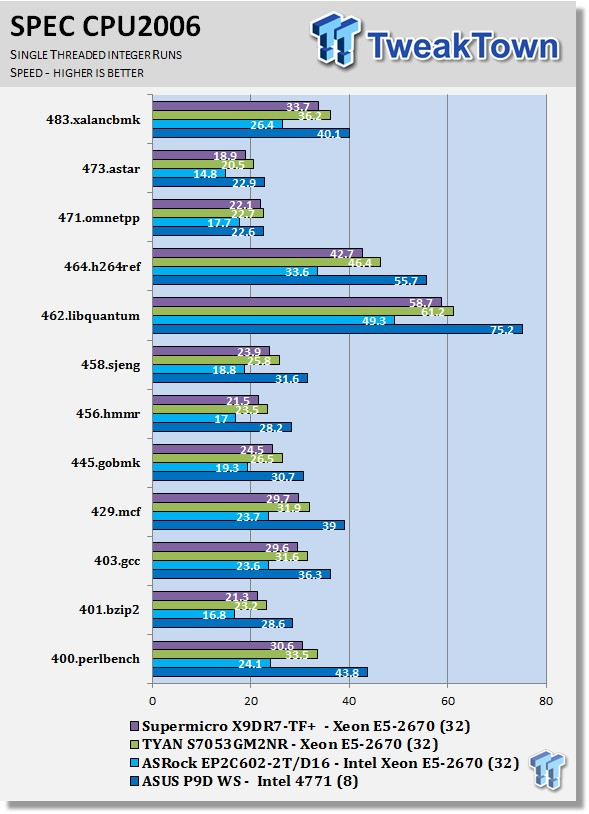 Looking at the results of single-threaded integer runs, we can get an idea of speed at which the Intel Xeon E5-2670s can crunch through the different integer tests. Not all CPUs are equal here, and ones that have a higher speed will perform these tests faster. In this case, this is the stock speed of the Intel Xeon E5-2670s. Naturally, using an overclocked system or CPUs with a higher stock speed will generate higher results.
Now we run the test using all 32 threads of the dual Intel Xeon E5-2670s to measure the throughput of the system. In this test, more cores/threads will have a greater effect on the outcome.
We can see a big difference here using the dual-socket setup with a three to four times performance boost in many cases.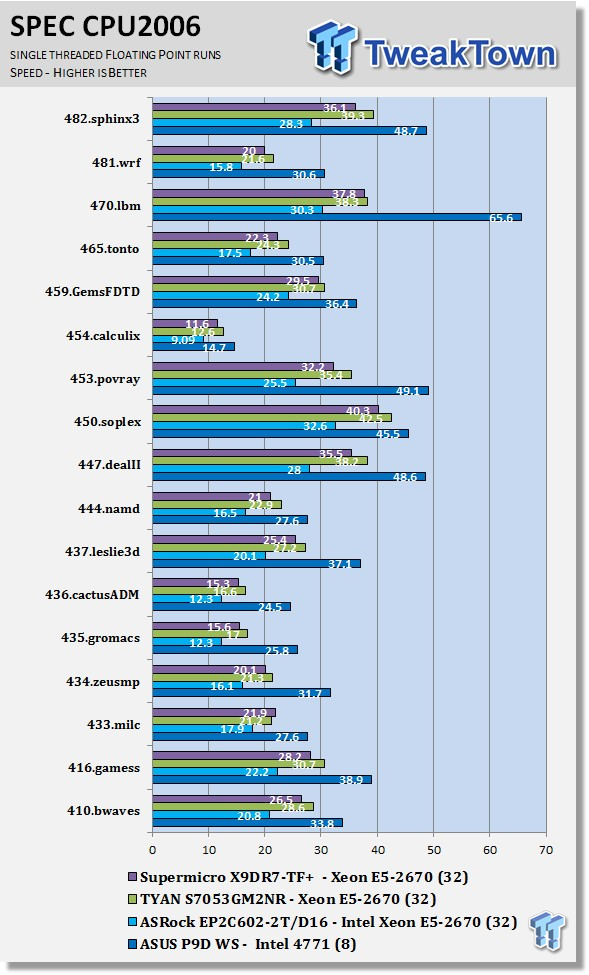 Just like the integer tests, we now run the floating-point tests in single-core (speed) mode. The lower clock speeds of the Intel Xeon E5-2670s hold this benchmark back.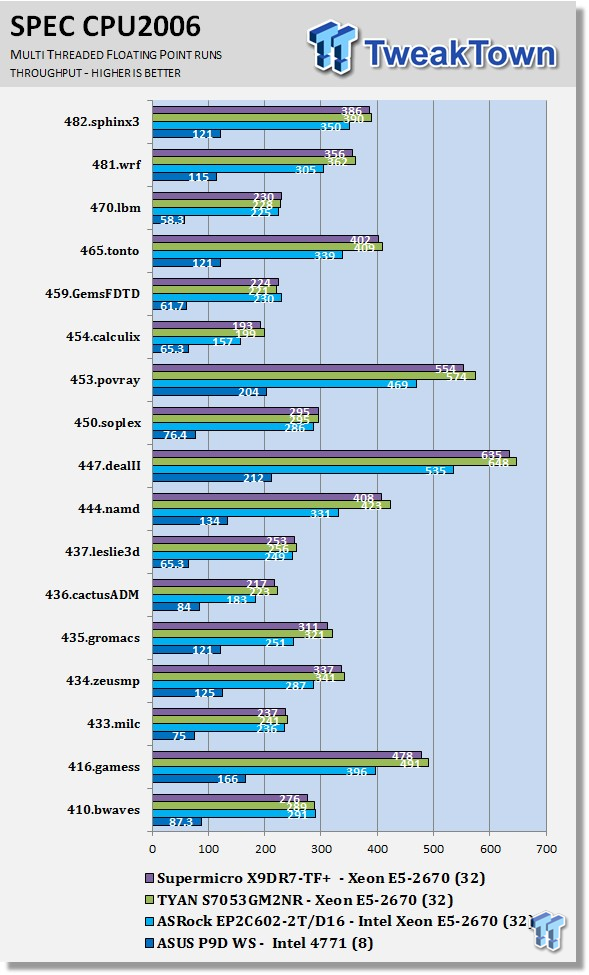 Here, we see the results of the multi-threaded floating-point run that uses all 32 threads of the dual Intel Xeon E5-2670s. Like the multi-threaded integer test, more cores/threads will have a greater impact on the test.
Power Consumption
We used the WattsUp? Pro meter in these tests. This allowed us to measure power use directly from the wall. This meter also uses a USB cable to connect to a computer and Logger Pro software to graph the readings while we run our tests.
To test total system power use, we used AIDA64 Stability test to load the CPU and then recorded the results.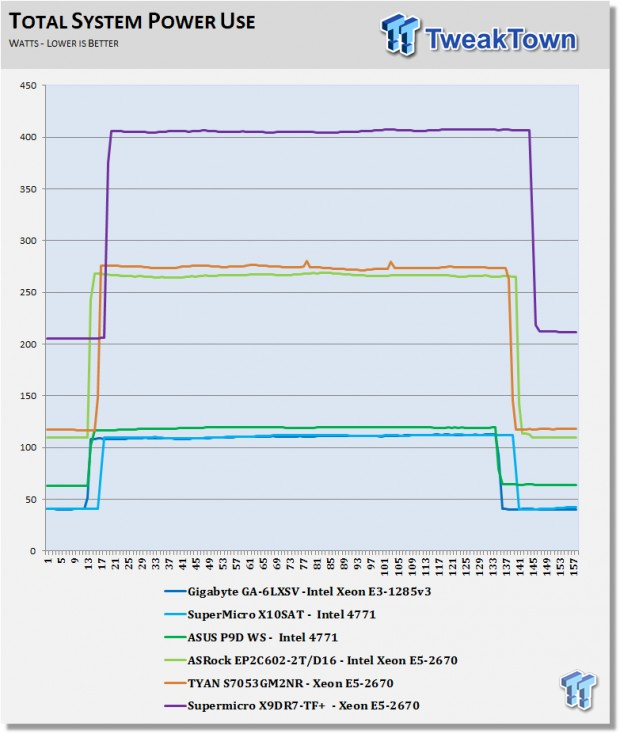 On the X9DR7-TF+, we used a total of 24 sticks of Hynix memory compared to the other boards which only used 8 total. This adds to the total power use of this board by a large amount of over 100 watts. Clearly, this board can gulp power when under load, which is a factor to consider when setting one of these up.
Final Thoughts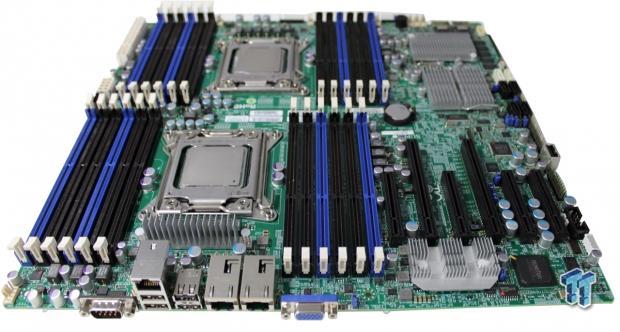 When you take this board out of the box, the first thing you will notice is that it's huge. Then you see miles of RAM slots and realize that this motherboard is a monster.
Looking at possible RAM load outs, you can start out with a usual 128GB of regular ECC/non-ECC RAM, but that is somewhat boring for a system like this. By moving to 32GB RAM sticks, you can pump that up to an incredible 768GB of RAM.
However, why stop there? You can get very crazy and take this board all the way to 1.5TB of RAM using 64GB LRDIMMs. We could not find a site that had these huge capacity sticks for sale and we do not think they would be very cheap.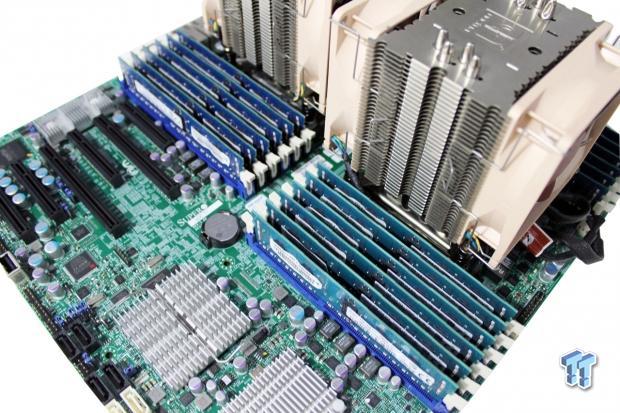 Here you can get a little closer look at the X9DR7-TF+ with a full load of RAM. You can see we used large Noctua heat sinks, which would only work in a 4U case. They keep it nice and cool and do not make a lot of noise, which is nice if you have to work next to a machine like this.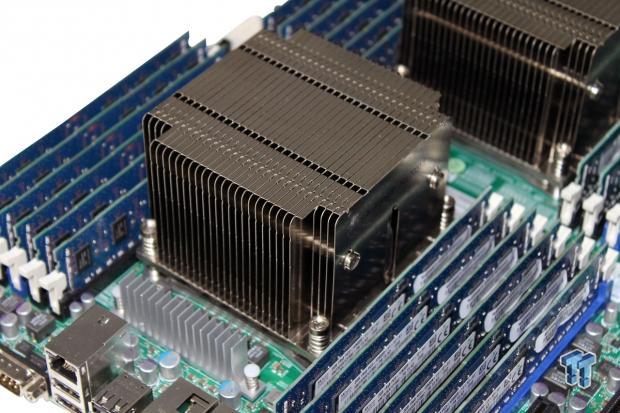 With the passive heat sinks installed, you can get a better view of two banks of memory installed. This is a typical setup for this machine. Can you tell that we are impressed with the number of RAM slots this board has? We believe that this would be a fantastic board to use ULLtraDIMMs on when they become available.
The X9DR7-TF+ is the building block of several Supermicro systems that utilize Intel Xeon Phis or GPUs, which make for incredibly powerful high-performance systems. Not only does it do those systems well, it also makes for a powerful storage box with the Mini-SAS ports.
Supermicro provides a three-year warranty for labor and one-year warranty for parts. This limited warranty includes advance part replacement service covering a period of 30 days from Supermicro invoice date.
As we stated in the beginning, we only received the motherboard for review, so we based our award rating on what you should get when you purchase this motherboard.
PRICING: You can find the Supermicro X9DR7-TF+ Motherboard for sale below. The prices listed are valid at the time of writing, but can change at any time. Click the link to see the very latest pricing for the best deal.
United States: The Supermicro X9DR7-TF+ Motherboard retails for $849.99 at Amazon.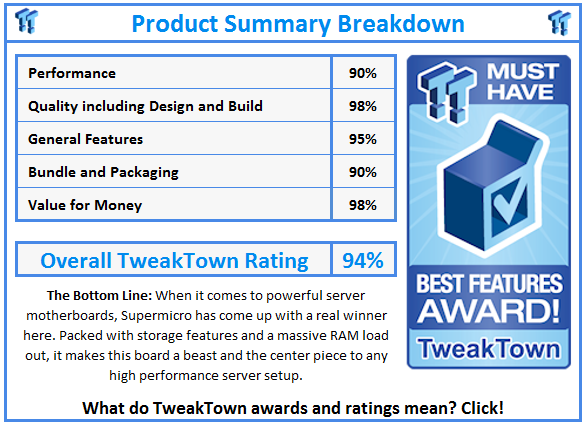 PRICING: You can find products similar to this one for sale below.

United States: Find other tech and computer products like this over at Amazon.com

United Kingdom: Find other tech and computer products like this over at Amazon.co.uk

Australia: Find other tech and computer products like this over at Amazon.com.au

Canada: Find other tech and computer products like this over at Amazon.ca

Deutschland: Finde andere Technik- und Computerprodukte wie dieses auf Amazon.de