The Little Mermaid 3D (1989) Blu-ray Review
"Down here is your home! Life under the sea is better than anything up there!"

Published Sat, Oct 5 2013 9:02 AM CDT
|
Updated Tue, Nov 3 2020 7:00 PM CST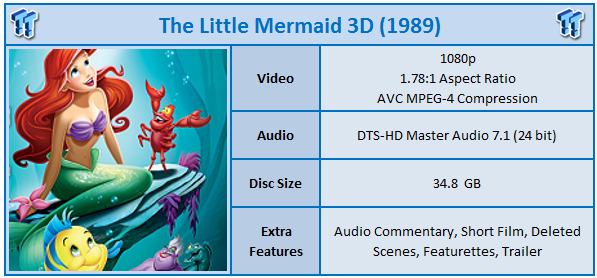 After years of cheap animation resultant from a company that was both financially and artistically lacking, alongside poor morale, Disney was not in a good shape. Forced to go cap in hand to private investors to produce further animated output, 1986's The Great Mouse Detective and 1988's Oliver and Company proved lucrative enough to move forward with a long mooted adaptation of Hans Christian Anderson's classic story tale The Little Mermaid.
Of course, in true Disney fashion, the company made the original, tragic story a little more commercial (read; upbeat), but the core story of a mermaid besotted by the human world has translated in whole and became a huge success for the company and ushered forth a period of renewal for the company, now dubbed the 'Disney renaissance'. Over this time, the company burst forth from their relative malaise with a strong suite of animated films, including Beauty and the Beast, The Lion King and Pocahontas.
The Little Mermaid truly stands the test of time, filled with more heart and warmth than your average animated feature, with eminently hummable musical numbers that propel the story forward and a cache of memorable characters that may even bring a tear to the eye.
Video
The Little Mermaid 3D is presented in the aspect ratio of 1.78:1, a slight deviation from the original aspect ratio of 1.66:1, encoded with MVC MPEG-4 compression.
Resultant of a brand new 35mm scan by restoration facility Reliance Mediaworks and digital restoration utilizing the Lowry method, The Little Mermaid has, without any word of hyperbole, simply never shone as brightly, nor looked as good as it now does.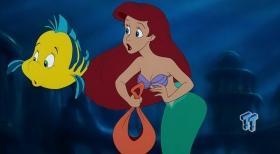 The new color timing is far more balanced and a huge improvement on previous transfers. It's as if the white balance has been re-set as a point of reference throughout, as the image looks a little whiter than before, replacing some of that yellow hue that permeated the last DVD release. Textures are much finer and there is so much more detail in background animations.
Mermaid was the last film to be cel animated before the CAPS system was implemented, which gives the film a slightly more organic feel. The restoration has wisely retained a small amount of grain, giving a gentle reminder of the pre-digital manpower that created it.
I have been particularly dismayed by the use of digital noise reduction on other Disney catalogue titles, but I just can't see that much, if any has been used here. It's truly a beautiful image. Some of the animation is crisper and clearer than others - the opening has always been particularly hazy by design.
Sadly, there is one huge downside with this video transfer. It seems that during the restoration process, one short shot during the climax of Part of Your World has been incorrectly ordered, making the audio sync temporarily drift. It's an admittedly small and fleeing mistake, yet such a crucial one. I certainly hope that Disney can correct the flaw in future pressings and offer replacement discs to those who would like them.
The Little Mermaid is the oldest traditionally animated feature to receive 3D conversion, and the first that does not come from the digital CAPS system. There's some subtle 3D use, but overall this is somewhat aggressive conversion, in the same vein as The Lion King.
Conversion firm Legend3D, whom previously worked on Top Gun 3D, Man of Steel 3D and The Life of Pi 3D has done a good job with selective pop out; Ariel's coiffured fringe sticks out quite convincingly, as do the bubbles, which I would have thought would have posed some problems. There's some really sustained and impressive 3D sequences throughout, including Under the Sea and the moment where Ariel reaches out with her hand in the climax to Part of Your World.
I did see one scene featuring Eric which looked a bit 'off' (his head look displaced from his body), but overall this quite a beautiful presentation.
I would love the opportunity to see this is in 3D at a cinema one day; sadly the planned worldwide 3D release was cancelled earlier this year, but for now I'll just have to keep saving for an 84 inch 4K set!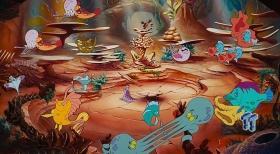 Audio
The Little Mermaid 3D is presented in DTS HD Master Audio 7.1 at 24 bits.
Coming from stereo source materials, The Little Mermaid sounds downright brilliant in lossless 7.1. Disney has created a few 5.1 mixes for Laserdisc and DVD releases, each one slightly more aggressively mixed than the last, but with this Blu-ray mix, we have what I can assume will be the finite audio mix - and if that's the case, it's so amazing that I would have no problem with that at all.
Dialogue is clear and audible, and lip sync, whilst occasionally off, is generally quite good. Whilst the fidelity of some sound effects is at times limited (many sound effects are quite vintage), audio mixers have done what they can to refresh them. The biggest audible leap in this mix is in the films numerous musical set pieces, which sounds significantly fresher and aggressively mixed than previously. Numbers such as 'Under the Sea' and 'Kiss the Girl' now feature significantly improved surround use and refinements to bass extension.
This really is quite an astounding mix, and exactly what Disney home theatre aficionadas have been wanting for years.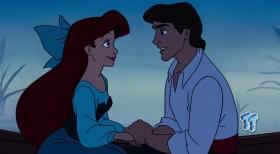 Extras
For this 3D Blu-ray release, Disney include the same extras package as included on the 2D disc, which in turn includes the entirety of extra features assembled for the previous 2 disc DVD release, whilst adding some new features and even upgrading one. Sadly, there are no 3D exclusive extras. Let's take a look.
The Audio Commentary by co-writers/directors Ron Clements and John Musker, and composer Alan Menken is a relatively enjoyable affair, even more so for die-hard fans. The creators poke fun at their own mistakes and deficiencies, but also shed light on some of the films Easter eggs and animation processes.
The 45 minute long Treasures Untold: The Making Of The Little Mermaid documentary is perhaps the final word on the film, rounding up the key players in the production, including many whom have moved on from Disney, including executive producer Jeffrey Katzenberg. A great side experience to the audio commentary, the doco discusses the films conception, voice casting and the technical approach. For me the highlight is seeing voice artist Pat Carroll laugh with Ursula's maniacal cackle. Sadly, the documentary is presented in a window boxed, standard definition image.
The short Storm Warning: The Little Mermaid Special Effects Unit featurette looks how the film achieved impressive animation effects in a mostly pre-digital world, whilst the Behind The Scenes- How real actors featurette looks the original recording sessions with talented mime artists provided much of the films motion tests and gave real life to the main characters. The Little Mermaid: The Story Behind The Story looks at the changes made from the original Hans Christian Anderson short, partially due to commercial reasons, but also to make it a little more relevant to modern audiences. @ Disney Animation takes a look at Disney Animators, new and old, and how the company has been shaped and re-shaped by its past and future.
Perhaps the most poignant of the sets extras is the Howard's Lecture featurette, which features a rare recording of the renowned lyricist Howard Ashman delivering a fascinating lecture to Disney artists. Ashman was a pivotal part of the films production, whose life was cut tragically short after production finished from AIDS complications. Interspersed throughout are recollections from animators and co-directors John Musker and Ron Clements the former of who chokes up, while recalling one Howard anecdote. He is truly missed.
The eight minute The Little Match Girl short, it's connection to The Little Mermaid being that it was also written by Hans Christian Anderson, was once meant to part of a second Fantasia sequel, but once that project was scuttled, it found its way onto the Mermaid DVD. For this Blu-ray, Disney classily upgraded the short to full 1080p vision, with 5.1 sound. It's a tragic, yet touching short, but its superb animation makes it a much watch.
Next up are 25 minutes of vintage Deleted Scenes in generally rough, animatic stage, whilst the Blu-ray adds an additional scene; Harold The Merman includes the newly recorded audio with Pat Caroll reprising the voice of Ursula.
Finally, we have a few smaller featurettes including Under the Sea: An Early Presentation reel, In their world: Jodi Benson's journey to the new Fantasyland, Disneypedia: From life under the sea, Under the Sea Adventure: A Virtual Ride Inspired By Disney Imagineers, along with the Original Theatrical Trailer.
Overall, a great extras package that truly does the film justice.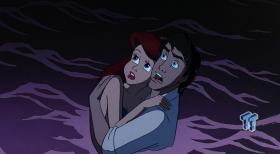 PRICING: You can find products similar to this one for sale below.

United States: Find other tech and computer products like this over at Amazon.com

United Kingdom: Find other tech and computer products like this over at Amazon.co.uk

Australia: Find other tech and computer products like this over at Amazon.com.au

Canada: Find other tech and computer products like this over at Amazon.ca

Deutschland: Finde andere Technik- und Computerprodukte wie dieses auf Amazon.de
We openly invite the companies who provide us with review samples / who are mentioned or discussed to express their opinion. If any company representative wishes to respond, we will publish the response here. Please contact us if you wish to respond.
Related Tags