AMD's Radeon HD 7730 had a very quiet launch. No one made much fuss about it to the point that finding reviews on the latest AMD video card are a few and far between. Not only that, though, if you go over to Newegg, you'll find only one HD 7730 model on sale. That particular one comes from Sapphire, and while it carries 1GB of video memory like the one we've got today, it's GDDR3 and not GDDR5. We will cover this all in a bit more detail when we look at the specifications.
You may be wondering why the decision to move to our shorter review layout here today. It's been ages since we've tested a low-end video card to the point that we really have nothing to compare it with - especially when we throw in the fact that we've got a bunch of new benchmarks since the last time we tested a low-end model.
So, saying that, we've decided to shift the layout to this particular one and concentrate on testing the HD 7730 1GB GDDR5 in still a number of games, but of course have the focus on the lower 1680 x 1050 resolution.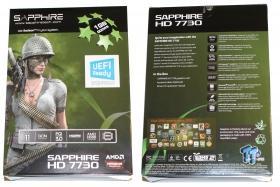 Checking out the package, you can see it's not too big being a lower-end card. The overall design is similar to other Sapphire boxes and you can see the model number along with some of the main features. Looking at the back of the box you can then see some of those main features in more detail.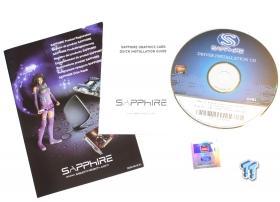 Diving inside the box you can see the package is extremely small just as you'd expect. We've got a pit of paperwork, driver CD and a case sticker to round things off. We've got no extra cables or convertors in the bundle - all very standard for a lower-end card.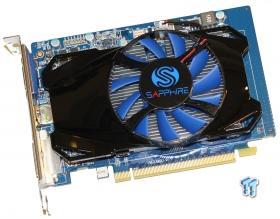 Moving onto the card, you can see we're continuing to see the simplicity. Looking above you can see we've got a fan that takes up majority of the card. You can also clearly see no power connector or CrossFire bridge is included on the card.

As for the I/O side of things, we've got a Dual-Link DVI connector, HDMI port and VGA port to round things off. All in all, the whole card is fairly simple, which is exactly what you'd expect. There's nothing too exciting going on and ultimately models like these come down to the performance they put out for the price.
Before we look at the performance of the card we want to quickly take a moment to look at the main specifications. Not being an OC card means that the Sapphire card we're looking at carries the default clocks which can be seen below. That means the core comes in at 800MHz, while the 1GB of GDDR5 carries a clock speed of 4500MHz QDR.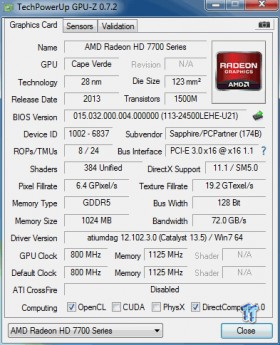 When we start to look at these lower-end models, though, we really have to be a bit more careful as you can get some hidden surprises. The biggest surprise in this area tends to be the memory on the card. If you go to Newegg and search for the HD 7730, you're going to see just one show up currently. It comes in at $74.99 and carries with it 2GB of memory. Straight away you'll figure that you're buying the card we're looking at except with twice as much memory.
Unfortunately, you'd be wrong. While the card does have twice the amount of memory, it's only GDDR3, and while the core carries the same 800MHz clock, the 2GB of GDDR3 only comes in at 1800MHz DDR. This really has quite an impact on performance. Speaking of which, performance is exactly what we're going to get into now.
As we mentioned at the start of the review, it's been absolutely ages since we've tested a lower-end card. Saying that, though, we didn't want to just limit the amount of games we tested the card in. So, while we're not comparing the HD 7730 1GB GDDR5 to a bunch of different cards today, we are seeing how it performs in the majority of our benchmark line up.
The first result we want to cover, though, is 3DMark 11, which sees the performance pre-set score come in at P2507. This compares to a HD 7750 1GB which scores around the P3500 mark. It's been ages since we've seen a card score this low, but it's also been ages since we've tested a card in this price bracket. Nonetheless, let's look at what happens when we fire up some of our other benchmarks.
While we have left our in-game settings at the same default high levels, we've only tested at 1680 x 1050 today. The main number we're on the hung for is 60 when it comes to looking at our average FPS. 60 FPS as an average represents a strong solid number that results in smooth gameplay.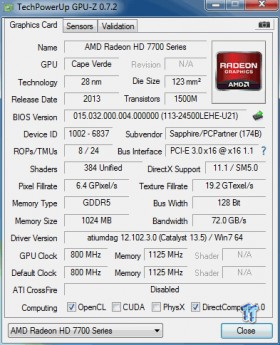 Looking above you can see we don't hit that 60 FPS number at any point. What's made even worse is that apart from Far Cry 2, a game that we all know is quite aging now, everything sees an average FPS score in the 30s or lower. The good news is that with our in-game settings set so high, we really do have a huge amount of room to move when it comes to adjusting the detail.
Looking at the scores above, though, some games are going to need to be moved a whole lot. Newer games like Hitman, Tomb Raider and BioShock are going to need a strong drop in detail and possibly a drop in resolution to bring those numbers up to where we want them to be for smooth gameplay. Something a little older like Sleeping Dogs and Just Cause 2 are also going to need a strong drop in detail, but shouldn't need that resolution decrease that the newer games need.
It quickly feels like the HD 7730 1GB GDDR5 is a card that we're not interested in, and to be perfectly honest, it's not one that brings any form of excitement to my body. That doesn't mean it's a bad card, though. It's just that I personally can't remember when someone asked me what video card I would suggest for under $100.
A video card like this becomes an option for someone who is clearly not happy with what the in-built capabilities that their processor is offering. Moving from a built-in GPU solution to something like the HD 7730 offers a strong boost in performance, but don't expect to be gaming at massive resolutions or anything like that.
You then also have the large list of Source engine based games that will work well on a lower-end card like this. The problem, though, is as you get to the point where you can start to talk the card up to a certain audience, you run into this speed bump when it comes to price and availability.
At the moment it seems that only the GDDR3 model of the HD 7730 is showing up in North America with a price tag of $74.99. In no way could we recommend this model over the one we've tested today. We haven't tested it and the difference between GDDR3 and GDDR5 models can be quite a bit. If we go hunting for the HD 7730 1GB GDDR5 model globally, we end up finding it pretty easily in the UK. Coming in at 64.52 pounds with tax that converts to $99.71 or around $25 more expensive than the GDDR3 model.
The Sapphire HD 7730 1GB GDDR5 has a clear place in the market. With it not showing up in North America, though, we wonder if AMD and its partners feel that North America isn't one of those places. If you're in the market for what will be a good upgrade over your built-in graphics solution, this isn't going to be a bad option. As we mentioned already, we couldn't recommend the GDDR3 model. If you're on the other side of the pond, though, it's a clear option. We would save your money as well and not bother with the 2GB GDDR5 version, which will set you back around 10% more, yet bring no real extra performance.
Looking into the prices of cards around the HD 7730 1GB GDDR5, you quickly discover why the model is probably not coming to North America. The HD 7750 1GB GDDR5 can be had for as low as $76.99 with a free copy of Sniper Elite. Why you would not spend $2 over the GDDR3 HD 7730 is completely beyond me.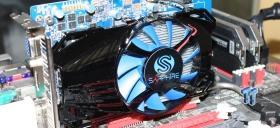 You then move to the HD 7770 1GB GDDR5 which can be had for as low as $89.99 with a free game from the AMD Bronze bundle. The HD 7730 is ultimately hit with the same issue the HD 7700 cards had when they launched. The price is just way off. Of course, since the introduction of the HD 7750 and HD 7770, the pricing of those models have really become aggressive.
What's really interesting, though, is that the picture doesn't look the same when we move over to the other side of the world. Converting the price, we see the HD 7770s start at $130. While the model might not be as well suited for the aggressively priced North America market, it seems that it lines up a bit better in the UK. In the end, the HD 7730 isn't going to be a model that our large North American readership is going to be looking at. One because it's too expensive when converting the price from the UK, and two because you simply can't find it.