Crucial M500 960GB SSD Review
The Tera-Era has begun! Crucial leverages its 20nm NAND flash to achieve a major milestone, the first consumer 2.5" SSD to reach 1TB. Since parent company Micron owns the flash fab, the price is much better than you might expect.
Published Tue, Apr 9 2013 8:00 AM CDT
|
Updated Tue, Nov 3 2020 7:00 PM CST
Introduction
The Tera-Era has officially begun. Today Crucial starts launches the highly anticipated M500 product line and with it comes the first 1TB SSD in a consumer 2.5" form factor. The M500 series uses Micron's new 20nm NAND flash that can fit up to eight dies per package. The high density is what allows Crucial to stuff 1TB of space into a compact 7mm case.
You may have noticed the new capacity size, 960GB. Crucial is following Link A Media Devices and SandForce with over provisioning, reserving space for background tasks to increase performance. The new capacity sizes for M500 are 960GB, 480GB, 240GB and 120GB, a change from previous Crucial SSDs.
At CES Crucial didn't hesitate to tell us about the 960GB's $600 price. After a brief discussion we walked away thinking the other capacity sizes would scale evenly, but that didn't work out like we expected. There are four capacity sizes and the prices are reasonable - 120GB ($129.99), 240GB ($219.99), 480GB ($399.99) and the 960GB that we're reviewing today.
Certainly, there's some room here for Newegg, Tiger Direct and other e-tailers to move the MSRP after a few weeks on the market and we suspect that will happen quickly with the lower capacity sizes.
Let's take a look at the specifications and I'll explain.
Specifications, Pricing and Availability
The Crucial M500 ships in four capacity sizes. The smaller drives are not as fast as the two larger models, but this is to be expected after testing a handful of 20nm flash SSDs.
All four M500 models have a sequential read speed of 500MB/s. The write speed scales with capacity - 128GB writes at 130MB/s, 240GB writes 250MB/s and the two largest sizes are speced at 400MB/s. IOPS performance scales as well as you can see in the chart above. The 960GB size that we're looking at today tops 80K read and write 4K IOPS.
The M500 comes with a three year warranty, but it has a stipulation. There is a 72TB cap for the warranty. That comes out to 40GB written to the drive everyday for five years so it's not like Crucial is handcuffing you to an unreasonable cap, still we would prefer a solid warranty without a limit.
Crucial isn't the first to limit the amount of data written to the drive for warranty purposes, OCZ did it with Vector and Samsung's new 840 Series has a cap as well.
Packaging
The M500 package follows the other Crucial SSD product packages. We received the drive only kit, but Crucial will have other kits available for specific applications.
Inside the box we found the M500 drive and a new accessory from Crucial, a 7mm to 9.5mm adapter. The adapter has two double-sided tape sections so you can quickly attach the bracket if you need it.
There aren't very many systems that would need the adapter put on, but if you need it, you'll be happy Crucial included one.
Crucial M500 960GB SSD
Here we get our first look at the drive. Like Crucial's other SSDs, the branding label is on the bottom of the drive. On this side you can see the mounting points are located where they should be for your notebook sled or desktop adapter bracket.
The label on the top of the drive has the model number, product number and serial number. The capacity size is listed as well.
M500 is a 7mm form factor drive... AND THERE IS 1TB OF FLASH IN THERE! Sorry for the caps, but aside from the Intel DC S3700, most SSDs with this much flash are much larger, some even built on the 15mm z-height.
The SATA power and data connectors are where they should be.
Inside the case we found a piece of thermal transfer material and a thin layer of special plastic on the other cover.
Inside we found 16 Micron 20nm NAND flash chips. Crucial stated that all capacity sizes would use 16 flash chips except for the 128GB, which uses eight.
All capacity sizes use the Marvell 88SS9187 controller. Crucial built the custom firmware for the M500 so the performance will vary from other companies 9187 controlled drives.
The 960GB M500 uses two DRAM buffers with 8GB of total capacity to store page data, no user data is stored in the DRAM.
We've waiting for these chips for a long time. Crucial displayed the new 128-bit 20nm flash at the previous two CES trade shows. These chips have 8 die inside and are the secret ingredient to get to 1TB.
The other side of the drive has the remaining eight NAND flash chips and the other DRAM buffer.
The Crucial M500 has a sizable bank of capacitors to cover host power loss. Should your system lose power during a write operation, the data in route gets to the flash.
Benchmarks - Test System Setup and ATTO Baseline Performance
Desktop Test System
Lenovo W530 - Mobile Workstation
We use two systems for SSD testing. The desktop runs a majority of the tests and the Lenovo W530 runs the notebook power tests as well as the real-world file transfer benchmark.
ATTO Baseline Performance
Version and / or Patch Used: 2.34
ATTO is used by many disk manufacturers to determine the read and write speeds that will be presented to customers.
In ATTO at a queue depth of four we read data at nearly 540MB/s. The write tests topped out at nearly 454MB/s. Both results are well over what Crucial claimed on the product spec sheet.
Benchmarks - Sequential Performance
HD Tune Pro
Version and / or Patch Used: 4.00
Developer Homepage: http://www.efdsoftware.com
Product Homepage: http://www.hdtune.com
HD Tune is a Hard Disk utility which has the following functions:
Benchmark: measures the performance
Info: shows detailed information
Health: checks the health status by using SMART
Error Scan: scans the surface for errors
Temperature display
HD Tune Pro gives us accurate read, write and access time results and for the last couple of years has gained popularity amongst reviewers. It is now considered a must have application for storage device testing.
The Crucial M500 960GB is unlike anything else on the market, but we ended using the 512GB class SSDs to compare it against. It's important to keep in mind that the M500 960GB is twice the size of the other products in the chart.
Reading sequentially across the drive nets an average of 451MB/s in HD Tune Pro.
Writing 64B data across the user available span of the drive gives us an average write speed of 209MB/s. The maximum was over 400MB/s and the minimum was all the way down to 165MB/s.
Here we see the actual run. The reason we still run this very old test is because it shows us the graph and doesn't just give us the maximum number like ATTO or CrystalDiskMark. This test was ran on a fresh drive, we had to check in Crystal Disk Info to make sure we started with a fresh drive.
HD Tach - Sequential Write Performance after Random Writes
We run HD Tach after six tests with HD Tune Pro including the random read and write tests. The maximum write speed decreased, but the minimum is still right around the same 170MB/s area except where the performance dips to just under 150MB/s.
Benchmarks - AIDA64 Random Access Time
AIDA64 Random Access Time
Version and / or Patch Used: 1.60
Developer Homepage: http://www.aida64.com
Product Homepage: http://www.aida64.com
AIDA64 offers several different benchmarks for testing and optimizing your system or network. The Random Access test is one of very few if not only that will measure hard drives random access times in hundredths of milliseconds as oppose to tens of milliseconds.
Drives with only one or two tests displayed in the write test mean that they have failed the test and their Maximum and possibly their Average Scores were very high after the cache fills. This usually happens only with controllers manufactured by Jmicron..
The 960GB M500 has a lot of data to keep track of, but the 8GB page table DRAM buffer seems to keep the latency low. The average read latency came in at just .03ms, less than half of what we measured the Crucial m4 512GB drive at.
The write latency was .04ms, .20ms lower than the m4 512GB. The M500 is a big step for Crucial in the latency department.
Benchmarks - Anvil Storage Utilities
Anvil Storage Utilities
Version and / or Patch Used: RC6
So what is Anvil Storage Utilities? First of all, it's a storage benchmark for SSDs and HDDs where you can check and monitor your performance. The Standard Storage Benchmark performs a series of tests, you can run a full test or just the read or the write test or you can run a single test, i.e. 4K DQ16.
Anvil Storage Utilities is not officially available yet but we've been playing with the beta for several months now. The author, Anvil on several international forums has been updating the software steadily and is adding new features every couple of months.
The software is used several different ways and to show different aspects for each drive. We've chosen to use this software to show the performance of a drive with two different data sets. The first is with compressible data and the second data set is incompressible data. Several users have requested this data in our SSD reviews.
0-Fill Compressible Data
Incompressible Data
The Crucial M500 doesn't slow very much when changing from compressible to incompressible data.
Read IOPS through Queue Depth Scale
In this graph we're looking at 4K IOPS performance at scaling queue depths.
The M500 960GB is much faster when compared to the m4 512GB, but at low queue depths, it's the second slowest on the chart. At higher queue depths the M500 does really well and is comparable to the OCZ Vector 512GB.
Scaling Write IOPS through Queue Scale
The 4K scaling write IOPS puts the Crucial M500 in with the two top tier performance SSDs on the market today, Samsung's 840 Pro and OCZ's Vector. Both of those drives are only half of the capacity.
Benchmarks - CrystalDiskMark
CrystalDiskMark
Version and / or Patch Used: 3.0 Technical Preview
Developer Homepage: http://crystalmark.info
Product Homepage: http://crystalmark.info/software/CrystalDiskMark/index-e.html
Download here: http://crystaldew.info/category/software/crystaldiskmark
CrystalDiskMark is a disk benchmark software that allows us to benchmark 4K and 4K queue depths with accuracy.
Key Features:-
* Sequential reads/writes
* Random 4KB/512KB reads/writes
* Text copy
* Change dialog design
* internationalization (i18n)
Note: Crystal Disk Mark 3.0 Technical Preview was used for these tests since it offers the ability to measure native command queuing at 4 and 32.
We've already determined the M500 doesn't lose performance when working with incompressible data, but we still like looking at the CDM data since it's an industry standard. Here we see the 4K read performance come in where it did on the previous page, between the 840 Pro and Vector 512GB.
The same can be said about the 4K write performance, M500 comes in right between the two top tier performance drives already on the market. The M500 is slower than the top two drives, even the Corsair Neutron GTX, when writing sequential data.
Benchmarks - PCMark Vantage Hard Disk Tests
PCMark Vantage - Hard Disk Tests
Version and / or Patch Used: 1.0.0
Developer Homepage: http://www.futuremark.com
Product Homepage: http://www.futuremark.com/benchmarks/pcmark-vantage/
PCMark Vantage is the first objective hardware performance benchmark for PCs running 32 and 64 bit versions of Microsoft Windows Vista. PCMark Vantage is perfectly suited for benchmarking any type of Microsoft Windows Vista PC from multimedia home entertainment systems and laptops to dedicated workstations and high-end gaming rigs. Regardless of whether the benchmarker is an artist or an IT Professional, PCMark Vantage shows the user where their system soars or falls flat, and how to get the most performance possible out of their hardware. PCMark Vantage is easy enough for even the most casual enthusiast to use yet supports in-depth, professional industry grade testing.
FutureMark has developed a good set of hard disk tests for their PCMark Vantage Suite. Windows users can count on Vantage to show them how a drive will perform in normal day to day usage scenarios. For most users these are the tests that matter since many of the old hat ways to measure performance have become ineffective to measure true Windows performance.
HDD1 - Windows Defender
HDD2 - Gaming
HDD3 - Windows Photo Gallery
HDD4 - Vista Startup
HDD5 - Windows Movie Maker
HDD6 - Windows Media Center
HDD7 - Windows Media Player
HDD8 - Application Loading
Looking at the daily use performance with Vantage, we see the M500 960GB running with the leaders again and even winning in a handful of tests.
The only issue is when the M500 loses a test it tends to lose big, like in the Application Load test where the M500 only manages to push 153MB/, over half that of the 840 Pro 512GB.
Benchmarks - PCMark Vantage - Drives with Data Testing
PCMark Vantage - Drives with Data Testing
For a complete breakdown on the Drives with Data Testing please read this article. You will be able to perform this test at home with the files provided in the article - full instructions are included.
- Brief Methodology
SSDs perform differently when used for a period of time and when data is already present on the drive. The purpose of the Drives with Data testing is to show how a drive performs in these 'dirty' states. SSDs also need time to recover, either with TRIM or onboard garbage collection methods.
Drives with Data Testing - 25%, 50%, 75% Full States and Dirty / Empty Test
Files needed for 60 (64GB), 120 (128GB), 240 (256GB)
60GB Fill - 15GB, 30GB, 45GB
120GB Fill - 30GB, 60GB, 90GB
240GB Fill - 60GB, 120GB, 160GB
Empty but Dirty - a test run just after the fill tests and shows if a drive needs time to recover or if performance is instantly restored.
SSDs slow as data populates the flash and the M500 960GB has a lot of flash to populate. In these tests we fill the total flash to 25%, 50% and 75% full. The M500 holds a steady performance level through the different states, but if you look at the bottom of the chart, the m4 512GB does better when the drives are heavily populated.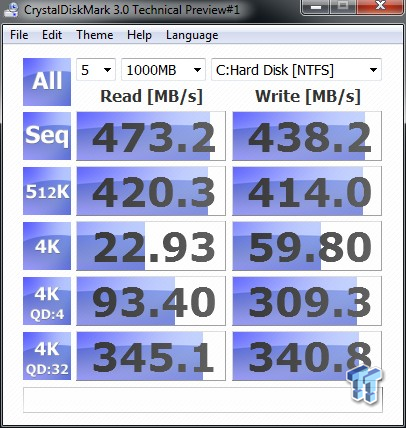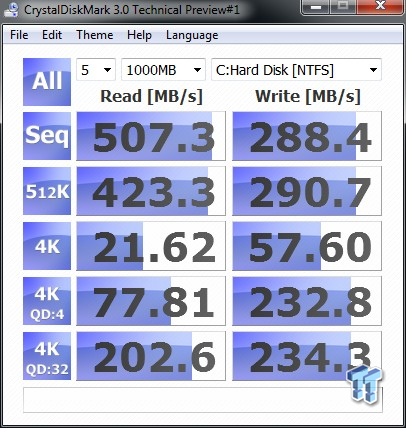 Here we see the Crucial m500 960GB compared to the Crucial M4 512GB side by side with the M500 on the left. PCMark Vantage uses daily use programs that focus on reading data more than writing data. Looking at the sequential read performance we see why the m4 512GB scores higher than the M500 in our fill test, m4 has higher sequential read performance.
What the fill test didn't show is the massive increase in write performance when the drives have data on them. In the two CDM results above both drives are populated with data to where only 50GB of space remains. The M500 has a massive advantage when writing data in this state.
Benchmarks - BootRacer
BootRacer - System Boot Time
Version and / or Patch Used: 4.0
Developer Homepage: Greatis
Product Homepage: BootRacer
Download here: http://www.greatis.com/bootracer/download.htm
Note: In this test we use the Lenovo W530 Mobile Workstation loaded with an operating system and several program files. The data on the drive at the time of the test is 45GB. The second test, 50GB Free, was ran with the drives filled with block data until only 50GB of free capacity remained.
Our Lenovo W530 reboot takes between 15 and 16 seconds with a high performance SSD installed. With a 7,200 RPM HDD, the reboot takes over a minute.
Benchmarks - DiskBench
DiskBench - Directory Copy
Version and / or Patch Used: 2.6.2.0
Developer Homepage: Nodesoft
Product Homepage: DiskBench
Download here: http://www.nodesoft.com/diskbench/download
Note: In this test we use the Lenovo W530 Mobile Workstation and a SuperSSpeed S301 SLC 128GB SSD to move a 15GB block of data to and from the target drive. This is part of our real world test regiment. Roughly 45GB of data resides on the target drive before the '15GB Block' is transfer. The 15GB Block is the same data we built for the Data on Disk Testing and is a mix of compressible and incompressible data.
Copying large volumes of data quickly is just one of many benefits to owning a SSD. In this test we move 15.2GB of mixed data, incompressible, compressible, random and sequential, to and from the drive. The M500 960GB reads the data at just under 300MB/s and writes data at just over 276MB/s.
Benchmarks - Power Testing
Bapco MobileMark 2012 1.5
Version and / or Patch Used: 2012 1.5
Developer Homepage: http://www.bapco.com
Test Homepage: http://www.bapco.com
MobileMark 2012 1.5 is an application-based benchmark that reflects usage patterns of business users in the areas of office productivity, media creation and media consumption. Unlike benchmarks that only measure battery life, MobileMark 2012 measures battery life and performance simultaneously, showing how well a system design addresses the inherent tradeoffs between performance and power management.
Depending on what firmware on the drive, the Crucial m4 performs well in our battery life test. It's the current battery life leader on the 512GB capacity size charts. The Samsung 840 non-Pro 500GB comes a close second and the M500 960GB is just behind them.
We've haven't tested the new Phison S8 or SandForce B02 stepping in the 512GB capacity size yet, but we're working on it now.
PCMark Vantage HDD Test - Power Draw
Here we see the power draw during a Vantage HDD test run. You'll see the Crucial M500 in black and at the beginning I managed to get the tail end of a garbage collection clean up operation. When GC is executing the power increases two times, but other than the GC run and the random write spikes, the power stays fairly level.
Final Thoughts
It's a good thing Crucial released the massive 960GB capacity size because without it the M500 series wouldn't be all that exciting. The new capacity size is exciting, but if you aren't willing to spend $600 for an SSD, I'd say it doesn't really matter. A large part of the CES buzz came from the notion that the price would scale with the capacity down at a liner rate. We expected M500 480GB to come in around $300, 240GB at $150 and the 120GB for lunch money. Now that we know the real MSRP part of the buzz was lost, or at least watered down.
That's not to say Crucial really rained on our parade, or maybe that should be me raining on their launch. The M500 960GB has a $600 price tag and the 480GB is $400. The Samsung 840 Pro 512GB is $499 at Newegg and the OCZ Vector 512GB is still a wallet slimming $550. The Samsung 840 non-Pro at $350 (all prices from Newegg at the time of writing) looks like a real competitor at the 512GB class, there's a reason why my local Fry's can't keep them in stock. When it comes to the other capacity sizes we're taking a wait and see approach. Since the two largest capacity sizes share the same specs we touched on the 480GB a bit, but will just hold off till we have the entire product line in for reviews.
With that out of the way, let's just focus on the 960GB that we have in the lab. The drive is brilliant and a step forward in the evolution of SSDs. There are other 1TB class SSDs on the market now, Newegg lists a couple, but I wouldn't really call $2000 SSDs 'consumer models'.
When it comes to performance, the 960GB M500 comes in between the 840 Pro and Vector 512GB. The drive does lose quite a bit of performance when you get a lot of data on it, but the write performance doesn't drop nearly as far as the m4 series.
What it really comes down to is the M500 960GB is the only real option for a terabyte class SSD on the market today. Now that Crucial has this product on the market, we expect others to follow suit, but until then, Crucial owns the market. The M500 960GB is fast and does well in our daily use tests, but we expected a bit more.
PRICING: You can find products similar to this one for sale below.

United States: Find other tech and computer products like this over at Amazon.com

United Kingdom: Find other tech and computer products like this over at Amazon.co.uk

Australia: Find other tech and computer products like this over at Amazon.com.au

Canada: Find other tech and computer products like this over at Amazon.ca

Deutschland: Finde andere Technik- und Computerprodukte wie dieses auf Amazon.de
We openly invite the companies who provide us with review samples / who are mentioned or discussed to express their opinion. If any company representative wishes to respond, we will publish the response here. Please contact us if you wish to respond.