The Expendables 2 (2012) Blu-ray Review
"You've been back enough times already!"

Published Sun, Jan 20 2013 8:25 AM CST
|
Updated Tue, Nov 3 2020 7:01 PM CST
Rating:

84%
Producer / Publisher: Roadshow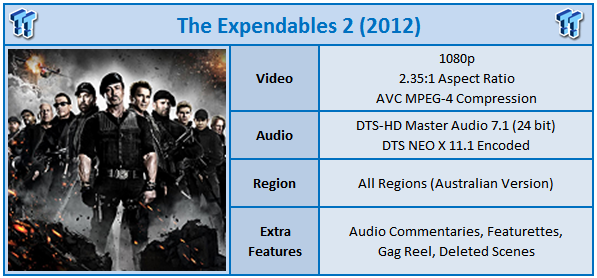 Following both critical and financial successes with Rocky Balboa and Rambo, the formerly dormant career of Sylvester Stallone has enjoyed a resurgence of late. Naturally, if one aging star can pull $131 million, how much could seven aging stars pull in? The answer to that was the 2010 tour de force The Expendables, which took the novel approach of mingling stars such as Sylvester Stallone, Jason Statham, Jet Li, Dolph Lundgren, Randy Couture, Steve 'Stone Cold' Austin, Terry Crews, Mickey Rourke, Bruce Willis and a cameo from the then "Governator", Arnold Schwarzenegger, in a hard-assed throw back to the films of old.
When that made a reasonable amount of cash for the studio, a sequel was, of course, inevitable. The formula for The Expendables 2 is simply to ramp up the best elements of the first film, lightening the tone and putting even more old people in!
When the mysterious Mr. Church (Bruce Willis) coerces Barney Ross (Sylvester Stallone), the leader of the Expendables, into accepting a reconnaissance mission to retrieve an item from a downed airplane in Albania, the group find themselves at the mercy of arms dealer Jean Vilain (Jean-Claude Van Damme) and his opposing force. The retrieved item is exchanged for their lives, but not before one of their own is slain. Vilain escapes, but the Expendables vow vengeance, tracking them across Europe. But Vilain has an even more devious plan and now the means to execute it.
Where the original film was a more serious and to a certain degree, joyless film, The Expendables 2 plays up the humor quotient, solidified by the casting of internet favourite Chuck Norris and Jean-Claude Van Damme, ensuring that the tongue is automatically firmly in cheek. Arnold Schwarzenegger and Bruce Willis expand their previous cameos into much larger roles and don't shy away from battle, in a climactic shootout which shares more than a passing similarity to the 'No Russian' level of Call of Duty: Modern Warfare 2.
Make no mistake, this isn't high art, and won't be in contention for any Academy awards. This is fan service and no attempt is made to skate over this. Numerous allusions are made to the roles which made the stars household names ("I said I'd be back!") and even the meme's of Chuck Norris are referenced ("I heard you got bitten by a king cobra" "Yeah. But after several days of excruciating pain, the cobra died.")
You'll not have any life affirming moments during The Expendables 2, but if films are meant to be entertaining, then it's certainly one of the most entertaining movies to come out from the year that was 2012.
Video
The Expendables 2 is presented in the film's original aspect ratio of 2.35:1, encoded with AVC MPEG-4 compression.
On Blu-ray, the movie looks exactly as it did in the cinema - draped in gritty and dark hues, with significant colour grading which desaturated the frame and accentuates blue tones. There's a little softness to the image, which isn't a fault of the transfer, but would suggest its purpose is to tones down some of the stars aging signs.
Despite the darkness, there's pleasingly little in the way of black crush, revealing a lot of detail in each frame. Its production methods won't lead the film to being the next best demo disc, but as far as faithful encoding goes - the Expendables 2 takes the cake.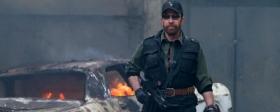 Audio
The Expendables 2 is presented in DTS HD Master Audio 7.1, at 24 bits.
Well, actually that's not entirely true. The Expendables 2 is the first Blu-ray in the world to be encoded with what's being called 'DTS 11.1 Neo X', which essentially means there is additional speaker height information encoded in the stream. Hands up if you are equipped with this tech? I thought so, but still - a very cool move from Roadshow.
Everyone else will have to make do with 'just' 7.1; a doozy of a consolation prize. Just like the film itself, there is nothing subtle about The Expendables 2 sound mix. Every explosion, crash and bullet storm rattles the floor with a resounding low frequency thud.
There's quite the range of accents on offer from the rather international cast, but very rarely is anything of any consequence unable to be heard. Sound designers have clearly had a lot of fun crafting the sound mix here, I imagine the order from on high was to make it as big as possible and that's exactly what we get.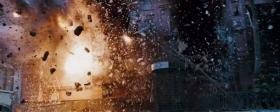 Extras
At first glance it would appear that there isn't much in the way of extra features here, but what we do get is pleasingly substantial. Let's take a look see.
First up is the feature length Audio Commentary featuring Director Simon West on solo duty. His adeptness with helming ensemble action films made him a good choice for helming the sequel and whilst he offers a solid commentary, only the most pure fans will be willing to stick it through to the end.
Next we have four decent length featurettes, the beefiest - Big Guns, Bigger Heroes: The 1980's and the Rise of the Action film charts the growing popularity of action heroes in the American psyche, whose rise of the Stallone's and Schwarzenegger's of the world dovetailed with the explosion of interest in bodybuilding and the excesses of the 1980's. God of War: Assembling Earth's Mightiest Anti-Heroes discusses the casting process and how series newcomers were roped in. On the Assault: The Real Life Weaponry of the Expendables 2 takes a light hearted look at the movies gunplay, which coming just weeks after events in the United States might make this appear a little touchy. Guns for Hire: Real Life Expendables investigates the real world industry of mercenaries and what their jobs entail.
Finally, we have approximately five minutes of Deleted Scenes which reveal some brief superfluous shots, along with five minutes of spectacularly unfunny fluffs in the Gag Reel.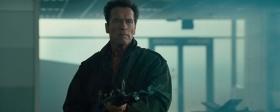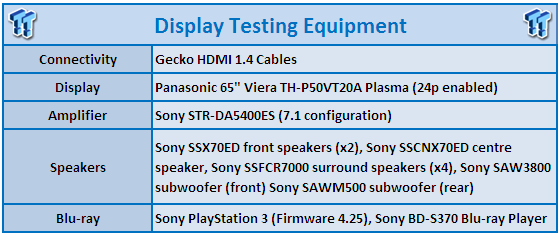 PRICING: You can find products similar to this one for sale below.

United States: Find other tech and computer products like this over at Amazon.com

United Kingdom: Find other tech and computer products like this over at Amazon.co.uk

Australia: Find other tech and computer products like this over at Amazon.com.au

Canada: Find other tech and computer products like this over at Amazon.ca

Deutschland: Finde andere Technik- und Computerprodukte wie dieses auf Amazon.de
We openly invite the companies who provide us with review samples / who are mentioned or discussed to express their opinion. If any company representative wishes to respond, we will publish the response here. Please contact us if you wish to respond.