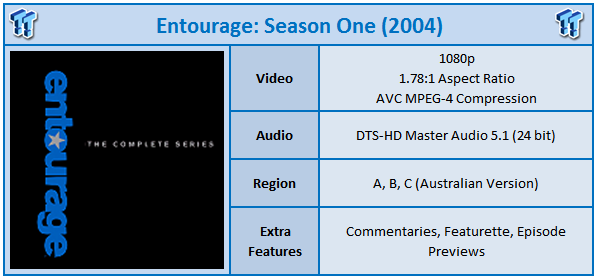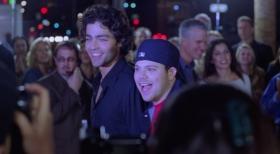 Executive produced and roughly based on the life of star of stage and screen Mark Wahlberg, Entourage tracks the success of emerging movie star and heartthrob Vincent Chase (Adrien Grenier) and his 'crew' of childhood friends; his manager Eric (Kevin Connolly), struggling actor Johnny 'Drama' (Kevin Dillon) and Turtle (Jerry Ferrara) as they navigate the Hollywood world.
The debut season starts with a bang - the premiere of Chase's latest (fictional) movie Head On, co-starring Jessica Alba, whilst introducing the cast of characters, and providing a taste of the heady world of the young superstar.
The first season is almost totally bereft of the 'finding its feet' issues which often plague new series, proving that Entourage was thoroughly developed well before it premiered in 2004. Whilst the show twists and turns over the next seven seasons, with characters and story arcs that might stretch the friendship, returning to the first season of Entourage has proved to be a real joy. This Blu-ray remastering effort brings new found contemporary relevance to a show that has hardly aged and will be sure to introduce a new generation of fans.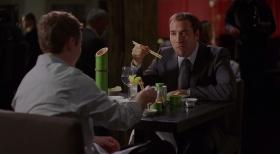 Video
Entourage: Season One is presented in the aspect ratio of 1.78:1, a divergence from the original broadcast aspect ratio of 1.33:1 encoded with AVC MPEG-4 compression.
When I heard that HBO and Warner Brothers were planning to re-transfer the 35mm film elements of Entourage in a widescreen aspect ratio, I didn't expect significant improvement due to its presumably composed aspect ratio of 1.33:1. How wrong I was. Not only are there no issues that afflicted the similar re-composition of Friends (i.e. occasional visible production equipment), almost every frame features significantly more important information on both the left and right sides of the frame and sometimes a slight reframe on the top and bottom.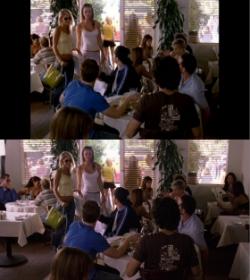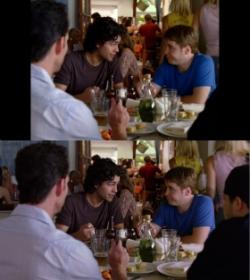 In fact, I think you'll agree once you see the above and below screen caps, that it's clear that Entourage has been very much filmed with a widescreen aspect ratio in mind after all. Why it was originally edited and finished in 4x3 is therefore a mystery.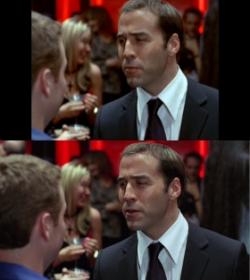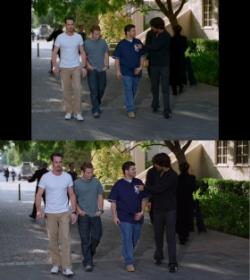 Compared to the old NTSC DVD's, Entourage is somewhat of a revelation. Apart from the obvious improvements in detail and sharpness, colour is significantly lusher and vibrant, taking on a far more professional look overall.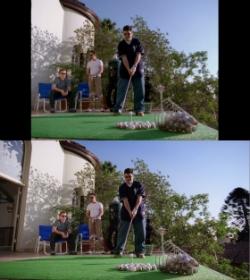 Whilst there's a bit of unobtrusive film grain noticeable at times and a very occasional slight red push obvious on characters faces, overall this is a significant improvement in image quality, which I know Entourage fans will appreciate a lot.
Audio
Entourage: Season One is presented in DTS-HD Master Audio 5.1, at 24 bits.
The improvements don't just stop with the image quality. Whilst the previous DVD release featured a Dolby Digital stereo track, the Blu-ray has been upgraded to a full 5.1 track which is so convincing it's hard to believe it was originally anything else.
Dialogue is generally very good, although the series pilot features more noticeably muffled audio than the episodes that follow. There's a considerable amount of surround activity, especially in outdoor scenes, which generally hum with convincing ambiance. The show features heavy use of contemporary (circa 2004) pop music, and this is mixed well, albeit fairly conservatively.
Overall, this is certainly a nice step up from the DVD - there's just no reason to keep them anymore.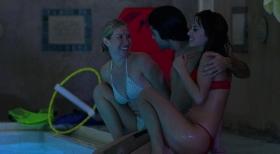 Extras
Whilst a little light on with extras, the Blu-ray edition does indeed carry over all previous DVD extras, in addition to a very minor addition which some might appreciate.
First up are Audio Commentaries for three key episodes featuring series creator and writer Doug Ellin and executive producer Larry Charles. It would have been nice to have a few more, because they are engaging speakers and reveal a lot as to the genesis of the show. However, when they were originally recorded in 2004, both were heavily involved in developing the second series of the fledging show.
The 10 minute Behind the Scenes of Entourage Featurette is littered with clips from the show (in 4x3 aspect ratio) and comments from the principal actors and Mark Wahlberg. For such a brief spot, there's a reasonable amount of trivia imparted as to how the main characters were cast, but it's just too brief to be of high value.
Finally (and the sole new addition to the set), are Episode Preview shorts for each episode. Kinda useful for jogging your memory as to what episode you are up to, I guess.