The Terminator (1984) Blu-ray Movie Review
"I'll be back!"

Published Sat, Nov 3 2012 10:49 PM CDT
|
Updated Tue, Nov 3 2020 7:01 PM CST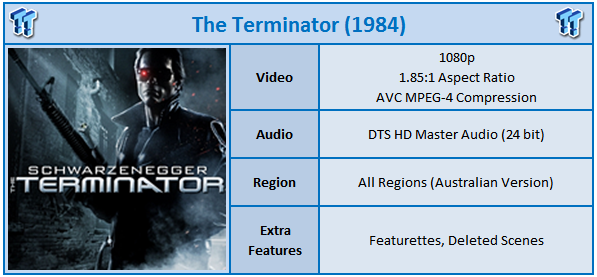 Starting it's life as a fever induced nightmare by director James Cameron in 1978, The Terminator has spawned into an ever green franchise, encompassing sequels, books, TV shows, graphic novels and video games, whilst generating millions of dollars for its various rights holders. But most importantly, The Terminator propelled director and actor combo James Cameron and Arnold Schwarzenegger into the big league, and into the very essence of pop culture, where they continue to remain today.
The year is 2029. Nuclear apocalypse has engulfed the Earth and the last remaining pouches of human resistance are being exterminated by efficient robotic killers under the forces of Skynet; a highly evolved AI system, which has turned on its creators. The resistance has managed to transfer one human protector, Kyle Reese (Michael Biehn) to Los Angeles circa 1984 to protect Sarah Connor (Linda Hamilton), who will give birth to the last hope for humanity's survival - the leader of the resistance, John. But Skynet is similarly equipped and sends a human-looking Terminator (Arnold Schwarzenegger) to the same timeline in order to extinguish them all.
A byproduct of the emerging VHS technology in the mid-1980's was the market for scrappily budgeted, direct to video nasty's, with diabolical production values and even poorer stories. But this air of mediocrity allowed for the rapid spread of this low budget wonder via word of mouth and serviced by video rental stores, solidifying both the fortunes of the film's star and director and giving the sci-fi genre a much needed boost.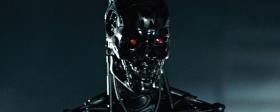 Whilst the filmmaking technology of The Terminator is in many ways a relic of the past, there is something very special about the film. Catching lightning in a bottle is very much on show here, and the sheer talent and ingenuity of a very clever crew working within the vast constrains and limitations of the day, but still producing an overwhelmingly memorable motion picture which continues to stand the test of time is just as much a credit to Cameron as it is to the entirety of the crew.
Video
The Terminator is presented in the film's original aspect ratio of 1.85:1, encoded with AVC MPEG-4 compression.
A little history here first. The initial Blu-ray release of The Terminator was released in 2006, within the first wave of discs to hit the U.S. market. In a rush to match the offerings of HD-DVD, The Terminator was encoded with MPEG-2 on a single layer Blu-ray, from an aged transfer which was in poor condition. Fast forward to 2012 and The Terminator finally receives an Australian Blu-ray release, with the benefit of significantly updated elements.
Minted from a newly remastered transfer by Lowry Digital, the film actually looks amazing, especially in comparison to the 2006 release. Whilst the previous transfer had a very noticeable red hue shift, the new transfer has been colour graded to James Cameron's specifications. As such, the film looks much more cinematic, with a slight teal push. The image is sharp and very detailed, resolving a significant amount of additional detail.
However, the biggest improvement is the significant reduction in film artifacts. Whilst some remain, especially in complex visual effects sequences with multi-layered, physically composited scenes, overall this is now a hugely corrected issue and certainly pleasing to see.
Whilst some may object to the new colour timing, (and can I stress, approved by the notoriously exacting Cameron), I don't really see how anyone would want to go back to viewing The Terminator any other way.
[img]2[/img]
Audio
The Terminator is presented in DTS HD Master Audio 5.1, at 24 bits.
A bit of a controversy here folks. Whilst the film was originally mixed in mono sound, back in 2001, MGM released The Terminator on DVD with a newly updated 5.1 mix by sound designer Gary Rydstrom. Unfortunately, many of the sound elements could not be located, and many new sound and foley effects were overlaid into the mix, with many sounding significantly different to their 1984 counterparts. Whilst the updated track sounds very aggressive and truly gives the film new life, the film should have been released with the optional mono soundtrack. Unfortunately, it wasn't an option on the 2001 DVD, nor the 2006 Blu-ray...and not the 2012 Blu-ray.
Barring that, this is as mentioned, a very involving and aggressive mix, with the added benefit of lossless encoding, which belies few of the low budget origins of the film. Dialogue sounds quite good (bar a few of Arnie's German infused lines), surround channels remain very active and it features a deeply resounding LFE channel.
Brad Fiedel's iconic score features heavily and is given pride of place in the mix, with significant presence in the rear channels.
Overall, this is a pretty awesome 5.1 mix, but the exclusion of original mono track is a hugely sore point that unfortunately takes away from an otherwise very pleasing Blu-ray experience for both long term and new fans.
[img]3[/img]
Extras
Whilst frequent Cameron collaborator Van Ling had begun work on an elaborate special edition DVD release of The Terminator a few years earlier, (of which the new Lowry Digital transfer was actually prepared for) the bankruptcy of rights holder MGM put a stop to work, which sadly never restarted. As such, no new additional features have been prepared for this Blu-ray release. Even worse, some of the features produced for the special edition DVD in 2001 are also missing in action. Still, let's take a look at what we do have.
First up are two featurettes; Creating the Terminator: Visual Effects and Music, which interview Fantasy2Film staff about their pioneering work on the picture, along with composer Brad Fiedel's method in composing the pulsing electronic score. Terminator: A Retrospective is an undated (however IMDB dates it as 1992) reunion of sorts, featuring star Arnold Schwarzenegger and director James Cameron recounting events on the set and the challenges that the low budget presented. The feature is interspersed with footage from the movie which serves to remind us of how far we have come with the 1080p transfer proper!
Finally we have a bunch of deleted, or should I say, Terminated Scenes, which amount to around 10 minutes of poor quality footage presented in standard definition.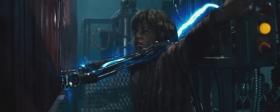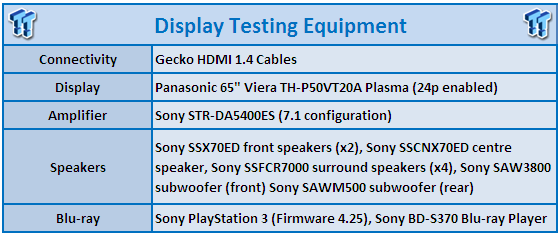 PRICING: You can find products similar to this one for sale below.

United States: Find other tech and computer products like this over at Amazon.com

United Kingdom: Find other tech and computer products like this over at Amazon.co.uk

Australia: Find other tech and computer products like this over at Amazon.com.au

Canada: Find other tech and computer products like this over at Amazon.ca

Deutschland: Finde andere Technik- und Computerprodukte wie dieses auf Amazon.de
We openly invite the companies who provide us with review samples / who are mentioned or discussed to express their opinion. If any company representative wishes to respond, we will publish the response here. Please contact us if you wish to respond.
Related Tags