Swiftech G Lok-Seal Compression Fittings Review
Swiftech isn't just about block, radiators and pumps. Have a look at the new G Lok-Seal compression fittings.

Published Sat, Oct 20 2012 8:56 AM CDT
|
Updated Tue, Nov 3 2020 7:01 PM CST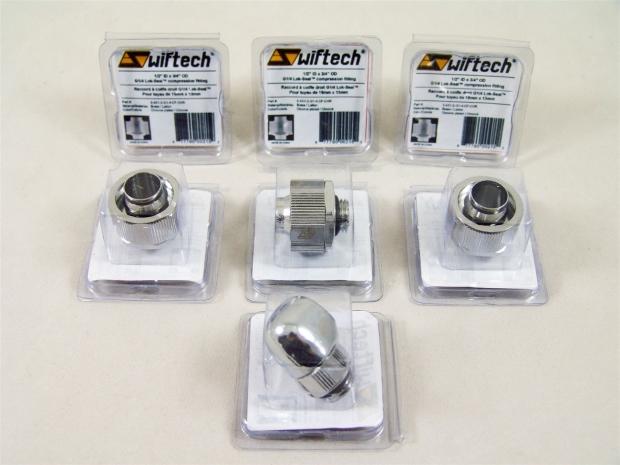 Since my first reviews of Swiftech products, Gabe and I have had a few good talks, and they are always interested in having us take a look at its latest and greatest products. We took a look at a couple of its more user friendly Edge kits, but today things are a bit different. Instead of getting a loop in a box, Swiftech has given me six standalone products, and we have to start somewhere, so why not see what I am going to be using to connect the tubing to all the devices with first before we jump into all the parts.
More specifically, since the Edge kits used typical straight barbs and plastic clamps, I was glad to see they were developing something more attractive to look at, but functionality is the primary goal. What Swiftech is now offering are brass based compression fittings and swivel adapters that come in either black or a chromed finish like the ones you are about to see. Sticking with the standard threads into most of the various manufacturers include Swiftech's product line, they all come fit for the G threads we are accustomed to. Since the material and threads are pretty basic, I say we get right to the first image so you can see just what Swiftech is offering water coolers.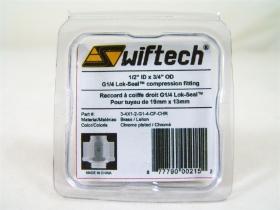 The packaging is simple enough, but still very protective of the included fitting. Swiftech chose to use a plastic clamshell with a paper insert to denote the type of fitting inside the package along with the ID and OD of the tubing you can use with these specific fittings. You can see for the loop I am about to build I chose to go with half inch ID tubing with a three quarter inch OD so they sent me exactly what I need. From what I can tell these are also available in three eighths by half inch, and three eighths by five eighths. There are also SLI/CrossFire connectors, but for the purposes of my build, I did not need them.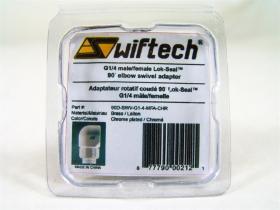 Anyone who has built a few loops in their lifetime will tell you that one of the most important things to keeping a clean looking run of tubing is to buy the appropriate swivel fittings to make the tubes straight while the hardware makes the turn you need. As an example, Swiftech sent along a 90 degree swivel fitting for me to add to the build and test it out. Here again you can not only get the 90 degree version seen here, but you can also get 45 degree fittings, and 90 degree fittings with a double swivel where this one only swivels in one location.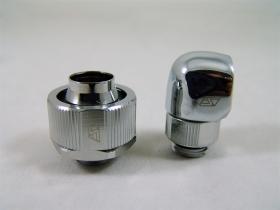 Packaging now out of the way you can see the chromed versions in all of their glory. The parts are finished well, but there are very minor defects visible with the plated over dent in the 90 degree fitting and the edges on some of the compression fittings, but still they offer an attractive way to get the job done.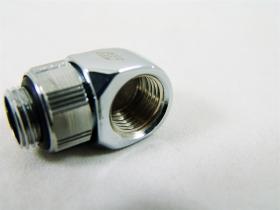 There are a few things to point out on the swivel fittings. Swiftech does print its logo on them, the nut and washer on the left is easy to tighten just by hand, and lastly, where it counts, the threads are clean and perfect as not to bind and cause leaks down the road in the build and bleeding process.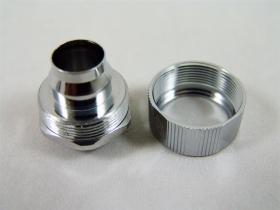 The compression fittings are top notch. There is a flat surface that the cut end of the tubing will mate to, but that cut isn't so important to be perfect. This is because the actual compression is against the angular barb halfway up the fitting. I also noticed that the threads are a bit "dirty", but they did not affect the ability to screw on the cap or keep its tension when fully assembled with tubing.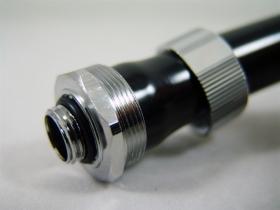 To use these fittings you have to constantly remember to first slide the nut up the tubing before you make any connections, otherwise you will be pulling it apart a lot. Once the nut is on, you then slide the tubing, which isn't easy; it takes a bit of pressure. Of course if you were in the process of building a loop, this should be mounted to the device prior to the tubing going onto the fittings.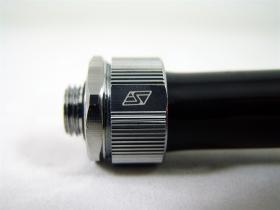 Al that is left is to thread the nut on the barbed fitting and compress the tubing between the two. I found tightening them as best I could by hand was sufficient enough to keep leaks at bay. While there are places to use a wrench on these fittings, with brand new o-rings in them, I suggest you don't wrench them in.
Depending on which piece of the kit you are looking to buy, the compression fittings or the angled swivel fittings, pricing will vary. For the smaller diameter fittings you can spend as little as $5.49 per compression fitting or for the half inch ones I tested, you will spend $7.95. For the angled fittings, the 45 degree is $7.49, and the 90 degree one you looked at here is $8.49. Considering the go to brand of BP fittings, the pricing is very comparable across the whole product line.
For those looking to dress up their loop and get rid of the funky plastic clips or the automotive hose clamps, feel secure in knowing I put these fittings through their paces. Not only did I test how much pressure it takes to keep the fittings leak free, and it really isn't that much pressure needed to tighten the o-rings and compression fittings, but I also took the rig and had to flip it around and manipulate the tubing to get the loop to bleed.
If it can take what I gave these Lok-Seal compression fittings and angles swivel fittings, there is no reason why it should ever falter in the rather sedentary life of most water cooled computers. Even if you are a LAN junky, I can't see these backing out on you in transit. Swiftech really did a nice job with this line of products and definitely should put a dent in BitsPower's hold on the fitting market in water cooling.

PRICING: You can find products similar to this one for sale below.

United States: Find other tech and computer products like this over at Amazon.com

United Kingdom: Find other tech and computer products like this over at Amazon.co.uk

Australia: Find other tech and computer products like this over at Amazon.com.au

Canada: Find other tech and computer products like this over at Amazon.ca

Deutschland: Finde andere Technik- und Computerprodukte wie dieses auf Amazon.de
We openly invite the companies who provide us with review samples / who are mentioned or discussed to express their opinion. If any company representative wishes to respond, we will publish the response here. Please contact us if you wish to respond.
Related Tags