Corsair Dominator Platinum PC3-17066 16GB Memory Kit Review
Want to get in on the Corsair Dominator Platinum series, but save some money? Maybe this PC3-17066 RAM kit is what you need.
Published Tue, Oct 9 2012 12:23 AM CDT
|
Updated Tue, Nov 3 2020 7:01 PM CST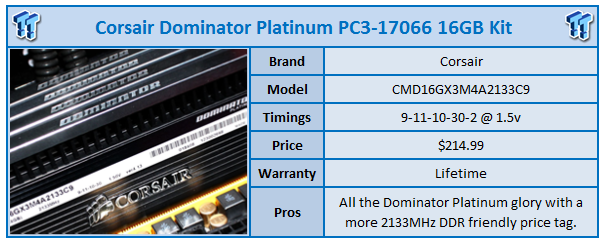 The other day we got a chance to check out the new Corsair Dominator Platinum kit and it's really a fantastic 16GB kit that offered us some fantastic speed. If you had to pick anything wrong with it the one are you could probably pick on is the $500+ price tag that is associated with it.
While expensive, the size of the kit, the quality and the overall speed, though, we felt the price was well and truly justified. But we can't deny that $500 RAM isn't for everyone. The kit we're looking at today might be a better option, and be just what you're looking for if you want to get in on the new Dominator Platinum memory action at a cheaper price.
Of course a cheaper price tag brings with it changes and on the RAM side of things it's always speed. Before we cover that, though, let's just quickly take the time to go over the kit in case you didn't get a chance to read our original review on the PC3-PC3-21300 Dominator Platinum 16GB kit from Corsair.
Looking at the new kit you can't deny the sexiness that is present. Corsair has done a fantastic job making the new Platinum series stand out from the typical Dominator ones we've seen in the past. The chromed almost handle like piece over the top just makes the look and the fact you can see it's screwed in gives you a real sense of quality.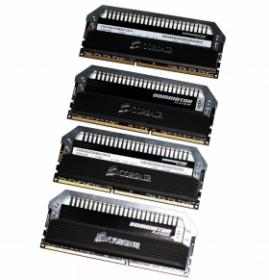 As for the rest of the design it's quite similar to normal Dominator series kits as far as the general heatsink design goes. The new chrome bit across the top is such a blessing, though, as it really gives us the ability to just push the module straight in without the heatsink digging into your fingers. This is something that always drove me completely mad in the past.
Moving in closer we get a chance to take a better look at what exactly is going on with the Dominator Platinum kit here. As for similarities you can see that we've got the Corsair logo on both sides along with the Dominator Platinum logo, albeit slightly smaller on one side. On one of the sides you can also see clearly we're dealing with a 2133MHz DDR kit on the right just like the 2666MHz DDR kit we looked at.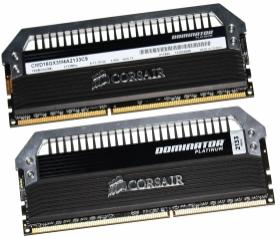 As for the other side you can see we've got the Dominator Platinum logo again, but this time it's a little smaller because under that you can see we've got a sticker that gives us a rundown on all the major information that we need to know about the kit.
Starting from the top left you can see we've clearly got the model number and under that we get a rundown of what exactly we're dealing with in a little more plain English. You can see we've got a 16GB kit that consists of 4 x 4GB modules that carry a speed of 2133MHz DDR.

On the timing side of things we're dealing with a CL9 kit that comes in at 9-11-10-30-2T which requires a low 1.5v to run. These are pretty good timings with the fact that we're dealing with CL9, but the stand out is probably more the 1.5 volts that's required to run at default speed. What I really love about 1.5v kits, though, is we can easily move to 1.65v - 1.7v for overclocking and at times can see some awesome overclocking numbers as a result.
Considering we had no issues at all with the 2666MHz DDR kit we knew setting the XMP profile on this kit wouldn't be an issue. With no surprise we found ourselves in Windows pretty quickly at the default timings.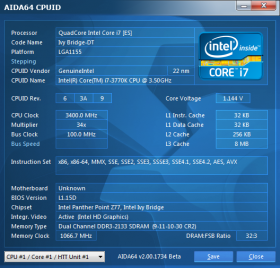 Under AIDA64 we ended up with Read / Write numbers of 21,866 MB/s / 19,522 MB/s, Copy speed of 23,654 MB/s and latency of 35.3ns.
We see fairly typical performance above so it's time to get onto the next round. Normally the next thing we'd do is check out the overclocking side of things, but this time I wanted to head into the BIOS and change the CAS latency from 2T down to 1T and see how we went. Just as we'd hope there was no issue and we ended up back in Windows.
Under AIDA64 we ended up with Read / Write numbers of 22,109 MB/s / 19,517 MB/s, Copy speed of 23,778 MB/s and latency of 34.5ns.
Comparing the two scores you can see read is slightly up while write and copy show almost no change. We also see a slight drop in latency. This gives us a good idea of what 1T does to performance as we have everything identical and the only change is the CAS latency setting.
With that out the way it's time to get into the overclocking side of things and with timings left at the same clocks we ended up achieving a solid 2400MHz DDR. Remember we said the same clocks so that means we're running at 1T instead of the default 2T, which can be seen below.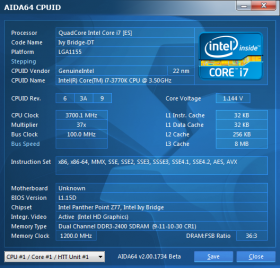 Under AIDA64 we ended up with Read / Write numbers of 23,036 MB/s / 19,770 MB/s, Copy speed of 24,410 MB/s and latency of 32.3ns.
Across the board we can see improvements in performance and of course some of those numbers look a little better when you compare them against the default 2T performance numbers. Because we were at 1T we changed back to 2T, but noticed it didn't make a single difference to our overclocking ability. It would've instead been one of the other timing options that was affecting our ability to go higher.
So instead of just jumping up the CPU speed we fired up the BIOS again and changed our DRAM timings to AUTO. At that point we just go through the memory dividers and let our ASRock Z77 OC Formula do what it wants with the timings.
We ended up setting the 2600MHz divider, but as always we go back into the BIOS and tweak our BCLK to see if we can squeeze some more out of it. In the end our BCLK got up to a really solid 105.9 which resulted in our memory running at a huge 2754MHz DDR, which is nearly identical to what we got out of the more expensive 2600MHz DDR kit. It's actually 9MHz DDR higher.
Don't get too excited, though, as the timings side of things is where we see a difference. The 2600MHz DDR kit we looked at was able to do 2745MHz DDR at 10-12-12-31-2T while the 2133MHz DDR kit we have here had the timings running at 11-14-13-37-2T. Below you can see the timings, but AIDA64 wanted to be a bit silly with the speed. As much as we'd love to say the kit was running at 3672MHz DDR, it was in fact running at 2754MHz DDR.
Under AIDA64 we ended up with Read / Write numbers of 23,633 MB/s / 21,080 MB/s, Copy speed of 25,123 MB/s and latency of 31.5ns.
Overall we've got some great performance, but you can see, the gains might not be as big as you think when compared to the kit running at the more aggressive timings at 2400MHz DDR.
Overall, though, it comes as no surprise that this is just another really strong kit from Corsair that performs exceptionally well out of the box and even better when it comes to overclocking. It has to be mentioned, though, that the OC we achieve could be different to what you get; especially at these speeds as once we start to move past 2600MHz DDR the quality of the Internal Memory Controller becomes so important. Without a strong IMC you could struggle to hit speeds above 2500MHz DDR.
I think another thing we've got out of the kit today is that if we had a stronger IMC based CPU we'd probably achieve even higher speeds on the 2600MHz DDR kit, as we still had a fair bit of room to move when it came to the timing side of things.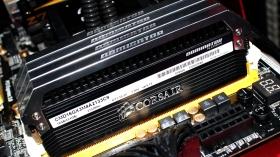 As always, though, Corsair just knows how to put together a really good quality memory kit that manages to stand out in a market that is absolutely flooded with RAM from so many companies. Priced at $214.99 as well it looks a lot more attractive compared to the CL10 based PC3-21300 that comes in at twice the price.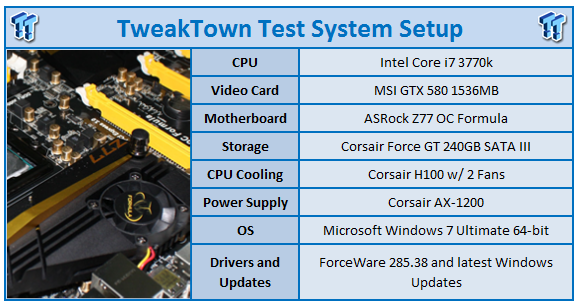 PRICING: You can find products similar to this one for sale below.

United States: Find other tech and computer products like this over at Amazon.com

United Kingdom: Find other tech and computer products like this over at Amazon.co.uk

Australia: Find other tech and computer products like this over at Amazon.com.au

Canada: Find other tech and computer products like this over at Amazon.ca

Deutschland: Finde andere Technik- und Computerprodukte wie dieses auf Amazon.de