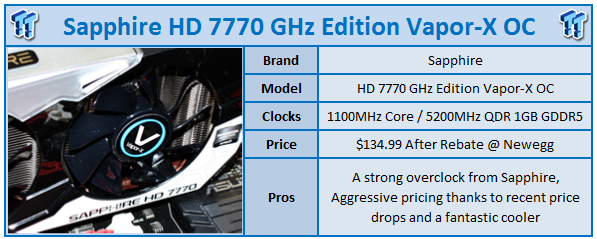 AMD's Radeon HD 7700 series has never been a personal favourite of ours; the issue we've always had with the model was for the price, the performance just wasn't good enough. Saying that, since launch we've seen some nice variants of the model that help it stand out a bit more and a recent change makes the model start to look quite attractive.
In an effort to remain strong in the market we saw AMD do some aggressive price drops on the HD 7000 series of video cards and of course the HD 7770 was part of that. Since we've already looked at so many HD 7700 series based cards we today thought we'd focus on the key areas of what this particular card offers.
We'll start off by looking at the package and the card itself and check the performance of the card under 3DMark 11 to get an idea what exactly is going on with it. We'll then cover the cooler and see how it handles the HD 7770 core and what kind of noise it puts out.
Starting off with the box, though, you can see we've got a bit of a new design when it comes to the Vapor-X box and it looks awesome. You can see clearly that it's part of the Vapor-X series and on the right side of the box you can see that this particular card is pre-overclocked.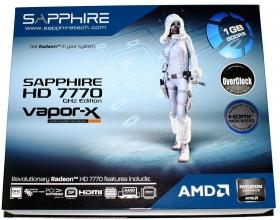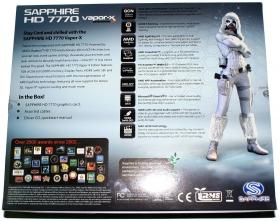 Turning over we get a bit of a run down on the Vapor-X card along with a more detail description of the specific AMD features that are present on the HD 7700 series card. The bottom left corner also shows just a few of the 2500 awards that Sapphire has won over the last 10 years.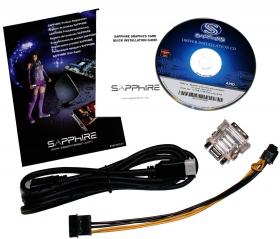 When it comes to the bundle, in typical Sapphire fashion, it's pretty strong. We've got the Sapphire Select Club invitation along with a manual and driver CD. You can also see that we've got a full length HDMI cable, DVI to VGA connector and a Molex to 6-pin PCIe power connector.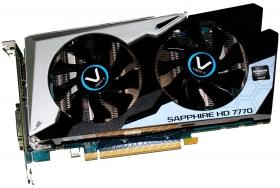 Looking at the actual card we can see even though it's a mid-range video card the cooler looks absolutely fantastic. We've got a dual fan setup with a huge heatsink in the back and a number of copper heatpipes running throughout. We'll have to see if the performance is as strong as the looks.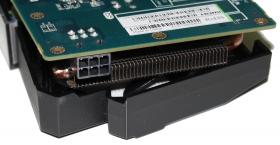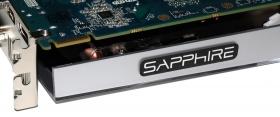 A quick spin around sees a single 6-pin PCIe power connector at the back while across the top you can see we've got a single CrossFire connector. As for the I/O side of things we've got a Single-Link and Dual-Link DVI connector present alongside HDMI and DisplayPort.
As we mentioned earlier, we're dealing with a pre-overclocked model as this Vapor-X HD 7700 is part of the OC series from Sapphire. Out of the box a reference clocked HD 7770 will see a core clock of 1000MHz while the 1GB of GDDR5 will come in at 4500MHz QDR.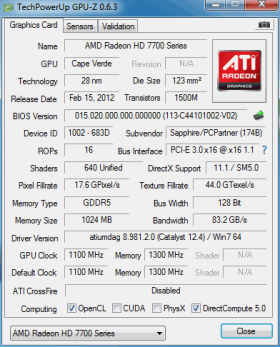 Looking above you can see that Sapphire has given us quite a nice overclock with the core coming in at 1100MHz and the 1GB of GDDR5 now comes in at 5200MHz QDR. This is quite a nice overclock and should yield a nice performance boost compared to a reference clocked version.
Firing up 3DMark 11 we saw scores of P3815 and X1194. This compares to a reference card which scores P3598 and X1118 which gives you an idea of the kind of performance boost we get. The best gain is seen in the lower resolution Performance preset and considering the price point of the card now, this isn't a bad number at all.
What else looks really impressive, though, are the cooling numbers. At idle the card runs at 30c while under load we see the core jump to 55c. As for the noise numbers the difference between idle and load is very small with those numbers coming in at 57.2dB and 57.6dB respectively. Finally the power draw numbers see the card idle at 199w while the load number comes in at 368w. Overall these are some impressive looking numbers from the Sapphire HD 7770 Vapor-X OC.
For 1680 x 1050 gaming we continue to see that numbers don't look too bad with 60 FPS being generally pretty easy at medium detail on newer games and high detail is easily an option when you look at some older games or just generally less intensive engines.
At launch we saw the reference HD 7770 set you back $159.99 and non-reference ones sit around the $169.99 - $179.99 price mark. After rebate, you can pick up the Sapphire HD 7770 Vapor-X OC 1GB for $134.99 which looks much more attractive. Not only is it $15 less then what the reference card launched at, it's also faster thanks to the overclock on offer.
We continue to not be in love with the HD 7700 series on a whole, but with new drivers, recent price drops and just some great variations, the model is looking a hell of a lot more attractive than it did back in February when we saw it launch.
If you're looking at spending under the $150 mark and a good $15 under it, then this is a really good card for the reasons above. Throw in the typical attention to detail that Sapphire offer and you end up with a really well valued video card that offers good performance considering its price point.
We'd always recommend spending the extra money associated with the HD 7850, but we realistically know that's just not an option for some. At this price point there's not really many options that are better than what Sapphire is offering in the form of the HD 7770 Vapor-X OC.