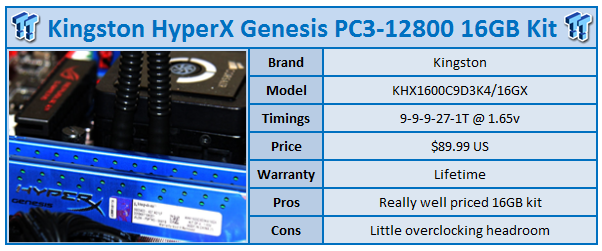 Apart from probably just Corsair and G.Skill, Kingston today finds themselves in the category of RAM companies we haven't heard much from recently with the last kit we saw introducing us to the new HyperX Genesis series via a PC3-12800 4GB Kit.
Today we're actually checking out another kit in the HyperX Genesis series which is the entry level HyperX series. The particular kit we're looking at is, like most other kits we've looked at lately, a Quad Channel kit designed for the new X79 platform that we've been looking at heavily.
Checking out the kit, you're not seeing anything too different to what we've seen before and while the heatsink color isn't grey like the last kit, it is the same design as the previous Genesis kit. The biggest stand out is probably that green PCB that we're never a fan of.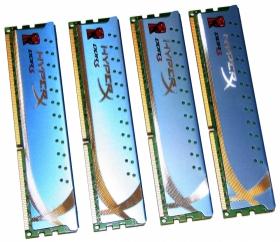 We're not too harsh on the basic look, though, as the HyperX Genesis is one of the more basic series from Kingston and sits between the Value RAM series and the higher end HyperX T1 series.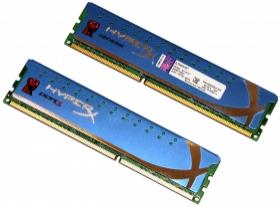 Moving in a little closer, we can see exactly what's going on with the heatsink design on each side. Both sides have the HyperX labelling with one side offering us the DDR3 logo and the other offering the Genesis logo alongside a sticker that gives us some of the main information in regards to the RAM.
Unlike most other kits, though, moving in we don't see as much information as we normally would see. The only information we can decipher comes from the model number really which tells us it's a 1600MHz DDR kit, CL9, 16GB, Kit of four that requires 1.65v.

To check the specifications on the kit, though, and find out exactly what we're dealing with, we headed over to the Kingston website and the 1600MHz DDR kit comes with a 9-9-9-27-1T setup. These are "ok" timings; they're not super tight, and considering the speed they're probably a little on the looser side of things. It's ultimately what the Genesis series is all about, though.
Considering it's a 1600MHz DDR kit, we knew that getting to those clock speeds wasn't going to be an issue. You can see our CPU-Z validation here. Up and running in Windows, it was time to check out the performance we could get.
Under AIDA64 we ended up with Read / Write numbers of 17,878 MB/s / 15,148 MB/s, Copy speed of 16,699 MB/s and latency of 52.9ns.
This is the kind of performance we'd expect to see from a 1600MHz DDR kit and the latency is probably one of the most noticeable numbers with it coming in at 52.9ns. To give you an idea, a high performance 2400MHz DDR kit comes in around the 44ns mark.
It's now at this point we head into the BIOS to see what kind of overclocking potential we can get out of the kit. Since the voltage was so high out of the box and the timings weren't the tightest, we figured we'd just jump up to the 1866MHz DDR multiplier. Unfortunately we didn't have any luck.
Back into the BIOS, it was time to mess around with the BCLK to find out what kind of overclock we could get. We eventually found ourselves working further and further backwards and ended up running at 1640MHz DDR, just 40MHz DDR over the default clocks.
We tried moving to a 2T Command Rate but it brought us no more improvement, so we went back to 1T and that went fine. Because the overclock was so small, though, we figured we'd just skip the benchmarking at the lower CPU clocks and instead just head back into the BIOS and push our multiplier up.
In the end you can see we ended up in Windows with our RAM at 1640MHz DDR via a 102.5 BCLK. We pushed our CPU multiplier up to 48x and we ended up with our CPU running at 4920MHz.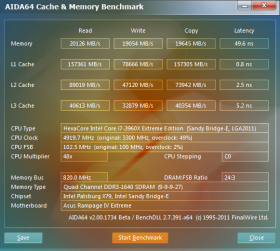 Under AIDA64 we ended up with Read / Write numbers of 20,126 MB/s / 19,054 MB/s, Copy speed of 19,645 MB/s and latency of 49.6ns.
You can see across the board we've got a nice boost in performance, but it's not huge as our RAM still sits quite low coming in at just 1640MHz DDR. Of course, the good news is that with the huge amount of multiplier options we have these days, especially on the X79 platform, just because you have lower speed RAM doesn't mean that you're going to be lagging behind in the CPU clock department. As you can see today, we still have no issue running our CPU at just over 4.9GHz even though our RAM is only running at 1640MHz DDR.
The overclock while limited on the kit we have here today, we found ourselves having little to complain about. Coming in at just $89.99 US, the Kingston HyperX Genesis 16GB kit is really well priced and if you're paying big money on a 3930K and X79 based motherboard, the need to spend only $90 US on RAM instead of $150+ US for 16GB of slightly higher speed RAM could be extremely welcomed.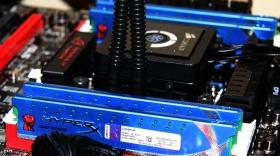 Kingston seem to be a little slower coming to the Quad Channel party with the kit we have here today being the only one on Newegg at the time of writing. I'm sure in time we'll see the company expand the line up with higher performance memory in the HyperX T1 series.
If you're not all that fussed about the speed of your RAM and instead just want more of it at a really good price, the HyperX Genesis kit we've got here today is perfect. It's worth knowing that OC headroom is probably a little on the light side of things, though.