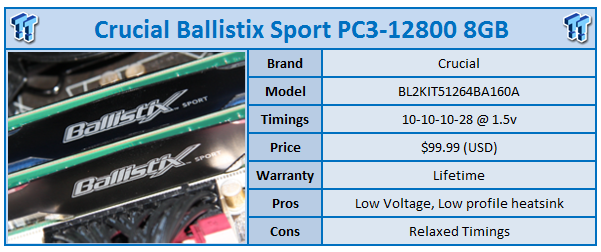 It's been a while since we've looked at some RAM, with the last kit we looked at in February. A huge line up of video card launches in March kept us extremely busy and the humble memory modules got a little neglected. With all those high end goodies from NVIDIA and AMD launched now, though, it's time to see what's been going on in the memory market over the past 8 weeks.
We've got a few kits we'll be looking at over the coming weeks, but the first one comes from Crucial today and is part of the much loved Ballistix series. This one's a little different, though. Within the Ballistix series we've seen other series start up like the Tracer one. Today we're looking at the new Ballistix Sport series and it will be interesting to see what exactly is on offer from the kit here today.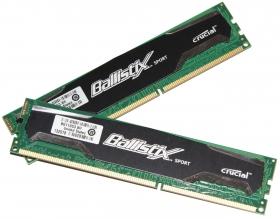 Looking at the Ballistix Sport kit we've got on hand today, there's nothing too out of the ordinary when it comes to the design. We've got a really slick looking black heatsink and of course the normal logo line-up we would expect.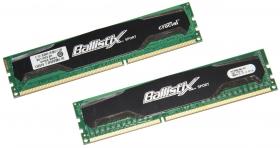 The heatsink doesn't wrap all the way around the module like you would normally expect, though. Instead they are two separate pieces that cover the majority of the PCB, but not all of it. From an efficiency stand point it doesn't seem like it would be as strong as more conventional designs, but being only a PC3-12800 kit it's not something we're worried about. The heatsink on a whole has tended to be more about aesthetics than anything else on memory since its introduction.
As we mentioned, this is a PC3-12800 kit which means it carries a default clock speed of 1600MHz DDR. Considering we've seen in excess of 2133MHz DDR, this isn't an extreme kit in any sense of the word. The more relaxed setup also continues on each 4GB module when it comes to the timings, which come in at 10-10-10-28-1T @ 1.5v.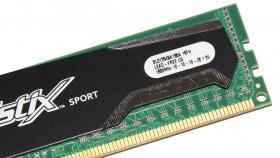 With the quite relaxed setup on this 8GB kit we knew that achieving those speeds wouldn't be an issue for us and of course it proved to be the case. You can see our CPU-Z validation
here.
So with that all up and running as it should, we thought it was time to see how the kit would perform.
Under AIDA64 we ended up with Read / Write numbers of
18,033 MB/s / 17,956 MB/s
, Copy speed of
20,669 MB/s
and latency of
49.5ns
. Looking at SiSoftware Sandra, our memory bandwidth numbers are
20,850 MB/s
for Integer and
20,830 MB/s
for Float.
These numbers pretty much fall in line with what you would expect from a 1600MHz DDR kit. They're a little lower than the PC3-12800 Tracer Kit we looked at a bit back and that's mainly due to the more relaxed timings on offer here.
With that working all as it should, though, it was time to get back into the BIOS and see if we could get the kit running when our BCLK had been moved to 107.5. This pushes us from 1600MHz DDR to 1720MHz DDR. While we did run into some problems straight off the bat, a quick bump of the voltage to 1.6v fixed it and we were back in Windows in no time. You can see our CPU-Z validation
here.
Normally we wouldn't up the voltage on RAM, but that's due to most kits we look at carrying a 1.65v default voltage. This is a low voltage kit, though, which means that it carries only a 1.5v default voltage. Because of that we were happy to move the voltage slightly north and we would've happily increased it to 1.65v if needed. With the kit running at 1720MHz DDR @ 1.6v now, though, it was time to see what kind of extra performance we could achieve.
Under AIDA64 we ended up with Read / Write numbers of
19,599 MB/s / 18,857 MB/s
, Copy speed of
23,014 MB/s
and latency of
46.0ns
. Looking at SiSoftware Sandra our memory bandwidth numbers are
22,330 MB/s
for Integer and
22,400 MB/s
for Float.
Across the board we can see that the extra MHz helps push overall bandwidth up slightly. Compared to other kits we've looked at it's not as high, but that's again due to them being higher speed modules out of the box. With everything performing strong, though, we headed back into the BIOS to see if we could get our system booting with an increased multiplier.
We ended up bumping our CPU multiplier to 46 and leaving the BCLK at 107.5 which is the maximum for our CPU. This means we got into Windows at just under 4.95GHz and should be able to achieve some strong performance.
Looking above you can see that we were able to increase our overall performance again over the last results. Under AIDA64 we ended up with Read / Write numbers of
20,750 MB/s / 24,246 MB/s
, Copy speed of
27,189 MB/s
and latency of
43.3ns
.
Priced at $99.99 US the Crucial Ballistix Sport kit we're looking at today falls pretty much in line with a lot of other 8GB PC3-12800 kits. With that said, though, those kits tend to carry with them slightly more aggressive timings and that's something you might want to look out for.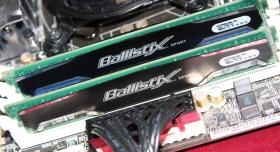 Of course, you're not simply just paying too much for this Crucial kit here. Unlike a lot of those other kits this one carries with it a requirement of only 1.5v to run at its default speed versus 1.65v of a lot of others. This in itself is a nice little selling point and one of the main things the Ballistix Sport kit has over others.
While the timings might be a little relaxed on the Ballistix Sport PC3-12800 kit, the low voltage requirement and slick looking heatsink make for a really nice, well valued 8GB kit that will suit P67 users who don't want to go crazy when it comes to spending money on memory.