Quick Review: HIS HD 5450 Silence 1GB PCIe x1 Eyefinity Video Card
HIS bring something a little different to the table. Let us tell you what makes this model so special.
Published Tue, Dec 14 2010 9:52 AM CST
|
Updated Tue, Nov 3 2020 7:02 PM CST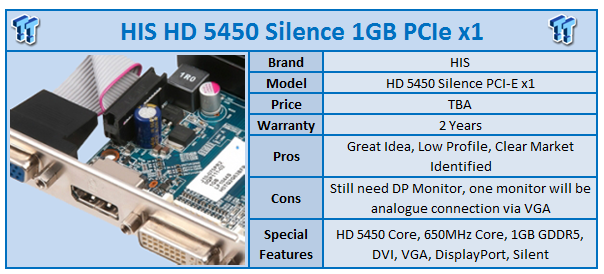 With the release of the HD 6000 series you can be forgiven for wondering why we're testing not only a HD 5000 series card, but a low end HD 5450. Well, the reason we're doing it is because HIS are bring us something a little different to the table this time around.
Due to the fact that no real testing has to be done on the model, we've opted to bring it into our Quick Review style. Before we cover what makes the model stand out, though, let's check out what's going on in the package.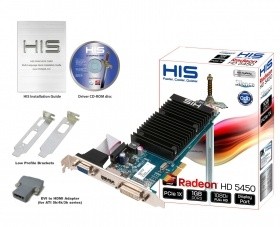 Being a low end card, there's not a lot going on in the package which doesn't come as a surprise. We've got our standard inclusions like driver CD and manual. Along with that we've got a DVI to HDMI connector and also two low profile brackets. One has a DVI and DisplayPort hole while the other offers a spot for the VGA port.
The card itself doesn't look too unusual; it's a HD 5450 with a passive cooler and low profile. It's not really until you take a second look you notice that tiny little PCI-E x1 connector at the bottom of the card.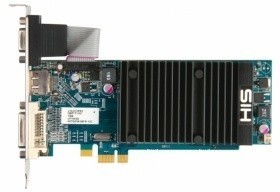 While a PCI-E x1 card is something a little different, it's not overly special for a lot of people. What this card offers, though, is the inclusion of Eyefinity support thanks to the inclusion of the DisplayPort connector.
If you want to make use of Eyefinity, you will, as with every other Eyefinity setup, need a DisplayPort monitor. Along with that you need a VGA one and a DVI or HDMI one, depending if you're going to make use of the DVI to HDMI connector that's included in the package.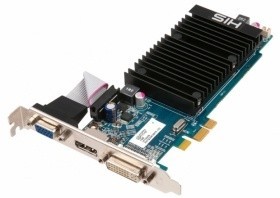 While Eyefinity tends to link to gaming more than anything else, this HD 5450 clocked at 650MHz with 1GB of GDDR3 memory at 2000MHz isn't a gaming card in any sense of the word. Instead, the PCI-E x1 nature of the card and the model that it is means that it's aimed more at the business sector.

The people who would buy this will more than likely own low profile systems that don't have a PCI-E x16 connector. HIS go as far to say this on the front of the box while at the same time listing some of the systems that support PCI-E x1 only, which included the PowerEdge Server T110, Dimension 3100 and Optiplex 745 to name just a few systems.

While the model is going to indeed have a very small market, it's going to be a very specific market which is exactly what HIS are aiming at; a market that isn't really penetrated by anyone else at the moment or involves expensive options which use USB to power.
For most this isn't a model that's going to interest you and your personal PC; on the other hand it could be exactly the kind of video card that you need at work. Multiple monitor setups no doubt increase productivity and if you're able to get that setup for a bit over a hundred dollars, then this is a fantastic option.
We love it when companies start to think outside the box and while we would love to have a card with huge amounts of memory, massive clocks and heaps of connectors, the HD 5450 Silence 1GB PCI-E x1 card offers something different and that's ultimately what we love to see.
As we said; sure the model isn't for everyone, but who it is aimed at will indeed appreciate the thought that HIS has put into the card. And while it might not handle ultra-high resolution monitors due to the VGA connectivity, it won't have issues doing 1920 x 1080 if you're using widescreen ones and won't have any issue handling most older 4:3 monitors which probably carry native VGA. Of course, for the best setup you'll have three monitors that are the same.
PRICING: You can find products similar to this one for sale below.

United States: Find other tech and computer products like this over at Amazon.com

United Kingdom: Find other tech and computer products like this over at Amazon.co.uk

Australia: Find other tech and computer products like this over at Amazon.com.au

Canada: Find other tech and computer products like this over at Amazon.ca

Deutschland: Finde andere Technik- und Computerprodukte wie dieses auf Amazon.de