Quick Review: Corsair XMS3 Series PC3-16000 12GB Kit
We check out a CL9 kit of memory from Corsair. While that might not sound too fancy, the fact that it's 12GB is!
Published Thu, Nov 25 2010 4:26 AM CST
|
Updated Tue, Nov 3 2020 7:02 PM CST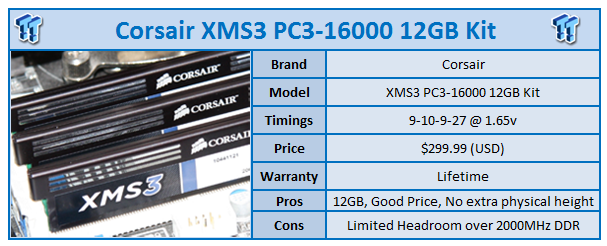 I remember the XMS series back in the day of original DDR memory. It really was the bees knees of memory and it let us know that it was the cream of the crop when it came to Corsairs memory line-up. Over the years, though, we've seen less XMS series memory from Corsair; instead performance has been dominated by the Dominator series.
While 12GB isn't the norm yet, there's no doubt that over the next 12 months we're going to see 4GB modules become more and more standard with I think a larger push being seen when Sandybridge graces us with its presence.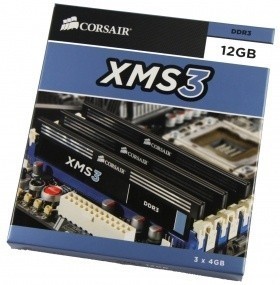 While the Corsair XMS3 PC3-16000 12GB package might not have much going on with really just the modules present, the part that stands out the most in the package is of course the memory itself. Consisting of three 4GB modules carrying a 9-10-9-27 @ 1.65v setup, the kit's the most aggressive 12GB kit we've looked at to date.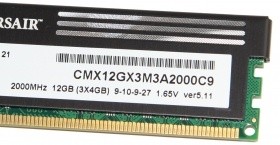 Being Corsair modules, I expected very little issues when it came to installing them into our ASRock X58 testbed. With the voltage set to 1.65v and the timings manually adjusted to 9-10-9-27, we got out of the BIOS and straight into Windows with no problems and you can see our CPU-Z validation
here
.
Firing up Everest Ultimate Edition and testing the memory, we ended up with a Read / Write number of
12,745MB/s / 11,702MB/s
. Sandra offered us Integer / Float of
15,000MB/s / 15,000MB/s
. Both numbers don't really offer too much off a surprise.
The biggest issue we've had when it comes to 4GB modules is the overclocking headroom and today I didn't really expect anything too different with such large modules generally offering less movement north.
Leaving the timings and memory voltage alone, we started to bump the BCLK up.to see just what kind of headroom we could get out of the Corsair kit and we really found nothing with the modules having similar issues to the Super Talent kit which couldn't get past around the 2020MHz DDR mark.
It's a little funny to see the modules rock solid at 2004MHz DDR, but as soon as we moved any more they became quite unstable.
Of course, if we started to relax the timings there's a good chance we could've seen more, but we've always tested at the stock timings.
Really, in the end, though, what it all comes down to is the 12GB number more so than that 2000MHz DDR one. While you're going to see some gains over a 1600MHz DDR kit, the performance boost is generally only seen under a synthetic environment.
What the Corsair kit offers us is 12GB of memory that is going to give an overall boost to your system if moving from a 6GB one. Stuff is just going to load a little faster and everything's going to run a bit smoother. And personally I think if you're going down the SSD route for your boot drive, it seems a little counterproductive to only have 6GB of memory in your system.
What I like about the XMS3 kit today isn't just that $299.99 price tag which is attractive, but the fact that the XMS3 is a lower profile kit compared to the Dominator series. It means that you could use a massive CPU cooler that could hang into the first two DIMM slots and you don't have to worry about the memory hitting the heatsink.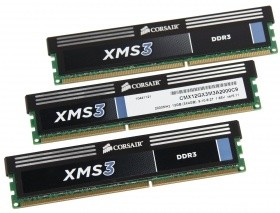 Corsair has built a strong name in the industry and there's no doubt that you've been wanting a more aggressive 12GB kit from the company. Well, the good news is it's here and the pricing is strong. While overclocking headroom above 2000MHz seems to be limited, it's not at all uncommon with 4GB modules at this speed, so we're not going to hold that against Corsair.
What you end up with is a nice, fast kit that comes in at a good price, good physical size and offers some real world benefits over the 6GB kit you're probably currently using. There's little to complain about when it comes to the XMS3 PC3-16000 12GB kit and a lot to like; and really for us, that's a win win situation.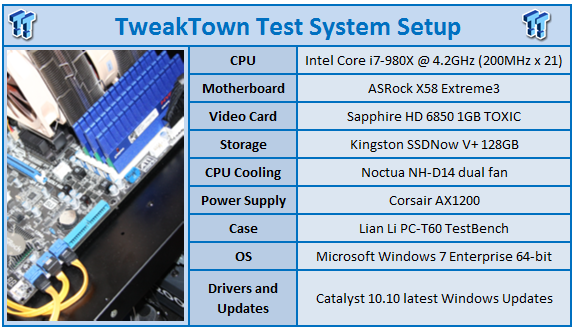 PRICING: You can find products similar to this one for sale below.

United States: Find other tech and computer products like this over at Amazon.com

United Kingdom: Find other tech and computer products like this over at Amazon.co.uk

Australia: Find other tech and computer products like this over at Amazon.com.au

Canada: Find other tech and computer products like this over at Amazon.ca

Deutschland: Finde andere Technik- und Computerprodukte wie dieses auf Amazon.de