Quick Review: Arctic Sound S111 2.0 Speakers
In a world where tech products are always getting smaller, the Arctic Sound S111 speakers aim to fit right in. But how do they sound?
Published Thu, Aug 19 2010 9:14 PM CDT
|
Updated Tue, Nov 3 2020 7:02 PM CST
Aimed at users wanting the ultimate in lightweight portability, the Arctic Sound S111 speakers from Arctic Cooling are a super-compact 2.0 speaker system.
In an effort to design products that work well together, Arctic Cooling also aims to market this system for use with their new C1 mobile solar charging solution
we looked at recently
.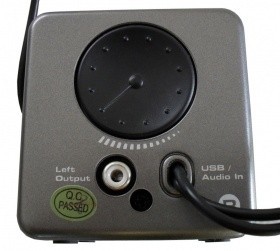 Inside the small and well labeled box we find the two small speakers along with a product manual to aid in setup. The speakers are linked by a removable RCA style cable. On the rear of the right speaker, we find a USB cable to provide power as well as the master volume control for the system. We found setup to be hassle-free and painless.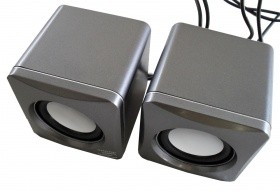 - The System SpecificationsFrequency Response
: 50Hz - 25KHz
Impedance
: 4O
Output Power
: 4W (2W x 2) RMS
Cable
: 1m with 3.5mm stereo jack
Dimensions
: 70 L x 70 W x 70 H (mm)
Weight
: 494g
Warranty
: 2 year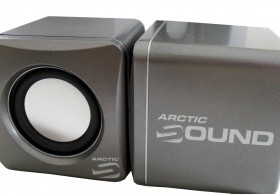 - Features
- Compact dice-shaped speakers
- Portable and lightweight
- Balanced vocals and bass for natural sound response
- Built-in volume control
- USB-powered
- 3.5mm jack - compatible with computers, MP3, DVD and CD players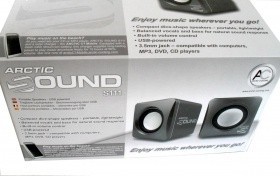 Although this system is USB powered and will not support connection to a regular wall socket out of the box, it is possible to use a USB wall socket adapter from an iPhone or iPod. This actually saved me some headaches because a great deal of noise was coming through my system's USB channels.
For testing, we connected the S111 to a desktop computer system as well as a high quality MP3/4 media player.
- High End
This was the strongest point of this system; the high range frequencies were well represented and clear in these speakers.
- Mid Range
This was not a particularly strong point of the S111. Due to the small size of the drivers used in the speakers, there cannot be any true evaluation of the mid range frequencies.
- Low End
Again, nothing much to mention here; low frequency extension is probably limited to around 250-300Hz and that would be quite generous.
Disregard the specs that claim 50Hz because you would have to be a canine for that to be audible. Misleading statements like this are a perfect example of why specs are a load of junk a lot of the time.
We are not pulling any punches here, nor are we singling out Arctic Sound. It's
any
company's job to dutifully report what its product is capable of in a fashion that gives potential buyers a reasonable idea of what the product can do. Anything else is misleading in our eyes.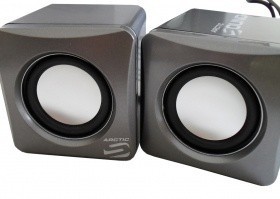 Overall, this little USB system is very lightweight and attractive. In terms of construction and design, this is what we have come to expect from Arctic Cooling products.
There certainly will be a market for a product which offers such portability as well as a decent overall level of construction and material choice.
However, performance was not fantastic. While the highs were okay, mid-range and bass in these speakers were obviously disappointing. While it doesn't make sense to expect speakers like these to produce pulse-pounding lows, the fact that they weren't there at all was a little saddening.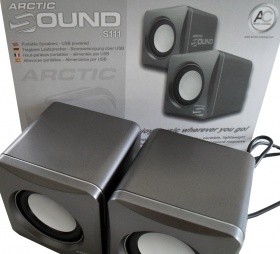 There's no doubt that some will be able to enjoy the music wafting out of this little system. The bass issues can even be addressed by listening to music that doesn't require much, if any bass. Overall, the S111 speakers from Arctic Cooling do what they say they will; provide ultra-portable sound in a small, sleek speaker setup.
PRICING: You can find products similar to this one for sale below.

United States: Find other tech and computer products like this over at Amazon.com

United Kingdom: Find other tech and computer products like this over at Amazon.co.uk

Australia: Find other tech and computer products like this over at Amazon.com.au

Canada: Find other tech and computer products like this over at Amazon.ca

Deutschland: Finde andere Technik- und Computerprodukte wie dieses auf Amazon.de