Quick Review: Dell UltraSharp U2711 27-inch LCD Monitor
We start our new Quick Reviews in style with a sensational looking 27" monitor from Dell. Looks can be deceiving, though. But are they in this case?
Published Thu, May 27 2010 6:36 AM CDT
|
Updated Tue, Nov 3 2020 7:02 PM CST
Rating:

90%
Manufacturer: Dell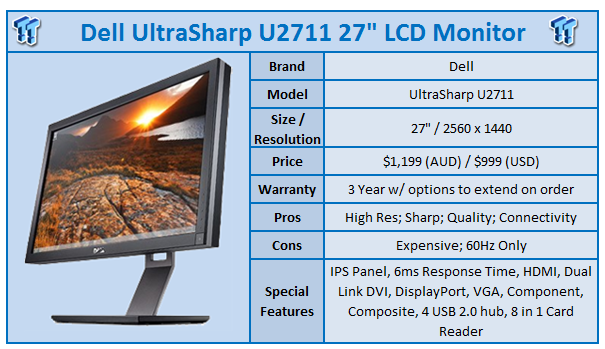 Saying the word "Dell" when someone asks for a monitor suggestion continues to feel a little weird for the simple reason that most computer peeps go down the DIY path when it comes to building a PC and the thought of buying a pre-built system from someone like Dell, or even companies like HP and Acer, simply don't come into mind.
Dell has become a dominant force in the monitor market for the simple reason being that they offer sensational displays at competitive prices. Looking at the paperwork, the U2711 has everything you want from a monitor, with the highlight being massive desktop real estate thanks to the 2560 x 1440 resolution on the IPS Panel. Other niceties include 80:000:1 Dynamic Contrast Ratio, 350 cd/m2, 6ms response time and 1.07 billion colour support.
Packaged in the typical boring brown box, there's nothing to get excited about when it comes to checking it out. Inside, however, everything is well protected by some well placed foam along with some coverings over the entire monitor and a separate protector for the screen itself. On the bundle front you've got a driver CD and manual along with a number of cables which include a Dual-Link DVI, DisplayPort and VGA along with a power and USB one.
The overall look of the U2711 is sleek and the biggest thing you notice is, well, the 27" screen. The square design also means that if you're looking at Eyefinity you'll be able to get three of these sitting nice and flush with each other.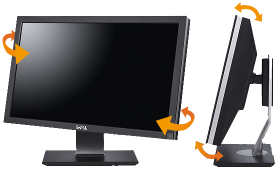 On the connectivity front you've got everything you need and probably a few you don't. The major ones are two Dual-Link DVI w/ HDCP, DisplayPort, VGA and HDMI. Others included that could be used to hook something like an XBOX 360 up to are Component and Composite Video. Also included are four USB 2.0 ports and an 8 in 1 card reader on the side. We've also got a power connector if you opt to buy the Dell Soundbar.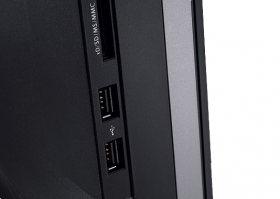 Access to power and the OSD are done by some very swish controls on the bottom right side of the bezel. As your finger nears the controls, the bottom most blue LED lights up which opens the menu. Once pressed, your menu shows up and navigating is very simple and a pleasure to use. The main menu consists of Preset Modes (Preset Colors), Brightness / Contrast, Input Source and Menu which opens quite a large menu giving more options including the ability to change what you want the initial menu to show. The overall experience with the OSD is a pleasant one as it's not overwhelming with options that you don't understand, while at the same time being easy to navigate. From an OSD there's not a whole lot more you can ask for.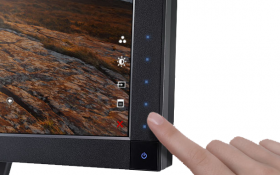 Colors on the U2711 are fantastic with the ability to tell the blacks apart at 1.6% and the whites at 1%. Backlight bleed was limited and only seen on the solid black screen; it was present in the bottom left corner and only ever so slightly. Not a single dead pixel was present on our sample model and if the amount of stickers over the box are anything to go by, it's clear that the monitor has done the rounds which is a testament to the quality.
When on, power draw was around 84w with it bouncing around the 84.1w to 84.4w mark. With the monitor off power draw is .7w. Considering the size of the unit, power draw isn't that bad; it's always worth turning the monitor off when you can, though.
Image quality is sharp thanks to the aggressive 2560 x 1440 resolution; the decision to use such a high resolution on the 27" monitor means that the pixels are nice and close. The overall look is much more attractive than a 27" 1920 x 1080/1200 screen.
Watching HD content while great doesn't do the screen justice. Since we're dealing with 1920 x 1080 content, yet watching it on a 2560 x 1440 screen, everything is slightly enlarged and we see a drop in the quality of the source material.
Where the screen does shine is in gaming where the native resolution is optimized. Combine the sharpness that comes with the resolution along with the sheer size and gaming is just beautiful. With that said, it could still be better; the 60Hz refresh means that unless you're locking V-Sync you'll see tearing and the IPS panel means that trailing is present. Keeping a close eye to what's going on means you'll see the small flaws. In the heat of battle, though, you're concentrating on an enemy's head or a curb's apex and these minor issues just feel irrelevant.
To make full use of the U2711 you want a video card that's going to be able to handle the resolution. The high resolution means that for some Anti Aliasing isn't going to be as important due to the natural sharpness of the monitor. For that reason we would recommend a minimum of a ATI Radeon HD 5850 which handles the 2560 resolution well. A HD 5870 is going to cover you a bit more for future titles and a NVIDIA GerForce GTX 480 is a nice option if you're interested in AA. If you're happy to splurge, the dual GPU HD 5970 can be put to good use here, too.
Using the U2711 is a real pleasure. Outside of the sharpness that is offered from the 2560 x 1440 resolution, we also see a big increase in desktop real estate when compared to a 1920 x 1080 / 1200 display, making it ideal for use in programs like CAD and Photoshop.
A great OSD, sharp resolution and stylish looks make for a beautiful monitor. You're going to pay for it, though. It's worth taking the time and calling Dell or finding a local rep to try and knock a good couple of %s off the retail price or just generally keeping an eye out for specials which are common on Dells website.
PRICING: You can find products similar to this one for sale below.

United States: Find other tech and computer products like this over at Amazon.com

United Kingdom: Find other tech and computer products like this over at Amazon.co.uk

Australia: Find other tech and computer products like this over at Amazon.com.au

Canada: Find other tech and computer products like this over at Amazon.ca

Deutschland: Finde andere Technik- und Computerprodukte wie dieses auf Amazon.de