Lite-On iHES208 Internal 8X Blu-ray Combo Drive
We have a look at the Lite-On iHES208 Blu-ray drive and see if it can have a permanent home in your system.
Published Thu, Feb 18 2010 7:09 AM CST
|
Updated Tue, Nov 3 2020 7:02 PM CST
Introduction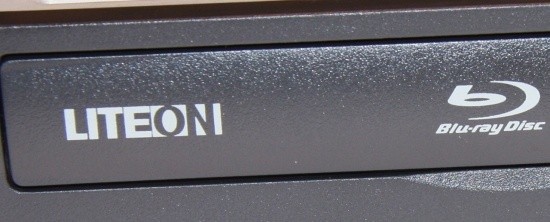 Lite-On are one of the clear players in the ROM market thanks to a massive array of drives that span from DVD to Blu-ray, internal to external and everything else that matters when it comes to buying a ROM drive. We don't look at heaps of ROM drives here at TweakTown, but every once in a while a new one will make its way into the labs and we'll figure out if it's going to replace what we currently have.
Currently sitting on my testbed is a Lite-On iHAS322 which has served me well. Before that drive another Lite-On drive was present and before that I had a Pioneer which seemed to be the "in" brand for a long time when it came to ROM drives.
Today we'll be checking out the iHES208. Aside from playing DVDs, it manages to also handle Blu-rays, making it an option for home theater PC users. You don't just need a HTPC to make use of this drive, though. Maybe you've got a large screen on your main PC and you enjoy some high def goodness as much as the person with a $3,000 TV in the lounge.
Before we have a look at the performance numbers when compared to our trusty iHAS322, let's have a quick look at the package before checking out the drive itself.
The Package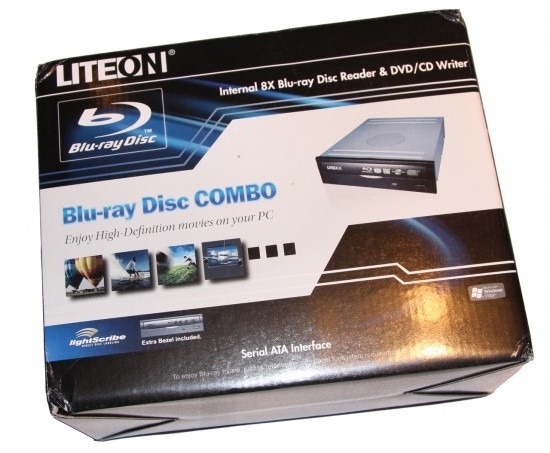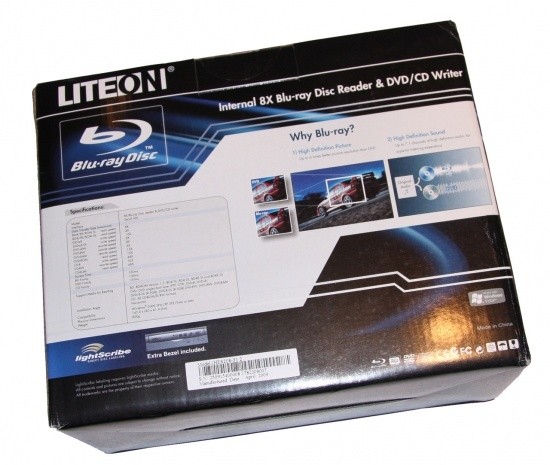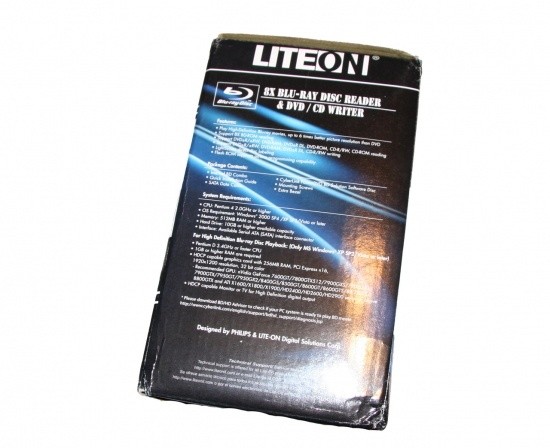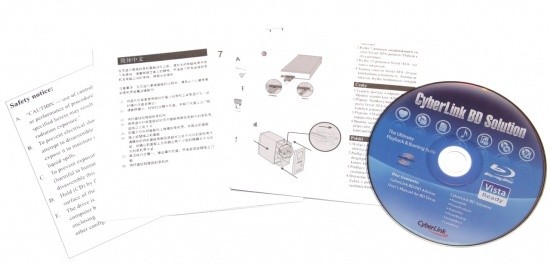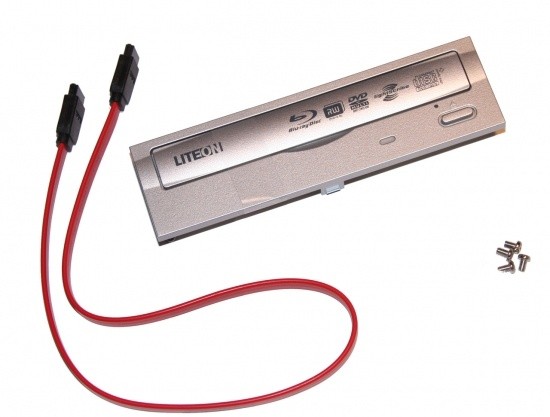 Having a look through the package, there's no real surprises when it comes to the bundle. Apart from some screws and a SATA cable, the main stand out points would be the inclusion of a silver cover for the drive and the CyberLink BD Solution software which has a couple of programs installed so you can make use of Blu-ray playback.
The ROM Drive
There's only so much you can look at when it comes to a ROM drive. The main thing is that this drive comes in at the more conventional 178mm length as opposed to the shorter length of 170mm on our iHAS322. Since 178mm is the length case builders work off, it's hardly going to cause a problem anyway.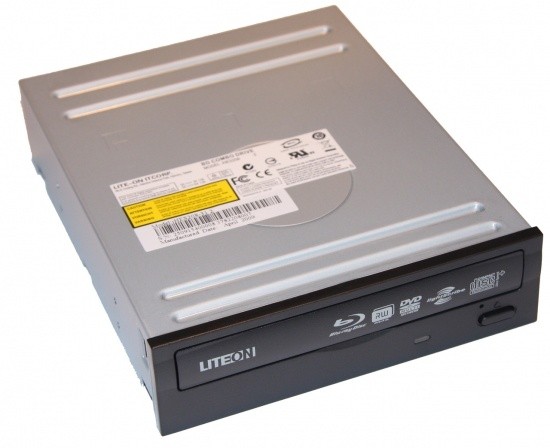 We can see out of the box the driver offers us a black face plate, but with a few pushes in the right spots you can replace that with the silver one that is included in the bundle as we saw on the last page.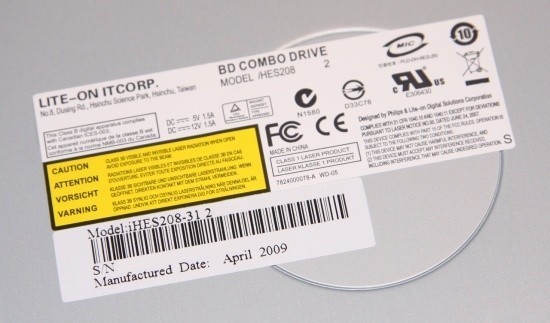 On top of the drive we have all the standard information like model, manufactured date, serial number and all the official logos and warnings that you would expect to see from a ROM drive.

Looking head on, we've got the normal array of logos on the front which gives us an idea of what's supported. The main feature of course is Blu-ray, but as always we've got the standard DVD and CD support. To the left side we can also see the Lite-On logo.

Like most ROM drives these days, the iHES208 is connected and powered by SATA technology. This helps keep cable thickness down and has become the clear way to connect these days with the days of Parallel ATA long gone.
Specifications
When it comes to the specifications and comparing the model to our iHAS322 DVD-ROM drive, the numbers are quite similar. Re-write speeds to DVDs and CDs are 8x (DVD+) 6x (DVD-) and 32x (CD) respectively.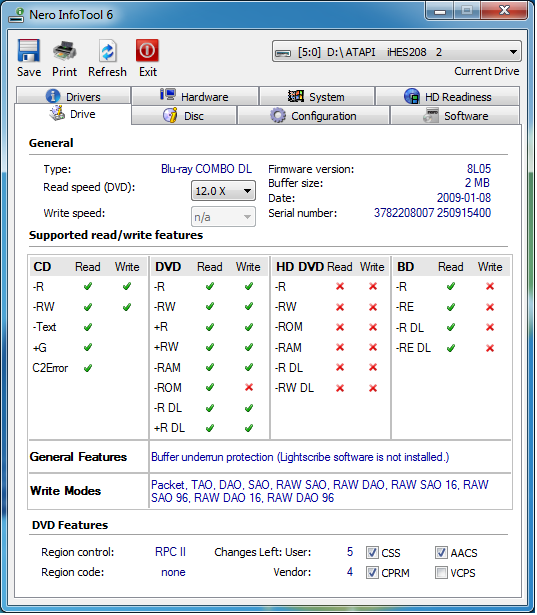 Read times on both drives are the same with 16x for DVDs and 48x for CDs. Where the iHAS322 has a win over the Blu-ray enabled iHES208 is in DVD write speeds with a 22x rating versus the 16x on offer from the iHES208.
The big feature for the iHES208 is of course the Blu-ray support. Single layers have a speed rating of 8x while dual layer discs have a slower 4x one.
Test System Setup and Nero Disc Speed
Test System SetupProcessor(s):
Intel Core i7 920 @ 3.8GHz (190MHz x 20)
Cooling:
Noctua NH-U12P (Supplied by
Noctua
)
Motherboard(s):
GIGABYTE EX58-UD5 (Supplied by
GIGABYTE
)
Memory:
3 X 2GB Kingston Hyper X PC3-16000 2000MHz DDR CL9 (Supplied by
Kingston
)
Hard Disk(s):
Western Digital 640GB SATA 2.0 HDD (Supplied by
Western Digital
)
Operating System:
Windows 7
Drivers:
ATI Catalyst Cedar Beta (HIS HD 5450)
With Far Cry 2 in hand and two Lite-On drives getting ready to rumble, we'll quickly take the time to see how the two drives compare in a number of speed tests offered by Nero DiscSpeed 5.
Both drives should come in showing similar numbers with the only real difference in numbers being that the iHES208 has a slower write time to DVDs which is something that isn't tested here.
Either way, let's find out how the two drives square up against each other.
Nero DiscSpeed 5
Nero Disc Speed is a software created by the developers of Nero that can benchmark CD and DVD drives and check media quality. Benchmarking tools in general are not used that often but they can reveal some interesting information about a hardware component or the system in general. Nero Disc Speed is no exception from the rule although it provides disc media quality checks which are useful if you want to test the quality of a disc.
- Access Time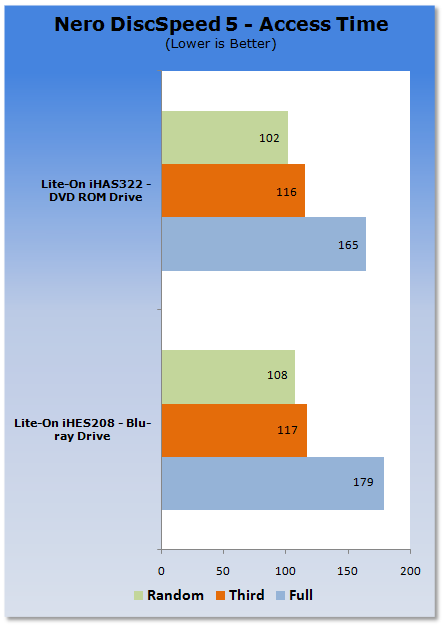 Having a look at the Access Time between the two drives, you can see there's very little difference.
- CPU Usage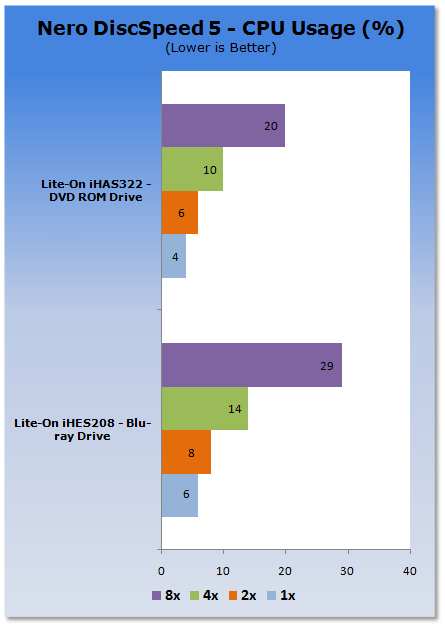 CPU Usage paints a slightly different picture. Straight off the mark we can see that the iHES208 Blu-ray drive is using more of the CPU.As we climb up in speed, it uses more and more with it actually using almost 50% more CPU at 8x.
Nero DiscSpeed - Continued
Nero DiscSpeed 5- Spin Test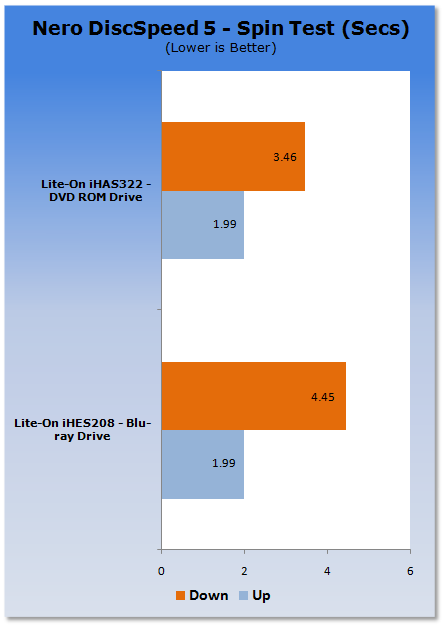 While spin up times on both drives are identical, we can see that the spin down time on the iHAS322 is better by almost a full second.
- Load Test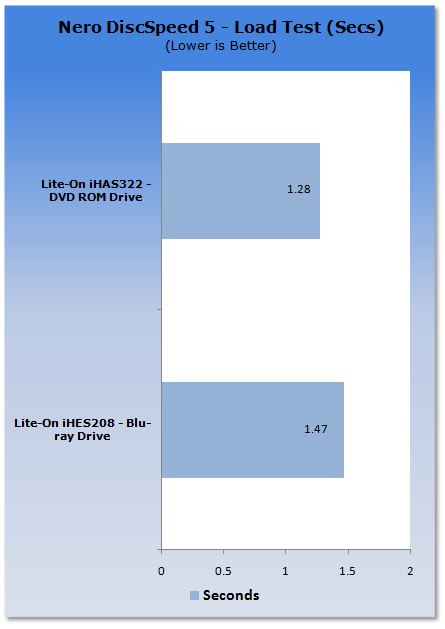 As for the load tests, while the iHES208 does fall behind slightly, it's not anything that would make a difference.
- Recognition Test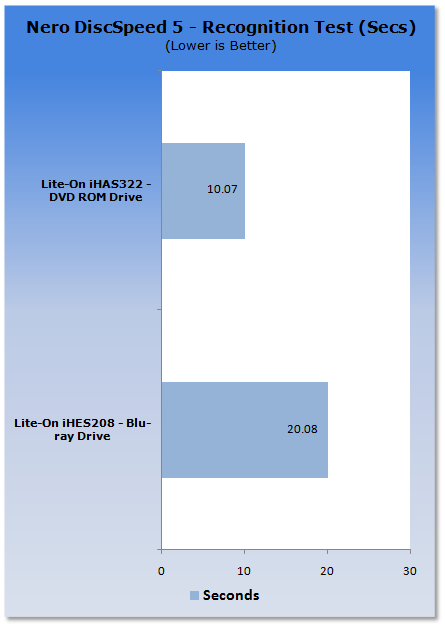 When it came to the recognition test it's interesting to see that the iHES208 takes literally twice the amount of time to recognize the disc.
Nero DiscSpeed - Continued
Nero DiscSpeed 5- Burst Rate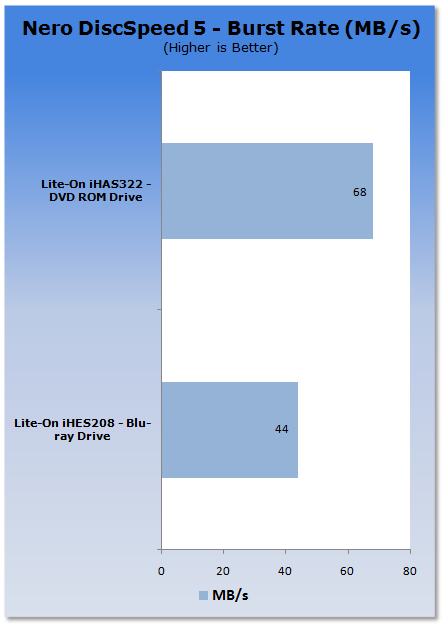 Having a look at the burst rate between the two drives, we can again see the older iHAS322 puts out a number that equates to being roughly 50% faster than the iHES208 Blu-ray drive.
- Average Read Speed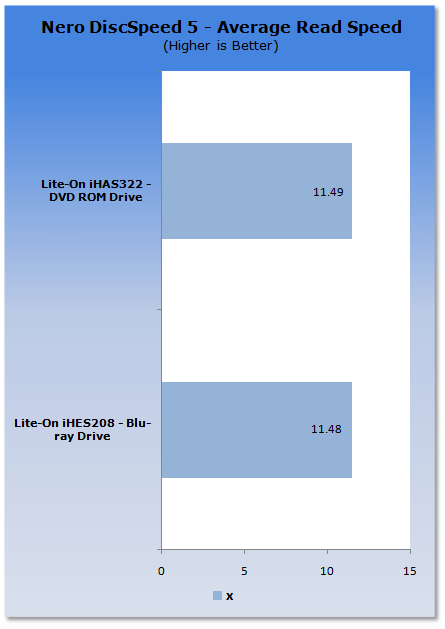 While there might be a more noticeable difference between the burst of the two drives, when it comes to the average read speed you can see they are both almost identical.
Final Thoughts
Compared to the non Blu-ray supporting iHAS322, the iHES208 is a little off the pace when it comes to dealing with DVD content. When you combine this with the fact that the Blu-ray supporting drive is more expensive, I would suggest that if you've got the room that you look at buying a standalone DVD-ROM drive like the iHAS322 if this drive is going into your main PC.
This will do a few things; first and foremost the biggest benefit is that a drive like the iHAS322 will just be a bit quicker all round when it comes to working with DVDs. Equally important, if not more so, would be the fact that you're not placing more load than you need to the more expansive Blu-ray drive.
With DVD-ROM drives being so cheap, motherboards offering us a large amount of SATA connections and in most cases easily supporting two ROM drives, it's not only a small investment, but a wise one.
Of course, if the iHES208 is going into something like a HTPC, the chances are you probably already have a DVD player for movies. The chances are also high as well that the drive itself won't get the same amount of usage as one sitting in your main machine.
For the most part, though, iHES208 performance is good when it comes to DVDs and when it comes to Blu-rays it's fantastic with the biggest bonus being that the drive of course supports the technology.
While it's fine to replace your current DVD drive with the iHES208, unless you really need to I would suggest that you just keep what your currently using installed to work alongside this drive.
Since a DVD drive comes in at less than $30 and the IHES208 at around $110, you're only really going to buy one if you intend to watch Blu-rays. For that, this drive is fantastic, especially when you accompany it with AnyDVD HD to unlock some pesky Blu-ray features.
If you're going to watch Blu-rays, this is a fantastic product. If you're not, it's essentially an overpriced DVD drive. Why you would be looking at something like this without the intention to use its Blu-ray capabilities is beyond me.
PRICING: You can find products similar to this one for sale below.

United States: Find other tech and computer products like this over at Amazon.com

United Kingdom: Find other tech and computer products like this over at Amazon.co.uk

Australia: Find other tech and computer products like this over at Amazon.com.au

Canada: Find other tech and computer products like this over at Amazon.ca

Deutschland: Finde andere Technik- und Computerprodukte wie dieses auf Amazon.de