Introduction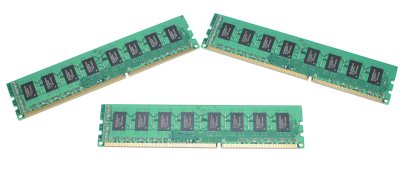 Intel not only knows how to push its own technologies, but also how to push the market forward; this with the exception of the RDRAM debacle, but let's not dwell on that now. For the last five years Intel has not only managed to get its feet back on the ground with the Core micro architecture, but they've also managed to steer the course of memory technology as they'd originally hoped.
While DDR wasn't their ultimate aim, it really helped them move along and this led to Intel introducing the DDR2 memory standard, first on their Express series chipsets and now DDR3 with their 3 and 4 series chipsets as well as their new Core i7 processors. And it's not long 'till AMD follows suit with AM3 (a DDR3 supporting architecture) soon to emerge; so it's bye bye DDR2 very soon.
With that said, memory technology has advanced so far, it's becoming ridiculous. Only a few years ago 1GB was the holy grail, yet today we are seeing 4GB and beyond become the standard, especially with Core i7. 3GB and 6GB kits are coming in thick and fast thanks to its triple channel memory controller.
Many companies have already jumped in with triple channel kits for Core i7 and so far we have reviewed about five different kits. Today we are adding another to the list of oncoming tri-channel kits. Kingston, a long time partner in memory has shot us their latest memory kit comprising of three DDR3 1333MHz memory modules with 2GB density per module; a total of 6GB. We will today pit it against our Corsair 6GB benchmark modules to see just how well Kingston's memory fairs.
The Package and Modules
The Package
Unfortunately the kit we received from Kingston was simply in anti-static bags and there were no boxes or packaging material, so we can't give you any info on how it's packed or if the package will rip your hands to bits opening it (like so many other kits have done to me over the years).
Normally we are used to seeing DDR3 modules with heatspreaders to help with dissipating heat to the air, but the kit we're looking at today is bare; no heatsinks, spreaders or cooling aids of any type. This means either these modules are super cool running or they aren't intended for overclocking. Hopefully it's the former and not the latter.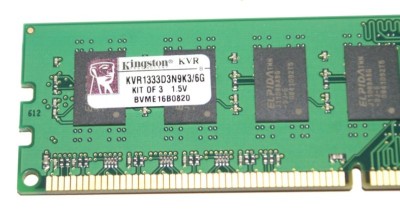 All memory manufacturers place a small sticker (some do larger ones) with the information on the memory modules, including their rated speed in MHz, CAS latency and voltage. Kingston, however, place theirs in the form of a huge jumble of numbers that requires a super computer to decode, or you can go onto their website and sift through all the modules until you come across the same model number that you have.
After deciphering the information, the kit we have received is a 6GB triple channel kit with a rated speed of 1333MHz using 1.5v standard DDR3 voltage and a timing rating of 9-9-9-26 2T.
Overclocking
Overclocking the Modules
With Core i7 overclocking is even more fun due to the increased amount of buses and voltages you have to play around with. However, we always try to get the best out of our memory. Rated for a starting point of 667MHz or 1333MHz DDR3, we managed to increase the QPI which in turn increased the memory.
We managed to hit a maximum of 745MHz or 1490MHz using the max 1.65v that the Intel Core i7 is recommended for. This goes to show us that either these modules are just a value bunch or the use of heat spreaders really do a good job when pushing 1600MHz and beyond.
Important Editor Note: Our maximum overclocking result is the best result we managed in our limited time of testing the motherboard. Due to time constraints we weren't able to tweak the motherboard to the absolute maximum and find the highest possible FSB, as this could take days to find properly. We do however spend at least a few hours overclocking every motherboard to try and find the highest possible overclock in that time frame. You may or may not be able to overclock higher if you spend more time tweaking, or as new BIOS updates are released. "Burn-in" time might also come into play if you believe in that.
Test System Setup and EVEREST
Test System
Processor
: Intel Core i7 965
Motherboard
: ASUS P6t Deluxe (Supplied by
ASUS
)
Hard Disk
: Intel X25-M 80GB SSD (Supplied by
Intel
)
Graphics Card
: GIGABYTE 9800GX2 (Supplied by
GIGABYTE
)
Cooling
: Intel Stock LGA1366 Cooler
Operating System
: Microsoft Windows Vista x64 SP1
Drivers
: Intel INF 9.0.0.1008, Forceware 180.24
In today's tests we will be pitting the Kingston DDR3 triple channel memory kit against the Corsair memory kit we have dedicated for our test bench. While the Corsair memory is higher in specs, it's of the same capacity so we will be able to do a comparison at 1066, 1333 and 1490MHz speeds. While the Corsair can go higher, we want to see just how good the ValueRAM is up against some tough competition.
EVEREST Ultimate EditionVersion and / or Patch Used:
2006
Developer Homepage:
http://www.lavalys.com
Product Homepage:
http://www.lavalys.com
Buy It Here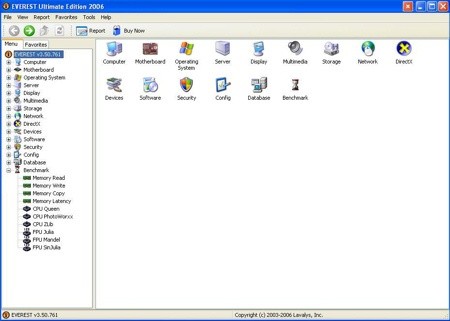 EVEREST Ultimate Edition is an industry leading system diagnostics and benchmarking solution for enthusiasts PC users, based on the award-winning EVEREST Technology. During system optimizations and tweaking it provides essential system and overclock information, advanced hardware monitoring and diagnostics capabilities to check the effects of the applied settings. CPU, FPU and memory benchmarks are available to measure the actual system performance and compare it to previous states or other systems.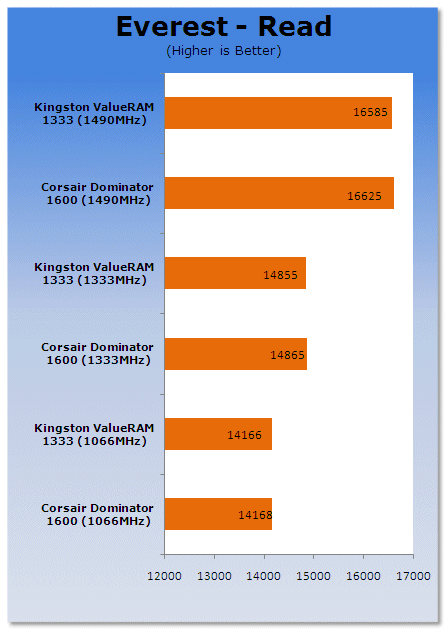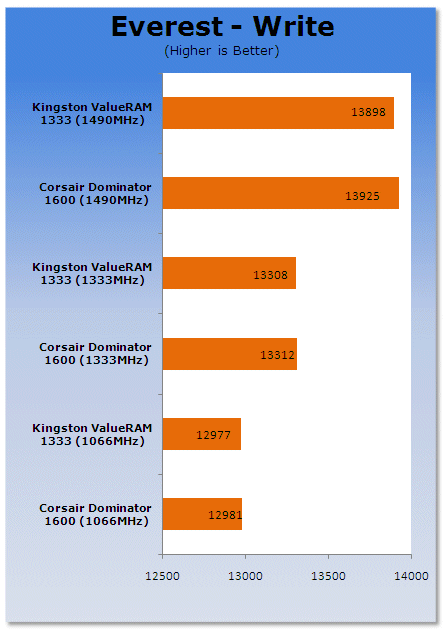 First for us is EVEREST and here we see that at both 1066MHz and 1333MHz the two different kits manage to remain right on top of each other. It isn't until we get to 1490MHz the Corsair manages a few extra points; this was due to the Corsair being able to run even lower latencies at this speed.
Benchmarks - Sisoft Sandra
SiSoft SandraVersion and / or Patch Used:
x
Developer Homepage:
http://www.sisoftware.co.uk
Product Homepage:
http://sisoftware.jaggedonline.com/index.php?location=home&a=TTA&lang=en
Buy It Here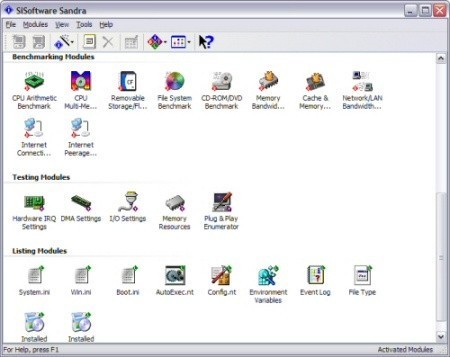 SiSoft Sandra (
S
ystem
AN
alyser,
D
iagnostic and
R
eporting
A
ssistant) is a synthetic Windows benchmark that features different tests used to evaluate different PC subsystems.
Now we come to Sandra, which shows similar results to the EVEREST test. It seems to be more aggressive in its testing, however. Here we see the Corsair memory slightly ahead at all three speeds.
Benchmarks - Sciencemark 2.0
ScienceMark 2.0
ScienceMark 2.0 is a mathematical program designed to stress the memory subsystems of both desktop/workstation and server environments to determine the read/write latency as well as the overall memory bandwidth available between the CPU and the memory controller.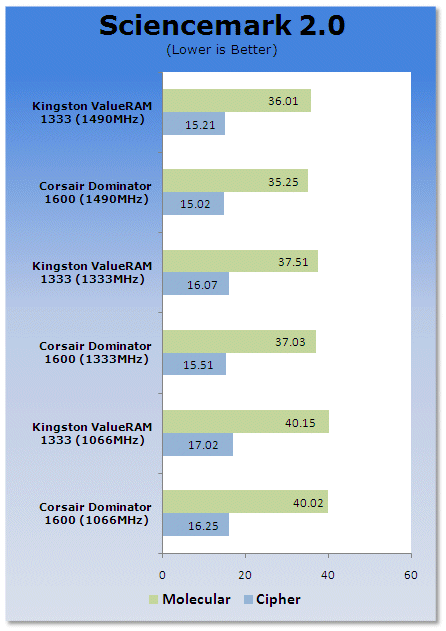 Latency and access times win it here; Corsair manages to run lower latencies here and in turn is able to keep ahead of the Kingston memory.
Benchmarks - Crysis
CrysisVersion and / or Patch Used:
1.1
Timedemo or Level Used:
Custom Timedemo
Developer Homepage:
http://www.crytek.com/
Product Homepage:
http://www.ea.com/crysis/
Buy It Here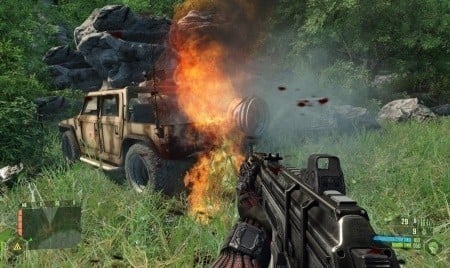 From the makers of Far Cry, Crysis offers FPS fans the best-looking, most highly-evolving gameplay, requiring the player to use adaptive tactics and total customization of weapons and armor to survive in dynamic, hostile environments including Zero-G.
Real time editing, bump mapping, dynamic lights, network system, integrated physics system, shaders, shadows and a dynamic music system are just some of the state of-the-art features the CryENGINE™ 2 offers. The CryENGINE™ 2 comes complete with all of its internal tools and also includes the CryENGINE™ 2 Sandbox world editing system.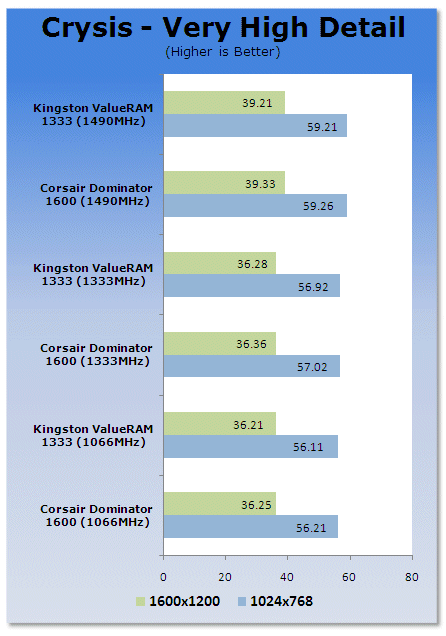 In real world gaming we don't see any difference between the two kits over the three different speed grades. Normally when we overclock we see more separation between the kits but in this case they're side by side the whole time.
Final Thoughts
Core i7 has already proven to us that it is and will be the CPU for 2009. With its remarkable performance and features, Intel really is on the right track these days. And with the tracks laid it's simply a matter of hopping onboard and taking the ride.
For memory manufacturers, this is a new and exciting time as well. DDR3, until now has been simply too expensive, especially since in order to use Core 2 you could use DDR2, but with Core i7 having no DDR2 memory controller it's DDR3 or no Core i7 for you.
Kingston's ValueRAM series we received, while lacking overclocking punch is a great kit for the users who simply want to set up a system and forget it; no overclocking or no tweaking. For that use the ValueRAM is perfect and costs significantly less than high-end kits, so it makes for a very impressive option.