Earthlight - A VR Game that Allows Players to Experience Life as an Astronaut
Oct 21, 2015 12:50 AM CDT
Opaque Media Group today officially announced Earthlight, a multi-platform VR game that allows players to immersively experience the journey of becoming an astronaut, as well as the wonders and perils of space exploration.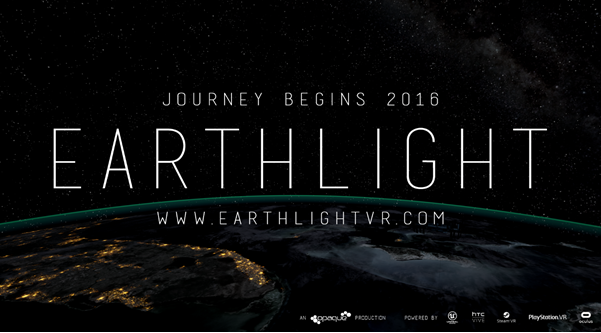 Earthlight 4K 360° Trailer is available here. The video will go live 11:59PM AEST on 21st Oct.
In Earthlight, players are transported into the body of an astronaut, interacting with the world through a pair of virtual arms as microgravity transforms trivial every-day tasks, such as movement or undoing a screw, into complex physics puzzles. Player input will be tracked through controllers like the Oculus Touch, SteamVR Controllers and PlayStation Move. The game will also support gamepads with dual analogue inputs.
Earthlight will be the closest thing to being an astronaut most people will ever experience.
Earthlight was originally developed as a tech demo showcasing the ability to use the Kinect as a VR interface. Earthlight was debuted to universal acclaim at GDC 2015 and since then, it has been experienced by more than two thousand people.
Created in Unreal Engine 4, Earthlight features the most realistic depiction of the International Space Station used in a consumer-oriented VR application to-date. Earthlight is designed to demonstrate the very limits of the Unreal Engine and the limits of what is visually achievable on existing VR hardware.
"When we first released the screenshots, the community did not realise they were rendered images. And when they figured it out, the interest exploded." Says Emre Deniz, the principal environment artist on the original Earthlight demo team. "We were all very proud of our work, but when we started receiving emails from NASA simulation engineers, we realised we have created something quite extraordinary."
A copy of Earthlight has been resident at Jet Propulsion Laboratory's (JPL) Operations Laboratory (OpsLab) since May 2015, and the Earthlight team has been maintaining it for the JPL team to keep pace with the innovation in VR hardware and software.
"Earthlight is not just a game set in space, it is about giving the players an experience of what it's like to be an astronaut." Says Norman Wang, the Project Lead on Earthlight. "And to make sure that we create an authentic experience, we will be developing Earthlight in collaboration with NASA, with astronauts, and with the people who train and support them."
The Earthlight team has been working closely with cognitive psychologists and researchers in a variety of different fields to create a pleasant user experience despite the complexity of the VR design.
"Visiting the International Space Station, floating freely in space, is a dream of many but a reality experienced by only a few." Said Professor Christopher Fluke, Coordinator of the Virtual Reality Theatre at the Centre of Astrophysics and Supercomputing at Swinburne University at a pre-release demonstration of Earthlight. "Earthlight is a genuinely engaging experience. I am excited by the potential for interactive virtual experiences to play a greater role in bringing dreams of space exploration to life."
In Earthlight, players use tracked hand controllers like Oculus Touch and SteamVR controllers to interact with the world. But support for gamepads with dual analogue input will also be supported.
"We were very happy with how immersive the original Earthlight was - the fact that you controlled a pair of virtual arms with your own, gave people a true sense of telepresence. They really felt as if they were there." Christopher Mackenzie, the technical lead on Earthlight explains. "Back when we first developing Earthlight for GDC, controllers like the SteamVR and Oculus Touch controllers didn't exist. Now, we can use these devices to track player's hand position in the world with very high spatial and temporal precision and we're pleased to say that we have definitely improved on the VR experience."
The HTC Vive-based version Earthlight will be available at the Opaque Media Group booth (#3324) at PAX Australia 2015, with a public release on SteamVR, PlayStation VR and Oculus Rift scheduled for Q1 2016.
Last updated: Apr 7, 2020 at 12:10 pm CDT
PRICING: You can find products similar to this one for sale below.

United States: Find other tech and computer products like this over at Amazon.com

United Kingdom: Find other tech and computer products like this over at Amazon.co.uk

Australia: Find other tech and computer products like this over at Amazon.com.au

Canada: Find other tech and computer products like this over at Amazon.ca

Deutschland: Finde andere Technik- und Computerprodukte wie dieses auf Amazon.de
Related Tags