Dead Union Preview: More than FPS
Aug 17, 2015 3:52 AM CDT
Dead Union is a hardcore 3D mobile FPS game, but not just another mobile FPS game. With the title 'Dead Union', it is possibly to imagine that the enemies in game are walking dead creatures? While Dead Union has more, players can even deploy them in their bases in PVP mode. Besides, X-Mode, in which enemies appear endlessly will definitely test players' shooting accuracy and reaction speeds. The mentioned two game modes seem beyond FPS category, and that will bring some special game experience for mobile FPS game players.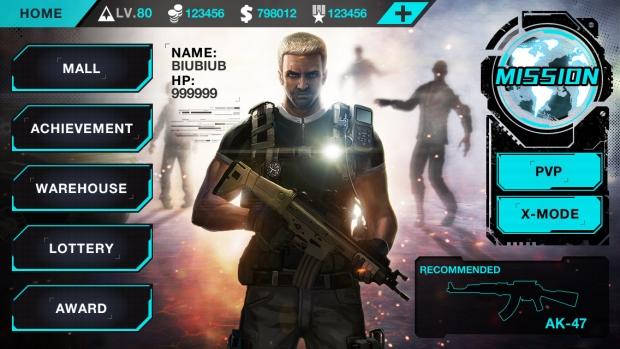 Start the mission through the button on the top right of the display, eliminate all zombies with the tips of the guide.
Dead Union provides several battle fields with a strong story line, so each level does come with different zombies and scenes that enrich the game experience.
In Dead Union, the controls are fairly simple; with a drag on the left-hand side moving your body and the same on the right hand-side moving your view.
Using the button on the right, players can fire guns and tap the aimed icon to get a more accurate shot. The button on the top right allows them to switch weapons.
For the more than FPS part, the PVP and X-Mode surely add more entertainment for the typical mobile FPS games
In PVP Mode, players are provided a base to defend. Upgrade their bases and zombie force with gained resources from the defeated ones.
In X-Mode, the first thing to do is to choose a difficulty level. Before zombies appear, players have enough time to deploy automatic guns and items including landmine and atom bombs and so on.
There's no shortage of high-quality first-person shooters on Android and iOS, with Dead Trigger 2 and the Modern Combat series being just a couple of them. Dead Union may be one of them, hopefully. It is an independently created game with its unique features. The overall presentation is decent. The excellent sound effects, fine designed zombie images and the creative play modes together present a good expression and make it outstanding among 3D mobile FPS games.
For those looking for a cool game that has a zombie story, Dead Union is a good choice. For all the variety of weapons, decent graphics, excellent sound effects and most importantly, PVP in mobile FPS game together with X-Mode make it so. Lastly, it's free to play, so Dead Union would make surprise and give its users an opportunity to play a high quality 3D FPS for nothing.
For more details, visit http://du.99.com
NOTES: Dead Union is still in beta, the pictures within may not be accordance with the final edition.
Last updated: Jul 27, 2022 at 03:38 am CDT
PRICING: You can find products similar to this one for sale below.

United States: Find other tech and computer products like this over at Amazon.com

United Kingdom: Find other tech and computer products like this over at Amazon.co.uk

Australia: Find other tech and computer products like this over at Amazon.com.au

Canada: Find other tech and computer products like this over at Amazon.ca

Deutschland: Finde andere Technik- und Computerprodukte wie dieses auf Amazon.de
Related Tags