Rivet Networks, a leading maker of high performance networking products, today launched the Killer Wireless-AC 1535, the world's first network adapter to offer ExtremeRange Technology redefining the wireless experience by delivering up to 150 Mbps of additional throughput at ranges beyond 10 meters.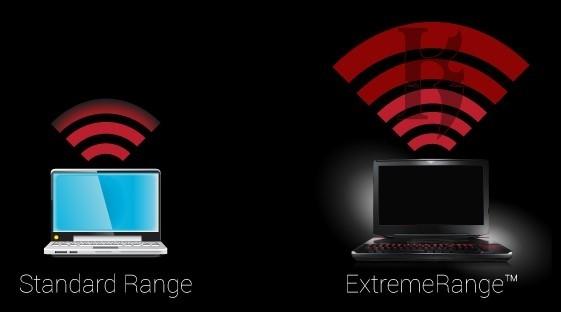 Gamers and performance users are now free to enjoy their online experience at greater distances from their wireless access point than before thanks to Killer's new ExtremeRange Technology, with two external amplifiers plus full MU-MIMO and Transmit Beamforming support that extends intelligence and control while increasing wireless networking speed.
"We've packed this second generation Killer Wireless-AC product with intelligence that massively improves latency, reduces jitter and virtually eliminates video freezes at even greater ranges and with stronger signals," said Mike Cubbage, co-founder and CEO of Rivet Networks. "Our sole focus is to create the best networking experience for performance users with speed and reliability that is unmatched by competing wireless adapters."
The high performance MSI GT72 and GT80 Gaming Notebooks and the MSI X99A GODLIKE GAMING Motherboard will be the first products to include the Killer Wireless-AC 1535.
"The MSI GT72 and GT80 Gaming Notebooks and the MSI X99A GODLIKE GAMING deliver world class performance and require the best possible networking solutions. The Killer Wireless-AC 1535 is perfect for these systems because it delivers cutting-edge range-extending technologies along with the critical intelligence that ensures crucial network packets are being delivered first," said Eric Kuo, VP of MSI.
With 40 billion devices expected to be connected by 2020, the competition for bandwidth is quickly increasing, creating headaches for gamers and performance users. MU-MIMO and Transmit Beamforming directly address these issues by making better use of a home's network capacity and ensuring signals are being efficiently directed to the right device.
ExtremeRange Technology incorporates cutting edge features all aimed at providing the maximum throughput at all distances:
Introduces MU-MIMO support that dramatically increases network efficiency and delivers more throughput by allowing enabled routers to serve Killer and other wireless devices simultaneously.

Includes two external amplifiers that offer better Wi-Fi signal at longer ranges.

Includes Transmit Beamforming technology that enables the access point to better direct Wi-Fi signals to your Killer 1535 enabled system.
Using Lag and Latency Reduction Technology, Killer Wireless-AC 1535 delivers high priority game and video packets to users' applications up to twice as fast as competing networking products during single application usage and up to ten times faster when multitasking. Advanced Stream Detect brings much needed intelligence to networking by automatically detecting, classifying and prioritizing sensitive network traffic to ensure critical applications such as games or voice get their data as quickly as possible. Users can now play games, watch online HD video and enjoy fast downloads all at the same time.
The Killer Wireless-AC 1535 also supports Killer DoubleShot Pro, which takes advantage of systems that include Killer Wireless and Killer Ethernet by automatically routing high priority traffic to the fastest Killer interface. Killer DoubleShot Pro can also increase the system's max throughput by using Killer Wireless and Killer Ethernet at the same time.
Availability
The Killer Wireless-AC 1535 high-performance wireless adapter will be available in the MSI GT72 and GT80 Gaming Notebooks and the MSI X99A GODLIKE GAMING Motherboard in early July.
Last updated: Apr 7, 2020 at 12:09 pm CDT