The Next Step in 4K Digital Image Capturing
Patriot, a leading manufacturer of USB Flash, mobile accessories, computer memory and SSDs, announced the release of the latest addition to its 4K capable cards, the EP Pro micorSDXC Class 10, UHS-I U3 card.
Compliant with the latest SD Association specifications for Class 10 UHS-I U3 cards, it is perfect for 4K recording. The Patriot EP Pro microSDXC Card reaches speeds of up to 95MB/s read and 80MB/s write. Capable of capturing a range of video and still images the EP Pro microSDXC can shoot video in Full HD, Ultra HD and 4K2K as well as capture continuous still image shooting in HD. Ideal for the extreme sports enthusiast, outdoorsmen and professional photographers the EP Pro microSDXC Card is the ideal choice for the latest action camera, Android smartphone or tablet.
"The EP Pro microSDXC Card will provide customers with the fastest in the industry performance for the abundance of 4K capable, UHD enabled multimedia devices available on the market," Said Meng J. Choo, Product Manager at Patriot. "Customers will now be able to unlock the potential of their top-shelf devices."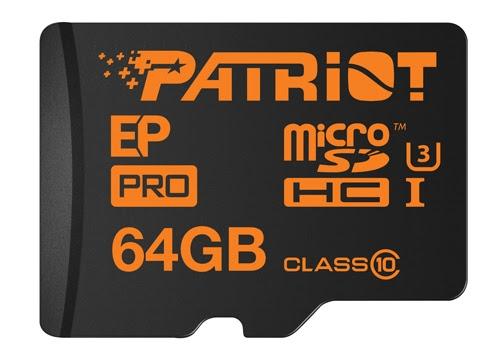 4K capable devices are becoming more readily available on the market and consumer demand continues to rise, the EP Pro microSDXC card offers users a viable, cost efficient solution for all of their outdoor, action packed adventures. Available in both 32GB (SDHC) and 64GB (SDXC) capacities, every moment will be captured in the blink of an eye and stored within seconds due to the EP Pro's record response time. Users can share their images and videos without delay by transferring stored data to their desktop, tablet or 4K TV and experience the record write speeds of the EP Pro microSDXC.
Availability
The EP Pro microSDXC card will be available in July of 2015.
Last updated: Apr 7, 2020 at 12:09 pm CDT