NETGEAR, Inc., a global networking company that delivers innovative products to consumers, businesses and service providers, has added the new AC750 Wi-Fi Range Extender with Extra Outlet (EX3800) to its growing product line-up of easy-to-use Wi-Fi Range Extenders. The world's first AC750 wireless extender to offer a pass-through wall-plug design provides an effective way to fight Wi-Fi dead zones without losing a power outlet.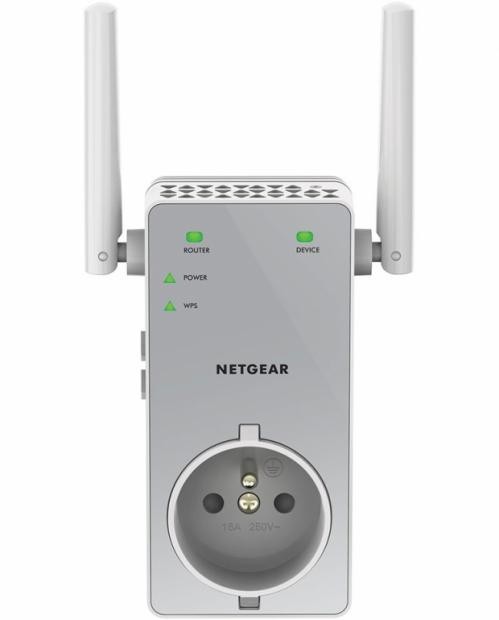 The AC750 Wi-Fi Range Extender boosts coverage of any existing Wi-Fi network, giving you greatly enhanced network accessibility, range, and performance throughout your home for mobile connected devices such as smartphones, tablets, and laptops, as well as connected entertainment devices like smart TVs, gaming consoles, streaming players, and more. In addition to extending the range of your wireless home network, you can also use the AC750 Wi-Fi Range Extender to create a Wi-Fi access point.
With its convenient wall-plug design for easy placement, the AC750 Wi-Fi Range Extender offers dual band Wi-Fi up to 750Mbps* and external antennas for better performance. The AC750 Wi-Fi Range Extender is compatible with any router and leverages NETGEAR FastLane technology, which uses two Wi-Fi bands simultaneously to establish one super-fast wireless connection that is ideal for HD video streaming and gaming on any device in any location of your home, even one with a large floor plan.
An Ethernet port with auto-sensing technology on the AC750 Wi-Fi Range Extender enables you to easily connect wired devices like game consoles, smart TVs, or streaming players to your existing Wi-Fi network. When the extender is set to access point mode, you can plug a wired Internet connection into the Ethernet port to create a new Wi-Fi hotspot. You'll also like the extra noise-filtered, pass-through power outlet on the AC750 Wi-Fi Range Extender, which means you can still use the outlet.
No More Dead Zones
"In 2015, there's simply no reason to become frustrated with Wi-Fi performance or dead zones. Our new Wi-Fi Range Extender, the first to combine AC750 Wi-Fi with the convenience of a wall-plug form factor with an extra outlet, adds to our product portfolio that leverages the newest and fastest 802.11ac wireless standard for high-performance networking," said Jonathan Wu, director of product management for the NETGEAR Retail Business Unit. "It's a great accessory that will help you get better performance from your existing equipment so that you can surf the Internet, stream HD movies without constant buffering, or listen to your favorite Internet radio stations no matter where you may be - in the upstairs bedroom, outside on the deck, or in the garage."
The AC750 Wi-Fi Range Extender benefits from a redesigned NETGEAR genie experience that offers a new look and feel, an easier Smart Setup installation, and improved features such as access point mode, Wi-Fi coverage controls, and access scheduling for parental controls. You can establish a secure connection to any existing home Wi-Fi network with a simple push of a button. You'll also find that the genie user interface adapts automatically to the screen size of your iOS or Android smartphone or tablet to provide an optimal viewing experience.
NETGEAR Wi-Fi extenders can be used with the free NETGEAR Wi-Fi Analytics app for Android tablets and smartphones, which helps you to get more information and optimize your home network with information about network status, signal strength, and channel interference.
Pricing and Availability
The AC750 Wi-Fi Range Extender is available now throughout Europe from major retailers in stores and online at an MSRP of €64.99 (EUR). For more information, visit the product page.
Last updated: Apr 7, 2020 at 12:09 pm CDT