ASUSTOR Inc., a leading innovator and provider of network storage solutions, has announced the release of the new innovatively enhanced version of the AiMaster mobile app. This new version of AiMaster is the first mobile app in the NAS industry that allows users to initialize their system and create RAID volumes along with other basic configurations. Users can also use AiMaster to log in to ASUSTOR's App Central and install Apps for their NAS. Furthermore, users can connect to other related ASUSTOR Apps from within AiMaster, allowing them to quickly handle tasks such as finding files, viewing photos, listen to music or monitoring surveillance feeds. AiMaster helps users get these tasks done in the blink of an eye while taking the mobile NAS experience to the next level.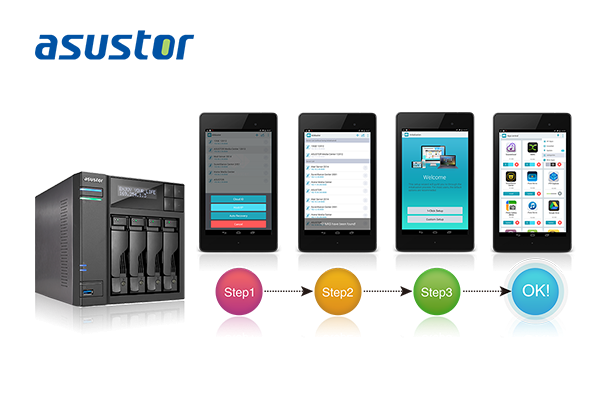 ASUSTOR offers a variety of mobile apps that provide a wealth of convenient functions for all ASUSTOR NAS users. All ASUSTOR mobile apps provide three different connection methods (Cloud ID, Host IP and Auto Discovery) allowing users to easily access their NAS from within their local network or remotely over the Internet. Also supported are HTTPS encrypted connections and a passcode lock function which secure data transfers and connections while providing added privacy protection for mobile devices. AiMaster can be thought of as the mobile version of ADM (ASUSTOR's NAS operating system). With AiMaster users will be able to grasp the system status of multiple NAS devices at any time while performing core system management tasks such as checking system information and resource usage, reading event logs, managing online users, executing USB One Touch Backup jobs, executing data backup and restoration, enabling and disabling system services, browsing App Central, managing NAS user access rights and customizing the AiMaster desktop wallpaper. Also worth mentioning are the Wake-on-LAN, Find Me and push notification functions in AiMaster that provide added convenience via centralized management to IT professionals working in server room environments.
"In the past, the steps involved in configuring and installing a NAS were complicated enough to be prohibitive to many users," said James Su," Product Manager at ASUSTOR. "ASUSTOR breaks through this barrier, allowing users to instantly configure and begin using their NAS from the convenience of their mobile device. We believe that AiMaster will prove to be an app that users will love to use, providing the ultimate mobile NAS experience via integrated personal cloud creation and management."
AiMaster is currently being first offered to Android users. AiMaster for iOS will be available in Q2 of 2015.
For more product information please visit: http://www.asustor.com
Video Tutorial: http://youtu.be/5ZATeOwnalA
Last updated: Jul 27, 2022 at 03:38 am CDT