Greenliant Systems, a leader in energy-efficient, highly secure and reliable solid state storage products, has begun volume production of its mSATA ArmourDrive solid state drives (SSDs). Measuring 29.85 mm x 50.80 mm x 4.85 mm (JEDEC MO-300), all GLS86 series products operate between -40 to +85 degrees Celsius, making them ideal for various industrial, networking and computing systems that require robust data storage able to withstand extreme temperatures.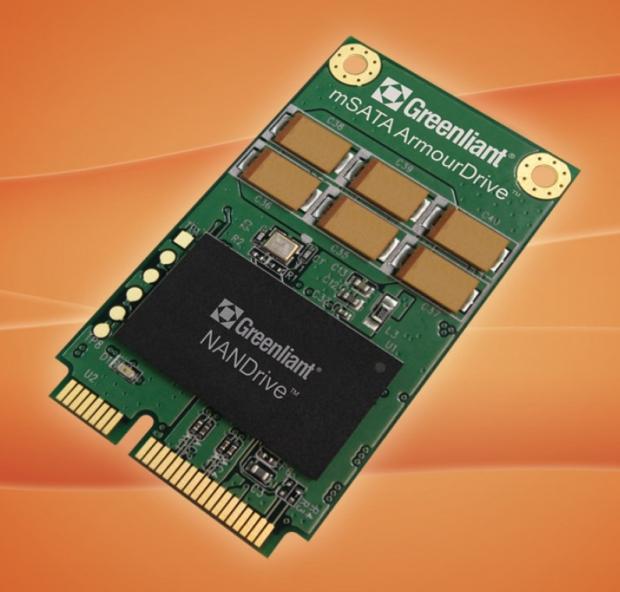 mSATA ArmourDrive is available with 2-bits-per-cell (MLC) NAND flash memory in 8, 16, 32 and 64 GByte for applications that require dependable, industrial temperature SSDs. For applications that require high-endurance, long-life SSDs, mSATA ArmourDrive is also offered with 1-bit-per-cell (SLC) NAND in 8, 16 and 32 GByte capacities.
GLS86 products are based on ball grid array (BGA) form factor SATA NANDrive (GLS85LS series) SSDs, using Greenliant's internally developed NAND flash memory controller. Dedicated power failure detection and backup power circuitry are built-in to prevent data integrity issues due to sudden power interruptions.
"mSATA ArmourDrive has the functionality and compatibility of a SATA hard disk drive, while surpassing HDDs with its small size, security and low power consumption," said Arthur Kroyan, vice president, business development and marketing, Greenliant Systems. "We started sampling mSATA ArmourDrive last year and have received interest from a wide range of customers for applications such as factory automation, flight data recorders, portable video surveillance, servers and telemetry."
Availability
GLS86FB 8, 16, 32 and 64 GByte industrial temperature MLC and GLS86FA 8, 16 and 32 GByte industrial grade SLC mSATA ArmourDrive SSDs are available to order now through Greenliant authorized sales channels.
Last updated: Apr 7, 2020 at 12:08 pm CDT