Linksys today announced that it has started shipping the new WRT1900AC, which will be available for sale at Best Buy stores throughout the US or at the Linksys.com store. The new WRT features four external antennas for optimal wireless coverage throughout the home and has been certified for the new 802.11ac Wi-Fi standard. The new wireless standard delivers best-in-class performance and includes intelligent technologies such as beamforming to further improve the wireless signal range. The design of the new Linksys WRT1900AC Dual Band Wi-Fi Router is inspired by the iconic WRT54G that was introduced 11 years ago. The new WRT has been equipped with powerful hardware such as a dual-core 1.2 GHz processor, 128 MB flash memory, eSATA and USB ports. The new WRT ships with Linksys Smart Wi-Fi setup and management tools, and Linksys has also been collaborating with OpenWrt to make sure that an open source alternative is available in the coming weeks.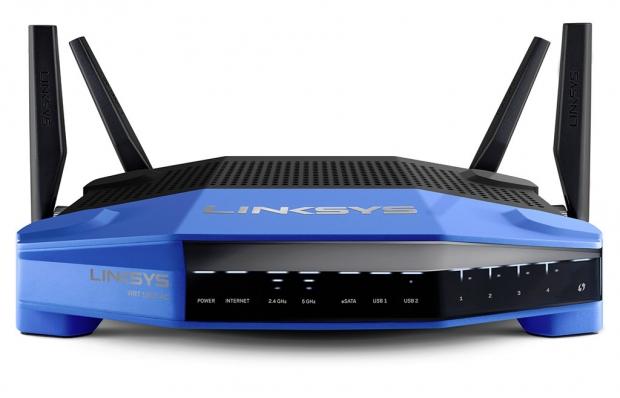 "The WRT is a cornerstone in the history of Wi-Fi and synonymous for many people with going wireless at home since it was their first wireless router. Since the introduction of the original WRT, we have sold more than 50 million units worldwide and are still selling it very successfully even with wireless technology advancing rapidly," said Mike Chen, vice president product management for Linksys. "The WRT has a cult status for many because of the open source aspect that made it so immensely popular. We are honored to have collaborated with OpenWRT to ensure the open source readiness of the product and building a WRT-worthy successor with cutting-edge hardware and iconic design."
OpenWRT Ready
Over the past months Linksys and the OpenWRT project have been collaborating to ensure open source readiness and continued development for the new WRT.
"The history of OpenWrt goes back more than a decade when it all began with a project to hack and modify the Linksys WRT54G. A lot has changed since then," said Gregers Petersen, relationship manager at OpenWrt. "Today OpenWrt is a complete embedded Linux distribution that enables users to be innovative and create new solutions and functions. Other key elements of OpenWrt are source code transparency, security and extensive package repositories. We see it as a very positive development to have collaborated directly with the Linksys engineering team on the new WRT1900AC router. As a result of that consumers will have the freedom of choice between the Linksys default firmware and OpenWrt. The OpenWrt developers recognize the potential of the collaboration with Linksys, and the opportunities it brings for more devices and solutions."
New Features
Additional features have been added to the new WRT in the development process after the initial announcement at CES. Next to the extremely powerful router functionality, the new WRT now can be configured as a range extender or wireless bridge. Software features have also been added including support for the No-IP dynamic DNS service. Linksys is also planning to add Wi-Fi Scheduling and an OpenVPN-based VPN server to the WRT in a future firmware update to enable users to establish a secure remote connection to the router from anywhere in the world.
Better Range Through Antenna Diversity
Like other 802.11ac routers, data is transmitted to wireless clients by the WRT using three spatial streams. Unlike other 802.11ac routers the new WRT is equipped with four adjustable and removable antennas. The router automatically selects and utilizes the best three out of the four antennas to transmit and receive data to connected devices, depending on their location in the home. This antenna diversity technology helps provide greater range and coverage compared to more traditional three-antenna devices, so all connected devices can achieve the best performance wherever they are located.
Linksys Smart Wi-Fi
Linksys Smart Wi-Fi is a setup and management software tool that gives users access to their connected devices from a browser or mobile app so they can easily manage their home network. Users can access their home network from anywhere from a browser on a PC or app on their iOS or Android smartphone or tablet to check the connection status of their devices, provide guest access to visitors or prevent kids from accessing social networks.
With the launch of the new WRT, Linksys has added a new Smart Wi-Fi tool called Network Map in the browser interface of Linksys Smart Wi-Fi. Network Map is a visual representation of the home network displaying the router and its connected devices. The tool enables users to see what devices are using the most bandwidth, how strong the signal is to a device or to which wireless band it is connected. Network Map provides a more intuitive and graphical approach to monitor and manage a home network.
WRT1900AC Hardware Specifications
802.11ac Wi-Fi (backward-compatible with 802.11a/b/g/n)

Speeds up to 1300 Mbps on the 5 GHz band

Speeds up to 600 Mbps on the 2.4 GHz band

GbE WAN & LAN ports

1 x eSATA/USB 2.0 port

1 x USB 3.0 port

1.20 GHz dual-core ARM processor

128 MB flash memory

256 MB DDR3 RAM

Four exchangeable external antennas
WRT1900AC Software Features
Browser-based setup for installation from device PC/Mac, smartphone or tablet

Can be configured as: router, range extender (aka repeater) or wireless bridge

Ability to hide SSID broadcast

Setup wizard sets up two SSIDs, one per radio band

Linksys Smart Wi-Fi can be accessed from a browser or the Linksys Smart Wi-Fi app for iOS and Android

Share printers or storage devices through USB or eSATA

Built-in DLNA-certified media server and FTP server to share files

Drag-and-drop media prioritization to prioritize bandwidth for devices, applications or games

Parental controls to prevent access to websites or block access during certain hours

Dynamic DNS services supported: No-IP, DynDNS and TZO

Built-in speed test to test broadband upload and download speed

OpenWRT ready
Pricing and Availability
The new Linksys WRT1900AC Dual Band Wireless-AC Router will be available starting April 13, 2014, at an MSRP of US $279.99.
Last updated: Apr 7, 2020 at 12:08 pm CDT