MAINGEAR, an award-winning PC system builder offering custom desktops, notebooks and workstations has just added AMD Radeon R9 295X2 video card solution to their award winning up desktop offerings.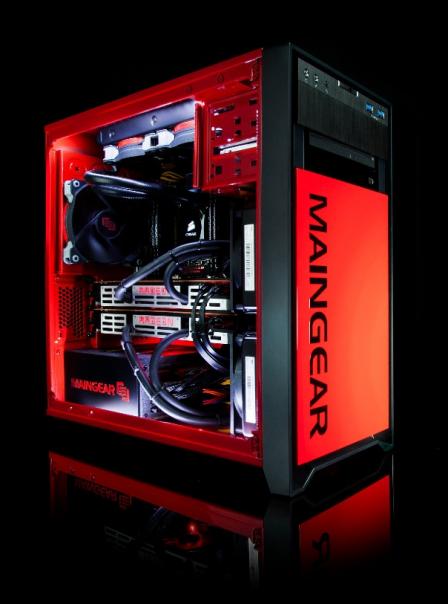 The new AMD Radeon R9 295X2 video card was engineered for ultimate performance and for the first time in industry history, the video card reference design ships with an advanced closed-loop water cooling system. Hardcore gamers and PC enthusiasts will enjoy cool temperatures that are also extremely quiet during the high demand of their PCs right out the box without any tweaking.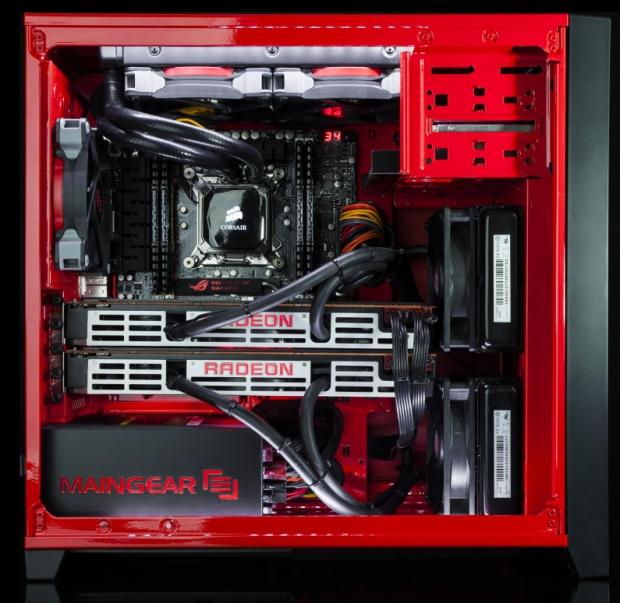 MAINGEAR's SHIFT will fit a single card configuration, while the Rush and Force desktops can be outfitted with dual card options. All MAINGEAR systems with this new card will take advantage of PC games enabled with AMD Mantle that offers high quality imagery and performance. For those gamers looking to get a maxed out performance, they can setup for ultra-settings with 4K gaming and even get over two million pixel more than 4k by combining give HD screens in an AMD Eyefinity Setup. The MAINGEAR RUSH will have its own AMD R9 295X2 Edition that offers two video cards and is painted in a Ferrari Red exterior color called the MAINGEAR Rush Vesuvius Edition.
"We're excited for the introduction of the AMD Radeon R9 295X2 to Maingear's system lineup, enabling a first-class gaming experience with the world's fastest video card," said Matt Skynner, corporate vice president and general manager, Graphics Business Unit, AMD. "With the AMD Radeon R9 295X2, ultra-enthusiast gamers can effortlessly run any game at maximum settings in 4K while benefiting from industry-acclaimed Mantle to maximize performance."
"When we add a new card to our lineup, we always put it through its paces, "said Wallace Santos CEO of MAINGEAR, "Our commitment to only integrating the best parts available completely represents itself in the AMD Radeon R9 295X2, the build quality of the card, the new innovative features, and the over the top performance truly earns it its place in a MAINGEAR machine."
All MAINGEAR custom build PC products are supported with lifetime labor and phone support with one to three year hardware warranty.
Last updated: Apr 7, 2020 at 12:08 pm CDT