SteelSeries, the leading global innovator of gaming peripherals, today introduced the Rival Optical Gaming Mouse. The Rival delivers unparalleled technology through an advanced optical sensor for deadly precision, along with our new proprietary switches that provide speed, consistency and durability across a 30 million-click lifespan. Rival's ergonomic right-hand design features an advanced anti-sweat coating and rubber side grips to deliver optimal texture, feel, and comfort. On top of all this great technology, the Rival offers multiple levels of customization ranging from 16.8 million color illumination options, to SteelSeries ExactTech settings all of which are powered by the new SteelSeries Engine 3 software.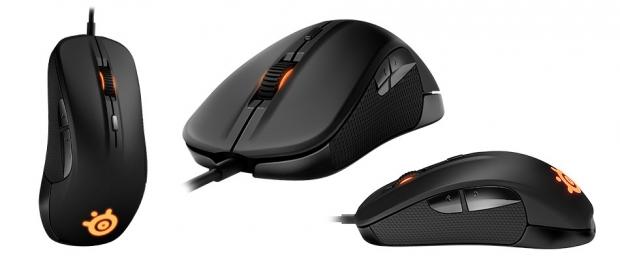 "We've named our newest optical gaming mouse the Rival, because we believe that it meets and surpasses every other optical mouse in its price bracket on the market," said Bruce Hawver, SteelSeries CEO. "The new ergonomic shape and state of the art hardware deliver unmatched levels of precision, comfort and durability. Combining this level of hardware with new SteelSeries Engine 3 software, users will find an entirely new customization experience that redefines how a mouse can be configured."
Optimized Precision & Performance
The SteelSeries Rival boasts a modern, optical sensor that delivers precise tracking at any speed. Users will find benefit in the level of precision and detail that can be configured on the Rival's hardware including resolution settings that can reach up to 6500 counts per inch (CPI) and down to one millisecond of customizable response time - that equals zero lag time. The sensor delivers zero acceleration and the ability to reach movement speeds of up to 200 inches per second at 50g of acceleration.
Delivering a professional-grade peripheral expands beyond the technology of the hardware and into the durability of its parts. The Rival is equipped with switches, engineered by SteelSeries to not only remain consistent in every click, but to provide an optimal response and feel based on extensive testing from professional gamers. The SteelSeries switches also run a lifespan of over 30 million clicks - more than any other gaming mouse on the market. The mouse also is dressed with PTFE material feet for a consistent and optimal glide across all surface types.
Ergonomic Comfort
The SteelSeries Rival Optical mouse brings users a new ergonomic, right-handed profile that is reminiscent of the SteelSeries award-winning Ikari mouse. The design behind the SteelSeries Rival combines a unique shape for comfort, injected rubber grips and a rubberized, anti-sweat coating. Its 6 programmable, ergonomically placed buttons can be quickly located.
Maximum Personalization
Moving beyond the hardware and design of the Rival, users will find an abundant amount of benefits in the customizable features and a fully personalized experience that SteelSeries Engine 3 delivers. The downloadable software suite has a consistently quick and easy start-up, operating using very little CPU and RAM resources - meaning that its been designed so that while the software is running it does not slow down and affect the users game and computer performance.
The Rival also allows one profile to be directly saved on the mouse, while SteelSeries Engine 3 allows for unlimited profiles to be created, assigned and stored directly on the computer. The software provides users with the ability to visually adjust their settings from advanced macros to sensitivity and even advanced features like cross-device macros and SteelSeries' ExactTech. These ExactTech mouse settings included:
SteelSeries ExactAim - allows the user to slow down, focus and aim

SteelSeries ExactSens - controls the levels of sensitivity

SteelSeries ExactAccel - how quickly the mouse accelerates from one point to another
The Rival also equips users with options for setting color and effects. With a choice of 16.8 million colors for two independent illuminated zones, users can assign colors and illumination modes to profiles. These color illumination modes include steady color, different speeds of pulsation, as well as ColorShift, which will rotate through a rainbow of different preset colors.
The Rival takes customization one-step further with a 3D rubber nameplate that resides on the backside of the mouse. Shipping with two interchangeable options - "SteelSeries" and "Rival" - SteelSeries is also working on a partnership with a 3D printing company to allow Rival owners the option of creating their own customized nameplates.
The SteelSeries Rival Optical Mouse is $59.99 / $59.99 MSRP and will be available for pre-order starting today.
Last updated: Apr 7, 2020 at 12:08 pm CDT