ASUS today announced the GeForce GTX 760 DirectCU II, GTX 760 DirectCU II OC, and GTX 760 DirectCU Mini graphics cards, based on the latest 28nm NVIDIA GPU technology. They use 1152 CUDA cores, and have 2GB GDDR5 on a 256-bit memory interface. Exclusive DirectCU coolers ensure up to 20% lower temperatures and twice quieter operation compared to a reference GTX 760. The DirectCU Mini design has been created especially for small form factor PCs and other situations where gamers have to consider interior chassis spacing while demanding fully-fledged performance. It uses the CoolTech fan for wider heat dissipation and lower in-case temperatures.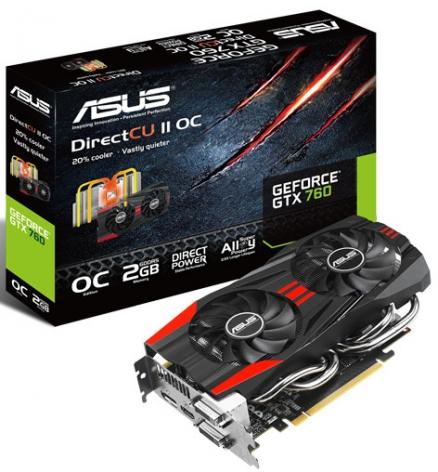 All cards feature exclusive Super Alloy Power components to enhance high load endurance and extend graphics card lifespan. They also use Direct Power architecture to increase stability, lower impedance and power delivery latency, and reduce PCB heat levels. For user-friendly overclocking, the GPU Tweak utility enables intuitive adjustment of graphics card settings.
ASUS GeForce GTX 760 DirectCU II OC: adding to the sweet spot range
Powering the latest DirectX 11 PC gaming, the GeForce GTX 760 DirectCU II OC offers customers excellent value. It runs 1072MHz maximum boost on the core and for video memory uses 2GB of 6008MHz GDDR5.
The exclusive DirectCU II cooler has direct GPU-contact copper heatpipes to speed up heat removal, and maintains up to 20% cooler performance than reference. Its dual 80mm fans have been carefully tested to ensure minimized noise, running up to twice quieter than reference requirements. The fans are also dust-proof to reduce debris accumulation. They retain peak performance over a longer lifespan than generic fans.
The card employs exclusive Direct Power architecture, which widens power delivery to offer greater graphics card stability and improved performance with diminished power latency and impedance. The PCB also operates at lower temperatures thanks to better heat spreading, with power routed through more channels than on traditional graphics card designs.
Super Alloy Power components include solid state capacitors, concrete-core chokes, and MOSFETs that use durable materials to easily withstand high temperatures and heavy compute loads. They extend average graphics card longevity by 2.5 times compared to reference.
The ASUS-exclusive GPU Tweak utility brings customers a unified and intuitive control center for overclocking and other tuning needs. Users can set up performance profiles for favorite games, change GPU and memory speeds, regulate fan operation, and define power consumption and heat thresholds.
ASUS GeForce GTX 760 DirectCU Mini: first small form factor GTX 760
Custom ASUS engineering brings the latest NVIDIA GPU technology to small form factor gaming PCs. The new card follows the successful ASUS GeForce GTX 670 DirectCU Mini, ensuring unabridged performance in a space-saving design. At only 17cm x 12cm x 4cm, the GeForce GTX 760 DirectCU Mini can easily fit even very crowded cases, and presents an optimal choice for mini-ITX discrete graphics. The core runs 1072MHz, with 6008MHz 2GB GDDR5.
Its DirectCU shroud uses a vapor chamber thermal design with flattened heatpipes for faster and more even heat dissipation. The proprietary CoolTech fan combines axial and flower-type blower operation, ensuring wider multi-directional airflow and lessened noise emissions.
Direct Power, Super Alloy Power, and GPU Tweak are included with the GeForce GTX 760 DirectCU Mini, giving customers the full complement of ASUS-exclusive features.
Last updated: Apr 7, 2020 at 12:08 pm CDT