As the leading brand in enthusiastic graphics market, Gainward proudly presents the next member of GTX 700 graphics - GTX 760 series. Gainward GeForce GTX 760 series is powered by the latest generation of breakthrough NVIDIA Kepler. GeForce GTX 760 is the new weapon of choice for gamers-a powerful graphics card that gives you the fast, smooth, quiet gaming you're looking for in all your favorite titles. It's packed with next-generation features like NVIDIA GeForce Experience and GPU Boost 2.0 that let you crank up the settings in today's most graphics-intensive games. The Gainward GTX 760 Series is lead by Gainward GTX 760 Phantom - factory over-clocked for those 1152 cores at 1137 Mhz boost clock (1072 Mhz base clock) and 2048MB GDDR5 memory at 3100Mhz - 3.2% higher than default speed, provides more memory bandwidth. Gainward GeForce GTX 760 Phantom illustrates exceptional gaming performance per Watt, in DirectX 11 gaming performance, it surpasses up to 60 % than the AMD HD 7970 board and 48% higher in DirectX 11 benchmark.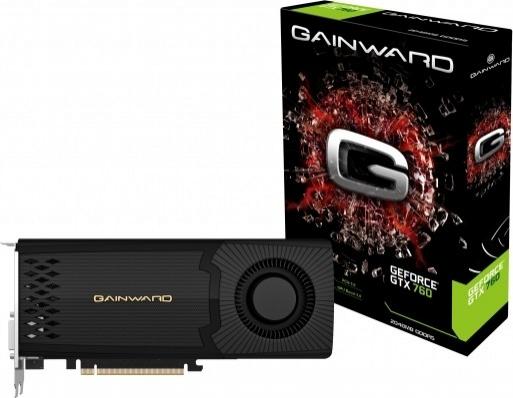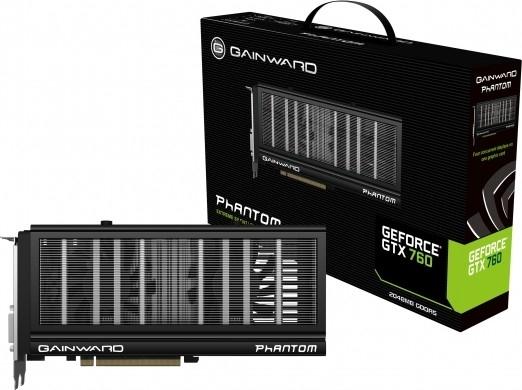 The new Phantom cooler for Gainward GeForce GTX 760 is brand-new design with "removable fan" - each fan body can be removed to clean if necessary. Furthermore, four heat pipes soldered by copper base help the GTX 760 Phantom dissipating the heat away from GPU easily and staying at very low acoustic level. The "EXPERTool" utility provides hardcore OCer the ways to trick the board for extremely over-clocking beyond the factory over-clocked speed.
Gainward GeForce GTX 760 2GB is also available for customers who have different requirement. The Gainward GTX 760 series improves on past generations to deliver significantly improved thermal performance by:
RPM-balancing filters for stable fan speeds and whisper-quiet acoustics. With the advanced thermal control, Gainward GTX 760 series can be low-power operation for a cooler-running PC.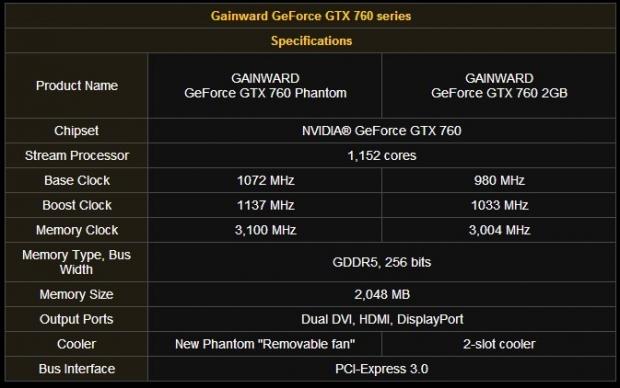 The implement of the DrMOS is to ensure Gainward GTX 760 series could handle high current with low energy loss. Furthermore, it generates less heat under heavy loading operation so the board can keep cool while over-clocking.
Gainward GeForce GTX 760 series is not only a powerful, feature-rich card but also low power and reasonable price. With Gainward superior hardware design, users will experience blockbuster games with superlative gaming thrills and enjoy the great C/P value.
Last updated: Apr 7, 2020 at 12:08 pm CDT