April 29th, 2013, China - BIWIN, the world-leading expert in the development and manufacture of NAND flash memory, announced the start of the sales for its commercial and industrial grade SSD product lines in Russia, Japan, Germany, and the U.S.A. BIWIN has accumulated a large amount of expertise in the past 18 years in the NAND Flash industry and they are one of the biggest NAND Flash related products manufacturers in China.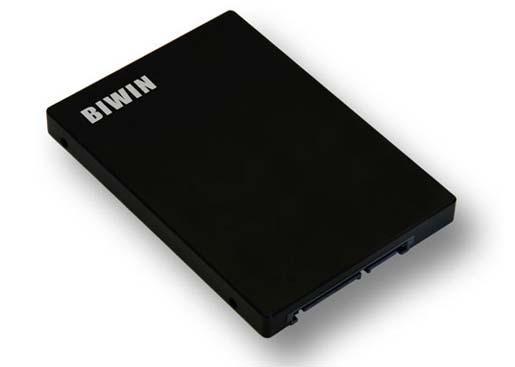 In the highly competitive world of flash memory production, quality and flexibility are two areas that BIWIN has shown a compelling track record within the industrial and commercial flash market. But the key feature of their product is not just the great specs on offer but the wide variety of customization that customers can take advantage of. This is something that traditional manufacturers are reluctant to offer.
For example, many commercial or industrial customers have unique requirements and have a difficult time finding a good match for SSDs for their particular solution. BIWIN works with special requirements to fulfill those hard-to-find cases. Design house customers often need more options to meet their clients' different requirements. BIWIN works with those OEMs/ODMs to create the right packaging and branding just for them.
Want to find a reliable supplier who can ensure product quality? With their integrated supply chain BIWIN can confer strong purchasing and sourcing power and provide close working relationships with major wafer vendors like Toshiba and Micron. BIWIN has been their top wafer customer in China for years. They have built up strategic relationships with controller vendors like LSI, Silicon Motions and JMicron, which allows them the advantage to get direct, first hand tech support.
BIWIN's one-stop solution boasts a fast lead-time with qualified products. The company can control the whole supply chain in-house from wafer to finished products. At the same time, they have a state-of-the-art factory with SSD SMT and Assembly as well as testing labs for quality and rugged environment testings. They also own a molding factory for designing special casings.
BIWIN's Wafer Packaging Service is standout service among flash memory manufacturers. Their production includes IC design, packaging, testing, and assembly. Products include TSOP48, QFN, QFP, BGA, LGA, eMMC, UDP. In order to provide a better one-stop OEM/ODM service, BIWIN set up their own semiconductor factory in 2009. With advanced equipment for the packaging process, BIWIN Semiconductor capacity reaches 14 million units per month.
Today BIWIN produces such popular devices as 1.8" and 2.5" SSD with SATA interface, 1.8" and 2.5" SSD with PATA, and 1.8" and 2.5" ZIF SSD, as well as lineups of mSATA SSD, mSATA Mini SSD, Half Slim SSD, SATA DOM, PATA DOM and USB DOM. In addition, the company also produces CFast card, eMMC and eMCP drives and a variety of dedicated flash memory solutions made to order.
In effect BIWIN is able to provide the tailor making of SSDs according to the buyer's needs. BIWIN allows customers to choose and match an industrial grade flash module based on different controllers, flash chips, operating temperature ranges and interfaces.
On the controller front, BIWIN offers more than 20 different models of controllers and can even bring in new controllers as per a customer's request. BIWIN has established a strategic relationship with Taiwan controller company SMI and Jmicron. BIWIN is LSI's golden firmware members. This allows them the advantage to get direct, first hand tech support. As for flash chips, they can not only source original SLC and MLC flash chips from TOSHIBA and Micron, but also package their wafers into flash chips in-house.
For temperature range options, they use industrial grade controllers and test and source out the highest quality flash chips. SSDs can be made to cover three grades of operating temperatures: (0 to 70C), (-20 to 70C), or (-40 to 8C).
To insure the quality, they do testing using state-of-the-art facilities and specialized equipment. Because of their facilities, the quality control at BIWIN allows the testing for every piece of product with multiple checks including the world leading testing device, the FLEXTAR F-500B. BIWIN can offer flexible MOQ (minimum order quantity), flexible product solutions.
As for the service offered to industrial customers, BIWIN stands out among the competition. They provide flexible MOQ and a flexible cooperation mode for distribution or for your own brand. Their sales and marketing is ready to listen and is open to new ideas.
By providing a wide range of choices of commercial and industrial grade SSDs or by designing the kind the customers need, BIWIN is not only providing products and services, but they are also offering greater possibilities.
To learn more about BIWIN's products, or to inquire about distribution opportunities for the industrial market in the USA, Japan, Germany, or Russia, visit them at http://www.BIWIN.com.cn
Last updated: Apr 7, 2020 at 12:08 pm CDT