FREMONT, California-January 17, 2013-Corsair, designer of high-performance PC hardware components, today announced the Hydro Seriesâ"¢ H110 and H90 liquid CPU coolers. With huge radiator cooling surfaces areas of 280mm and 140mm respectively and specially designed 140mm low-speed, high static pressure fans, the new coolers deliver superior CPU cooling and quieter operation than smaller 120mm designs.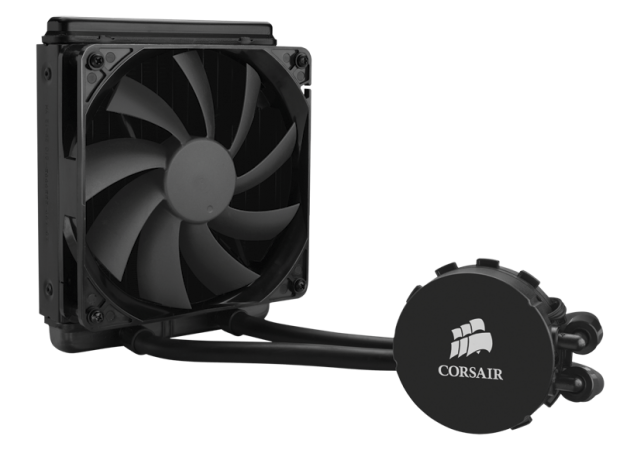 The Hydro Series H110 is a low-noise, high-performance liquid CPU cooler with a double-length 280mm by 140mm radiator. The H110 radiator's large surface area provides more contact room for heat dissipation and for side-by-side mounting of dual fans. Each fan is a specially-designed low-speed 140mm static pressure fan, which moves much more air per decibel of noise than 120mm fans. Combined, the larger radiators and lower fan-speeds produce better performance with much lower noise levels than smaller 120mm dual-fan coolers. The H110 fits cases with dual 140mm top fan mounts and 20mm screw spacing.
The Hydro Series H90, like the H110, is a low-noise, high-performance liquid CPU cooler, but with a more compact square 140mm radiator and a single 140mm static pressure fan. The large radiator and spacious surface area combined with lower fan-speeds produce better performance than smaller 120mm single fan coolers with lower noise. The H90 is compatible with many cases with a rear or top 140mm fan mount.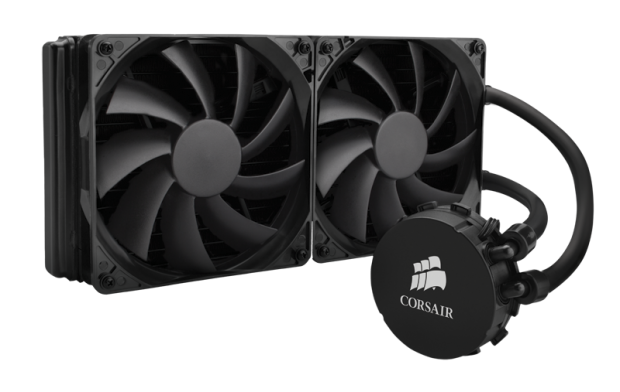 The Hydro Series H110 and H90 liquid coolers feature an enhanced copper cold plate with soaks up heat more efficiently than previous generation designs. Both coolers are compatible with most modern CPU platforms including AMD AM2, AM3, AM3+, FM2 and FM1 and Intel LGA 1155, LGA 1156, LGA 1366, and LGA 2011.
"Many PC enthusiasts choose liquid cooling for its extreme cooling efficiency and quiet operation," said Thi La, Senior VP and GM of Memory and Enthusiast Component Products at Corsair. "To take liquid cooling the next level, we super-sized the Hydro Series H110 and H90, providing users our best cooling-to-noise ratio ever."
Pricing and Availability
The Corsair Hydro Series H110 and Hydro Series H90 liquid coolers are immediately available from Corsair's worldwide network of resellers and distributors. Suggested retail prices in the United States are $129.99 for the H110 and $99.99 for the H90.
For more information on Corsair Hydro Series Liquid CPU Coolers, please visit:
http://www.corsair.com/us/cpu-cooling-kits/hydro-series-water-cooling-cpu-cooler.html
Last updated: Apr 7, 2020 at 12:07 pm CDT