RocStor Unveils AMPHIBIOUS X5 Ruggedized Hardware Encrypted Storage
Jan 10, 2013 6:15 AM CST
ROCSTOR, a leading provider of fast, high-capacity data storage and encryption solutions, announces the launch of Amphibious X5. The Amphibious X5 is a secure, ruggedized portable hard drive with real time hardware encryption and offers advanced single-factor authentication, USB and FireWire 800. In addition, the crypto module is FIPS 140-2 certified.
The Amphibious is considered as one of the most secure and user-friendly devices in the world for size, strength of encryption, and method of authentication. It offers users the option of using the device in a cross platform and Operating System independent fashion, and no GUI or software installations required. The Amphibious is the result of a year of intensive R & D effort and collaboration. For the user it offers the value of data security by using an original concept of single-factor authentication, real time hardware encryption, and futuristic design sense. The Amphibious X5 is appropriate for consumers, SOHO's, enterprises, institutions, military and government applications who want to store data in a secure manner.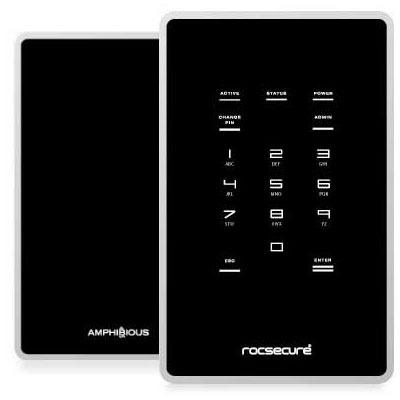 "Amphibious is Rocstor's latest replacement device on steroids. Designed to be used in consumer, enterprise, institutional, military and US governmental applications, it is the most secure and innovative data-at-rest device on the market today, and comes in a compact size and attractive design," states Asher Ghadoushi, Director for Rocstor. "One of the most distinctive features is that the Amphibious X5 is as secure as Amphibious X7 (with standard Smartcards;) however it incorporate only password authentication on the device; it uses the NITS and FIPS 140-2 validated crypto module for real-time hardware encryption; and allowing users to swap out different brands of hard drives or SSD's."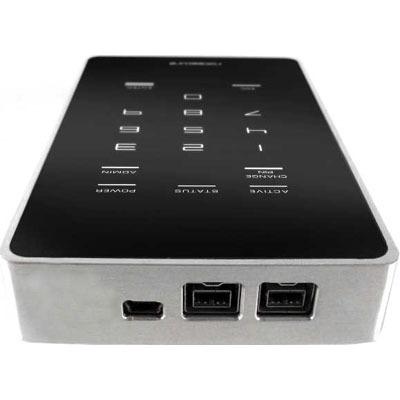 The Rocsecure Amphibious X5 Ruggedized external pocket mobile hard drive is one of industry's most versatile, Real-Time, Hardware Encrypted storage solutions available with FIPS (US Federal Information Processing Standard) 140-2 Level 3 Cryptographic Engine validated for Physical Security. The Amphibious X5, with USB and 2x FireWire interfaces offers security-sensitive users a wide range of NIST certified DES (Data Encryption Standard) and AES encrypted algorithms. The Amphibious 2.5" ultra-slim drive is designed with AES-256 bit real-time hardware data encryption security performance to effectively intercept, interpret, translate and relay SATA data commands to and from disk drives in "Real-Time". All our Amphibious product lines are designed with new shock-absorbent Damper Strip protection. Rocsecure drives offer the technologies you need to keep you data secure and safe.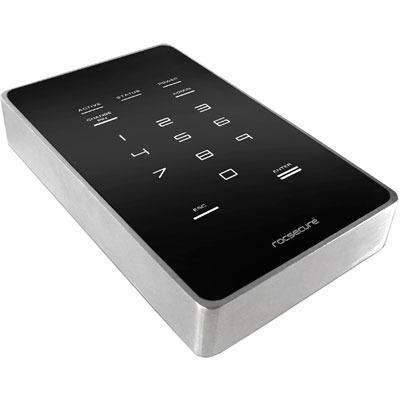 Additionally, the encryption contains "ECB" or "CBC", which are one of the most secure encryption modes available today. This drive is both bus"powered and bootable." The new AMPHIBIOUS X5 with key"Token authentication Pocket Drives contains a fast, high capacity 2.5" SATA drive mechanism; with up to 5,000Mbits/sec transfer speeds and silent operation.
Design Technology:
The first of its kind in Ruggedized design; The AMPHIBIOUS series Pocket Drive is designed to satisfy sophisticated Military and Government requirements and provides unprecedented quality for the consumer as well. The AMPHIBIOUS X5 is compatible with both Mac and Microsoft Windows" OS.
The ruggedized and enduring Aluminum chamber and shock"absorbent (patent in process) casing protect the drive against impact damage, accidental drops and bumps. These outstanding design features prolong product life and protect data integrity under the toughest working environments.
Wide Range of Applications:
Operating with Mac OS, Linux and Windows, this external drive offers storage capacities ranging from 64GB, 512GB Solid State (DDS) and 250GB to 1TB (HDD) as well as "plug"and "play" capability with hard drive speeds of up to 7,200rpm. This allows users to quickly back up or archive valuable data, large video files and digital photo collections.
Special Features:
Ruggedized Pocket size external storage drive

Encryption:

AES-256 bit, ECB Mode (CBC mode is optaional)

NIST and 140-2 Cryptographic Engine validated

Hardware based (not a software imbeded in a chip)

Real-Time (No, down time in encryption or decryption)

No software is required

Independent of Operationg Systems
Robust and tough Aluminum Casing

Enhanced Shock-Absorbent casing despite its small size

Incorporates SATA Hard Drive

USB 2.0 and FireWire 800 connections

Bus powered and Bootable

Speeds up to 800 Mega Bytes per second

Compatibility - Mac or Windows or Linux ...

Includes all necessary cables
Specifications:
Encryption: AES-256 Bit Real-Time Hardware encryption

Authentication: Digital Keys

Capacities: Hard Disk Drives = 500GB, 750GB and 1TB

Solid State Drives = 64GB, 128GB, 256GB and 512GB

Rotational Speeds: available with 5,400 or 7,200 rpm HDD and 250 MB/sec+ SSD

Interface: High Speed USB 3.0 (2.0 compatible) and eSATA

Transfer Rates: Up to 800 Mb/s FW800 and up to 480 Mb/s USB 2.

Dimension: ~2.9 x 5x 0.7 inch ~75 x 12.7 x 19 mm

Weight: ~0.5 lb (~0.2Kg) or less
Last updated: Apr 7, 2020 at 12:07 pm CDT
PRICING: You can find products similar to this one for sale below.

United States: Find other tech and computer products like this over at Amazon.com

United Kingdom: Find other tech and computer products like this over at Amazon.co.uk

Australia: Find other tech and computer products like this over at Amazon.com.au

Canada: Find other tech and computer products like this over at Amazon.ca

Deutschland: Finde andere Technik- und Computerprodukte wie dieses auf Amazon.de
Related Tags