Turtle Beach, U.S. based pioneer and market-leader in gaming headsets, is showcasing its new high-end wireless and SEVEN Series wired gaming headsets during the International Consumer Electronics Show (CES), at the Las Vegas Convention Center, South Hall 1 - Booth #20618, from January 8 to 11, 2013. The new line-up reinforces Turtle Beach's commitment to portability - headsets that are designed to work across consoles, PCs and mobile devices - and represents a strategic expansion in the PC and mobile categories. All of Turtle Beach's gaming headsets feature the sound quality and comfort that have made the company No. 1 in the industry.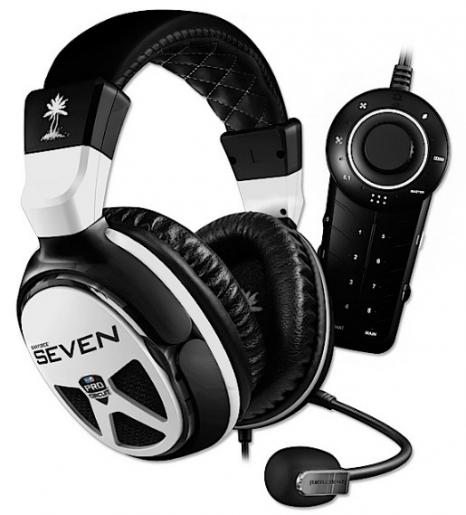 The New High-End Headsets for the Wireless Gaming Category
Ear Force XP510 for Xbox and Ear Force PX51 for PlayStation 3
Already the best-selling premium wireless headset company, two new models expand Turtle Beach's high-end for wireless gaming. Featuring Turtle Beach's proprietary digital signal processor (DSP), Dolby Digital surround sound, Dual Band Wi-Fi for an interference-free connection, a rechargeable lithium polymer battery and Bluetooth technology, the Ear Force XP510 and Ear Force PX51 are the most technologically advanced headsets ever designed for console that are also perfect for gaming, movies and music on mobile devices.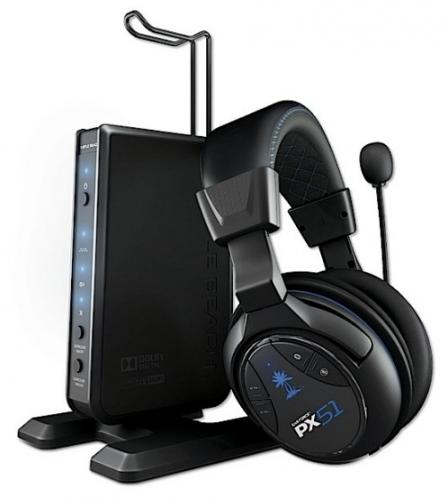 With Bluetooth enabling cable-free wireless chat, the Ear Force XP510 and PX51 headsets allow gamers to take phone calls and stream music easily. Immersive Dolby Digital surround sound while playing games or watching movies ensures an audio experience that rivals even the highest-end home theater sound system. Powered by a rechargeable battery with a 15 hour lifespan, these headsets deliver signal processed sound for uncompromised audio across any entertainment scenario. These two models continue the evolution of a new breed of wireless gaming headset that serves as the ultimate "secret weapon" in the arsenal of serious gamers seeking unmatched audio quality, sonic control and a competitive advantage.
XP510 MSRP $289.99; Availability Q1 2013

PX51 MSRP $269.99; Availability Q1 2013
Ear Force SEVEN Series
Tournament-grade quality and functionality is now available for everyone.
2013 marks the much-anticipated release of Turtle Beach's SEVEN Series, the ultimate option in versatility for avid gamers on the move. Featuring the most precise and powerful tournament-grade audio headsets, first announced at the 2012 Entertainment Electronics Expo, the Ear Force XP SEVEN for console gaming; Z SEVEN for PC gaming; and M SEVEN for mobile gaming comprise the SEVEN Series and raise the bar for wired headsets.
The SEVEN Series provides total portability to meet the cross-platform needs of active gamers by leveraging a modular design for total performance control.
Using unique interchangeable cable kits, the SEVEN Series uses the same headset across any platform - console, PC, Mac or mobile - and delivers a high-quality audio experience. A removable boom microphone and in-line microphone provide additional flexibility.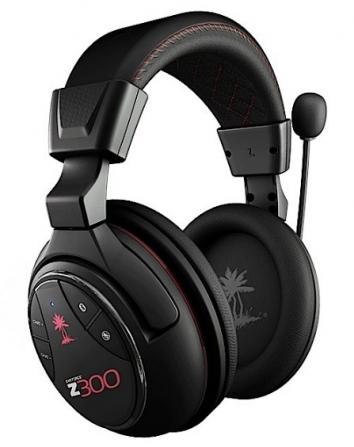 The SEVEN Series headsets for console and PC come with Turtle Beach's state-of-the-art, touch capacitive Audio Control Unit which gives players the ability to instantly change the mix of game, chat and microphone audio levels to provide a competitive advantage in changing game situations. Using Turtle Beach's Advanced Sound Editor (ASE), gamers can also replace the standard audio presets with up to eight game and eight chat audio presets - for over 64 possible preset audio mixes - to match their personal or team preferences. Audio presets to enhance the audio quality of music and movies are also available via Turtle Beach's thriving audio preset community.
Complementing the SEVEN Series gaming headsets is the TM1 audio mixer designed for console and PC use. Optimized for LAN multiplayer gaming, the TM1 enables tournament-grade quality and functionality for consumers and tournament organizers. The TM1 offers communication for up to six players on the same team, or two teams of three players, as well as a number of input and output features such as a broadcast feed. When combined with the Audio Control Unit, the TM1 represents the most powerful revolution in game tournament audio to date.
The SEVEN Series is the official audio headset platform for Major League Gaming.
XP SEVEN MSRP $279.95; Availability Q1 2013

Z SEVEN MSRP $249.95; Availability Q1 2013

M SEVEN MSRP $149.95; Availability Q1 2013

TM1 MSRP $249.95; Available now
Turtle Beach Upgrades PX21 Headset and Releases Ear Force PX22
Turtle Beach is announcing the Ear Force PX22, a universal wired headset that upgrades the Ear Force PX21 to offer additional benefits for an enhanced gaming experience. Licensed by MLG, the high performance PX22 features cross platform capabilities and amplified stereo sound. It will also offer variable Bass and Treble Boosts, Dynamic Chat Boost and a 4-pole connector for compatibility with mobile devices. By strengthening its feature set and usability, the PX22 will upgrade the overall experience of the popular Ear Force PX21. First launched in 2009, the PX21 ranks as the #4 best-selling third-party gaming headset of all time according to the NPD Group.
Ear Force PX22 MSRP $79.95; Availability Q2 2013
New Range of Headsets Arrive and Boost PC Gaming Audio
Ear Force Z SEVEN, Ear Force Z300 and Ear Force Z22 for PC gaming
In 2013 Turtle Beach is releasing a collection of gaming headsets that will provide superior quality, comfort, control and customization to meet the unique needs of PC gamers. From the SEVEN Series, the Z SEVEN will be the first gaming headset available for gamers in need of a tournament grade audio that can also deliver an extraordinary experience with movies and music.
Gamers are increasingly playing across multiple screens, with 24 percent regularly gaming on a console, PC and or mobile device in 2011. The world's largest competitive video game league, which exclusively uses the Ear Force SEVEN Series PC and console headsets, Audio Control Units and TM1 tournament mixers during all MLG Pro Circuit tournaments. For the first time in Q1 2013, consumers will be able to purchase this tournament-grade equipment for home use.
The Z300 headset further supports Turtle Beach's commitment to PC gaming with an advanced wireless solution that includes high-end features such as Dual Band WiFi for an interference-free connection, a rechargeable lithium polymer battery with a 15 hour lifespan and Bluetooth technology. The Z300 is the only Bluetooth enabled PC headset capable of answering calls or streaming music via a mobile device while playing a game.
Lastly, Turtle Beach is releasing the new USB powered Z22 headset for PC gamers in search of a high value audio experience. With full mobile compatibility and analog inputs, the Z22 is the first PC headset featuring Chat Boost, variable Bass and Treble Boost for a powerful audio performance across the sonic spectrum.
Both pricing and availability for the Ear Force Z300 and the Z22 headsets will be released in the coming months.
Last updated: Apr 7, 2020 at 12:07 pm CDT