Kontron launched today the feature-packed, yet highly cost-efficient, embedded Flex-ATX motherboard KTA75/Flex based on the new AMD Embedded R-Series Accelerated Processing Unit (APU) and the AMD A75 controller hub. It is designed for graphics intensive and highly parallel embedded computing applications and provides outstanding, long-term stability and reliability due to its sophisticated board layout with long-term stable solid capacitors and a high-quality selection of components.
With its integrated discrete-class AMD Radeon HD 7000 Series Graphics it delivers leading edge 3D/HD graphics and accelerated processing capabilities together with the ability to drive up to four displays simultaneously, either as independent displays, or as a single large surface. This makes the long-term available Kontron KTA75M/Flex an ideal solution for applications requiring high graphics and/or parallel computing performance in markets such as industrial automation, medical, and POS/POI, digital signage as well as gaming.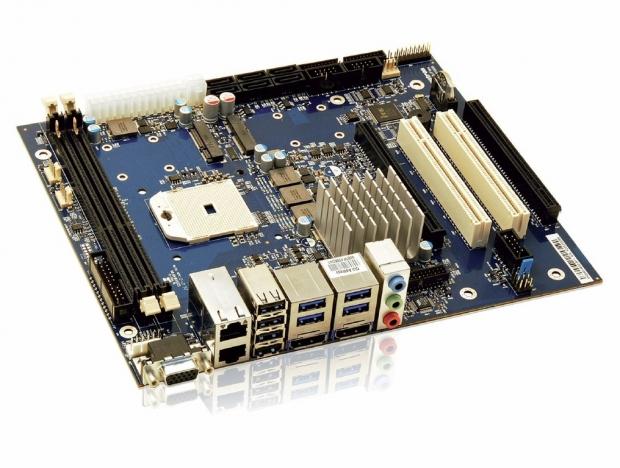 Developers can furthermore utilize the up to 563 GFLOPs provided by the integrated GPU to accelerate both graphics- and compute-intensive applications while using industry-standard libraries such as OpenCL, DirectX 11 and DirectCompute, which help to minimize development times and simplify design-in processes. Even despite its high graphics and computing performance, the APU's thermal design power is moderate, ranging from 17W to only 35W for the top line AMD R-464L APU. But this value is hardly to be reached, as even the 35W version draws only 13W when running the 3DMark06, for example, which makes the new Kontron motherboard an energy efficient solution for high performance embedded designs.
The feature-packed embedded motherboard provides OEMs and developers everything they need for their individual applications directly off the shelf: It not only supports a massive amount of serial I/Os such as USB 3.0 and PCIe, but also remains backwards compatible by providing standard PCI interfaces as well RS232 pin rows. Additional flexibility is provided by the embedded feature connector, which features 160 GPIOs, eliminating the need for individual I/O boards and thus reducing the bill of material and development time.
For enhanced security, the Kontron KTA75/Flex integrates a Secure Asset Management Unit and a Trusted Platform Module 1.2, allowing for hardware-assisted encryption/decryption of content, enabling less CPU overhead and lower power when dealing with protected content.
The features in detail:
The Kontron embedded Flex-ATX motherboard KTA75/Flex offers a maximum of 32 GB RAM. It is available with dual-core and quad-core AMD Embedded R-Series APUs up to the R-464L (2.3 GHz, 3.2 GHz in turbo mode) delivering an optimized balance between performance and power consumption. Connections for video include 2x DisplayPort (DP) and 1x VGA. Additional displays can be connected either via DP "daisy chain" or with an optional DP add-on card. In terms of expansion cards it features 1x Gen 2.0 PCI Express x16 PEG port and 1x Gen 2.0 PCI Express x4 slot, 4x USB 3.0, 10x USB 2.0, and 2x GbE-LAN allowing for extensive peripheral and networking options. A wide range of storage media can be connected via the five SATA600 interfaces with RAID 0/1 functionality and one mSATA (mini-SATA) socket for state-of-the-art, on-board SSD.
Operating system support is provided for Windows 7, Windows Vista, Windows XP, Windows Embedded Standard 7, VxWorks, as well as Linux (Red Hat Enterprise, Novell SuSE Linux Enterprise, Red Flag Linux and Wind River Linux, among others). First samples of the new Kontron embedded Flex-ATX motherboard KTA75/Flex are available now and series production will start in Q4.
For more information, visit the product page.
Last updated: Apr 7, 2020 at 12:07 pm CDT