HighPoint, an industry leading Storage HBA and solutions manufacturer, announces the availability of its latest 6Gb/s SAS RAID product line, the RocketRAID 4500 series RAID-on-Chip HBA's. HighPoint's RocketRAID 4500 Series RAID-on-Chip HBA's deliver best-in-class performance and significant cost savings over comparable hardware RAID HBA's. The onboard RAID processor and integrated memory maximize performance and reliability, while a comprehensive suite of management and recovery features designed to secure critical data investments.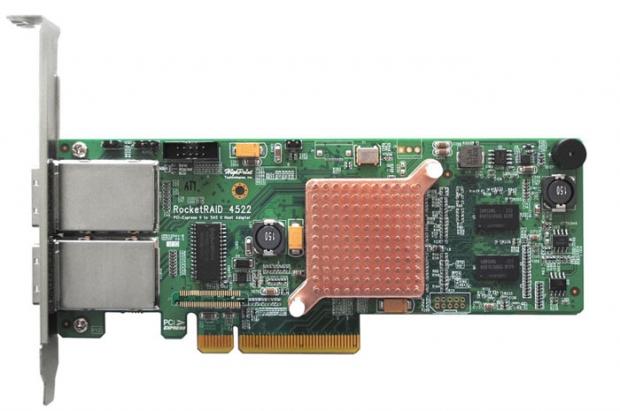 HighPoint 6Gb/s SAS Hardware RAID Solutions
RocketRAID 4500 series HBA's were designed to address the needs of I/O intensive applications that employ high-capacity storage configurations. The dedicated 800MHz, 6Gb/s SAS RAID-on-Chip processor and 512MB of onboard DDR3 cache memory, offloads RAID processing from the system hardware, freeing up valuable system resources.
Industry standard Mini-SAS connectors directly support up 8 SAS/SATA hard drives and SSD's, and up to 128 devices in cascade configurations when used in conjunction with SAS Expander devices. RocketRAID 4500 series HBA's provide an unprecedented level of reliability with an extensive selection of security, recovery, and maintenance features. The optional battery backup unit improves recovery times and secures valuable data for up to 72 hours in the event of a power outage or severe non-storage related hardware failure.
HighPoint's innovative RAID Recovery tool protects storage configurations by securely storing multiple copies of RAID meta-data, which administrators can utilize to quickly restore a failed or disabled RAID array.
Designed for I/O Intensive Applications - Industry's best Cost-Performance Value
RocketRAID 4500 series HBA's are ideal for storage-intensive applications that require high I/O performance without sacrificing valuable system resources. The dedicated RAID processing hardware and storage redundancy features eliminate the performance loss imposed by resource-hungry applications. RocketRAID 4500 HBA's are capable of sustaining transfer speeds in excess of 1200MB/s for single and dual-redundancy RAID configurations, providing the ideal platform for high-density, I/O intensive storage applications including digital content creation and media post production.
The RocketRAID 4500 represent's the industry's best Cost-to-Performance Value; they deliver the superior reliability, maximized performance and comprehensive management features expected of hardware RAID solutions, yet are priced as much as 50% below that of competing host adapters!
Easily integrate into PC and Mac Platforms
RocketRAID 4500 series HBA's deliver immediate support for the latest operating system platforms, including Windows 8 and Mac O SX 10.8 Mountain Lion. Solution-Ready software packages are available for the entire RocketRAID 4500 product range, and allow administrators to quickly integrate RAID storage into a wide-range of hardware and software environments. Device drivers are readily available for all major PC software platforms including Microsoft Windows, FreeBSD, and Open source Linux distributions.
Availability and Pricing
RocketRAID 4520 HBA's and HPTBBU-05 battery backup units are currently available from HighPoint's world-wide network of Distribution and Retail channels. The RocketRAID 4522 will be available in the first half of November 2012.
Distribution Channels: ASI, Avnet, D&H Distribution, MaLabs, E-Commerce Channels: Amazon.com, Amazon.ca, B&H, Newegg.com
MSRP:
RocketRAID 4520 MSRP: USD$ 429.00

RocketRAID 4522 MSRP: USD$ 579.00

HPTBBU-05 MSRP: USD$ 129.99
Last updated: Apr 7, 2020 at 12:07 pm CDT