Today, renowned software manufacturer Ashampoo releases the next generation of Ashampoo Snap, a product that has already been downloaded and used by millions to create, edit and publish screenshots and videos. Particularly noteworthy features of this latest version include improved overall handling and usability, increased performance due to support for multi-core processors and a brand-new 1-Click web upload feature for instant publication of your work.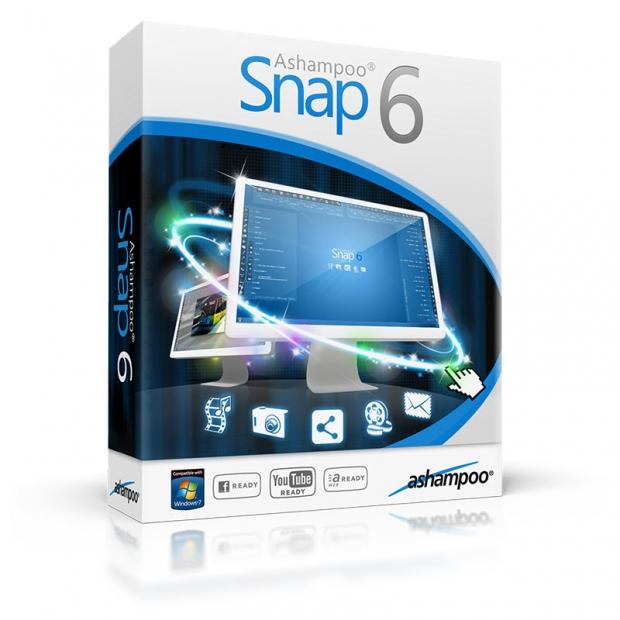 Quick Summary:
Ashampoo Snap 6 - The ideal tool to capture, edit and publish screen contents

New: Uploading of screenshots to Ashampoo Snap webspace

New: Readjustable dynamic objects like watermarks and drop shadows

New: Faster, more productive and compatible through numerous improvements

New: Multi-core processor support

New: Real-time editing and live preview

New: Revised capture bar for smoother workflows

New: 1-Click web uploads

Price: $19.99
Ashampoo Snap 6 runs on Windows 8
In view of the coming release of Microsoft Windows 8, our developers made sure Ashampoo Snap 6 plays nicely with Windows 8. Capturing on the desktop and within Metro apps as well as the new Internet Explorer 10 is already supported in our latest version of Snap.
"User-generated content on video portals is growing immensely and our product makes it exceptionally easy for users to create and upload desktop videos. This is why Ashampoo Snap 6 will continue to become even more relevant to both our users and to us. We have put a lot of effort into the product and we are convinced it will show both in terms of quality and success." says leading developer Nikolaus Brennig.
Rapid screenshot sharing through Ashampoo Snap Webspace
Ashampoo Snap 6 supports instant 1-click web uploading, no login required. Either distribute the weblink directly or share it via email, social networks or instant messaging services, all accessible right from the webspace page.
Extensive editing support with dynamic objects
Once created, screenshots may be edited and customized. Ashampoo Snap 6 supports real-time editing, e.g. of watermarks, drop shadows, time stamps, transitions and more.
Numerous additional improvements and revamped design
During the development of Ashampoo Snap 6, a great deal of time was spent increasing the speed and usability of the product. With full support for multi-core processors, operations now literally happen in a snap and the new intuitive user-interface turns complex tasks into self-explanatory 1-click actions. Where appropriate, visual cues provide useful pointers and live previews offer instantaneous feedback for all real-time adjustable effects and settings, always undoable, naturally. Another useful addition is webcam recording, especially handy to create tutorials. Publishing your work has never been faster and easier.
Home user or professional - Ashampoo Snap 6 offers virtually limitless possibilities
Ashampoo Snap 6 covers a wide range of applications. Home users may create collections, e.g. of favorite recipes or holiday pictures, visualize genealogical research or document bank account transactions. Professionals can use Ashampoo Snap 6 to create instructional videos for their employees or enhance the design of presentations, simple and straightforward. Millions of home and professional users worldwide have already come to appreciate the many benefits of the product.
A single license costs USD 19.99.
Please download the trial version of Ashampoo Snap 6 here.
Last updated: Apr 7, 2020 at 12:07 pm CDT