GIGABYTE, a leading manufacturer of motherboards and graphics cards, is excited to kick off GIGABYTE "Real Graphics, True Gaming" Tech Tour 2012. GIGABYTE will start the Tech Tour from Taiwan on April 20th with an exciting announcement of several whole new products. As for last year, GIGABYTE presented a perfect gaming environment for hardcore gamers; this year, GIGABYTE is going to upgrade it even more!! With the latest 28nm fabrication process GeForce® GTX 680 GPU, GIGABYTE will unveil their own-designed GTX 680 Super Overclock Edition. Thanks for all the supports from gamers, GIGABYTE will also announce their new Aivia gaming keyboard and mouse, and wireless HD sync device during Tech Tour.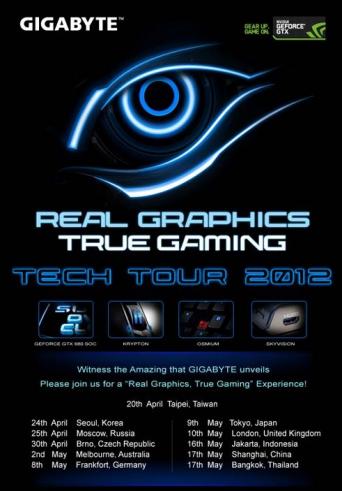 The tours are to promote the best products dedicated for serious gamers, especially new GIGABYTE's flagship GeForce GTX 680 Super Overclock SeriesTM, with innovative WINDFORCETM 5X cooling technology. To satisfy users who pursue higher performance with a larger screen when enjoying gaming and video entertainment, GIGABYTE will also introduce Aivia new gaming mouse "Krypton", the innovative new mechanical keyboard "Osmium" and the new product line of GIGABYTE peripherals - WHDI "SkyVision".
After successfully launching GIGABYTE Tech Tour from 2010, this year GIGABYTE still persists with the concept of "Real Graphics, True Gaming" to offer gamers a higher quality of gaming environment by GIGABYTE's best solutions. During Tech Tour 2012, GIGABYTE will communicate with worldwide manufactures, media, business partners, and users directly by traveling 11 major cities across 4 continents from April through May. The series events will start from Taiwan, and 10 more will be held in: Seoul (Korea), Moscow (Russia), Brno (CZ), Melbourne (Australia), Frankfurt (Germany), Tokyo (Japan), London (UK), Jakarta (Indonesia), Shanghai (China), and Bangkok (Thailand).
For more news about GIGABYTE Tech Tour 2012, please visit our website: http://www.gigabyte.com
Last updated: Apr 7, 2020 at 12:06 pm CDT