TAIPEI, Taiwan, February, 23, 2012 - Gamers need so much more from their PCs! With this concept in mind, Johnathan "Fatal1ty" Wendel worked closely with ASRock engineers to develop a well-featured motherboard based on the exciting Intel X79 chipset. Equipped with top-class components, the new ASRock/Fatal1ty X79 Professional was designed to exceed expectations of even the most dedicated gamer!
"This Fatal1ty motherboard was designed to bring your gaming performance to the highest level. The Fatal1ty X79 Professional comes with a Fatal1ty Mouse Port that delivers the precise control needed to elevate your game." said Fatal1ty. "In addition to gaming functions, the board packs 4 PCIe 3.0 slots, supporting up to 4-Way SLI and 4-Way CrossFireX. This combination will make you deadly and feared in the battlefield."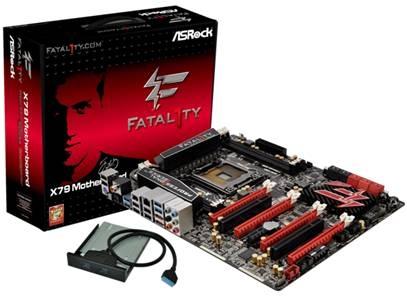 James Lee, VP of ASRock Sales and Marketing commented "ASRock-Fatal1ty motherboards represent quality. This board is crammed full of features like XFast 555 and F-Stream. The blistering performance will satisfy users who require both overclocking and gaming needs."
XFast 555 Technology : XFast RAM / XFast LAN / XFast USB
ASRock endeavors in delivering the most trusted motherboard products and most convenient software kits to users. Not only focusing on facilitating operating speed, ASRock XFast 555 technologies also increase system performance significantly and provide an enhanced computing environment.
XFast RAM will create a virtual disk from the system memory to boost the system performance for Photoshop. It can even perform 5X faster than before. XFast LAN can lower latency in game after setting online game priority higher and drive 5X faster performance for gamers. XFast USB is the world's fastest USB transfer technology and provides up to 5X faster performance boost in USB data transfer speed.
Digi Power / 16 + 2 Power Phase
Digi Power provides CPU Vcore voltage more efficiently and smoothly. The advanced 16 + 2 power phase offers sturdy components and unmatched overclocking capability.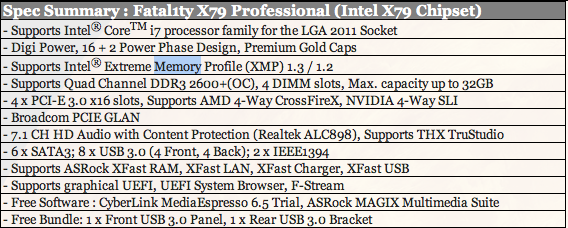 Premium Gold Caps / 4-Way SLI, 4-Way CrossFireX
Premium Gold Caps are 100% Japan-made solid capacitors. These caps are sleek, high gloss caps with a premium gold coating representing long life and stable performance. The board comes with 4 x PCI-E 3.0 slots supporting Nvidia® 4-Way SLI™ and AMD 4-Way CrossFireX™.
Fatal1ty Mouse Port
A customizable technology for PC gamers who use F-Stream; with an adjustable wide range of mouse polling rates from 125 Hz to 1000 Hz. Gamers can now obtain the most precise control of their mouse.
Get The Optimized Result : DDR3 2600+ (OC)
The high-performance X79 Professional motherboard was also designed to unleash the maximum performance of memory modules. Testing reveals support for up to an incredible DDR3 2624(OC) MHz. As below figure shows, the system has very powerful OC capability and is stable enough to completely run all the Hyper PI tests.
This astonishing performance unlocks the full potential of Intel's X79 platform and allows users to get the highest quality memory performance from a PC.
Last updated: Apr 7, 2020 at 12:06 pm CDT