NORFOLK ISLAND, 17 February, 2012 - Panasonic has released the latest generation of its 'best in class' tough camera, the LUMIX DMC-FT4. This camera is the perfect match for outdoor adventurers and holiday makers, and combines outstanding toughness with high-quality, high-speed imaging.
Waterproof to 12m, shockproof to 2m, freezeproof to -10º C and dustproof, the DMC-FT4 is equipped with a built-in GPS system, compass, altimeter and barometer. This camera can accompany rugged outdoor activities, whether it be diving, snorkeling, surfing, climbing, skiing or snowboarding.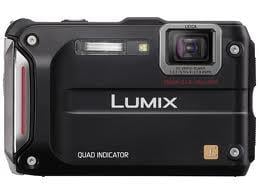 The camera captures great images, with a LEICA DC VARIO-ELMAR lens using folded optics, a 28mm wide angle lens and Sonic Speed AF to catch the most fleeting shooting opportunities. Full High Definition (HD) 1920 x 1080 movie recording is conveniently available in both AVCHD and MP4.
For more creative freedom, users can now manually set shutter speed and aperture for the first time. There are also a number of new shooting modes available on the camera. With Time Lapse Shot, the photographer sets the start time, the interval and the number of pictures to shoot, and the camera automatically records images. Miniature Effect[iv] creates the look of a diorama; and Panorama Shot makes it possible to capture a 360º horizontal/vertical panoramic image by overlaying consecutive shots. At the press of a button, Auto Retouch adjusts contrast and brightness if you want to improve the photo you just took.
Ms Aki Yamamoto - Product Manager, LUMIX, Panasonic Australia, said: "Panasonic was the first to focus on offering high image quality with its Tough range. With the FT4, Panasonic builds on the features of the successful FT3 and adds a creative edge to outdoor photography. It offers a high-quality LEICA lens, fast AF, Full HD in both AVCHD and MP4, as well as new creative features - all in a tough body."
In Intelligent Auto (iA) mode the camera does all the work, leaving the user free to compose shots and capture moments. Just press, aim and shoot. iA features include POWER O.I.S, AF Tracking, Intelligent ISO Control, Face Recognition, Intelligent Scene Selector and Intelligent Exposure.
LUMIX Image Uploader allows instant image and movie sharing via Facebook© or YouTube™ with any PC. The 3D Photo mode produces realistic 3D images. Take 20 panning shots and the camera automatically selects the two most suitable images - one for the right eye and one for the left eye - to produce a 3D composite. The 3D images can be viewed on a VIERA 3D HDTV or played back on other MPO-compatible 3D equipment such as TVs, digital photo frames or printers.
LUMIX DMC-FT4 RRP $449 Available April 2012
Black, silver, blue and orange
Key features
Tough body with rugged design and a host of functions for outdoor excitement
The DMC-FT4 is waterproof to a depth of 12 metres and dustproof equivalent to the 'IPX8' and 'IP6X' standards. Incorporating rubber padding and reinforced glass inside the camera, the DMC-FT4 features an airtight body protected against water immersion, dust and sand. With a minimised apertural area, the DMC-FT4 boasts tight sealing strength to withstand underwater pressure. The camera is also compatible with an optional Marine Case (DMW-MCFT3) that is waterproof down to 40m.
The DMC-FT4 is drop proof from a height up to two metres in accordance with the "MIL-STD 810F Method 516.5-Shock" test standard. The camera is reinforced with shock-resistant material and also uses folded optics to prevent damage to the lens unit if dropped during operation. The lens unit is protected by a supplementary damper to absorb the force from shock impact.
All components including the lens unit are designed so that the DMC-FT4 is freezeproof to temperatures as low as -10º Celsius.
The DMC-FT4 can show and record altitude combined with GPS data[v]; barometric pressure including an underwater depth indicator; and orientation data. The GPS function shows the name of the country, state, city and key landmarks using the internal data library, giving users real-time information to locate where the photo is being taken. Great for holiday makers, the area information covers 203 countries or regions for global users, plus more than 1,000,000 landmarks across 82 countries or regions are in the database.
28mm wide-angle LEICA DC Lens, 12.1-megapixel Hi-Speed CCD and high performance Venus Engine for outstanding picture quality
The DMC-FT4 incorporates a high-quality LEICA DC VARIO-ELMAR 28mm wide-angle lens with a 4.6x optical zoom (35mm equivalent: 28-128mm), and comprising 10 elements and a prism unit in eight groups, including 1 ED lens and 5 aspherical lenses with 6 aspherical surfaces.
The 12.1-megapixel CCD with 2-channel signal output structure boasts a higher signal transfer speed for the operations that require high performance and speed such as Full HD movie recording and high speed continuous shooting. Intelligent Noise Reduction ensures clear and crisp images in both photo and movie recording.
Linking smoothly with the Hi-Speed CCD sensor, the Venus Engine processes a large amount of signals at high speed, making it possible to record 1920 x 1080 Full HD movies and high resolution consecutive shots at 3.7 fps in 12.1-megapixel full resolution and max.10 fps in 3-megapixel recording.
At the same time, the multi-task image-processing Venus Engine realises a super-fast response time. The Sonic Speed AF and the camera's quick response make it easier to capture spur-of-the-moment photo opportunities.
1920 x 1080 Full-HD video recording in AVCHD / MP4 format
Despite its compact body profile, the DMC-FT4 can record Full HD 1920 x 1080 movies in AVCHD (MPEG-4 / H.264) format, offering excellent compatibility with AV equipment such as HDTVs and DVD players. Alternatively, users can choose MP4 at 25p for high compatibility with PCs. A button on top of the camera lets the user instantly start recording videos while shooting photos without having to make any extra settings.
The popular iA (Intelligent Auto) mode and the 4.6x optical zoom are also available in movie recording. In addition to the conventional Power O.I.S, Active Mode is especially effective in wide-angle movie recording, such as when you are shooting while walking. Dolby® Digital Creator ensures high-quality audio.
Included accessories: Battery charger, battery pack, AV cable, USB cable, hand strap, brush, silicone jacket, CD-ROM with PHOTOfunSTUDIO software.
Last updated: Jul 27, 2022 at 04:07 am CDT