NORFOLK ISLAND, 17 February, 2012 - Panasonic has introduced three new compact and versatile Full High Definition 1MOS camcorders - the HC-V700, HC-V500M and the HC-V100.
Doug Campbell, Product Marketing Manager - Camcorder, Panasonic Australia said: "Panasonic's range of compact Full HD 1MOS camcorders record exceptionally high quality footage in a variety of shooting situations, perfect for capturing family memories."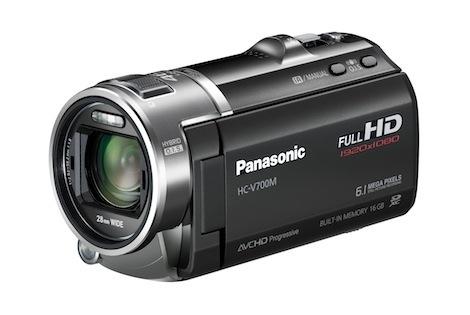 "From the new High Sensitivity Sensor of the HC-V700 to the 38x optical zoom with Hybrid O.I.S+ of the HC-V500M and the lightweight design and long battery life of the HC-V100, there truly is a Panasonic camcorder for every Australian."
Thanks to the newly developed High Sensitivity Sensor, the top-of-the-line HC-V700 captures stunning shots in all shooting situations. It delivers improved image quality even in low-light conditions such as indoors and at night, so users can record clear, bright images with minimal noise. In addition, both the HC-V500M and HC-V100 also feature a High Sensitivity Sensor that boasts a higher level of sensitivity than conventional sensors - making dark scenes brighter and more detailed.
Both the HC-V700 and the stylish and easy-to-use HC-V500M offer stunning Full HD (1080/50p) recording. They also feature the improved HYBRID O.I.S.+ (Optical Image Stabiliser) with five-axis correction to suppress blurring in both wide-angle shots and powerful zoom shots. This revolutionary correction function corrects the kind of roll direction hand-shake that often occurs when shooting while walking, in addition to horizontal, vertical, yawing, and pitching four-axis correction.
The ultra-lightweight Full HD HC-V100 is the perfect travel companion, weighing just 181 grams and boasting a battery life that allows the user to continuously record for up to 165 minutes, so special moments are not missed.
Each model features Panasonic's highly popular iA (Intelligent Auto) mode, making it easy for anyone to capture stunning videos. When iA is engaged, the camcorder automatically selects the most suitable shooting mode with the press of a button.
For greater flexibility, users can also shoot lifelike 3D images on the HC-V700 by simply mounting the optional 3D conversion lens to the camcorder. Even without mounting the conversion lens, images shot in 2D can be converted to 3D thanks to the new 2D to 3D Conversion function. The HC-V500M also offers 2D to 3D Conversion.
The included software makes it simple to play and edit videos on a PC, and even the novice user can quickly and easily upload their videos and share them on YouTube™ or Facebook©.
HC-V700 RRP $799 Available April 2012
HC-V500M RRP $599 Available April 2012
HC-V100 RRP $449 Available April 2012
VW-CLT2 optional 3D lens RRP $399 Available April 2012
All models are available in black
Key Features
High Sensitivity Sensor (HC-V700)
Panasonic's newly developed High Sensitivity Sensor captures both brightly and dimly lit scenes with minimal noise, producing stunningly clear images in a range of situations, such as indoors and at night. As the pixels of this sensor are densely aligned, Intelligent Resolution Technology can be used when the Intelligent 46x Zoom exceeds the optical 21x zoom level while maintaining the HD pixel count for high-powered zoom shots.
Crystal Engine Pro and AVCHD Progressive Recording (HC-V700 / HC-V500M)
Both the HC-V700 and HC-V500M incorporate Panasonic's Crystal Engine Pro to process Full HD image data. Using the new AVCHD Progressive standard, they capture 1920 x 1080/50p recordings. This technology combines to produce high-quality video, without the after-images and flickering caused by subject motion - perfect for shooting fast-moving action.
Wide-Angle Lens and Intelligent Zoom[iv] (All models)
Even with a compact body, the HC-V700 features a 28mm wide-angle lens and 46x Intelligent Zoom (21x optical zoom); while the HC-V500M features a 32.4mm wide-angle lens with 50x Intelligent Zoom (38x optical zoom). The HC-V100 has a 32.5mm wide-angle lens and 42x Intelligent Zoom (34x optical zoom).
The wide-angle lens is especially convenient for recording indoors or in tight spaces, making it possible to shoot at a close distance from the subject while fitting both the subject and the surrounding area into the frame.
The Intelligent Zoom is a super-high resolution technology that achieves ultra-telephoto shooting beyond the optical zoom range.
Hybrid O.I.S + (Optical Image Stabiliser) (HC-V700/HC-V500M)
The improved HYBRID O.I.S. + allows users to capture crisp, clear images without blurring, in nearly every shooting situation. The system employs five-axis correction to help suppress blurring in both wide-angle shots and powerful zoom shots - allowing for steady images across the entire zoom range and achieving superb effects even when shooting on the move.
In addition to the HYBRID O.I.S. + system, the camcorders provide even more powerful stabilisation correction with O.I.S. Lock. By pressing the O.I.S. Lock button on the LCD monitor, the blur detection sensitivity is maximised and camera movements are detected and corrected without image degradation. O.I.S. Lock is ideal for applications that may require zooming at a fixed angle, such as bird watching.
Intelligent Auto (iA) (All models)
Intelligent Auto (iA) supports shooting so the user can simply focus on capturing the scene. Each model features Intelligent Scene Selector, which automatically selects the best Scene Mode based on detected light and objects. Intelligent Contrast Control continually measures the ambient light intensity and adjusts the contrast as it changes; and Face Detection senses ambient lighting to adjust exposure and capture faces beautifully even in dim or backlit scenes. The HC-V500M and HC-V700 also boast AF Tracking, which allows the photographer to follow the selected subject throughout the frame, keeping it in focus; and Face Recognition, which registers the users' favourite subjects and optimises focus and exposure.
Easy-to-use shooting features (HC-V700/HC-V500M)
To watch 2D images in 3D on your 3DTV, simply select the camcorder's 2D to 3D Conversion function and connect the camcorder to the TV with a mini HDMI cable.
The Advanced Highlight Playback function is designed for users who want to view recorded images as quickly as possible. It detects actions such as zooming, panning, scene changes and faces in recorded images as "highlights" by using the I.I.S. (Intelligent Index System). Then, it automatically plays back the detected highlight scenes, or ones that the user has personally selected, according to a set time interval.
The Advanced Highlight Playback function offers playback effects such as Slow Motion, Still Image Fading and Flash Playback. There are also four special effect modes for greater creativity: Natural, Pop, Dynamic and Classical.
Zoom Microphone links the microphone's zoom action to the camcorder's action, reducing surrounding noise and making it possible to record target sounds with superb clarity. The Wind Noise Canceller automatically detects and suppresses only wind noise to ensure natural sounds with lifelike ambience.
Other ease-of-use features to support shooting include a 3.0-inch touch screen LCD, LED light and Focus Assist - a function which clearly shows the user which subjects are in-focus by displaying their outlines in blue. When manually focusing, the user can easily check the focus on the LCD and change the subject on which the focus is set if needed, to ensure consistently clear, sharp images.
3D shooting with the 3D conversion lens (HC-V700)
3D images can be captured with the HC-V700 by simply mounting Panasonic's VW-CLT2 3D Conversion Lens[v]. This lens produces outstanding, realistic 3D images. It is more compact than its predecessor and has increased brightness to F2.4.
Long Battery Life and Compact Size (HC-V100)
The HC-V100 is ultra-lightweight and portable at 181 grams, delivers low power consumption and is able to record continuously for up to 165 minutes.[vi] This is useful when it is difficult to charge the battery, such as on a trip or when shooting outdoors.
POWER O.I.S. (Optical Image Stabiliser) with Active Mode (HC-V100)
The HC-V100 is equipped with a high-quality optical hand-shake compensation function essential for compact, lightweight camcorders. POWER O.I.S. (Optical Image Stabiliser) suppresses hand-shake without degrading the image quality. The user can enjoy clear, blur-free images even with 42x Intelligent Zoom. The O.I.S. also features an Active mode to ensure clear, beautiful images even when shooting on the move.
Uploading and editing (all models)
Archiving and editing videos has never been easier. HD video can be recorded in the MP4 or iFrame formats.
The camcorders' HD Writer HE 1.1 (HC-V100) and 4.0 (HC-V500M and HC-V700) software (included) allows for highly versatile PC editing and sharing functions. The software is compatible with YouTube™ and Facebook©, allowing even the most inexperienced users to share videos online with ease.[vii] Image data can also be transferred to a Mac computer for editing in applications such as iMovie.
Included accessories: (all models)
Shoe Adaptor (HC-V700 only), AC Adaptor, AC Cable, Rechargeable Battery Pack, AV Multi Cable, USB Cable, Software CD-ROM.
Last updated: Jul 27, 2022 at 04:07 am CDT