Taipei, Taiwan -February 15th, 2012 -- TUL Corporation, a leading manufacturer of AMD graphic cards, today introduces the most advanced graphics design for everyone: the PowerColor HD7700 series. Based on the revolutionary GCN architecture, PowerColor announced HD7770 GHz edition and HD7750 at once to deliver the outstanding DirectX® 11 gaming on the system you have today.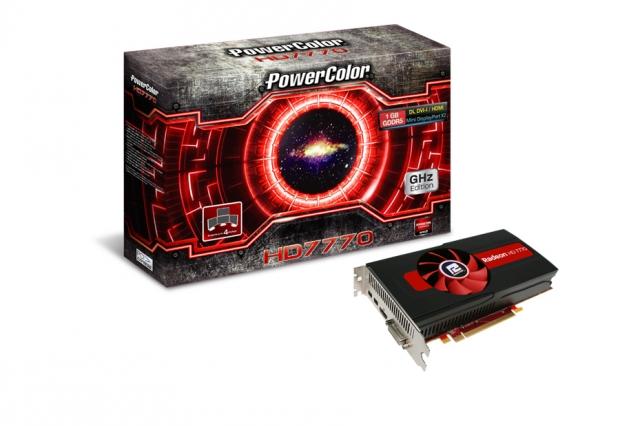 The PowerColor HD7770 GHz Edition reaches 1GHz Core and 4.5GBps Memory speed; while the PowerColor HD7750 has 800MHz Core and 4.5Gbps memory clock; both models support with PCI Express 3.0, easily maximizing performance from GPU and simply offers the incredible experience that gamers pursued.
Furthermore, the PowerColor HD7700 series packed with the most advanced graphics design, it can expand your gaming view beyond 5760x1080 resolutions across multi displays with AMD Eyefinity technology, enabling the most vivid gaming experience; by taking advantage of AMD APP Acceleration, the latest series speeds up the daily tasks by offloading computing from CPU to GPU.
Also, it packed with the ultra-efficient AMD ZeroCore Power technology which allows GPU to consume virtually no power when in idle mode. More than that, gamers should be satisfied with AMD PowerTune technology, it allows the intelligent power monitoring to enable higher clock speeds and better performance when needed, delivering the most efficient way for gaming like never before.
Last updated: Apr 7, 2020 at 12:06 pm CDT